What usually goes through the mind of a 9-year-old? Their favorite cartoon or video game? When their homework assignment is due?
Those are probably some things that the typical 9-year-olds would be thinking about. However, death or dying from suicide should never be one of the things a child should ever have to think about. Unfortunately, we lost the life of 9-year-old, Jamel Myles, last week from death by suicide after being told to kill himself by his classmates four days after he started 4th grade.
Jamel was found in his home dead by his mother last Thursday. This story made it on twitter headlines on Tuesday and started a conversation surrounding LGBTQ youth, bullying, suicide, and sympathies for the family.
I can't say much about #JamelMyles because it makes me literally sick. As much as we want to make this about "bad" kids bullying him to death, it's about a society that others and harms LGBTQ people. Children are constantly learning from the world around them, mainly from adults.

— Dana (@DanaVivianWhite) August 28, 2018
1989. 4th grade. 9 yrs old. First time a fellow male classmate shamed me by saying "stop being so gay." I didn't know who I was then. Jamel did. He was gay. And he was proud, until he wasn't. My heart aches. #JamelMyles https://t.co/Lp1i8n5KJb

— Steven Canals (@StevenCanals) August 28, 2018
Same folks talking bout kids can't possibly know that they're queer are asking their 6,7,8,9 year old nephews how many girlfriends they have or who they like in school. Please.

— Reagan Gomez (@ReaganGomez) August 28, 2018
So who's the blame for the death of Jamel Myles? The kids who bullied him or the heteronormative rules set up in society. I lean more on the latter because children often get their behavior from adults.
In an academic journal a study conducted by the 2015 National Youth Risk Behavior Survey, the results found that 40% of adolescent youth who identify as gay, lesbian, or questioning contemplated suicide. Unfortunately, transgender identifying teens weren't included in this survey but the numbers would be even higher than the ones that were reported originally.
Below are excerpts from an article on the ACLU website in regards to Harassment of LGBTQ Youth.
" A study of Massachusetts high school students published in the journal Pediatrics reports that nearly one-third of gay teens had been threatened in the past month with a weapon at school, compared to 7% of heterosexual students surveyed."
"The Gay, Lesbian and Straight Education Network (GLSEN) conducted a survey of 496 lesbian, gay, bisexual, and transgender (LGBT) students from 32 states. This survey found that over 90% of LGBT youth reported that they sometimes or frequently heard homophobic comments in their schools."
Entire studies are done to show how LGBTQ youth are affected by bullying and harassment yet people on social media including parents are still feeding into homophobia which their own kids learn from them.
ALRIGHT WRAP IT UP EVERYONE DOJACAT HYPE OVER pic.twitter.com/OHHb4HU5o8

— zacharie @ p5 (@divisionallstar) August 29, 2018
Today, news spread of a 9 year-old gay boy who was bullied to the point of suicide. In response, heterosexuals lamented that homosexuality is forced onto children who are too young to know their orientation.

And then I see heterosexuals supporting this. #TheStraightAgenda: https://t.co/DAbITFZLky

— Yvangelista (@AdamantxYves) August 28, 2018
Gurl I….Get your problematic faves and their associates with this trash rhetoric off of social media.
I always hated seeing those what would do if your son/daughter were queer tweets because the people only use them as a way to bash the queer community with a hypothetical. Just admit that you're homophobic or transphobic so we can drag you properly and move on.
Those who identify with the LGBTQ community have to go through two forms of adolescence one where they walk in the world as "heterosexual" and the one where we have to hide our true identities because society says we're not morally right. Most times we suffer in silence in order to not be singled out by our peers or family members.
Jamel Myles was confident enough to tell his mom and sister about how he identified; however, the harassment pushed him over the edge and another queer youth was lost too soon from suicide and bullying.
Conversations are still being had over the ways we can improve society so more children and adolescents would feel safe and comfortable in their identity both in the world and in their families. Overall we have a long way to go.
Comments
comments
Second Man Found Dead in Democratic Mega Donor's Home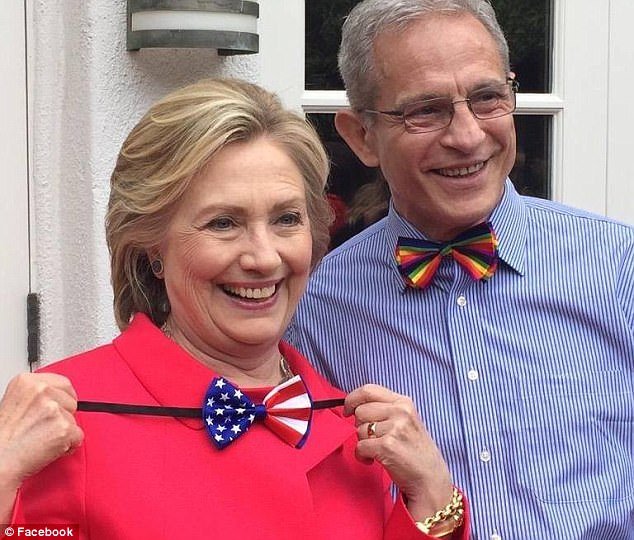 In the home of prominent Democratic Donor, Edward Buck, a second man has been found dead. Eerily similar to the body that was found in 2017, officers are investigating the West Hollywood resident.
Dark Past
18 months ago, Gemmel Moore, a young Black sex worker, was found dead of a meth overdose in Edward Buck's WeHo residence. Despite evidence in Gemmel's journal that revealed the mega donor had a dangerous fetish, Buck was not indicted in relation to his death. With a second body on their hands, authorities fear they missed an opportunity.
While the Los Angeles County Sheriff's Department has not released the name of the deceased, minor details of the victim have been made public. The victim is described as a Black male in his 50s. An attorney for Buck believes the victim was "an old friend who died of an accidental overdose."
Speaking with the Los Angeles Times, the attorney asserted the victim consumed drugs prior to coming to Buck's residence. The similar circumstances of both deaths have prompted conspiracy theories and have risen eyebrows at the LA County Sheriff's Department.
Dirty Deeds
Moore's mother, Latisha Nixon, and a fellow sex worker claimed Buck supplied sex workers with drugs and would pleasure himself. Moore's mother also claimed Buck would send Gemmel to fetch other victims. She said he would send him to "Santa Monica Boulevard looking for young gay black guys so he could inject them with drugs, see their reaction, and how [they] would react and take pictures of them."
At the time of Gemmel's death, drug paraphernalia was found in Buck's West Hollywood residence. Journal entries also implicate Buck in hooking Gemmel on drugs. Moore wrote, "Ed Buck is the one to thank. He gave me my first injection of chrystal [sic] meth."
The first-hand account of a sex worker interviewed by the WeHo Times alleges Buck was often under the influence when he would arrive.
"Initially, when I got there I understood that he was already well under the influence because he told me. He had already been up for two days and was still up doing drugs as far as liquid GHB, shooting meth — crystal meth, and smoking it."
It's unbelievable that despite this information Edward Buck was not indicted. His lawyer, Seymour Amster said the lack of indictment was a "complete exoneration." He then added, "Gemmel's death was a tragedy. It's now clear that Ed Buck has nothing to do with it." Edward Buck has avoided four charges: murder, voluntary manslaughter, and furnishing and possessing illegal drugs.
Comments
comments
Will the real Kim Possible Please Stand Up!
There's a new internet sensation and many are calling for him to replace the current young white girl cast in the Disney movie remake of the animated tv show Kim Possible.
User "hesosoutheast" on Instagram and Twitter, whose superhero name is Super Bitch, has gone viral on Twitter for a few videos he's done where he's the actor AND the stunt devil, bussin' moves in high heels. Ki-Mayonnaise Impossible truly cannot relate. In his videos, he flewed in the air doing double flips, cartwheels, and more…all while holding a gun and wearing hot pink thigh-high stilettos. Some people on Twitter have edited his videos to look like anime episodes while others have made them look like video game fights, but there are many still holding out hope that this will be the start to a Black Queer Kim Possible remake we deserve! Him as Kim Possible and AdrianXpression as Shego. In his words, "it can give combo!"
Well, we think it's time to call Super Bitch so he can give combo to this trash Kim Possible remake and give us the Him Possible remake that truly matters. What y'all think?
Comments
comments
When "Jokes" become reality: A Las Vegas Queer Couple Story of Survival
The recent controversy surrounding these cishet black comedians from Kevin Hart not taking accountability for his homophobic tweets to DL Hughley calling a transwoman a pussy for calling him out on supporting Kevin's Homophobic "jokes".
It's all "jokes" about not wanting your child to come out queer not until queer people get hurt or end up dying. 
A Las Vegas couple survived an attack from two cishet black men who followed them home and ambushed them. The name of the victims in this hate crime was Charles and his boyfriend Vincent. According to the local news KVVU station the attackers, Kealan Abraham and Andre Duncan, attacked Charles and Vincent at their apartment home after they followed them from Vincent's job.
Charles was about to open the door when he heard Vincent calling out for help as Abraham and Duncan attacked him. They called him an abomination along with other homophobic slurs and language. The attack became so violent that a glass table was knocked over and one of the attackers grabbed a shard and stabbed Vincent in his back. Charles reacted quickly and pushed him away from Vincent.
The neighbors did nothing during the attack. The police weren't called until after the attackers drove away. The attackers broke Vincent's ribs and punctured his lung. Charles was hit in the head with a piece a glass but the attackers left him traumatized that they would come back and attack him again.
They were both hospitalized from the attack however they're now both out and are staying with relatives until they find a new permanent location to live.
Below are the mugshots of the attackers.
At this time Abraham and Duncan have been arrested and charged with battery with a deadly weapon, battery with use of deadly weapon result of substantial bodily harm and conspiracy to commit criminal contempt.
Charles and Vincent were both relieved after Las Vegas Metropolitan police called them to inform them that their attackers have been arrested. However they're wondering why both of them aren't being charge with a hate crime.
You can support Charles and Vincent on their GoFundMe page.
This is a tale of warning for cishet people who are trying to defend anyone who supports homophobia. The rhetoric that you call "jokes" are literally getting people who identify within the LGBTQ spectrum attacked and killed all in the name of comedy.
Take accountability. Change your behavior. Educate yourself on marginalized issues and why we drag you when you tweet stupid stuff on social media.
Comments
comments