Twitter was out to get our favorite Miami rap duo. The 'City Girls' were another victim of old problematic tweets resurfacing to the public. The tweets were homophobic and prejudice against the Haitian community. Yung Miami even came for Beyoncé!!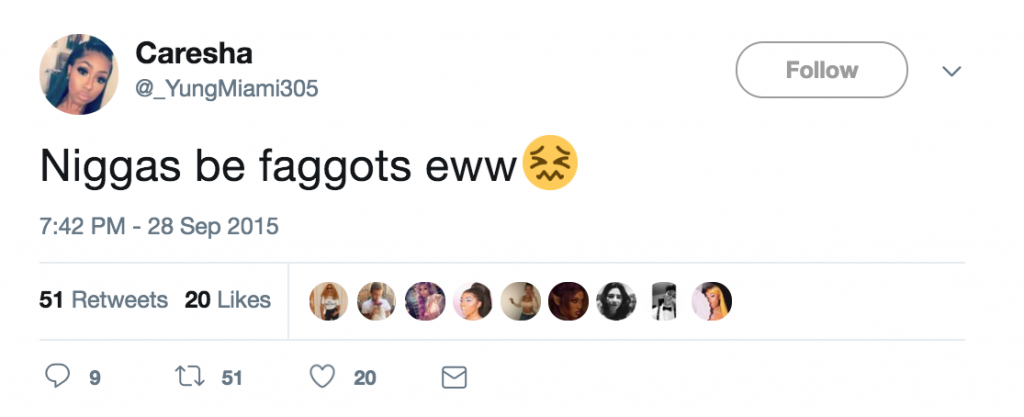 I'm completely disgusted. We literally listen to your music and support you but this is what you have to say about a culture of people that literally did nothing to you! @_YungMiami305 y'all only like Haitians when it's convenient for y'all. Eww as fuck! pic.twitter.com/eZmU9vE237

— KEYONCE (@__Keyonceeee) August 28, 2018
Yung Miami (Caresha) tried to defend herself by using the "I have gay friends" approach. Which only made her look even more homophobic. When called out about her saying she would beat her son if he was gay she said, "I didn't diss gays me personally I wouldn't want my son to be gay! Idk what's so disappointing about that." Not knowing what's disappointing about that statement after a nine-year-old boy just killed himself after being bullied for coming out is extremely troubling.
As of right now Yung Miami's Twitter page is private and JT is incarcerated. Their documentary "City Girls: POINT BLANK PERIOD" is premiering this Thursday. Will you guys be watching?
Comments
comments
After Saying "F*ck Y'all" For Islamophobic Comments, Jess "Ain't" Hilarious Offers Half Ass Apology
Jess Hilarious finally offers an excuse to why she racially profiled 4 Sikh men while boarding a plane. The incident took place Sunday afternoon and after being called out Jess with the Mess & also xenophobia continued to post on her Instagram account as she didn't have a care in the world. Sis responded to fans that by deleting comments and twerked on to the beat of bigotry.
Now she has a 4 Page Letter on her notes app that she wants to try to read in an Instagram video. Take a look at the video and tell us what you think.
Jess claims no PR manager helped her with it but you can believe your ass that executives over at FOX told her to get it together.
Do you think the apology was genuine?
Comments
comments
J.K. Rowling Gets Dragged After Saying Dumbledore and Grindelwald had "Intense" Relationship
JK Rowling must be taking her cues from Tumblr fan fics. In news that no one expected, JK revealed Dumbledore and Grindelwald were once involved in an "intense sexual relationship." But fans are scratching their heads wondering why her characters are never openly gay in the films or the books.
Stemming from a thread that quotes the author, Rowling revealed she was "less interested in the sexual side." Recent updates show that JK must be far more interested than she's leading on and fans aren't having it! The response to this new information has readers saying "Wingardium Leviosa" to her wig.
Chief among her fans complaints is the lack of queer representation in her novels coupled with her frequent highly sexual updates that serve as attempts to maintain relevance. In addition, her extra details frequently complicate what readers already know from the books. In September 2018, one reveal inadvertently made Neville Longbottom a murderer.
Fans of her beloved wizarding world have been shading her endlessly since the unwarranted reveal, but JK has yet to respond to any of the criticism.
Comments
comments
Disney Alum Kyle Massey Hit With $1.5 Million Sexual Misconduct Lawsuit
Say it ain't so! That's So Raven star Kyle Massey has been sued for sending sexually explicit messages to a teenage girl.
According to court documents obtained by Us Weekly, Massey is being sued for $1.5 million in a civil suit. The girl, who Massey met at just 4-years-old, claims the former Disney star maintained contact to help advance her career. Now, at age 13, she has come forward with allegations.
She claims that Massey had arranged for her to stay with him and his girlfriend, Hana Giraldo, in Los Angeles. Massey was allegedly using this visit to help the minor secure an agent. But just days after the invitation, Massey sent the alleged victim photos of his genitalia.
The lawsuit states that he is being sued for three counts of negligence and intentional infliction of emotional distress. Included as negligence is the attempt to commit a lewd act with a minor, annoying or molesting a minor, and harmful matter sent with intent of seduction of a minor.
While Massey himself has yet to comment on the matter, both his brother and mother have spoken out. Massey's mother went to Instagram to defend her son, stating "KYLE MASSEY IS THE VICTIM! Where is the justice for men?!" While Massey's brother, Christopher, alleges that the victim's mother Kindra Adams is a known scammer and is only doing this for money.

Comments
comments