I was around 8 the first time.
I still have very clear mirages of what I felt in those moments, what each experience was like, and how I internalized every interaction. But because the abuse went on for so long, I lost track of the years that were attached to them.
My first assailant was a straight, self-identified "tough guy". A teen on the verge of adulthood and a member of my family. I was a child who did not perform masculinity in the ways young Black boys were expected to. I know that neither of us knew much about sexuality because our family never discussed it. He and I didn't discuss much of anything, but I do know that we were both taught that any sexual or romantic interaction between two men/boys was forbidden.
After he forced himself inside of me, I couldn't help but to think endlessly about the act of sex and sexuality. I hadn't been taught that boys could be raped, but I had been taught about biblical abominations. Through these teachings—that I would later understand to be the result of the socialization process—I knew that what happened between the two of us had to remain a secret. So I didn't tell. And I hated myself. Not because I had been raped, but because I had become the one thing important enough for my family and our bible to teach against: a faggot, a 'homosexual', a soul blackened by the impurities of male-male penetration. And though I was none of these things, because of what I was taught, it was the only way I was able to process it. I never processed it as rape. Instead, I processed it concluding that I was an abomination.
Before I could grapple with what transpired and what it meant in terms of my sexuality or his, I was experiencing it again for the second time.  Two times turned into three, and three times turned into four. These encounters stopped being singular moments, but rather occurrences measured by years. And with each passing one, his assaults grew confidently against my body. He expected to touch me, as if he were entitled to my body, and took my confusion as consent. Then, once we were in public, he would interact with me as if he hadn't violated me the night before. Eventually, I believed that this was normal. I convinced myself that I liked it—that, if I anticipated it, maybe it wouldn't be as bad.
Then a family friend re-established a new "first time" for me. This time he was fully an adult and I just at the dawn of my teenage years. Moments that were supposed to be spent playing video games and having conversations turned into me, yet again, being violated by a man that I trusted. Except this time, he wasn't a "tough guy". He was a "nice guy". A self-proclaimed gentleman, who cared deeply for people and never disrespected anyone. He also differed because he had a girlfriend that his entire family adored.
So, just like at the age of 8, I was left with only confusion. Never having the space to discuss sexuality with the men that forced sex into my world outside of the violence they enacted against my body. And after the many years of this abuse, I internalized the idea that pleasing men, irrespective of what gender their sexual/romantic partners identified with, was something that I should become accustomed to. These experiences led to me thinking of myself as broken, which I recently wrote about. This brokenness carried me into young adulthood.
Comments
comments
Second Man Found Dead in Democratic Mega Donor's Home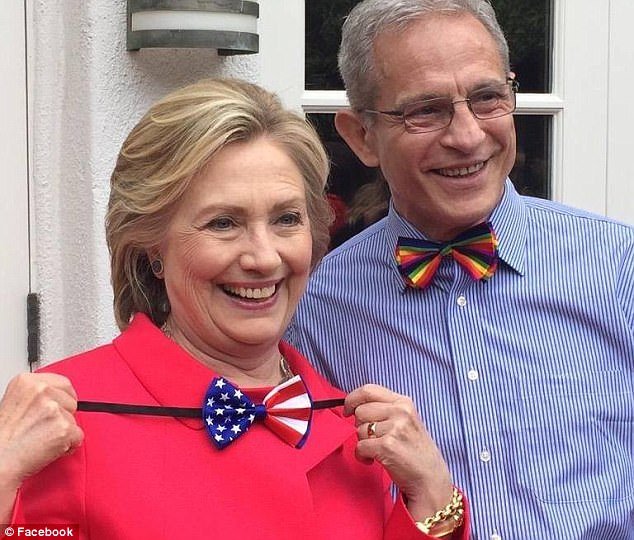 In the home of prominent Democratic Donor, Edward Buck, a second man has been found dead. Eerily similar to the body that was found in 2017, officers are investigating the West Hollywood resident.
Dark Past
18 months ago, Gemmel Moore, a young Black sex worker, was found dead of a meth overdose in Edward Buck's WeHo residence. Despite evidence in Gemmel's journal that revealed the mega donor had a dangerous fetish, Buck was not indicted in relation to his death. With a second body on their hands, authorities fear they missed an opportunity.
While the Los Angeles County Sheriff's Department has not released the name of the deceased, minor details of the victim have been made public. The victim is described as a Black male in his 50s. An attorney for Buck believes the victim was "an old friend who died of an accidental overdose."
Speaking with the Los Angeles Times, the attorney asserted the victim consumed drugs prior to coming to Buck's residence. The similar circumstances of both deaths have prompted conspiracy theories and have risen eyebrows at the LA County Sheriff's Department.
Dirty Deeds
Moore's mother, Latisha Nixon, and a fellow sex worker claimed Buck supplied sex workers with drugs and would pleasure himself. Moore's mother also claimed Buck would send Gemmel to fetch other victims. She said he would send him to "Santa Monica Boulevard looking for young gay black guys so he could inject them with drugs, see their reaction, and how [they] would react and take pictures of them."
At the time of Gemmel's death, drug paraphernalia was found in Buck's West Hollywood residence. Journal entries also implicate Buck in hooking Gemmel on drugs. Moore wrote, "Ed Buck is the one to thank. He gave me my first injection of chrystal [sic] meth."
The first-hand account of a sex worker interviewed by the WeHo Times alleges Buck was often under the influence when he would arrive.
"Initially, when I got there I understood that he was already well under the influence because he told me. He had already been up for two days and was still up doing drugs as far as liquid GHB, shooting meth — crystal meth, and smoking it."
It's unbelievable that despite this information Edward Buck was not indicted. His lawyer, Seymour Amster said the lack of indictment was a "complete exoneration." He then added, "Gemmel's death was a tragedy. It's now clear that Ed Buck has nothing to do with it." Edward Buck has avoided four charges: murder, voluntary manslaughter, and furnishing and possessing illegal drugs.
Comments
comments
Will the real Kim Possible Please Stand Up!
There's a new internet sensation and many are calling for him to replace the current young white girl cast in the Disney movie remake of the animated tv show Kim Possible.
User "hesosoutheast" on Instagram and Twitter, whose superhero name is Super Bitch, has gone viral on Twitter for a few videos he's done where he's the actor AND the stunt devil, bussin' moves in high heels. Ki-Mayonnaise Impossible truly cannot relate. In his videos, he flewed in the air doing double flips, cartwheels, and more…all while holding a gun and wearing hot pink thigh-high stilettos. Some people on Twitter have edited his videos to look like anime episodes while others have made them look like video game fights, but there are many still holding out hope that this will be the start to a Black Queer Kim Possible remake we deserve! Him as Kim Possible and AdrianXpression as Shego. In his words, "it can give combo!"
Well, we think it's time to call Super Bitch so he can give combo to this trash Kim Possible remake and give us the Him Possible remake that truly matters. What y'all think?
Comments
comments
When "Jokes" become reality: A Las Vegas Queer Couple Story of Survival
The recent controversy surrounding these cishet black comedians from Kevin Hart not taking accountability for his homophobic tweets to DL Hughley calling a transwoman a pussy for calling him out on supporting Kevin's Homophobic "jokes".
It's all "jokes" about not wanting your child to come out queer not until queer people get hurt or end up dying. 
A Las Vegas couple survived an attack from two cishet black men who followed them home and ambushed them. The name of the victims in this hate crime was Charles and his boyfriend Vincent. According to the local news KVVU station the attackers, Kealan Abraham and Andre Duncan, attacked Charles and Vincent at their apartment home after they followed them from Vincent's job.
Charles was about to open the door when he heard Vincent calling out for help as Abraham and Duncan attacked him. They called him an abomination along with other homophobic slurs and language. The attack became so violent that a glass table was knocked over and one of the attackers grabbed a shard and stabbed Vincent in his back. Charles reacted quickly and pushed him away from Vincent.
The neighbors did nothing during the attack. The police weren't called until after the attackers drove away. The attackers broke Vincent's ribs and punctured his lung. Charles was hit in the head with a piece a glass but the attackers left him traumatized that they would come back and attack him again.
They were both hospitalized from the attack however they're now both out and are staying with relatives until they find a new permanent location to live.
Below are the mugshots of the attackers.
At this time Abraham and Duncan have been arrested and charged with battery with a deadly weapon, battery with use of deadly weapon result of substantial bodily harm and conspiracy to commit criminal contempt.
Charles and Vincent were both relieved after Las Vegas Metropolitan police called them to inform them that their attackers have been arrested. However they're wondering why both of them aren't being charge with a hate crime.
You can support Charles and Vincent on their GoFundMe page.
This is a tale of warning for cishet people who are trying to defend anyone who supports homophobia. The rhetoric that you call "jokes" are literally getting people who identify within the LGBTQ spectrum attacked and killed all in the name of comedy.
Take accountability. Change your behavior. Educate yourself on marginalized issues and why we drag you when you tweet stupid stuff on social media.
Comments
comments