Two days ago a queer rapper name Plane Jaymes dropped a slideshow posted on Instagram which shows him with rapper Yo Gotti and others in his entourage. This post was brought to my attention earlier today by queer rapper Zé Taylor when he made a post that said, "this makes me so sad."
This makes me so sad. pic.twitter.com/M5DheGQhrl

— Zé Taylor (@FATHERBONNET) September 6, 2018
Plane Jaymes shared a heartfelt message about his experience when he was apart of Yo Gotti's record label Collective Music Group.
Here's what the post in its entirety said,
" YoGotti You said you believed in me and wanted to help me change ppls lives for the better. Up until you & keonn55 found out I had a boyfriend. I looked up to y'all. I gained a lot of experience from being with y'all and I'm forever greatful for that. But the fact that me being gay is why y'all no longer wanted me apart of the team is honestly fucked up. I took these pics down cause keon told me to just so y'all could be "comfortable" Y'all won't put my music out but I'm still stuck in that contract I signed w #CMG which says y'all own the rights to pretty much all my publishing & everything I do unless y'all terminate that contract. Can't reach y'all thru phone/email & that ain't been working for over 2yrs so if I'm "canceled/ shelved" & not family like y'all said I was, all because I'm gay then what's the deal. Tired of struggling all because of who I chose to love. And if this is how it's gonna be I'ma just have to chalk putting out music period."
This is a common trope when it comes to heterosexuals liking queer art but don't want queer or trans representation associated with it. Although this story is on a whole different extreme this story is similar to the situation with Big Freedia where they had to reach out to Drake to be included in his most recent music video where they're only shown for 5 seconds although Drake used Freedia's vocals in his music.
Plane Jaymes recently did an interview with DJ Booth where he aired more of his dirty laundry with his dealings with Yo Gotti and the backlash from his being dropped from his label because they found out he had a boyfriend. In the interview, Plane Jaymes describes his humble beginnings from when he was trying to get signed as a starting artist, but Gotti got a hold of his demo and decided to fly him and his management team out to Miami.
Things seemed to have heated up after his "friend" who knew about his attraction to guys outed him to his management team. Eventually, word of James sexuality reached Collective Music Group Vice President Keon who pressured James into taking down the pictures that he reposted so there wouldn't be any controversy surrounding their label being affiliated with him.
Collective Music Group just forgot all about James and left him in the dark dazed and confused. From the interview, he said, "I wasn't trying to fuck they shit up, and I was new to this shit about myself, so maybe I should have just fought back? Well, I offered to take it down, he said take it down, and it just ended at that point. I didn't really hear from nobody at that point. No contracts were sent my way that disclosed termination."
Till this day Plane Jaymes is legally under contract with Collective Music Group however they won't release his music to get airtime or promotions and they have severed all times with the artist completely. No one can make music with him because he's still under contract with them.
He doesn't have any hard feelings towards Gotti or anyone else affiliated with his record label and all he wants to do is get released from his contract so he can create his own music for his benefit and become a voice for those who feel like they're too afraid to be true to themselves.
On another post, he posted on Instagram of him and his boyfriend the comment section is filled with homophobic rhetoric after James shared his story of what happened between him and CMG.
What would you have done in this situation if you were a queer artist trying to make it in this world?
Comments
comments
Second Man Found Dead in Democratic Mega Donor's Home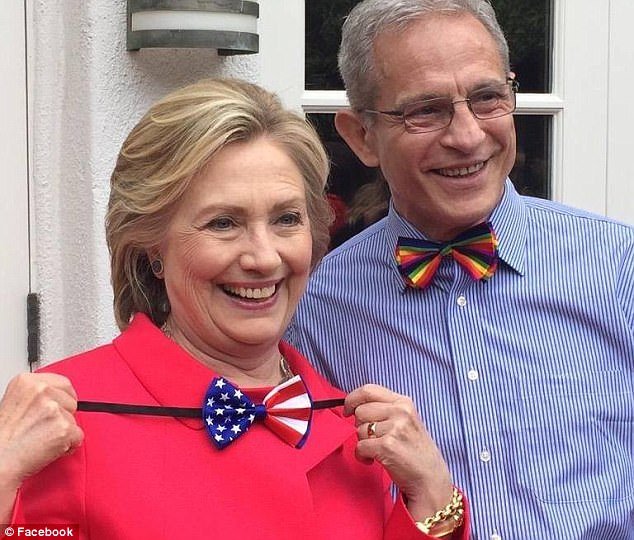 In the home of prominent Democratic Donor, Edward Buck, a second man has been found dead. Eerily similar to the body that was found in 2017, officers are investigating the West Hollywood resident.
Dark Past
18 months ago, Gemmel Moore, a young Black sex worker, was found dead of a meth overdose in Edward Buck's WeHo residence. Despite evidence in Gemmel's journal that revealed the mega donor had a dangerous fetish, Buck was not indicted in relation to his death. With a second body on their hands, authorities fear they missed an opportunity.
While the Los Angeles County Sheriff's Department has not released the name of the deceased, minor details of the victim have been made public. The victim is described as a Black male in his 50s. An attorney for Buck believes the victim was "an old friend who died of an accidental overdose."
Speaking with the Los Angeles Times, the attorney asserted the victim consumed drugs prior to coming to Buck's residence. The similar circumstances of both deaths have prompted conspiracy theories and have risen eyebrows at the LA County Sheriff's Department.
Dirty Deeds
Moore's mother, Latisha Nixon, and a fellow sex worker claimed Buck supplied sex workers with drugs and would pleasure himself. Moore's mother also claimed Buck would send Gemmel to fetch other victims. She said he would send him to "Santa Monica Boulevard looking for young gay black guys so he could inject them with drugs, see their reaction, and how [they] would react and take pictures of them."
At the time of Gemmel's death, drug paraphernalia was found in Buck's West Hollywood residence. Journal entries also implicate Buck in hooking Gemmel on drugs. Moore wrote, "Ed Buck is the one to thank. He gave me my first injection of chrystal [sic] meth."
The first-hand account of a sex worker interviewed by the WeHo Times alleges Buck was often under the influence when he would arrive.
"Initially, when I got there I understood that he was already well under the influence because he told me. He had already been up for two days and was still up doing drugs as far as liquid GHB, shooting meth — crystal meth, and smoking it."
It's unbelievable that despite this information Edward Buck was not indicted. His lawyer, Seymour Amster said the lack of indictment was a "complete exoneration." He then added, "Gemmel's death was a tragedy. It's now clear that Ed Buck has nothing to do with it." Edward Buck has avoided four charges: murder, voluntary manslaughter, and furnishing and possessing illegal drugs.
Comments
comments
Will the real Kim Possible Please Stand Up!
There's a new internet sensation and many are calling for him to replace the current young white girl cast in the Disney movie remake of the animated tv show Kim Possible.
User "hesosoutheast" on Instagram and Twitter, whose superhero name is Super Bitch, has gone viral on Twitter for a few videos he's done where he's the actor AND the stunt devil, bussin' moves in high heels. Ki-Mayonnaise Impossible truly cannot relate. In his videos, he flewed in the air doing double flips, cartwheels, and more…all while holding a gun and wearing hot pink thigh-high stilettos. Some people on Twitter have edited his videos to look like anime episodes while others have made them look like video game fights, but there are many still holding out hope that this will be the start to a Black Queer Kim Possible remake we deserve! Him as Kim Possible and AdrianXpression as Shego. In his words, "it can give combo!"
Well, we think it's time to call Super Bitch so he can give combo to this trash Kim Possible remake and give us the Him Possible remake that truly matters. What y'all think?
Comments
comments
When "Jokes" become reality: A Las Vegas Queer Couple Story of Survival
The recent controversy surrounding these cishet black comedians from Kevin Hart not taking accountability for his homophobic tweets to DL Hughley calling a transwoman a pussy for calling him out on supporting Kevin's Homophobic "jokes".
It's all "jokes" about not wanting your child to come out queer not until queer people get hurt or end up dying. 
A Las Vegas couple survived an attack from two cishet black men who followed them home and ambushed them. The name of the victims in this hate crime was Charles and his boyfriend Vincent. According to the local news KVVU station the attackers, Kealan Abraham and Andre Duncan, attacked Charles and Vincent at their apartment home after they followed them from Vincent's job.
Charles was about to open the door when he heard Vincent calling out for help as Abraham and Duncan attacked him. They called him an abomination along with other homophobic slurs and language. The attack became so violent that a glass table was knocked over and one of the attackers grabbed a shard and stabbed Vincent in his back. Charles reacted quickly and pushed him away from Vincent.
The neighbors did nothing during the attack. The police weren't called until after the attackers drove away. The attackers broke Vincent's ribs and punctured his lung. Charles was hit in the head with a piece a glass but the attackers left him traumatized that they would come back and attack him again.
They were both hospitalized from the attack however they're now both out and are staying with relatives until they find a new permanent location to live.
Below are the mugshots of the attackers.
At this time Abraham and Duncan have been arrested and charged with battery with a deadly weapon, battery with use of deadly weapon result of substantial bodily harm and conspiracy to commit criminal contempt.
Charles and Vincent were both relieved after Las Vegas Metropolitan police called them to inform them that their attackers have been arrested. However they're wondering why both of them aren't being charge with a hate crime.
You can support Charles and Vincent on their GoFundMe page.
This is a tale of warning for cishet people who are trying to defend anyone who supports homophobia. The rhetoric that you call "jokes" are literally getting people who identify within the LGBTQ spectrum attacked and killed all in the name of comedy.
Take accountability. Change your behavior. Educate yourself on marginalized issues and why we drag you when you tweet stupid stuff on social media.
Comments
comments