Two days ago a queer rapper name Plane Jaymes dropped a slideshow posted on Instagram which shows him with rapper Yo Gotti and others in his entourage. This post was brought to my attention earlier today by queer rapper Zé Taylor when he made a post that said, "this makes me so sad."
This makes me so sad. pic.twitter.com/M5DheGQhrl

— Zé Taylor (@FATHERBONNET) September 6, 2018
Plane Jaymes shared a heartfelt message about his experience when he was apart of Yo Gotti's record label Collective Music Group.
Here's what the post in its entirety said,
" YoGotti You said you believed in me and wanted to help me change ppls lives for the better. Up until you & keonn55 found out I had a boyfriend. I looked up to y'all. I gained a lot of experience from being with y'all and I'm forever greatful for that. But the fact that me being gay is why y'all no longer wanted me apart of the team is honestly fucked up. I took these pics down cause keon told me to just so y'all could be "comfortable" Y'all won't put my music out but I'm still stuck in that contract I signed w #CMG which says y'all own the rights to pretty much all my publishing & everything I do unless y'all terminate that contract. Can't reach y'all thru phone/email & that ain't been working for over 2yrs so if I'm "canceled/ shelved" & not family like y'all said I was, all because I'm gay then what's the deal. Tired of struggling all because of who I chose to love. And if this is how it's gonna be I'ma just have to chalk putting out music period."
This is a common trope when it comes to heterosexuals liking queer art but don't want queer or trans representation associated with it. Although this story is on a whole different extreme this story is similar to the situation with Big Freedia where they had to reach out to Drake to be included in his most recent music video where they're only shown for 5 seconds although Drake used Freedia's vocals in his music.
Plane Jaymes recently did an interview with DJ Booth where he aired more of his dirty laundry with his dealings with Yo Gotti and the backlash from his being dropped from his label because they found out he had a boyfriend. In the interview, Plane Jaymes describes his humble beginnings from when he was trying to get signed as a starting artist, but Gotti got a hold of his demo and decided to fly him and his management team out to Miami.
Things seemed to have heated up after his "friend" who knew about his attraction to guys outed him to his management team. Eventually, word of James sexuality reached Collective Music Group Vice President Keon who pressured James into taking down the pictures that he reposted so there wouldn't be any controversy surrounding their label being affiliated with him.
Collective Music Group just forgot all about James and left him in the dark dazed and confused. From the interview, he said, "I wasn't trying to fuck they shit up, and I was new to this shit about myself, so maybe I should have just fought back? Well, I offered to take it down, he said take it down, and it just ended at that point. I didn't really hear from nobody at that point. No contracts were sent my way that disclosed termination."
Till this day Plane Jaymes is legally under contract with Collective Music Group however they won't release his music to get airtime or promotions and they have severed all times with the artist completely. No one can make music with him because he's still under contract with them.
He doesn't have any hard feelings towards Gotti or anyone else affiliated with his record label and all he wants to do is get released from his contract so he can create his own music for his benefit and become a voice for those who feel like they're too afraid to be true to themselves.
On another post, he posted on Instagram of him and his boyfriend the comment section is filled with homophobic rhetoric after James shared his story of what happened between him and CMG.
What would you have done in this situation if you were a queer artist trying to make it in this world?
Comments
comments
Seeing Two Queer Black Men Get Married Changed My Life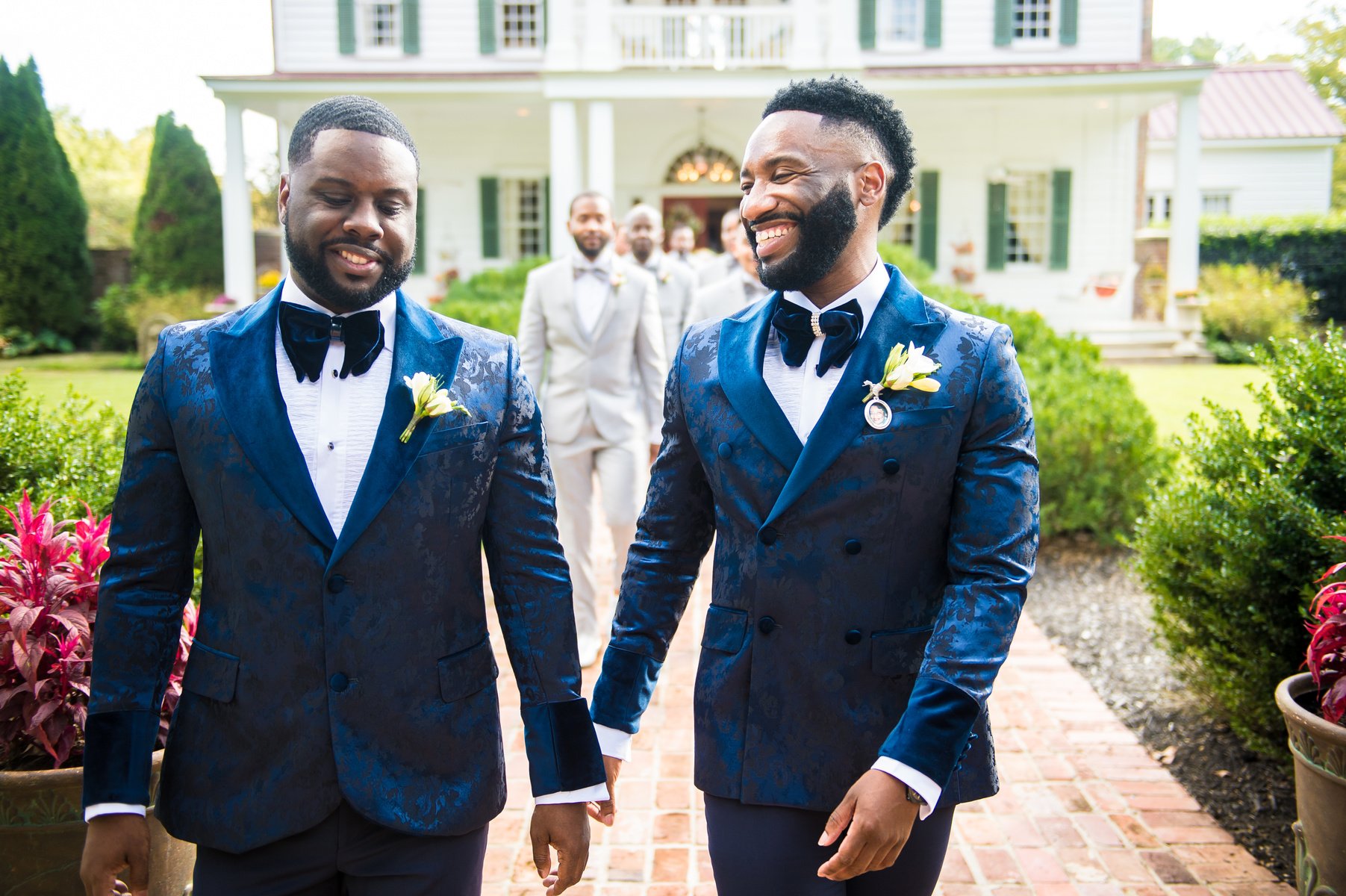 I had the honor of seeing two queer Black men get married and it changed my life. September 30th outside of Memphis, TN I was present during a wedding that was unlike most of the weddings I was forced to go to when I was a child. I'm not the biggest fan of dressing up but dealing with two men who would give any TLC Bridezilla a run for their money, I had no choice.
This couple is no ordinary couple. Over the years I've become close with them as they have shared so much wisdom with me on what it is being a Black queer man and in a committed relationship. I've often talked about the lack of representation on TV and in real life when it comes to seeing Black gay men in love. I didn't think it was possible because of this. I thought to myself several times "I don't see Black men together so it must not be meant to be." Seeing the two share their vows sparked something in me that I was sure was there.
I think about 14 or 16-year-old Justin and what the effect would've been on him if he saw Black Gay love in real life. Shows like "Noah's Arc" gave some glimpse but was still TV.
Even 'Noah's Arc' wasn't enough to combat the homophobic content that young me saw. I always asked myself was it something wrong with me and was it truly an abomination to attracted towards the same sex. Was I sick and twisted as my pastor told me almost every Sunday? No, I wasn't. This Sunday would be different. This Sunday 31-year-old Justin would see two of his friends who are in love celebrate with friends and family and won't be judged. A Sunday that I would always remember.
This is no ordinary love, and this is no ordinary couple. I met Erik at a time in my life when I was unsure about what I wanted to do, and I felt I had no choice because capitalism was on my neck. Erik reached out to me to express that he enjoyed my YouTube recaps of Real Housewives of Atlanta, and a friendship was born. He offered me a job opportunity when I really needed one, and he was a part of the catalyst that lead to the creation of KingofReads.com. He supported me (in more ways than I can share) with my move to Atlanta, and I will forever be grateful. Over the years I've become close with them, and they have shared so much wisdom with me about being Black queer men, choosing to be in a committed relationship. I am happy to have them in my life, and I am especially happy to have been able to share their special day with them. Seeing this couple share their vows in front of family and friends sparked something in me – Black queer love is possible. How revolutionary.
I've often complained about the fact that I rarely encounter Black gay men in love on my television or in my day-to-day life. Where are the Black gay men who love other Black gay men? It seems they don't exist. They certainly aren't on Shondaland shows, and they certainly aren't on Netflix. They aren't on any shows on Logo. The last time I saw two Black queer men show the love that I was about to was during Pray Tell's kiss after disclosing his status.
So seeing these two Black men come together wasn't just important to me because of the ceremony but it was love they shared with each other that I have been fortunate to witness and it changed me. On September 30th, outside of Memphis, Tennessee, right in the heart of the Bible belt, their wedding ceremony began promptly at 5 pm. I've always seen photos from same-sex ceremonies but never attended or thought it was possible to even think I would have a chance at one. This wedding celebrated the love of two men who looked like me and loved like me. Although I'm not the biggest fan of dressing up, I put on my Sunday's best – honestly, I had no interest in catching the wrath of two men who would rival any WE TV Bridezilla. Days before the ceremony I played dress up from head to toe. Terrell insisted and even went as far to purchase more shoes because the ones I had just wouldn't do. You gotta love them. I walked in right as the ceremony began and I felt an instant rush in my blood that this was real. Not a viral video on social media but I was actually there.
I cried. Tears of joy. I was moved. As someone who made a decision earlier this year to leave monogamy alone and just have "fun" and focus on my career this told me that sometimes love truly does happen when you least expect it. At that moment I realized that I loved and appreciated my friends for inviting me to experience an important moment in their lives. I also came to realize that I, in fact, am deserving a love and for someone to make me loved. Love takes work no doubt it isn't what we some might want us to see on Instagram or Facebook. There are moments when things might seem too much to get out of and those are the moments that show you rather the person in your life is truly the one for you or not.
I didn't attend this wedding alone. I went with someone who I am in love with. If I hadn't been for seeing the love between Erik & Terrell over the years I would've given up on love in general, but I feel like I've been given a second chance to truly open myself up to be prepared for whatever my heart deserves.
Check out some of the amazing photos taken by Uche Onyeyiri of Erik & Terrell and follow their Instagram.
Comments
comments
The Conversation Surrounding LGBTQ Youth: Jamel Myles Loss to Suicide
What usually goes through the mind of a 9-year-old? Their favorite cartoon or video game? When their homework assignment is due?
Those are probably some things that the typical 9-year-olds would be thinking about. However, death or dying from suicide should never be one of the things a child should ever have to think about. Unfortunately, we lost the life of 9-year-old, Jamel Myles, last week from death by suicide after being told to kill himself by his classmates four days after he started 4th grade.
Jamel was found in his home dead by his mother last Thursday. This story made it on twitter headlines on Tuesday and started a conversation surrounding LGBTQ youth, bullying, suicide, and sympathies for the family.
I can't say much about #JamelMyles because it makes me literally sick. As much as we want to make this about "bad" kids bullying him to death, it's about a society that others and harms LGBTQ people. Children are constantly learning from the world around them, mainly from adults.

— Dana (@DanaVivianWhite) August 28, 2018
1989. 4th grade. 9 yrs old. First time a fellow male classmate shamed me by saying "stop being so gay." I didn't know who I was then. Jamel did. He was gay. And he was proud, until he wasn't. My heart aches. #JamelMyles https://t.co/Lp1i8n5KJb

— Steven Canals (@StevenCanals) August 28, 2018
Same folks talking bout kids can't possibly know that they're queer are asking their 6,7,8,9 year old nephews how many girlfriends they have or who they like in school. Please.

— Reagan Gomez (@ReaganGomez) August 28, 2018
So who's the blame for the death of Jamel Myles? The kids who bullied him or the heteronormative rules set up in society. I lean more on the latter because children often get their behavior from adults.
In an academic journal a study conducted by the 2015 National Youth Risk Behavior Survey, the results found that 40% of adolescent youth who identify as gay, lesbian, or questioning contemplated suicide. Unfortunately, transgender identifying teens weren't included in this survey but the numbers would be even higher than the ones that were reported originally.
Below are excerpts from an article on the ACLU website in regards to Harassment of LGBTQ Youth.
" A study of Massachusetts high school students published in the journal Pediatrics reports that nearly one-third of gay teens had been threatened in the past month with a weapon at school, compared to 7% of heterosexual students surveyed."
"The Gay, Lesbian and Straight Education Network (GLSEN) conducted a survey of 496 lesbian, gay, bisexual, and transgender (LGBT) students from 32 states. This survey found that over 90% of LGBT youth reported that they sometimes or frequently heard homophobic comments in their schools."
Entire studies are done to show how LGBTQ youth are affected by bullying and harassment yet people on social media including parents are still feeding into homophobia which their own kids learn from them.
ALRIGHT WRAP IT UP EVERYONE DOJACAT HYPE OVER pic.twitter.com/OHHb4HU5o8

— zacharie @ p5 (@divisionallstar) August 29, 2018
Today, news spread of a 9 year-old gay boy who was bullied to the point of suicide. In response, heterosexuals lamented that homosexuality is forced onto children who are too young to know their orientation.

And then I see heterosexuals supporting this. #TheStraightAgenda: https://t.co/DAbITFZLky

— Yvangelista (@AdamantxYves) August 28, 2018
Gurl I….Get your problematic faves and their associates with this trash rhetoric off of social media.
I always hated seeing those what would do if your son/daughter were queer tweets because the people only use them as a way to bash the queer community with a hypothetical. Just admit that you're homophobic or transphobic so we can drag you properly and move on.
Those who identify with the LGBTQ community have to go through two forms of adolescence one where they walk in the world as "heterosexual" and the one where we have to hide our true identities because society says we're not morally right. Most times we suffer in silence in order to not be singled out by our peers or family members.
Jamel Myles was confident enough to tell his mom and sister about how he identified; however, the harassment pushed him over the edge and another queer youth was lost too soon from suicide and bullying.
Conversations are still being had over the ways we can improve society so more children and adolescents would feel safe and comfortable in their identity both in the world and in their families. Overall we have a long way to go.
Comments
comments
Message to Allies: How Not to be a Weirdo During Pride Month
It's that time again – Pride! In remembrance of the LGBTQIA+ community who sparked a nation-wide gay rights movement after the Stonewall uprising in the late 1960s, you might already have noticed that sections of your town or city are decorated with rainbow flags and welcome signs, streets and sidewalks are painted with rainbows, your baseball team may even be wearing rainbow-colored socks (which their bigoted fans are currently arguing on the internet about). If you aren't seeing signs of Pride month in your town, you need to move far, far away because you live in a sad, sad place. But I digress…
All month, there are Pride-related events – festivals and parades and parties and drag shows. As an ally, you may want to attend these events, and you probably feel pretty proud of yourself for all your "wokeness," which means you have no clue about just how problematic and down-right annoying you are. As an ally and a former weirdo at Pride events, let me offer you some advice so you don't have to make the same mistakes I did.
Noah Berger/Associated Press
No matter how many books you've read, how many podcasts you've listened to, and how many Tumblr pages you've double-tapped, you're still problematic.
You just have to accept the fact that you are problematic. No, you aren't as problematic as the guy white women and men voted into the White House, but you've probably still got a little learning to do. Kudos to you for educating yourself, questioning your beliefs, and trying to be a better person — you should feel proud of yourself – however, there are just some things you will get wrong, and it's okay. If somebody checks you about it, take the lesson, nod, smile and grow from it.
You're a guest, so act accordingly.
At many of these Pride events, a good time will be had by all. There will be plenty of Beyoncé, some good ole fashioned twerking and voguing, and you are going to want to join in the fun. You should, but remember, ain't nobody come to see your straight-ass duck-walk, so chill.
I get it, you're excited & want to be supportive, but remember, the LGBTQIA+ community has been getting on fine without you since Moses parted the sea. One of the best things you can do as an ally is to let people live in peace.
Click To Tweet
You're a straight, we get it, now be quiet.
You are in a space populated by everyone on the sexual identity spectrum, and the assumption is that your sexual identity does too. If your sexual identity is firmly planted at cisgender hetero, that's all well and fine. It is quite okay to be okay with that. However, don't spend the day announcing to everyone that you are a straight. I know you think it's cute or whatever, but it's not. Ugh, I am literally cringing as I write this reflecting on how stupid I was. Woooo chile…the ghetto!
Save your questions and insights for Twitter
I remember when I first heard the word Trade. I happened to be a Pride event, and I was so intrigued. I was so curious that I proceeded to spend the rest of the day grilling my lovely companion about the history and origin of Trade. If that wasn't bad enough, I then proceeded to point out every gentleman to verify if he would be considered Trade. Imagine you are at a party having a good time and your weirdo friend keeps tapping your shoulder pointing out men asking, "Oh, oh, is he one? With the baseball cap and the sagging pants? He's Trade, right?" I was so clueless, just a whole mess. It was cute that I learned a new word, but Pride events are not the place to get your education (unless you're at an educational workshop, which I was not). Chances are you will hear some new word or lingo that you aren't familiar with; it is okay to be curious. My advice – create a new document on your Notes app, type the word down for research purposes later and keep the party going. Don't stop the good time trying to learn some shit.
Don't be a cliché
It is inevitable that you will be overcome with the sheer fabulosity of it all. Before you can stop yourself, the 'Yesssssss Queeeeeeen' is going to jump out of you. Sometimes, this is appropriate like at a drag show, a contest, or maybe a performance. Please don't be that person that 'Yesssssss Queeeeeeeen''s every boy in a belly shirt and booty shorts you pass. A compliment is fine, but don't be a weirdo about it. There is a huge difference. People get all dressed up to be noticed, not to be your spectacle, feel me?
Allyship is a slippery slope. It's a thin line between being an ally and a weirdo, believe me, I've crossed it more times than I care to admit. Mostly, we are well-meaning people, but being an ally is a process. It's about taking ownership over building trust with the community we wish to align ourselves with, and this requires consistency, accountability, and yes, a little humility. And I get it, you are excited, and you want to be so supportive, but remember, the LGBTQIA+ community has been getting on fine without you since Moses parted the sea, and one of the best things you can do as an ally is to just let people live in peace.
What other tips can you share to make people better allies?
Featured Image Photo by Ylanite Koppens from Pexels
Comments
comments