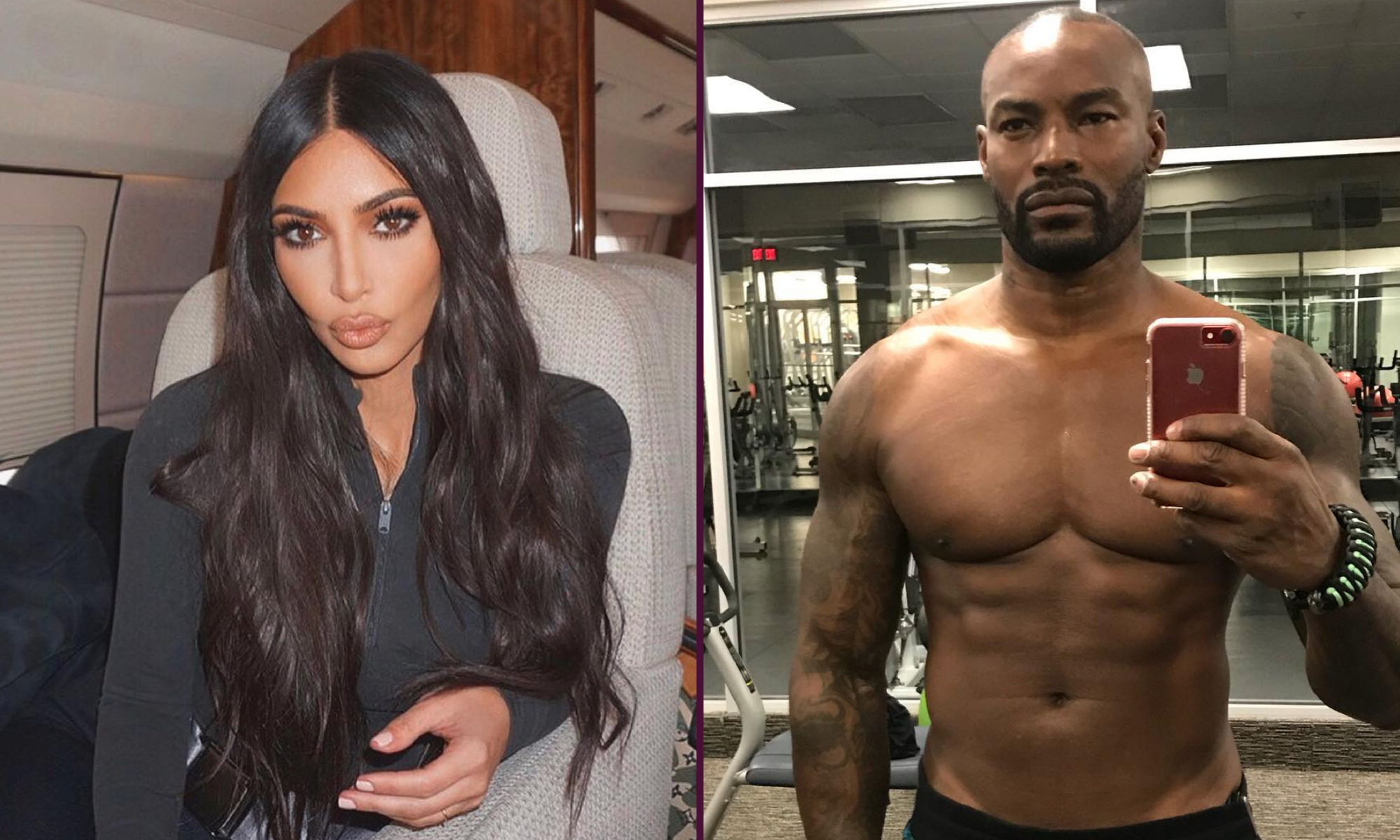 Kim Kardashian Questions Tyson Beckford's Sexuality After His Comment About Her Leaning Thigh
The white woman jumped out and so did right hip too! Kim Kardashian-West and Tyson Beckford are going at in on Instagram and both of them had time. A photo of Kim was posted and Tyson Beckford posted "Sorry, I don't care for it personally."  In the photo, it did look as if Kim's hip was leaning over a lil bit but Tyson didn't have to say that.
Tyson posted another comment dragging it further "She is not real. The doctor f**ked up on her right hip."  he wrote. It didn't take long before the white woman jumped out. Kim hopped right in the comments as well and responded with a comment that took a dig at Tyson's sexuality.
Some didn't take Kim's comments well and rightfully so. As a queer man myself it came off as she was out his sexuality. Take a look at some of the reactions on social media.
So…per @KimKardashian:

Mental Health, not funny.

Homosexuality, shade worthy. pic.twitter.com/iiLE6nL2LU

— The Opinion (@SheraeSpeaks_) July 31, 2018
You know what I was going to say racist but I didn't want to reach for It. But fuck her. Gag: It's both racist and homophobic. 1) There's a history of white women invalidating (and weaponizing) the masculinities of Black men.

— trade-presenting (@jatella) July 31, 2018
The homophobia always jumps out, with straight women. Every time. https://t.co/lhM0sbfgUJ

— Petty L'Belle (@xoJoyBelleox) July 31, 2018
Implying a man is gay in retaliation to him saying something you don't like is as tired as slut-shaming. But naturally the gays won't say shit about this passive aggressive homophobia from Kim Kardashian because they aspire to that level of nothing. pic.twitter.com/8kEsUprOtf

— Sisa (@titanbaddie) July 31, 2018
They wanna be in black womens spot. That's why they chase black men. That's why they steal business ideas and fashion from black women and try to act like they came up with it. Everything is intentional, so we have a right to make fun of them.

— Richey (@richeymusic) July 31, 2018
@KimKardashian Tyson Beckford doesn't prefer you because you filled with black features and lack authenticity. And insinuating that someone is gay is tired and played out. pic.twitter.com/s75KjUTAGF

— HouseOfAbundanceBills (@ReadingHomo) July 31, 2018
Clearly both of them were out of pocket but was Kim Kardashian out of order for questioning his sexuality?
Comments
comments
Keep That Same Energy: Teyana Taylor Announces Solo Tour After Mistreatment From Jeremih
Teyana Taylor decided to keep that same energy by announcing her departure from the "Later That Night Tour' and creating her own tour. The tour is inspired by her recent album, "Keep That Same Energy" and is called "KTSE On Alse VII." The tour will have singer, Dani Leigh, as a special guest. According to Teyana this tour will be about women empowerment.
#LaterThatNightTour will now be the #KTSEOnAlseVII TOUR. Toronto will be rescheduled for later this week & All other dates will remain the same. I will also keep @DaniLeigh on as my special guest ❤️ I promised y'all I would work it out regardless.✊🏾#womenempowerment #LevelUp

— TEYANA M.J. SHUMPERT (@TEYANATAYLOR) August 16, 2018
Now Teyana is not one to shy away from speaking her mind. The "Rose in Harlem" singer quickly took to social media to express her mistreatment by fellow tour mate Jeremih.
@Jeremih Lazy, sneaky, jealous, conniving, selish, lame ass nigga! Don't ever try to play me Petunia! They come to see me then 80% of the room leave after MY SET! work my ass off every city, every night! You've done nothing this whole tour but act like a DIVA in ya princess chair

— TEYANA M.J. SHUMPERT (@TEYANATAYLOR) August 15, 2018
Jeremih took the petty approach and indirectly responded to Teyana's claims by simply posting an Instagram video of Lil Duval singing "I'm living my best life" with the caption "#KTSE."
Who's side are you on? Tell us in the comments below.
Comments
comments
#LHHH Ep.2 Momma Pam Gets Clowned on Twitter for Santa Clause Jumpsuit
Our favorite Love & Hip Hop mother got clowned on social media. Momma Pam must have been celebrating Christmas in July with her red jumpsuit that needed Pam cooking spray to slide out of. A1's mother always brings out the ratchetness but this time she brought out her inner Ronnie from 'Player's Club' wig out. Twitter let her have it and compared her to the Grinch that stole Christmas.
When Safaree said ''how somebody with black nail polishe, gold dreads and sparkly shoes gone tell me I'm weak'' #LHHH #lhhhollywood pic.twitter.com/cbCkSLfumh

— Mercedes Howard (@_hilary_banks_) August 7, 2018
Bruh why they do A1 mom like that? 😩😩😂😂😂😂💀#LHHH pic.twitter.com/P3mnrJeSkX

— dj (@usingthe_JOHN) August 7, 2018
Comments
comments
Why Did I Get Married Teas! Married to Medicine Season 6 Trailer Serves it Up!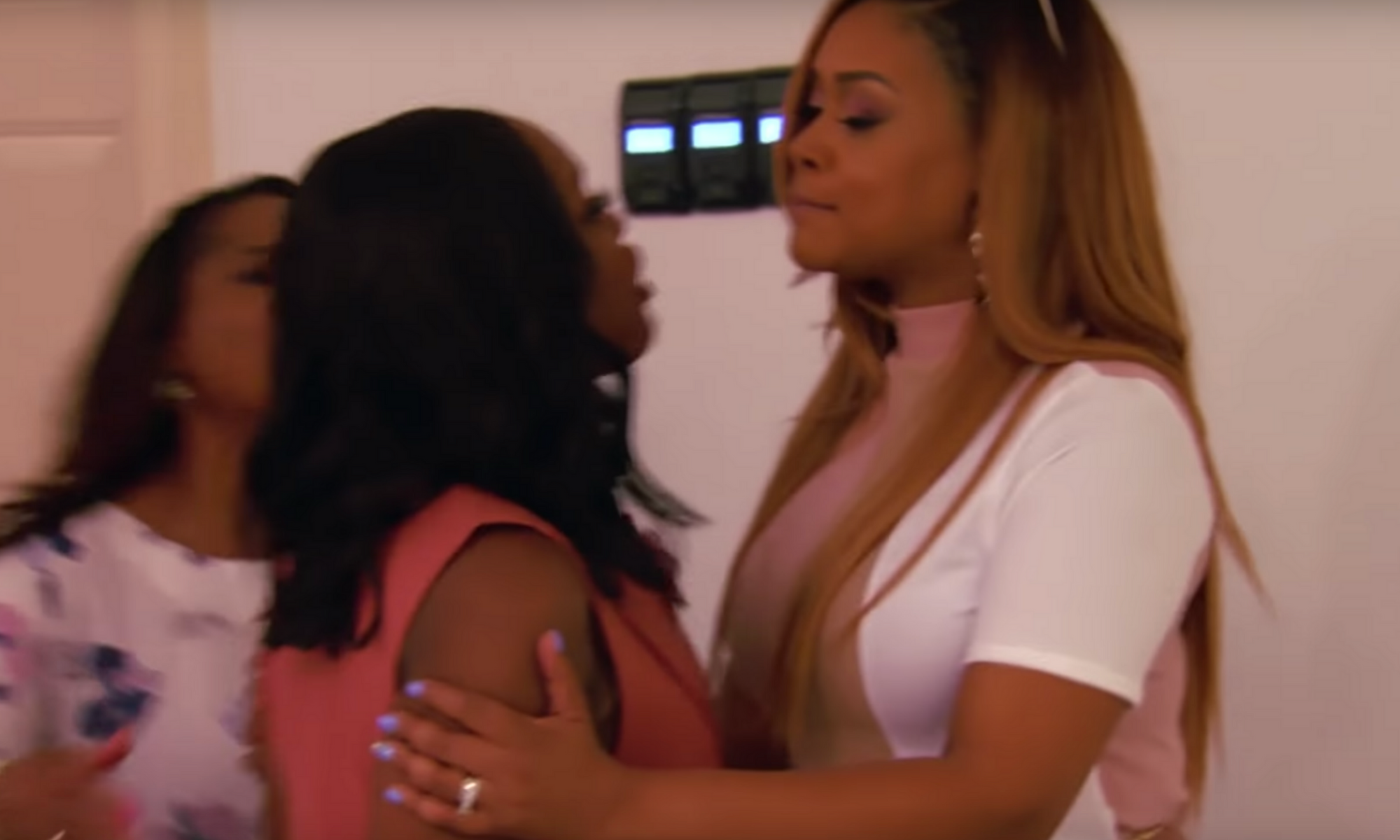 Married to Medicine is coming back Sept 2nd and it by the looks from the trailer some of the marriages won't be. We left last season with Simone and Cecil trying to work things out during the reunion while Quad & Greg were trying to figure out if they wanted to part ways. Ms. Quad said she saw her husband dancing in the car with another woman!
Poor Cecil is still on mute.
Greg wants a slave, not a wife.
Goodnight wig. It's late in Atlanta.
What did you think of the upcoming season?
Comments
comments