Nicki Minaj is supposed to roll out her album Queen on August 10 . . . or, at least, that's what we thought. But today she tweeted asking Tracy Chapman–who she calls a 'legend'–if she would "hit her  [up] for the love of #Queen".
Tracy Chapman, can you please hit me. 🤦🏽‍♀️ omg for the love of #Queen

— Chun-Li (@NICKIMINAJ) August 1, 2018
She followed up with a question to her fans that, quite frankly, did not make sense and should have been way too embarrassing for her to tweet. In her follow up tweet, she asked her fans, "do I keep my date & lose the record? Or do I lose the record & keep my date? do we push #Queen back 1week?" after having said that she "sampled the legend #TracyChapman," but that she "didn't know that the song was hers."
So there's a record on #Queen that features 1of the greatest rappers of all time. Had no clue it sampled the legend #TracyChapman – do I keep my date & lose the record? Or do I lose the record & keep my date? 🤦🏽‍♀️ do we push #Queen back 1week? Ugh! I'm torn, y'all help🙏🏽😔

— Chun-Li (@NICKIMINAJ) August 1, 2018
There is a couple issues with this. Let's get into them:
As the self-proclaimed "Queen of Rap," Nicki has a particular responsibility to know when she is sampling music and whose music it is she's sampling, ESPECIALLY when she is claiming the artist whose music she's sampling is a legend.
As the self-proclaimed "Queen of Rap," there is no reason why, just 11 days before her album is released, she is having these type of troubles after 10+ years in the game. However, mistakes do happen, so we won't focus too much on that. The bigger issue is that she, the "Queen of Rap," is tweeting this question out to her fans instead of working out logistics with her team. It makes her look like an amateur, especially since she has already pushed the album back once before (word to Queen Bey).
Here is the funniest thing: in this question, SHE ONLY PROVIDES ONE OPTION. "Do I keep the date and lose the record or do I lose the record and keep the date?" is the exact same question worded differently.
We guess a number of people told her that how she worded the question was wrong because she followed up AGAIN with a poll where she addressed that her phrasing was wrong.
Since I may have asked it wrong. 🤭🦄 vote. You guys can only imagine how much this means to me. It's such a perfect body of work 🎈love you. Long time.

— Chun-Li (@NICKIMINAJ) August 1, 2018
Listen… this album rollout is one of the worst in modern history and, for someone who is a supposed legend, the "Queen," and has been in the rap game for over 10 years, this is not only laughable, it is also irresponsible and quite sad.
Nicki, sis, you have to get this together. It doesn't look good, and the rest of us are not willing to accept mediocrity like your stans may be.
Comments
comments
Alexandra Shipp Doesn't Understand Colorism and It Shows
Alexandra Shipp is suffering from the same light-skin plight that Tinashe claimed stifled her career two years ago. Oh well…
After hearing that KiKi Layne was in talks to step into her queendom as Storm, Alexandra Shipp wasted no time chiming in on Twitter. Her hot garbage take has since sparked yet another conversation about colorism in Hollywood. Alexandra stated, in so many words, that Black people aren't supporting her because of her skin tone. Proving she, like so many, does not understand colorism as a system of oppression, Alexandra makes it clear there's still work to be done.
You see, Alexandra, no one is attacking you for having light skin. They're simply expressing joy over the much-anticipated portrayal of Storm as she was intended — a dark-skin, beautiful Black woman. This was a monumental opportunity for you to offer praise. Instead, you chose self-pity because a skilled actress is taking a role you aren't entitled to. Let's look at receipts, shall we?
KiKi Layne has been nominated for:
The Alliance of Women Film Journalists Award for Best Breakthrough Performance
The Gotham Independent Film Award for Breakthrough Actor
The Washington D.C. Area Film Critics Association Award for Best Ensemble.
You, Alexandra, have been nominated for a Teen Choice Award and a Nickelodeon Kids' Choice Award.
Because you, and others who look like you, have not had to search for representation to feel included, you may not know how to respond to this. I get it, You think you worked hard, earned that role, did it justice. Sorry, baby, but you thought wrong. The one-time wife of T'Challa deserves to be a dark-skin queen and there's nothing you should do about it.
It's bigger than you.
For two decades, we have waited for the mantle of Storm to be assumed by a woman who truly looks like her. For once, little Black children who share that skin-tone would feel seen as they look upon their favorite superhero. Imagine children looking at Storm the way they knew her and the way they thought they could be; strong, beautiful, dark-skinned, and more talented than you.
Furthermore, your conflict with the change in the cast should not be conflated with other pressing issues. Don't weaponize Black Lives Matter to represent losing a job because you're talentless. Where is your grace, queen? You've been coasting on mediocrity in an industry that has made you proud of your light-skin privilege. Now that dark-skin is profitable, the industry is accepting of some actresses with melanin more popping than yours, and you want to play the victim? Ms. "90 percent of the racism I've experienced in my lifetime has been at the hands of fellow Black people."
Girl, bye.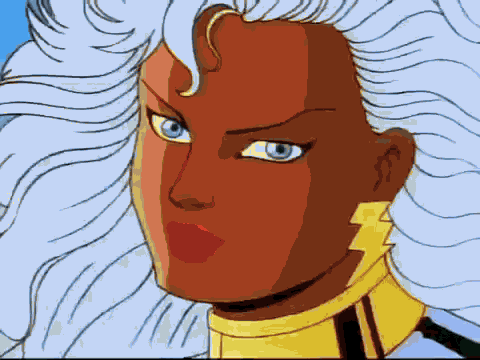 Comments
comments
50 Cent to Teairra Mari: "Where is my money?!"
Emerging victorious from the revenge porn lawsuit filed against him in May 2018, 50 Cent is wasting no time collecting his debt. Posting multiple photos to Instagram, Fiddy says Teairra better get him his money.
If there is one person you never want to de indebted to, it's 50 Cent. He has been relentless in his pursuit of payment since winning his lawsuit 4 days ago. Filed in May 2018, Teairra Mari alleged 50 Cent was responsible for the leak of her racy photos and videos. However, a Los Angeles judge dismissed all claims against 50 Cent and ordered Teairra to pay $30,618. Originally, Fiddy demanded $161,550 to cover all legal expenses, but the judge declined, awarding him less than half of the requested amount.
Fiddy's involvement in the case was questionable by all accounts. At the time, Teairra was dating Akbar Abdul-Ahad, a friend of 50. When she found out her boyfriend was cheating on her, she broke up with him. Shortly after, she saw images and video of herself on Akbar's Instagram. 50 reposted the images, which Teairra says were uploaded "clearly to humiliate me". During a press conference, Teairra alongside her representation, Lisa Bloom, released an emotional statement and announced they were pursuing legal action against 50. To counter her claims, Akbar posted audio clips of Teairra allegedly discussing the case, stating Fiddy was targeted for his friendship with her ex.
Now, 50 has taken to IG to get his laughs at Teairra's expense. His heckling includes captions like, "Now Teairra you can cough up the money or 🧐 you can go with R. Kelly and sh*t in a bucket. LOL".
In his recent jab, he says Teairra "better catch a date" to run him his coin.
Comments
comments
Trump hosts Clemson Tigers to the White House with "4 for 4" Meals
As the Clemson Tigers football team headed to the White House they probably expected some fine dining after winning the NCAA championship but instead, they got value fries and burgers. President Trump welcomed the players in the East Wing with American Fast food from Burger King, McDonald's & some pizza. Trump says he paid for all of the food and mentioned his government shutdown. The shutdown has left the majority of the residence staff being furloughed "Because of the shutdown, as you know, we have the great Clemson team with us, so we went out and ordered American fast food paid for by me," he added while talking to the media.
WATCH: President Trump hosted the Clemson Tigers at the White House to celebrate their national championship.

The president provided the team with a fast-food feast, which he said he paid for himself. pic.twitter.com/q9fZL3fNIo

— NBC News (@NBCNews) January 15, 2019
To see value burgers on a silver plate inside the White House isn't something you see every day or even hear about. The whole ordeal started a hashtag on Twitter calling it #WhiteHouseDinners. Check out some of the reactions below.
#WhiteHouseDinners school pizza but put into Pizza Hut boxes pic.twitter.com/7g9PQO3IGn

— Palm Pilot Mane (@JayJachin) January 15, 2019
#WhiteHouseDinners when you had Wendy's last night because the school cafe was closed and you thought you was gonna get some fancy meal at the WH but instead you see last night meal. pic.twitter.com/B6BLIyFC6t

— Palm Pilot Mane (@JayJachin) January 15, 2019
Comments
comments