There are plenty of times people ask me for some reason relationship advice even though I've been single for going on 3 years now. Going back, I think there are many reasons why I'm single. One of the reasons is because I know more than ever what I want. Something real that I can touch and feel and I haven't ran across that in a minute.
Ever been in a situation where you find yourself extremely attracted to someone only to be curved? That person who you finally get the courage to ask on a date or tell that you're interested in and only for them to say "Nah I don't see you like that". This has happened to me so much in that last couple of years I've decided to discuss it. Rejection is something we all hate and sometimes hard to accept. Probably the main reason why some of us gay men have a hard time approaching other gay men. We would rather just hit them up on Jackd and other apps so if he isn't interested it won't hurt as bad.
Nothing is worse than getting rejected and then having them trying to remain cool. We can be friends in most cases. Some of my closest male friends paid me dust. Some don't even allow you time to grieve though lol. Chile they will reject you and with that same breath ask you for advice on somebody who isn't interested in them either. 
Well if you're that person that rejected them for whatever reason. Either you were not attracted to them, or just seen them in a friend type of way all that cute ish. Allow them some time to get over you unless you want them to be bitter and plot against your future relationship.
If you're the one who has been rejected it's not the end of the world and it doesn't mean you're not attractive. No, I'm not going to say it wasn't meant to be and all that cute sh*t. They probably didn't find you cute and they probably just don't know what the hell they want. It happens to all of us honestly.
The only that bothers me is the fact it seems a lot of us are chasing things that don't exist. Sometimes we want what we can't have and the fact that isn't obtainable makes it, even more, tempting. Some of us grow out of this early and some of us don't. We start to eventually realize that some things are more important to us than others. Compromise on some things. Figure out what it is that you can't deal with and the things that you can live with. Nobody is perfect but they may be perfect for you.
Have you ever been put in this type of situation and if so how did you deal with it?
Comments
comments
John Gray, We Are not Raising Men
While looking through Twitter today, I came across an excerpt of Pastor John Gray on Sister Circle. What I saw disappointed me. A choir of sisters sat beside him advocating for women sidelining themselves to raise adult males. I was tight. Speaking about his wife, Aventer, Pastor John Gray said:
She's a covering not a lid because if a man marries a lid she'll stop your dream. But if you marry a covering, she'll push you to your destiny.
To that, I say men who believe this are lids.
Not Your Mama, #NotYourMule
Women are burdened with confining gender roles that minimize the freedom women have in an oppressive patriarchal world. We are seen as lovers, maidens, mothers, queens, huntresses, sages, and mystics. Women are expected to be therapists, expert chefs, maids, and submissive to their significant others, at least in heteronormative relationships. We are expected to stay youthful, speak little, spend nothing, and be grateful for the opportunity. Not only are women subjugated to lives of servitude at their own expense, its due to the emotional immaturity of their spouses.
Men are particularly guilty of exploiting the maternal strengths many women possess. This notion that "a woman will inspire me to be my best self" is pure narcissism. Stringing women along with "I know I'm not perfect" or "I'll make it one day" is manipulation. Judith Orloff, author of 'The Empath's Survival Guide', says:
What narcissists see in empaths is a giving, loving person who is going to try and be devoted to you and love you and listen to you. But unfortunately empaths are attracted to narcissists, because at first this is about a false self. Narcissists present a false self, where they can seem charming and intelligent, and even giving, until you don't do things their way, and then they get cold, withholding, and punishing."
"I had to grow into her"
Empathetic people are patient to a fault and believe they can fix people with compassion. As John continued, he mentioned the pain he caused his wife because of his failure to heal himself.
My wife has endured more pain birthing me than both of our children. She has sacrificed these past 8 years, uncovering the painful areas of my manhood and covering the areas that could have exposed me.
That's not her job! Toxic masculinity and the rejection of feminine energy has convinced men that they can wait until they're in a relationship to deal with their baggage. While we frequently refer to this as a woman raising a man, its actually trauma bonding. Trauma bonding is when a victim and an abuser form a connection that makes it impossible to leave the relationship, no matter how much damage it's doing. Much like the relationship between Michelle and Chad, these bonds are formed by the tactics narcissists use.
In situations like these, you just have to be prepared to say those people aren't healthy for you. Let them go.
"My wife has endured more pain birthing me than both of our two children." And the hosts gassing it ????? nahhhhh pic.twitter.com/J5unFKMHYF

— Keiko (@ArtByVenus) November 14, 2018
Comments
comments
Y'all Weren't Going to Tell Me My Baby Was Ugly?
After 28 hours of labor and an extra week of pregnancy, I was exhausted. That extra week messed up all of my plans! Having a natural birth didn't happen. My husband had to leave in less than 24 hours after I gave birth for work. My sisters that came to help, had to go home. Not to mention the lack of breastmilk for the first 48 hours. The only help I had was from my 60-year-old father-in-law who hasn't dealt with babies in over 25 years. Moments like this made me wish my mother was still alive. The stress of the situation didn't really give me a chance to embrace my baby and motherhood. I looked at my son, but I didn't really look at my son.
When I finally got a moment to soak in motherhood and embrace my baby, I thought something was wrong. Why does he look so old? I read overdue babies sometimes look a little wrinkly, but this was looking a little extreme. I could have sworn I saw a 5 o'clock shadow. I started to wonder if the Curious Case of Benjamin Button was happening to my child… Read the full blog at SimplyLizLove.com
Comments
comments
Yes, Check On Your "Strong Friend," But First, Have You Checked In With Yourself?
With the passing of celebrity fashion designer, Kate Spade, the dialogue around mental health and suicide prevention has re-surfaced. Also, it's been a popular posting among social media groups and an overall cultural push in asking, "Have you checked on your strong friend? "I too believe it is important to reach out to those who would not traditionally appear to have struggled with mental health; Yet, I have a more pressing question to ask, have you checked on yourself? Too often, we become busy and caught up in everything around us and forget to take care of our own needs until we feel stressed and overwhelmed by the hustle and bustle of the world we live in.
According to the Center for Disease Control and Prevention (2010), suicide was the 16th leading cause of death for blacks of all ages and the third leading cause of death for black males ages 15–24. Additionally, although research indicates that suicidal behaviors occur at a lower rate than their high school counterparts, attempts at suicide among black high school students is increasing at an alarming rate.
According to the Center for Disease Control and Prevention (2010), suicide was the 16th leading cause of death for blacks of all ages and the third leading cause of death for black males ages 15–24.
Click To Tweet
For many, especially within the black community, misunderstand the importance of mental health. Thus, many members of the black community are reluctant to discuss mental health out of cultural conditioning, shame, and stigma regarding the signs and symptoms as less critical than they really are.
Checking on friends and on those who are close to us is all fine and dandy, however, before you can be there for someone else you need to take care of yourself. And remember, it's not selfish or crime to ask what you need, you just have to be aware of what your own needs are.
Now, don't get me wrong, as humans we long for the connection and empathy from others, but before we can make sure we truly support others with their struggles, we need to make sure we are there for ourselves. So, I ask you, when is the last time you took time out for yourself? When was the last time that you honestly took care of your needs, not just physical, but emotional as well? When was the last time you intentionally engaged in self-care?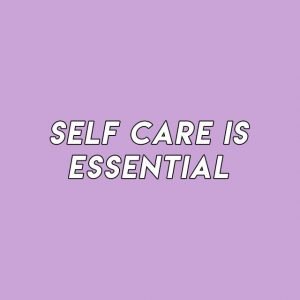 Let's end the stigma and continue to have these courageous conversations. No one is exempt, anyone could struggle with mental health.
If you or someone you know is in crisis, there are options available to help you cope 1-800-273-8255. You can call the Lifeline at any time to speak to someone and get support. The Lifeline provides 24/7, free and confidential support for people in distress, prevention and crisis resources for you or your loved ones, and best practices for professionals.
As always, bring your ideas and thoughts, let's have a civil conversation. I would love to hear your thoughts. Emphasis on "civil," because the block game is S T R O N G. Find me Instagram and Twitter @TheCarterReport, as well as [email protected]. I am always interested in hearing about what you all what to hear about.
Comments
comments