A photo from a Wisconsin High School has divided their community, prompting students to share their experiences of racism and administrative neglect.
During the Baraboo High School junior prom, a photo was captured showing the male class of 2019 throwing up the Nazi salute. Leaving many questioning how this has been normalized in 2018, former students have anonymously provided incite. Baraboo High School administration has known about racial abuse among the student body and done nothing. A student laments:
"I also went to Baraboo High School, and have had some problems with the boys in the prom picture. The day after President Trump was elected, I heard one of them shouting "White Power!" in the hallway. I immediately went to a school official, but was told that nothing could be done because it was his First Amendment right and he wasn't harming anyone. I was then told that I should look up videos of Black Lives Matter protestors being hostile towards police, and that I should get a tougher skin. I left the office still upset, but never pursued it further because of the initial response to my complaints."
Not alone in her struggle, many students reached out to twitter user @jules_su, who started the thread.
Prom Night
At the influence of the hired photographer, a female prom attendee recalls the boys were encouraged to show their White pride. The photographer separated the boys from the girls, harassing the girls and inciting the boys.
"He was extremely rude and gross towards us. [And] then when the boys took their picture he told them to do that and was laughing about it. It was disgusting. And they sat there for about 5 minutes taking pictures and laughing."
While most of the reports of abuse stem from racial tension, LGBT students have spoken up as well. A graduate recalled their experience:
The Baraboo School District Administrator Lori Mueller refused to respond to calls or emails and instead opted for a statement. Released on Monday, she says school officials are investigating and the photo was not reflective of educational values. Parents have since addressed the school board with their concerns. In an interview with the Baraboo News Republic, Greg Sacra, the son of a WW II veteran was outraged.
"I grew up knowing that Nazism was wrong and I don't see how they could get this far in their education and not know that. They don't know that? They think it's a joke? Maybe it takes an extra day devoted to history — an extra hour."
Catching the attention of the Auschwitz Memorial Museum in Poland, it's clear the world's eyes are on Baraboo and the rest of America.
It is so hard to find words…

This is why every single day we work hard to educate. We need to explain what is the danger of hateful ideology rising. Auschwitz with its gas chambers was at the very end of the long process of normalizing and accommodating hatred. https://t.co/13AzZaMGJR

— Auschwitz Memorial (@AuschwitzMuseum) November 12, 2018
Comments
comments
Rolling Ray Undergoes Surgery After Wig Catches On Fire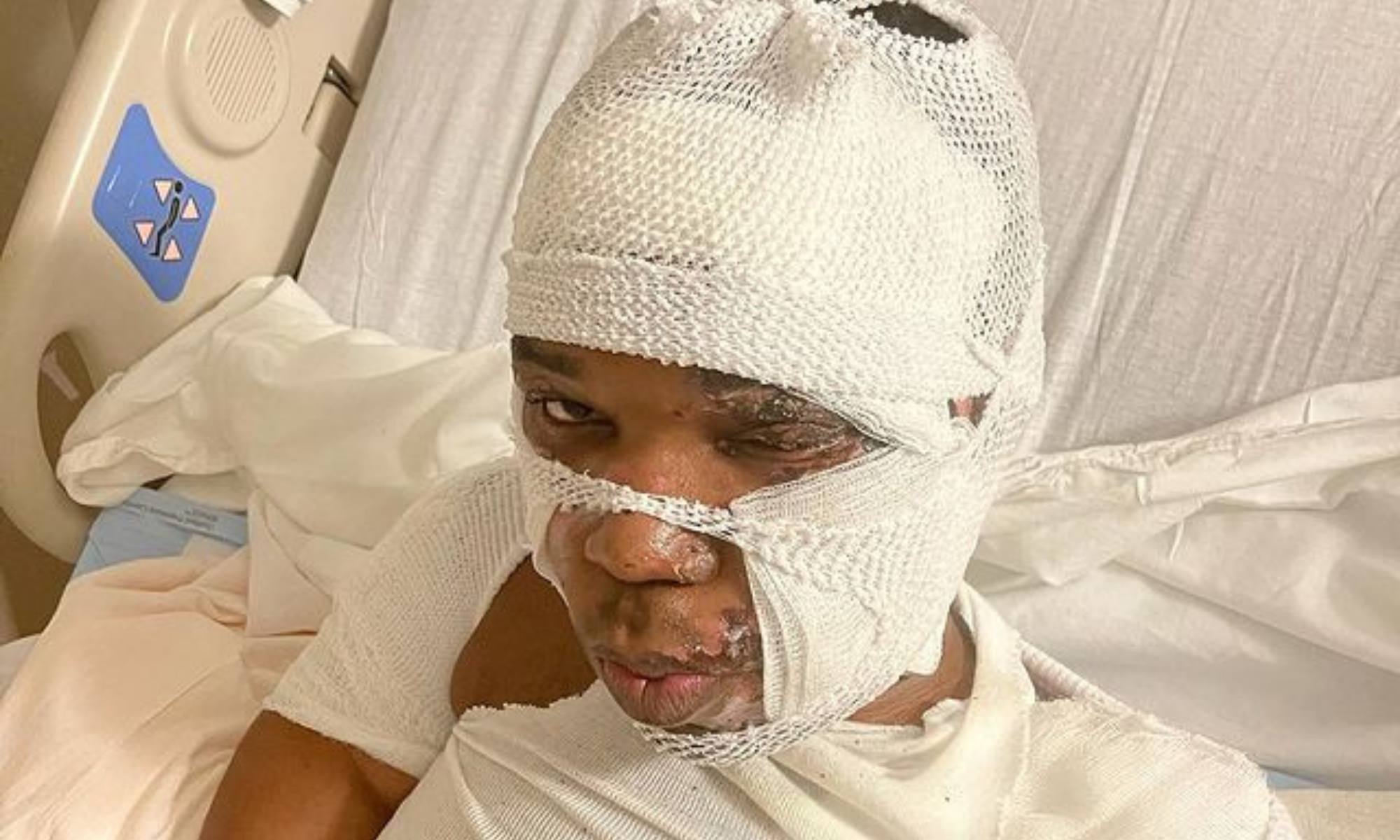 Social media star Rolling Ray underwent surgery Tuesday morning to treat serious burns on his body after his terrible wig accident last week.
In a series of IG stories, he let his audience follow along as he prepped for surgery.
Last week Rolling Ray announced he was hospitalized after his wig caught on fire! During a January 13 Instagram Live session hosted straight from his hospital bedside, he showed his severely burnt and damaged face telling viewers his "whole skin, legs, arms, feet, and everything" were burned.
In a more recent Live, Ray explained the incident that led to his whole wig catching on fire: an unfortunate smoking accident. "It just, like, lit on fire when I tried to light the cigarette," he recounted. "So I get to trying to snatch the wig off. B***h, the fire goes to my f*****g shirt, to my feet, to my legs, to my back. It's a fire everywhere, it's a fire in the whole room."
Of course the internet trolled him in a disgusting display of ableism and heartlessness. Comments like "Rolling Ray should have stopped, dropped, and rolled" and "karma's a b***h" had social media conflicted in its feelings about his accident. His sensation comes from his harsh and, often, below-the-belt reads (just last month he told Yung Miami to "dig (sic) up" her dead baby father. However, the criticism didn't stop him from responding on Twitter.
Rolling Ray might be problematic as all get-out, but we do not tolerate ableism here. We wish him well as he heals.
Comments
comments
Mob of Trump Supporters Storm U.S. Capitol, Sending Congress Into Lockdown
On Wednesday afternoon an angry mob of Trump supporters, white supremacists, and what this website is calling "terrorists" stormed the United States Capitol as members of Congress were in session.
Earlier in the day, President Trump spoke to a crowd of several thousand at an event in Washington, D.C. called the "Save America March." As you know, since he lost the November 2020 election to Joe Biden, he has vigorously promoted various unfounded theories and conspiracies that the election was rigged and somehow stolen from him. Without a single shred of evidence to back up his claim, he rambled on in front of his supporters for over an hour, charging that he lost due to widespread voter fraud. At one point, he told the crowd:
"Now it is up to Congress to confront this egregious assault on our democracy… I think right here we're going to walk down to the Capitol and we're going to cheer on our brave senators and our congressmen and women, and we're probably not going to be cheering so much for some of them. Because you'll never take back our country with weakness. You have to show strength, and you have to be strong."
Shortly after the event concluded, videos flooded the internet of the mob not only attacking police, but also walking past multiple police barricades – sometimes at the invitation of police. They eventually scaled walls, smashed windows, and broke down doors as they raided the Capitol Complex. Meanwhile, Congress recessed and went into Shortly after the event concluded, videos flooded the internet of the mob not only attacking police, but also walking past multiple police barricades – sometimes at the invitation of police. They eventually scaled walls, smashed windows, and broke down doors as they raided the Capitol Complex. Meanwhile, Congress recessed, going into an immediate lockdown and interrupting their largely procedural vote to certify the electoral results of the 2020 presidential election.
Many Twitter users were quick to point out the glaring disparity in law enforcement's treatment of these terrorists with their treatment of Black Lives Matter protesters last summer. As you'll recall, Trump ordered police to use tear gas and rubber bullets when clearing a crowd outside the White House for a photo op with an upside down Bible.
Throughout the afternoon, many around the world watched as the Capitol grounds became unrecognizable in a sea of Trump flags and other white supremacist colors. For over 4 hours, the terrorists were allowed to roam freely tThroughout the afternoon, many around the world watched as the Capitol grounds became unrecognizable in a sea of Trump flags, other white supremacist colors, pepper spray, and smoke. For over 4 hours, the terrorists were allowed to roam freely throughout government halls. Many proudly posed for pictures inside congressional offices, on the floors of Congress, and throughout the halls. In one video, a police officer inside a building gave a thumbs up as he posed for a selfie with a terrorist. The scenes that came out of this insurrection were jarring for many.
For over two hours following the terrorists' rushing of the Capitol, President Trump was completely silent on the matter. As time continued to pass, it became apparent that he would not make any serious attempts to quell the violence unfolding in his own backyard. All Americans got was a now-deleted video posted to social media in which Trump told the mob, "I know your pain. I know you're hurt. We had an election that was stolen from us… It was a landslide election, and everyone knows it – especially the other side. But you have to go home now… We love you. You're very special."
Of course the President of the United States calling armed insurrectionists "very special" lit people up. Today's events were the last straw for many; even with only two weeks left in office, he still managed to make more enemies than he already had.
By the time police and the National Guard finally responded, the mayor had already put a 6pm curfew in place. Despite multiple law enforcement agencies clearing the Capitol and blocking the area around it, terrorists still hung around the complex well into the evening. It wasn't until 8pm – over 8 hours after the siege began – that Congress was able to return to counting the electoral votes (they didn't finish the count until nearly 4am).
When all was said and done, law enforcement made 52 arrests, safely detonated at least 2 pipe bombs found outside the Republican National Committee and Democratic National Committee headquarters, arrested a suspect connected to a vehicle found with firearms, ammunition, and explosives, and confirmed 4 terrorists died.
We will be following this story.
Photo Credit: Julio Cortez/AP
Comments
comments
Asian Doll Gets Into It with JT and Megan Thee Stallion
Twitter was lit Sunday when Texas rapper Asian Doll got into it with JT and Megan Thee Stallion over her assertions she was left off Meg's track "Do It on the Tip," which features City Girls – JT's rap group.
Asian Doll told the world she was originally supposed to be on the song – recorded a verse and everything – but was kicked off at the last minute, replaced by City Girls. In an Instagram Live this past Friday (December 18), the rapper played her unreleased verse on "Do It on the Tip" as she told viewers she didn't know why it didn't come out or "what the f*** Megan was thinking."
Later, Asian Doll insisted her and Megan were good, tweeting that they're still friends. That didn't stop City Girls fans from getting involved, with JT herself commenting, "a real friend is something you b****** really don't know nothing about!" She went on to suggest Asian Doll was lying about her verse originally being on the song.
Apparently, she didn't take these subliminals as shots fired because she appeared to be attempting to calm the flames. "If Jt ain't say my name then she wasn't talking to me stop being messy cause what I said was between me & Megan !" she said on Twitter. But it didn't take long for her to pick up on the beef and fire back. For much of Sunday, the two went back and forth online, trading shot after shot.
Finally, Megan Thee Stallion chimed in tweeting, "I hate that all of this is getting so blown out of proportion. It was never as deep as the comments made it seem." Her and Asian Doll briefly exchanged.
Now that the dust has settled it looks like all the smoke was for show, yet still it made for entertaining Sunday tea.
Comments
comments