Did you not learn your lesson from this last time?
Twitter streets are hot after screenshots of alleged conversation on SnapChat between an unknown person and DJ Envy, according to Miss Scandal's Twitter account who provided the screenshots. The screenshots were posted titled 'The Breakfast's Club Vey Own Dj Envy Likes WHAT'. Screenshots show a conversation about 9.5-inch dildos and titties. Chile you can't make this up. It looks like DJ Envy might be calling up Gabrielle Union as the conversation shifted to getting cakes licked. Not birthday cakes.
https://twitter.com/iammissscandal/status/923388784166744064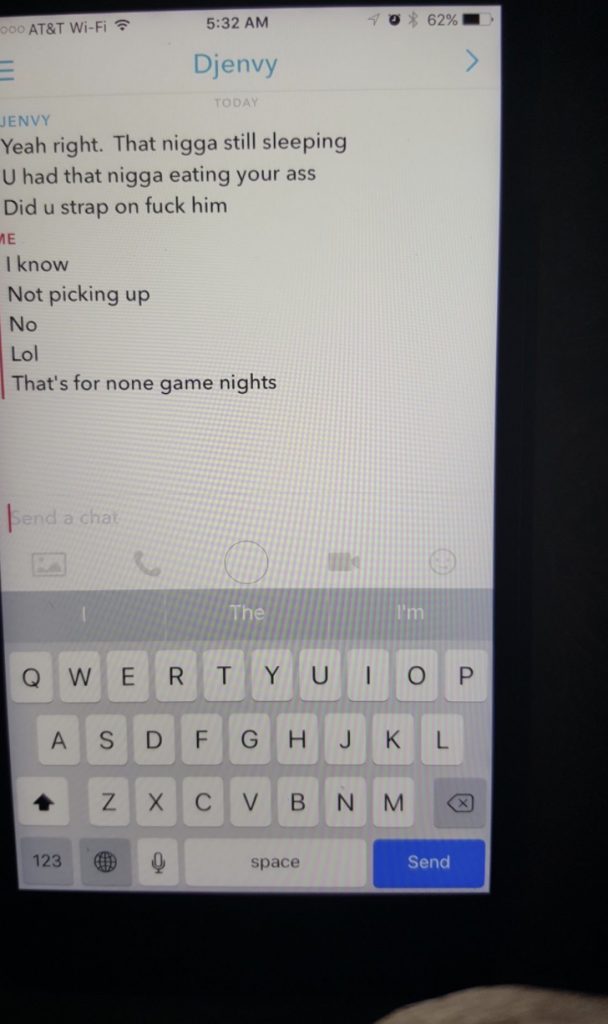 #cthagod feels like that 1st anal experience..

— djenvy (@djenvy) January 2, 2012
.
.
Fix it Jesus. If the allegations are true this would be the second time DJ Envy has had infidelity issues. As you can remember in 2013 when Envy was on his 'Crying Tour' where he publicly apologized to his wife of 5 for cheating with Erica Mena back in 2013. The couple has since gotten past this and has often talked about how they overcame the situation.
If everything is true Gina are you going to stand by your man's side again?
What you gone do Gia?
UPDATED! DJ Envy's Snapchat's name is 'SirEnvy1' so this is not DJ Envy.
Gabrielle Union headed to DJ Envy's house with the strap: pic.twitter.com/bDMnpf7dv0

— ronald isley (@yoyotrav) October 26, 2017
DJ Envy when shorty offered to pound his brown balloon-knot with 9.5 inches of Rubber pipe… pic.twitter.com/Go4ZKt4B3y

— Dez Top 5 (@mikelowkey) October 26, 2017
Comments
comments
Amanda Seales is Not the One
Earlier this week, the ladies of "The Real" celebrated their 1,000th episode. Hosts Loni Love, Tamera Mowry, Adrienne Bailon, Jeannie Mai, and Amanda Seales happily celebrated the momentous occasion with laughs, tears and a bottle of champagne. 
The celebration continued as the ladies were interviewed by "Extra" correspondent Jenn Lahmers.
During the interview, things became a bit awkward when Lahmers referred to Seales as the "newbie" and began to insinuate that she and fellow co-host, Mai, had "butted heads on a couple of topics."
Immediately, Seales cut her off saying, "Have we? Stop!" She followed that up by stating emphatically, "That's' not the territory we're coming from. We're not butting heads. And I think it's very, very important, especially at a table of diverse women to very clearly delineate the difference between having a difference of opinion than butting heads. You'll know when I'm butting heads because when I butt heads, there's only going to be one head standing and as you can see, we're still here," as she embraced Mai.
Mai and Seales followed up the quick read with a toast as the other ladies chimed in, fully supporting everything Seales had expressed. 
Earlier today, Seales posted a snippet of the exchange via her personal Instagram page with the caption, "To Gather.
She tried it. Don't come for me unless I send for you. I am not hostile. I'm passionate. Happy Black History Month ❤️✊🏽"
Seales made her debut as the newest co-host of "The Real" on January 6th.
Comments
comments
Watch Premiere of Fat Joe & Dre's "Hands on You" Ft. Bryson Tiller & Jeremih Exclusively on TIDAL
Today, Fat Joe & Dre are teaming up with TIDAL to exclusively release the music video for "Hands on You" featuring Bryson Tiller and Jeremih. The song is the latest single from the duo's joint album, "Family Ties," which was released in December 2019 and included guest appearances from Cardi B, Eminem, Mary J. Blige, Remy Ma, Anuel AA, Ty Dolla $ign.
Boi-1da and Rich Paul (LeBron James' business partner) co-produced "Hands on You", which features Joe and Dre rhyming over a sample of LL Cool J's "Around the Way Girl." Directed by entrepreneur and executive Irv Gotti, the music video takes place at LIV nightclub in Miami and includes a touching tribute to Big Pun, Kobe Bryant and Gianna Bryant.
 TIDAL members can watch on TIDAL.com/FatJoe
Fat Joe has previously collaborated with TIDAL on a variety of initiatives, including TIDAL X: Puerto Rico and TIDAL X: Brooklyn, as well as music video premieres for "Deep," "Pullin," "Money Showers," and more.
The premiere of Fat Joe & Dre's "Hands on You" track adds to the growing list of exclusive music video content that TIDAL offers – cementing the platform as a premium destination for fans to connect with their favorite musicians. TIDAL is a pioneer in delivering exclusive premier access to its subscribers with high-profile music, videos, original content, livestreams, tickets, merchandise and live experiences fans cannot find anywhere else.
Comments
comments
SZA, Megan Thee Stallion and Normani on the Cover of Rolling Stone's Women Shaping the Future Issue
Rolling Stone magazine hit us with a trifecta of talent for their second annual, Women Shaping the Future issue, out March 3. 
On the cover, sweet-faced Normani, brash in your face Megan Thee Stallion and innocent, doe-eyed SZA are each clad in leather ensembles that match the unique persona's we've come to love. 
SZA burst onto the scene in 2014 with her ep debut, Z. Since then, the singer/songwriter has been featured on chart-topping songs with Kendrick Lamar, Travis Scott, and Rihanna. 
Megan Thee Stallion grabbed our attention with her summer anthem, Hot Girl Summer, and has been giving us "Hot Girl" vibes all year long with no signs of slowing down.
As for Normani, formerly a member of Fifth Harmony, she's given us plenty to celebrate as she embarked on her solo career. Just last year, the sultry vocalist collaborated with DJ Calvin Harris and released her first single, Motivation, along with a viral music video.
As we approach Women's History Month, we're excited to learn more about how each of these ladies plans to shape the future. 
According to Rolling Stone, "In addition to revealing, in-depth profiles of these three artists, the issue also contains exclusive interviews with Regina King, Stacey Abrams, Natasha Lyonne, and other prominent women in entertainment, sports, politics, and culture."

Comments
comments