Did you not learn your lesson from this last time?
Twitter streets are hot after screenshots of alleged conversation on SnapChat between an unknown person and DJ Envy, according to Miss Scandal's Twitter account who provided the screenshots. The screenshots were posted titled 'The Breakfast's Club Vey Own Dj Envy Likes WHAT'. Screenshots show a conversation about 9.5-inch dildos and titties. Chile you can't make this up. It looks like DJ Envy might be calling up Gabrielle Union as the conversation shifted to getting cakes licked. Not birthday cakes.
https://twitter.com/iammissscandal/status/923388784166744064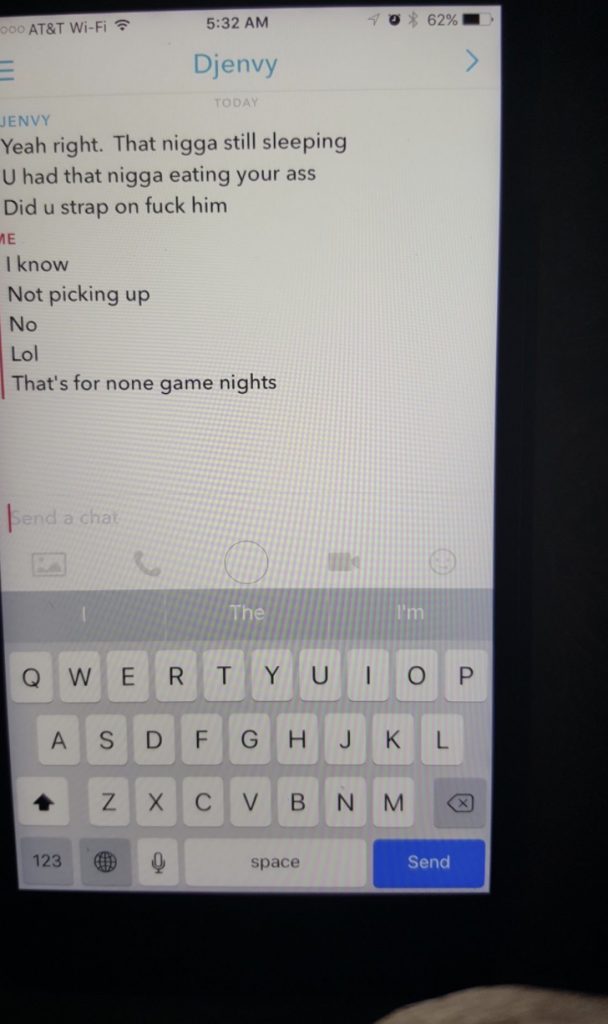 #cthagod feels like that 1st anal experience..

— djenvy (@djenvy) January 2, 2012
.
.
Fix it Jesus. If the allegations are true this would be the second time DJ Envy has had infidelity issues. As you can remember in 2013 when Envy was on his 'Crying Tour' where he publicly apologized to his wife of 5 for cheating with Erica Mena back in 2013. The couple has since gotten past this and has often talked about how they overcame the situation.
If everything is true Gina are you going to stand by your man's side again?
What you gone do Gia?
UPDATED! DJ Envy's Snapchat's name is 'SirEnvy1' so this is not DJ Envy.
Gabrielle Union headed to DJ Envy's house with the strap: pic.twitter.com/bDMnpf7dv0

— ronald isley (@yoyotrav) October 26, 2017
DJ Envy when shorty offered to pound his brown balloon-knot with 9.5 inches of Rubber pipe… pic.twitter.com/Go4ZKt4B3y

— Dez Top 5 (@mikelowkey) October 26, 2017
Comments
comments
Ella Mai's self titled album is a 10 out of 10! Every song is good from start to finish.
First, she had everybody wanting to be Boo'd Up…
Then she had people Tripping…
But now she has everybody talking about this amazing 16 track album.
Ella Mai starts the album off by breaking down her name which is her way of letting people know who she is, but it is a way of people connecting with her beyond the music. I found this to be a different approach for her because I have been listening to Ella Mai before she became mainstream.
One conversation on social media is that people do not like when she starts talking after the song is over but she has been doing this for a while.
I wish Ella Mai would stop giving speeches at the end of her songs 😭

— 💰 (@KeepNupwKeyonis) October 12, 2018
This ain't a podcast baby! 😂 they deleted her talking from boo'd up on the album version. I guess Ella Mai got mad and said ima talk on everything else then 😂 pic.twitter.com/nW2tDJ7dF3

— Chris Smoove (@Chris_Smoove) October 12, 2018
Does it bang in the car? The answer is 100% YES. This is an album you can play without skipping a single song. Ella Mai only had three featured artists on the album and that is rare for an artist because almost everybody now has an album with almost everybody featured on it. If you have not listened to the album I would suggest you do!
Comments
comments
The Long Awaited 'Tha Carter V' "FLOP" or "NOT"
4 damn years! After 4 long years, Lil Wayne finally drops Tha Carter V and it sold pretty well despite the mixed reviews that have been floating around. The album was initially scheduled to be released back in May of 2014 but the legal battle with Birdman held him from releasing. After listening I give it a 7 out of 10. When listening it did not give me the Wayne that I was expecting. One tweet, in particular, said exactly what I was thinking.
Tha Carter V is such an exceptional album. Ironically, it's biggest flaw is too many songs in between the bangers. Whittle this down to about 13 tracks and you've got a masterpiece.

— X (@XLNB) October 2, 2018
The #UproarChallenge became popular after social media comedian Shiggy posted him dancing to the song on Instagram.
Even Wayne's boys got in on the #UproarChallenge
#Carter5 Thank you 🙏🏾 🤙🏾 #UproarChallenge pic.twitter.com/5sup4nEIZX

— Lil Wayne WEEZY F (@LilTunechi) October 1, 2018
The songs that stood out the most were Mona Lisa, Open Letter, Hittas, Problems and Used 2. Tha Carter V has some bangers, but if I can't bang the whole album in the car and have to skip songs there is a problem. Overall the album is a solid good 13 songs.
Did the long-awaited Tha Carter V live up to the hype for you? Comment below "FLOP" or "NOT"
Comments
comments
Ariana Grande and Pete Davidson Call It Quits
We all saw it coming, unfortunately. Ariana Grande and Pete Davidson are reportedly splitting up according to TMZ. The couple who were engaged have called it quits.
Sources close to the former couple tell us AG and PD split this weekend, with both parties acknowledging that it simply was not the right time for their relationship to take off. We're told the two still have love for each other, but things are over romantically. via TMZ
Sources have also said that the recent death of Ariana's ex Mac Miller was the breaking point. Mac Miller died early last month on the 7th of September. Ariana posted a heartfelt message on her Instagram.
This has been a troubling year for Ariana and we wish her the best.
Comments
comments