Killer Mike Lets Us Know He Didn't Actually See Black Panther in His Appearance on NRA TV
So, I log on to Twitter yesterday expecting everyone to be talking about Netflix's new movie Roxanne Roxanne when I realize the Internet is actually buzzing about Killer Mike's appearance on NRA TV.
In case you aren't familiar with Killer Mike, he's a rapper turned political caricature. I honestly cannot tell you what song he's best known for, and I can't tell you about his lyrical prowess. I, can, however, tell you about how he used his Blackness to accessorize Bernie Sanders' presidential campaign. I can also tell you about how he criticized the two Black women activists who interrupted Sanders' Seattle rally in August 2015. I can tell you about how he slammed Clinton's response to the #BlackLivesMatter interruption while implying that Sanders' response was polite and welcoming, even though the Black women who interrupted Sanders vehemently disagreed with Mike's account. I can also tell you about how he said that a uterus doesn't qualify a person to become president, reducing Clinton's more than 20-year career in politics to an organ that denotes her femaleness and not her actual credentials.
I can't understand why Killer Mike, who claims to support the equality of Black people would attach his brand to an organization that has worked to perpetuate the fear of Black people.
Click To Tweet
Following a long line of questionable political choices, Killer Mike decided to lend his voice to the NRA in support of gun ownership. Feel how you feel about guns, I am not going to argue Killer Mike's stance. I will, however, argue against his choice to support yet another political machine that does not at all care about Black people. I can't understand why Killer Mike, who claims to support the equality of Black people would attach his brand to an organization that has worked to perpetuate the fear of Black people which has led to so many unarmed Black men and women being murdered by over-zealous gun owners.
#BlackHistoryMonth
1967 Huey Newton & the Black
Panthers entered the California
Statehouse armed.This terrified
The White Establishment & with
NRA approval Gov.Reagan signed the Mulford Gun Ban Act
into law. pic.twitter.com/Dp9YUZyxXq

— IN THE MIDST. 5132 (@PaulJon54388869) February 18, 2018
I know he remembers the NRA's silence after the murder of licensed gun owner Philando Castile at the hands of Minnesota police officer Jeronimo Yanez (who by the way was acquitted for his crime last summer). And he has to remember mommy-blogger turned NRA Spokesperson, Dana Loesch's call for "action" against people who went against Trump to which the Black co-president of the Women's March, Tamika Mallory, responded with an open letter denouncing what was clearly a call for violence against Black and Brown people.
Historically, that 2nd amendment everyone loves to pull out to support gun ownership has always been centered on White gun ownership, and most of the gun control regulations passed (with the support of the NRA) have been done to limit gun ownership by people of color. In case you don't believe me, check out History Channel's article about the NRA's complicity in Regan-era Mulford Act.
Y'all think Killer Mike knew all of this before he sat on NRA TV and used whatever credibility he has left to support an organization that seems to be directly opposed to everything he claims to stand for?
To add insult to injury — as if all of this wasn't bad enough — this fool had the audacity to say they had guns in Wakanda, which only tells me that he clearly didn't see Black Panther. They have Vibranium in Wakanda, you dummy, why would they need guns?
Comments
comments
J.K. Rowling Gets Dragged After Saying Dumbledore and Grindelwald had "Intense" Relationship
JK Rowling must be taking her cues from Tumblr fan fics. In news that no one expected, JK revealed Dumbledore and Grindelwald were once involved in an "intense sexual relationship." But fans are scratching their heads wondering why her characters are never openly gay in the films or the books.
Stemming from a thread that quotes the author, Rowling revealed she was "less interested in the sexual side." Recent updates show that JK must be far more interested than she's leading on and fans aren't having it! The response to this new information has readers saying "Wingardium Leviosa" to her wig.
Chief among her fans complaints is the lack of queer representation in her novels coupled with her frequent highly sexual updates that serve as attempts to maintain relevance. In addition, her extra details frequently complicate what readers already know from the books. In September 2018, one reveal inadvertently made Neville Longbottom a murderer.
Fans of her beloved wizarding world have been shading her endlessly since the unwarranted reveal, but JK has yet to respond to any of the criticism.
Comments
comments
Disney Alum Kyle Massey Hit With $1.5 Million Sexual Misconduct Lawsuit
Say it ain't so! That's So Raven star Kyle Massey has been sued for sending sexually explicit messages to a teenage girl.
According to court documents obtained by Us Weekly, Massey is being sued for $1.5 million in a civil suit. The girl, who Massey met at just 4-years-old, claims the former Disney star maintained contact to help advance her career. Now, at age 13, she has come forward with allegations.
She claims that Massey had arranged for her to stay with him and his girlfriend, Hana Giraldo, in Los Angeles. Massey was allegedly using this visit to help the minor secure an agent. But just days after the invitation, Massey sent the alleged victim photos of his genitalia.
The lawsuit states that he is being sued for three counts of negligence and intentional infliction of emotional distress. Included as negligence is the attempt to commit a lewd act with a minor, annoying or molesting a minor, and harmful matter sent with intent of seduction of a minor.
While Massey himself has yet to comment on the matter, both his brother and mother have spoken out. Massey's mother went to Instagram to defend her son, stating "KYLE MASSEY IS THE VICTIM! Where is the justice for men?!" While Massey's brother, Christopher, alleges that the victim's mother Kindra Adams is a known scammer and is only doing this for money.

Comments
comments
Jess Hilarious Catches Heat for Islamophobic Remarks
Just days after the Christchurch terrorist attack that robbed nearly 50 Muslims of their lives and injured 50 more, Jess Hilarious has bared her xenophobia for the world to see. Using fear for her safety as an excuse, the aptly named Jess With The Mess profiled a Sikh family that was allegedly ejected from her flight.
@jess_hilarious you are racist af & sound so damn ignorant. The Sikh man was minding his business, is that what you felt THREATENED about?! #JessHilarious pic.twitter.com/b2DdZJYvU5

— s a r a (@sara_zfa) March 17, 2019
Stating "I feel how I feel. I felt threatened and that was it," Jessica "Jess Hilarious" Moore has committed to standing in a grave of bigotry that is certain to claim her career. She has become notorious in recent months for spewing hatred against queer people. Now, she's directing that ignorance toward a community that has suffered major atrocities in America and beyond.
The Xenophobia Jumped Out
According to Jess With The Mess, they boarded the same plane and she "didn't see those people." However, sources say the Sikh family was not removed from the flight. Basking disgustingly in the news of their removal, she failed to realize that Islamophobia doesn't look good on her or anyone else.
Jess Hilarious has been getting dragged by Twitter users for her Islamophobic remarks and has since attempted to explain herself via Instagram Stories. However, her posts are rife with contradictions. She directly asks "Where are you going?" while focusing the camera on the Sikh family. During the time between boarding, she can be heard LOUDLY voicing her concerns. Yelling at one's phone in the middle of an airport, regardless of how busy, never goes unnoticed.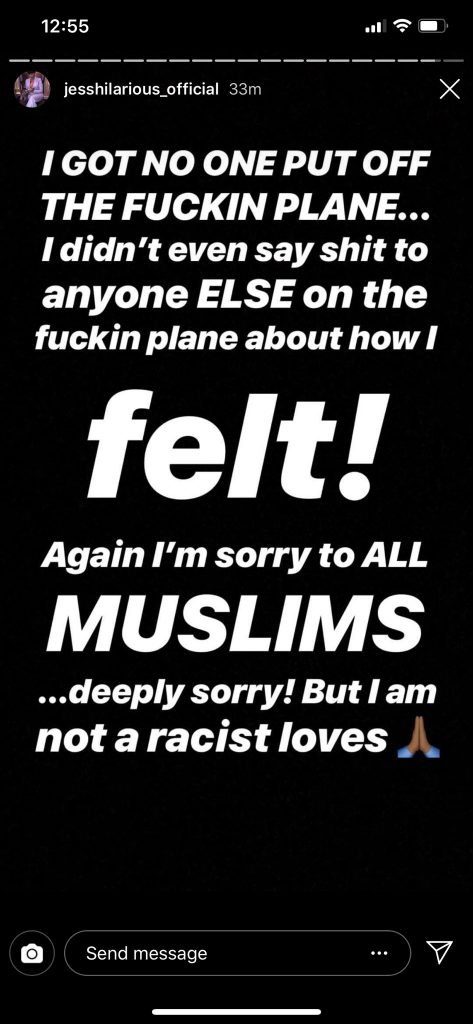 In peak White Woman™ fashion, Jess immediately adopted the "We have [insert marginalized group] in my family" trope to explain away her apparent bigoted remarks. But no one is buying what she's selling. By using fear for her safety as a qualifier for her ignorance, Jess has employed a tactic famous within several circles of systematic oppression, particularly cops who kill unarmed Black people.
As for whether she's taking accountability for the weight of her trash words during such sensitive time, the answer is a resounding NO.
Comments
comments