More is evolving in the Ahmaud Arbery case. We learned today that William "Roddie" Bryan told investigators that he heard Travis McMicheal call Arbery a "f***ing n***er" after he shot him three times.
This fact was uncovered during a preliminary hearing by GBI Assistant Special Agent in Charge Richard Dial. Dial also testified during a cross-examination that Bryan mentioned the slur during a May 13th GBI interview, but never mention it before.
McMicheal has a history of using racial slurs. There were several instances where he's used the word on social media. CNN reports that he used it to message someone that "he loved his job because there 'weren't any N-words anywhere.'" Another example would be when he responded to an Instagram message saying "things would be better if someone had 'blown that N-word's head off.'" All of these instances were before the fatal death of Ahmaud Arbery.
Dial also testified that Bryan has used racial slurs in messages as well.
"There's evidence of Mr. Bryan's racist attitude in his communications, and from that I extrapolate the reason why he made assumptions he did that day," he states. This led Dial to believe that Bryan had a prejudice against Arbery from the jump.
"He saw a man running down the road with a truck following him, and I believe he made certain assumptions that were, at least in part, based upon his racial bias."
Comments
comments
Porsha Williams and Yandy Smith Arrested While Protesting for Breonna Taylor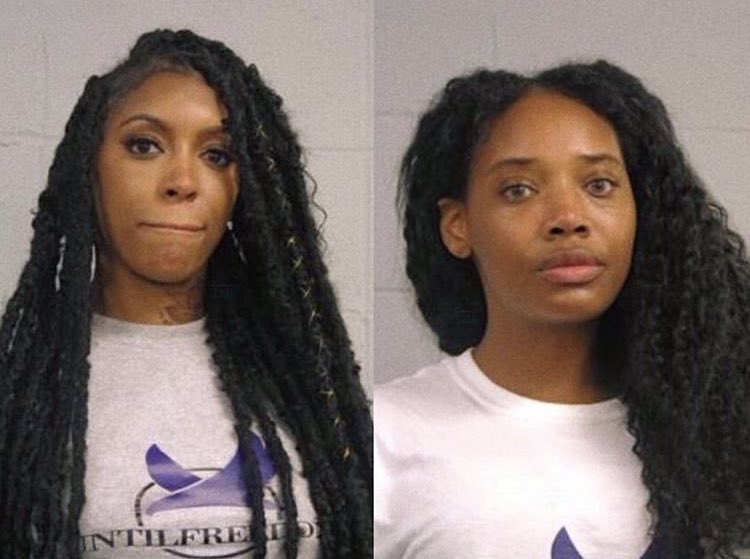 Everybody's favorite Peach and the Love & Hip Hop princess were recently arrested for protesting outside the house of the Kentucky Attorney General Daniel Cameron. Videos circulated of the arrest, leading to an outpouring of support for them.
Since these uprisings began, Porsha, specifically, has transformed from a walking glamor-shot into a head and flats-wearing protester. Together, she and Yandy have put their money and bodies where their mouths are in order to bolster the voices of justice-seekers and help protect protesters.
That was clear to see when Porsha X and Yandy Luther King were released from prison 12 hours later. One way in which celebrities can help in these situations is by ensuring that people are treated more fairly by proximity. While police departments have no problem being needlessly aggressive toward protesters, having a celebrity in the mix can sometimes cause them to rethink some of the more heinous actions, so as to end up another headline. I'm not sure that this was the case in Kentucky, but these women seem to be making an effort to use whatever resources they have to push society in the right direction.
Comments
comments
Torey Lanez Arrested For Gun Charges; Megan Thee Stallion Goes to the Hospital For Foot Damage
I… I don't know where to begin… Oh, yeah! Megan must think she's grown, since she's out here galivanting with that Jenner girl and riding around with some boy with a gun. She know she knows better.
Last night, Megan Thee Stallion and Torey Lanez were seen on Instagram Live with Kylie Jenner. I just checked the calendar and, yes, the pandemic was in fact still going on yesterday, but apparently COVID-19 is only a threat to us poors. Somehow, the night escalated and TMZ is reporting that there was an altercation between Torey and another party goer. At some point, shots were fired in the air and the police were called. They found Torey and the rap princess herself in the car. Her foot was somehow wounded in all of this, so she was taken to the hospital. Meanwhile, Lanez was taken to jail, where he was let out on bail.
There's still no reporting as to why Kylie Jenner seems to believe right now is the best time to have a pool party, nor have they recovered Megan's mind. You see, she seems to have lost it at some point if she thinks that COVID-19 can't is no longer a threat. I live in California. Our cases have spiked. People here are afraid to breathe in the same room as one another, but Megan is out here acting like she's immune. I would expect this from Torey, but Megan has a successful career to think about. It's just all very disappointing.
Comments
comments
Naya Rivera's Body Has Been Found
Naya Rivera's body has been found in Lake Piru after a nearly week-long search for her body. The particulars around her death are still unclear, but her son, aged-4, was found alone on Wednesday in a boat. Not long before that, Rivera had tweeted out a photo of herself and her son, presumably on the boat.
Social media users took a particularly keen interest in this story for a number of reasons. Primarily, there was the mystery. Her son being found alone while his mother seemed to have been missing or dead made for an intriguing story for many. But there was more to this before long. Naya was a brown girl and the initial search was not long enough for the liking of people who have an understanding that our girls go missing and often are never searched for by the "proper authorities".
Sadly, there were also plenty of tweets around her family, who seemed desperate to find her. Some posted videos of her father swimming to find his daughter. They questioned how her son got back on the boat. They questioned if her ex-husband was somehow involved. This is normal. People were trying to make sense of a senseless situation. It has, however, created a kind of spectacle out of her disappearance.
Naya's death is emblematic for a lot of people, though. She was a non-White actress who played a lesbian woman in a show that seemed all but created specifically for queer people. Given some of the losses we've seen in the past few months, it's natural that people would take this one personally. To our readers, those who looked to her as representation, we say we're sorry for your grief.
And to Naya Rivera's family, we say that we hope for healing, we hope for love, and we hope you can find peace in this media storm. Rivera will be missed by many. Her legacy is lasting.
Comments
comments