The college admissions scandal that shook the nation has moved forward now that Felicity Huffman has entered her guilty plea. But former Fuller House star Lori Loughlin is holding out hope that she won't find herself behind bars.
A source close to Loughlin revealed the actress "doesn't believe she deserves" jail time. Lori Loughlin, who refused any plea deals, incurred several additional charges unlike Huffman, who immediately owned her part in the conspiracy. To make matters worse, Loughlin's relationships with her husband and daughter are suffering from the decision to pay $500,000 in bribes for admission to USC.
Olivia Jade, the daughter of Loughlin and fashion designer Mossimo Giannulli, has not been on good terms with her parents following the discovery of their deceitful activity. The source, who spoke with ET, says Olivia is defiant and refuses to forgive or speak with her mother because "she's hurt and feels betrayed." Jade allegedly told her parents she "wasn't interested in going to college", and said this all could have been avoided if they had just listened to her.
While Loughlin is struggling to find the strength to hold herself accountable, Huffman is facing her charges head on. May 13th, Felicity Huffman appeared in court to plead guilty for paying $15,000 to allow extra time for her daughter to take the SAT test and have a proctor correct her answers. Prosecutors are asking that she receives a sentence of a mere four months in jail for the offense along with paying a $20,000 fine.
Appearing before Judge Indira Talwani, Huffman tearfully explained her case and accepted the terms of her plea deal. Under the agreement, Huffman is ineligible to run for public office, owning a firearm and ammo, and cannot appeal any prison decision up to 20 years. Huffman will receive her sentence September 13th.
Comments
comments
Keisha Lance Bottoms Lectures Black People Again; Contracts COVID-19
It's a lot, chile. But we're here to walk you through it. After a morning of social media backlash regarding her comments on the tragic shooting of an 8-year old girl, Atlanta Mayor Keisha Lance Bottoms has announced that she has been diagnosed with COVID-19.
Mayor Lance began the day with a lecture. "These aren't police officers shooting people on the streets of Atlanta," she rattled, "these are members of the community shooting each other."
Black Twitter was unimpressed. They quickly pointed out that this sounded like the White supremacist rhetoric that has long been lobbed against civil rights activists and Black people who are concerned with their well-being as it relates to police violence.
Some even brought up the fact that communal establishments in Atlanta have been reopened, which has resulted in a transmission spike in her city, and will inevitably cause harm and death to more Black and Brown people. Her response to that matter? Another scolding:
Now, we here at KingOfReads.com aren't pandemic experts, but we can only assume that one of two things is true, given that Miss Keisha now has the virus, herself. Either she isn't following her own orders or this virus, much like violence perpetrated against Black people by Black people, is much more complex than she is willing to admit.
Coincidentally, (or not) Governor Kemp (R) has suddenly declared a State of Emergency in Georgia and called in the National Guard. According to NPR, he had this to say:
"Peaceful protests were hijacked by criminals with a dangerous, destructive agenda," Kemp said. "Now, innocent Georgians are being targeted, shot and left for dead… Enough with the tough talk, we must protect the lives and livelihoods of all Georgians."

Quote Taken From NPR
Just after this announcement, came Keisha Lance Bottoms' big COVID-19 reveal, which seems to have shifted the narrative away from the morning's seminars and the fact that the state of Georgia is now becoming even more militarized. We'll keep you updated as the situation evolves.
Comments
comments
Detective Involved in Breonna Taylor's Murder Fired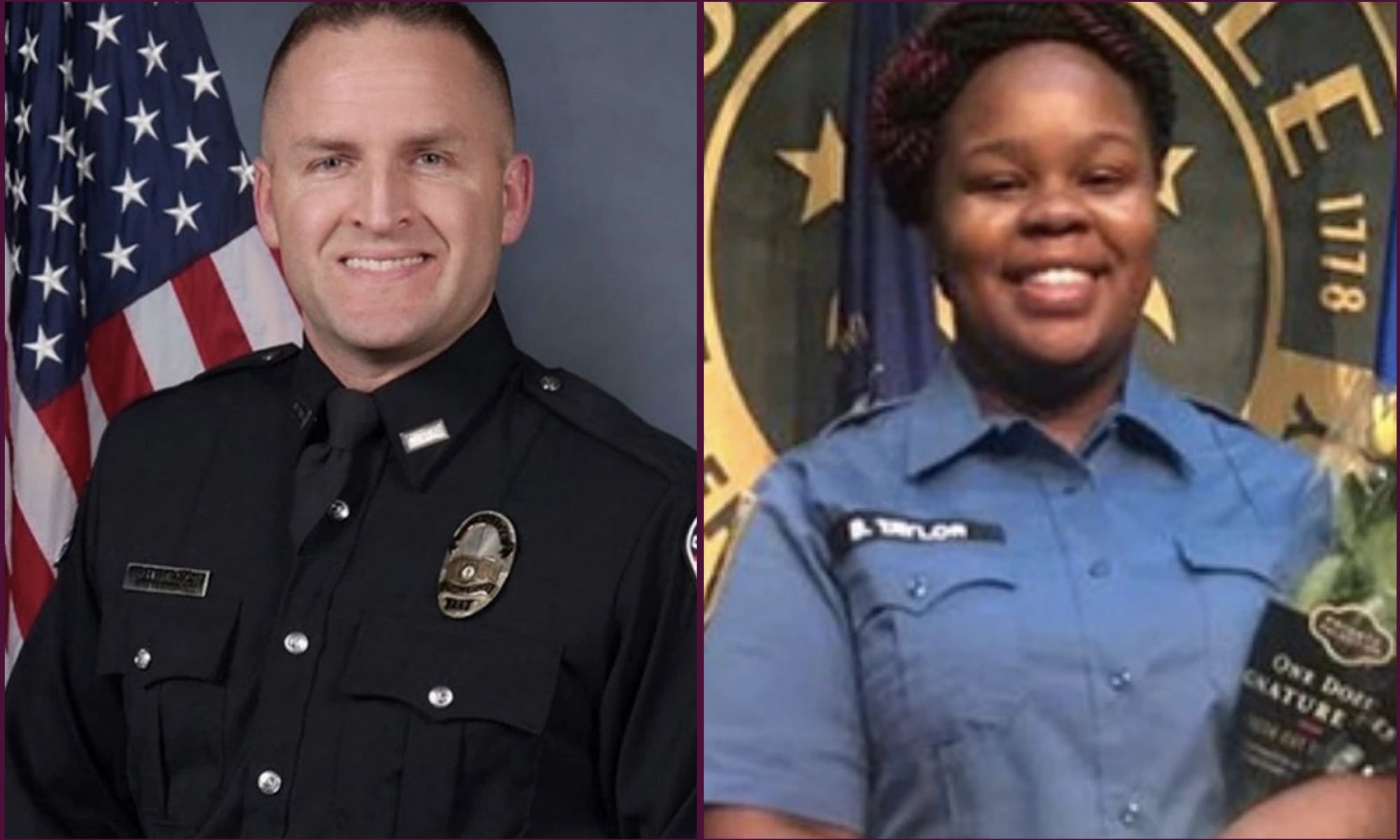 On Friday, Louisville Mayor Greg Fischer announced the Louisville Metro Police Department's intention to terminate Brett Hankison, one of the three Louisville Metro Police officers who shot into Breonna Taylor's apartment while she and her boyfriend slept, killing her.
In a memo to Hankison, interim police chief Robert Schroeder called the officer's actions on the night of the shooting a display of "an extreme indifference to the value of human life when [he] wantonly and blindly fired ten round into the apartment."
While both the mayor and the police chief cited a state law which prevented them from going into specifics about why the decision to fire Hankison was made, Chief Schroeder wrote in his memo:
"I find your conduct a shock to the conscience. I am alarmed and stunned you used deadly force in this fashion. You have never been trained by the Louisville Metro Police Department to use deadly force in this fashion. Your actions have brought discredit upon yourself and the Department….I have the utmost confidence in my decision to terminate your employment for the best interest for the Louisville Metro Police Department and our community."
Friday's announcement comes on the 25th-straight day of nationwide uprisings against the unjust killings of Black Americans at the hands of the police. Critics argue Hankison's firing doesn't go far enough in getting justice for Breonna Taylor, with many calling for the immediate termination of the other two officers involved and criminal indictments against all three.
Sgt. Jonathan Mattingly and Officer Myles Cosgrove – the two other officers who shot into Taylor's apartment – are on administrative reassignment while the department investigates.
Comments
comments
Officer Who Shot Rayshard Brooks is Charged, Must Surrender
Former Atlanta police officer, Garrett Rolfe, was charged Wednesday with 11 counts related to the shooting death of Rayshard Brooks, 27, last Friday night, June 12.
Rolfe was called to the scene of an Atlanta Wendy's drive-thru because Brooks was asleep at the wheel in the drive-thru line. He and Officer Devin Brosnan spent over 45 minutes speaking with Brooks, a black man and father of 3, before they attempted to arrest him for driving under the influence. As the officer tried to cuff him, Brooks resisted, got into a scuffle with the two officers, wrestled a taser from one, then fled the scene, at which point he was shot twice in the back by Rolfe.
Almost immediately, witnesses on-scene and activists in the hours following the shooting called for the APD officers' immediate termination and indictment. Protesters remembered Brooks by hitting the streets with renewed vigor amidst ongoing protests related to the death of George Floyd, the unjust murders of Black people while in police custody, and systemic racism in America as whole.
Embed from Getty Images
On Wednesday, Fulton County District Attorney Paul Howard, Jr. announced felony murder, aggravated assault, and other charges against Rolfe. According to DA Howard, the state contends that because Brooks was running away from Rolfe at the time of the shooting, he posed no imminent bodily threat and that Rolfe actually committed a felony – assault – when he shot into Brooks' back. Further punctuating Georgia's case, video of the fatal encounter shows Rolfe initially chasing Brooks with his taser, a non-lethal weapon. As he runs toward Brooks, who is holding Officer Brosnan's taser by now, he switches his taser from his right hand to his left and reaches for his service weapon.
Less than a second after Rolfe reaches for his gun, Brooks turns around and fires the taser he's carrying into the air. Then, the officer fires his gun 3 times in Brooks direction, striking him twice in the back. How could the officer have been in fear of his life before Brook even fired the taser at him?
The district attorney also revealed Rolfe kicked Brooks after Brooks fell from being shot in the back and said "I got him." Officer Brosnan stood on Brooks' shoulders as he lay dying from being shot. Neither provided medical assistance for more than two minutes following the shooting – going against APD policy.
After the announcement of the charges, DA Howard told reporters former officer Rolfe would have until 6:00PM EST Thursday to surrender himself to law enforcement custody.
At the time of this reporting, Garrett Rolfe has not yet surrendered himself into custody.
Comments
comments