Recently 2 big names in Hip Hop, Meek Mill and Kevin Gates were released from prison, after spending a combined 14-month prison sentence.
Gates was released January 10, 2018, from an Illinois State prison after serving 9 out of a 30-month sentence, for a felonious weapons charge. In 2015, Gates was also convicted of battery and served 180 days in Polk County, Florida, after he kicked a female fan with force because she grabbed him. As a result of Gates criminal past, he is unable to carry a weapon or leave the state of Illinois.
"CHAINED TO THE CITY"
Last week, Gate's wife Dreka, took to his Instagram page to update his fans and express her frustrations. She captioned the video "chained to the city". In the video, she states that:
"Kevin is unable to make it to the shows this weekend and next weekend. The Illinois Dept. of Corrections has prevented Kevin from leaving the state of Illinois. He isn't even allowed to come home to California where we live, and since he was released in January he has not been able to come home not 1 time."
She then went on to apologize for his absence but reassured the fans that he would make it up to them and that he is in the studio going hard.
ENOUGH IS ENOUGH
At what point is enough, enough? He has already served time for his mistakes. He has permanently lost his right to bear arms. Now it appears that the justice system is attempting to take his livelihood as well.
When you look at the system and how it is designed to keep men of color oppressed. It is no wonder why often times they feel forced to regress back to their old lifestyles and street mentality. If men of color with status, money, and power are being derailed and unfairly treated, it is without question that thousands and thousands of black men caught in the prison system are just like the proverbial hamster wheel, just spinning and spinning, but getting nowhere, but exactly where they started.
#FREEMEEK
Meek Mill, was also released from prison on Apr 23, 2018, in Pennsylvania, after serving 5 months of a possible 2 to a 4-year prison sentence for POPPING WHEELIES on a dirt bike and getting into a scuffle. These two offenses violated probation from charges stemming from a drug and gun case in 2008.
It is unconscionable that an entire decade later, that Mill is still paying for the non-violent transgressions, which resulted in his early adulthood.
Fortunately, Mill has garnered support from all over the world, many of whom are celebrities and individuals with money and power. Even Queen Bey herself was talking about "FREE MEEK".
But what about the disenfranchised brother who doesn't have the support of JAY Z, TI, and MICHAEL RUBIN?
 Debt To Society = PAID IN FULL
Both Gates and Mill have paid their debt to society. But in the eyes of the American Justice System, which is just another form of modern day slavery, their offenses are unforgivable. Not because the nature of the crimes are so atrocious, but because the individuals that committed the crimes are deemed as a menace to society, simply because of the color of their skin.
If this is happening to high profile celebrities, who are able to afford elite legal counsel to represent them, it is without question that thousands of black men and women across the country are experiencing an even higher level of inequity and disparity.
Mill has promised to fight the good fight, for others who have also been unfairly imprisoned for offenses that deserve a bit of grace. Hopefully, now that celebrity light has been shed on this age-old issue, the shift for fair and equal rights will begin. Then and only then, will America truly be great, with LIBERTY and JUST for ALL!!!
To Learn More About LaToya Visit:
https://latoyatjackson.wixsite.com/latoyatjackson
Comments
comments
Megan Thee Stallion Says That She Was Shot "I Suffered Gun Shot Wounds"
Megan Thee Stallion has revealed that the injuries she sustained at Kylie Jenner's pool party were much more serious than we originally had been led to believe. In a post on Instagram, Megan makes clear that she was not only shot, but shot intentionally.
More information is needed to understand exactly what happened that night. For instance, Megan says the attack was intentional. Originally, I thought that the only gun in this scenario was Torey Lanez, but Megan's story either indicated that I was wrong about that or wrong about Torey Lanez, in general. Mind you, this wouldn't be the first time we'd be duped by Torey. If you'll recall, this is the same man who faked his support for dark skinned women by claiming that someone had replaced them with light skinned women and he, the knight he was, came in and switched them back. That isn't to imply that he had any hand in Megan being shot, but it is peculiar that we're suddenly hearing about a second shooter.
At the end of the day, we are forced to sit and wait until Megan and her lawyers feel ready to tell us more. I do know one thing for sure, though. If anything happens to Megan, I might have to intervene.
Comments
comments
Porsha Williams and Yandy Smith Arrested While Protesting for Breonna Taylor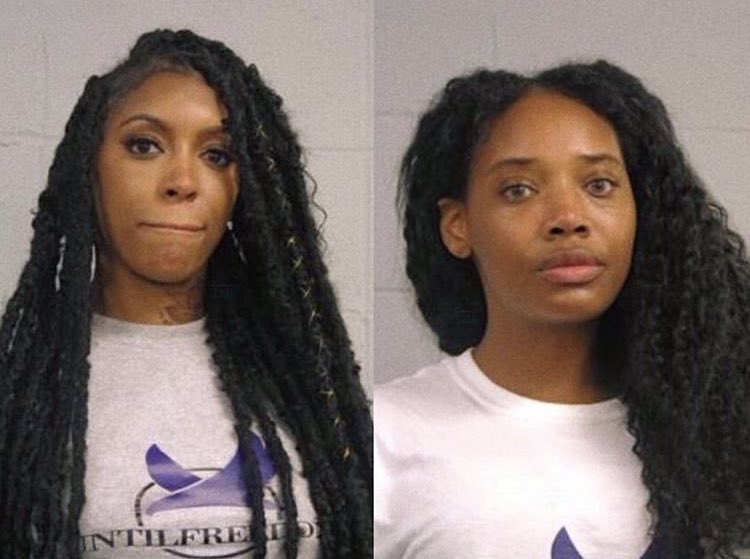 Everybody's favorite Peach and the Love & Hip Hop princess were recently arrested for protesting outside the house of the Kentucky Attorney General Daniel Cameron. Videos circulated of the arrest, leading to an outpouring of support for them.
Since these uprisings began, Porsha, specifically, has transformed from a walking glamor-shot into a head and flats-wearing protester. Together, she and Yandy have put their money and bodies where their mouths are in order to bolster the voices of justice-seekers and help protect protesters.
That was clear to see when Porsha X and Yandy Luther King were released from prison 12 hours later. One way in which celebrities can help in these situations is by ensuring that people are treated more fairly by proximity. While police departments have no problem being needlessly aggressive toward protesters, having a celebrity in the mix can sometimes cause them to rethink some of the more heinous actions, so as to end up another headline. I'm not sure that this was the case in Kentucky, but these women seem to be making an effort to use whatever resources they have to push society in the right direction.
Comments
comments
ViacomCBS Cuts Ties With Nick Cannon for "anti-Semitic" Comments
Nick Cannon has put his foot in his mouth, once again. This time a different crowd has noticed and the consequences are much heftier than his annually-scheduled dragging.
Unfortunately, Nick Cannon has a podcast. In a recent episode, the conversation took a turn down a very rough, ahistorical road. That's right, everybody, Nick Cannon appears to be a Black Isrealite. If you don't know, the Black Isrealites are a group of people who believe they are God's chosen people, Jews, and that the White Jewish people of today are simply imposters who have taken on the identity for themselves. As you might have surmised, a general distaste for White Jewish people is a heavy thread here, as is the kind of paranoia that moves a man to bomb his own career.
The main comments that people are focused on are those made about the Rothschild family. This is a common talking point for those who believe the Jewish community is secretly controlling the world. Nick should know that if your belief system gets an "A+" rating from both Hitler and Farrakhan, maybe you should get a little more introspective. Alas, instead, he tweeted a non-apology and proceeded to retweet his supporters as they came to his defense.
Of course, there are a few aspects of this moment that complicate this story. The Black community has long been subject to White supremacist capitalism. White Jewish people have been able to build communities of sustained wealth in America, partially due to their Whiteness. Given the current moment, people have seen fit to call out how that subscription to Whiteness has negatively impacted the Black community. On top of that is the uncharacteristic swiftness with which the cord was yanked on Nick Cannon's career. Viacom claims to have reached out to Nick, but were dissatisfied with his response. That is fine. But I'd be lying if said I didn't wonder what this would look if the rolls were reversed and Nick Cannon was a White man. While there's really no defending him— and I'd never want to— the response to his actions isn't quite sitting well with me. Their statement on the matter is thus, according to Variety:
ViacomCBS condemns bigotry of any kind and we categorically denounce all forms of anti-Semitism. We have spoken with Nick Cannon about an episode of his podcast 'Cannon's Class' on YouTube, which promoted hateful speech and spread anti-Semitic conspiracy theories. While we support ongoing education and dialogue in the fight against bigotry, we are deeply troubled that Nick has failed to acknowledge or apologize for perpetuating anti-Semitism, and we are terminating our relationship with him. We are committed to doing better in our response to incidents of anti-Semitism, racism, and bigotry. ViacomCBS will have further announcements on our efforts to combat hate of all kinds

ViacomCBS, Variety
Comments
comments