We've asked for it and now it's here. After several jabs and jokes about the 'On the Run II' tour or 'On the ReRun II' as some were calling it to shade the lack of new music and material. The music power couple shocked fans with a joint album release and a video for one of the singles "ApeShit".
Beyoncé dropped a snippet on Instagram and of course, it was a 'Tidal' exclusive.
You can purchase the album "The Carters" exclusively on Tidal.
Comments
comments
Michelle Williams Quits Broadway Show
It has been a difficult year for Michelle Williams. Having ended her engagement, per doctors' orders she now has to end her Broadway career.
From a statement provided to People magazine, the Destiny's Child alum has orders to take it easy.
"Effective immediately, Michelle T. Williams has been advised by doctors to take a leave of absence from performing."
The 38-year-old  singer and mental health advocate had the role of Erzulie, a goddess, in "Once On This Island". She had only been performing in the role for two weeks.
Sources say her understudy, Cassondra James, will take over until December 26th. From that point, Lea Salonga, the original lead, will resume her role until the finale January 6th.
Rocky Road
With no further explanation given regarding why Michelle must take a sabbatical, its tough to say why she needs a break. Her ongoing struggle to conquer depression, the recent stint in a mental health care facility, and toxic relationship may have taken their toll.
Hopefully, Michelle is taking some time to mend herself. This summer she stated, "Take one step at a time! Don't overwhelm yourself." We're all hoping she's following her own advice.
Comments
comments
Kodak Black Walks Out Hot 97 Interview After Ebro Brings Up Sexual Assault Case
During an interview with Hot 97, Ebro asked Kodak questions about his criminal past. Things went smoothly until Ebro mentioned the seriousness of sexual assault allegations.
At the beginning of the segment, Ebro posed an interesting question to Kodak for which he had no answer.
"When you look at all the stuff that you've got on your rap sheet, everything that you've been charged with, how much do you take accountability for?"
"Everything that you've been charged with." At the time, Kodak may have only been thinking about misdemeanor drug charges. Ebro had specifically mentioned marijuana possession and alluded to "different things" Kodak had been going through.
Kodak was obliged to answer the Hot 97 crew's questions, but it wasn't until the focus was shifted to sexual assault that he got uneasy. Ending the interview, in a huff, Kodak said:
"I feel like sometimes when n*ggas like me going through sh*t, like, y'all be entertained by bullsh*t."
Indicted on sexual misconduct charges, Kodak could face 30 years in prison if convicted. He stands accused of sexually assaulting a teenage girl in a hotel. Allegedly biting her neck and breast before the assault, prosecutors claim he also pushed her into a wall. With the trial tentatively scheduled for April 2019, Kodak is avoiding any discussion surrounding the case.
Far to go
Following the release of the interview, many of Kodak's fans took to social media to support the artist. Showing that the hip hop community is not prepared to call out misogyny and abusive behavior, his fanbase began attacking Ebro. Still, many stood in Ebro's defense. Despite the rise of the #MeToo movement, hip-hop is still ages behind in terms of inclusive progression. Twitter users echoed the same sentiments with statements like these:
I find it so very interesting that people of Blackness will rightfully vilify Nicki Minaj for dating a rapist, yet ignore Kodak Black being one himself. There are terms for this, right?

— Akira Takizawa (@OnionKnight__) December 12, 2018
People being furious at Ebro for telling Kodak Black "We take sexual assault seriously here" is proof there's a lack of guidance out here. People whose job is interviewing musicians are supposed to ask hard questions. But that wasn't a hard question. That was just accountability.

— Craig Bro Dude (@CraigSJ) December 13, 2018
In his defense, Ebro had this to say in regards to the touchy subject:
I was tryna have a balanced convo with Kodak Black & not ignore the serious allegations against him but also not ask specifics to make his situation worse… and he wanna get an attitude with me?? Nah….

— El Viejo Ebro (@oldmanebro) December 12, 2018
Do you think Ebro was out of line? In what ways could Kodak have responded better?
Comments
comments
Nicki Minaj's New Beau, Spilled Tea
Social media has been dragging Nicki Minaj for her history of supporting alleged sex offenders. Tired of the misinformation, she's speaking out to defend her man.
When Nicki was spotted with a new man on her arm, everyone wondered who he was. We were all sure, despite their dismissal, that Nicki and Lewis Hamilton were together. Instead of choosing the handsome millionaire Formula 1 driver, Nicki is riding with a convicted sex offender with a violent past. Talk about crying in a Nissan instead of a Phantom.
Nicki! You in danger, girl!
Kenneth Petty, Nicki's new beau, is a registered sex offender convicted of attempted rape. Insisting its a complicated situation, Nicki says it stems from Petty dating the victim and her mother not approving. Arrested and charged with first-degree rape in April 1995, he and the victim were both 16.
In court documents obtained by RadarOnline, Petty used a "knife/cutting instrument" during the attempted rape. Carrying a sentence of 18-54 months, it's unclear how much time was served. Even worse, Petty was charged with murder in April 2002 and was released in May 2013.
Nicki claims Petty is an old flame from her teens, but it's unclear how much time they had together considering he's spent so much of his life behind bars.
Who Said Dat?
Chinese Kitty, a castmate of Love & Hip Hop Miami, recently did a radio interview. But it wasn't the interview that made waves, it was her IG Live segment afterward. Believing the cameras and mics were no longer recording, the crew began sharing celebrity details, mainly about Trina, Nicki, and Meek Mill.
While talking about her friendship with Nicki, a woman off-camera said to Chinese Kitty:
"I have a question: was that during the time she was covering? Because she had an issue with her butt shots? Oh, I know her."
Chinese Kitty then starts laughing  and the woman continues:
"My girlfriend, Renee that dates Adrian Broner the boxer, we all know one another. Meek, we know everybody. We all are friends. So Nicki Minaj had a problem with her butt shots, and you know about that story. So for a while she couldn't have sex with Meek and that's why she felt so insecure that he was f*cking somebody else. And that's facts!"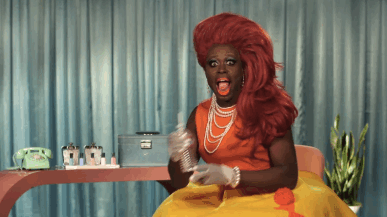 When it comes to who that somebody was, Trina's name came up, leaving her feeling some type of way. Not wanting to be a part of the drama, Trina let us know to keep her name out of our mouths PERIOD.
Go awf, sis! But did you notice she didn't deny it? Whatever the case, Kitty felt like she needed to make amends with the Diamond Princess and apologized.
Comments
comments