The last year has been rather tumultuous for R & B singer R Kelly. With the development of the #MeToo movement, many powerful women in entertainment such as Shonda Rhimes and Kerry Washington have pledged to #muteRKelly.
The Times Up organization, issued a statement in April 2018 "demanding appropriate investigations and inquiries into the allegations of R. Kelly's abuse made by women and their families for more than two decades."
We've heard from many women claiming to be victims of Kelly's abusive, demented, and sadistic treatment, but for almost a decade, one very important voice has remained silent.
Drea Kelly and R Kelly married in 1996 and remained married for 13 years. They had 3 children together before divorcing in 2009. We got to see a glimpse into Drea's life while on the VH1 reality show "Hollywood Exes". She briefly went into the reason for the couples split, stating R Kelly wanted the divorce, but she never exposed the details of their relationship.
More Victims Come Forward
However, in the last year Kitti Jones, Asante Mcgee and several others have come forward accusing Kelly of misconduct and inexplicable treatment,  stating that he regularly has sex with girls as young as 14 and actually prefers them that young.
The parents of Joycelyn Savage, who is currently with R Kelly ignited the most recent protest against Kelly, claiming that he is holding their daughter against her will.  As the days pass, more and more women are coming forward; recounting the abuse they endured at the hands of this man, who has been accused of being a sexual predator, for over 2 decades.
In an exclusive interview with the TV One talk show, "Sister's Circle", Drea Kelly FINALLY opened up to R Kelly's protege, Syleena Johnson, about her relationship with Kelly. She stated that she had to wait until:
"God told me ok daughter it is time. How can I be a voice for the voiceless, if I don't have my own?"
Watch Here:
Drea then spoke with the parents of Joycelyn, who is currently with Kelly, stating that she was once in the same situation and her family was also trying to get her back.
Watch Here:
At times sobbing uncontrollably, Drea stated that she almost committed suicide, but while on the ledge she had a foreshadowing of the aftermath and decided against it.
"Out of the 17 items on the domestic violence checklist, R Kelly had committed 15 against me".
Watch Below:
In the last clip of the interview, Drea looked directly into the camera, telling Kelly that: "you should've never put me in your book! You don't get to tell my story." Referring to the treatment she endured while married to Kelly as "criminal".
Watch here:
With Drea Kelly's firsthand account of how inhumane R Kelly treats women, this should help to catapult the #timesup movement forward and hopefully, maybe just maybe, everyone who has been violated by this man will receive justice, soon.
We will be watching!
Follow LaToya on Instagram: LaToya.T.Jackson
https://latoyatjackson.wordpress.com
https://latoyatjackson.wixsite.com/latoyatjackson
Comments
comments
Back to Da Cell! 'Real Housewives of Atlanta' Alum Apollo Nida Arrested AGAIN After Violating Parole
Apollo Nida just celebrated his release from prison last week and now the RHOA alum is behind bars again! According to Page Six, US Marshals detained Apollo for breaking a technical condition of his release.
Having just finished five years behind bars, Nida was headed for a prison release program. But now he'll have to postpone reuniting with his children and fiance because he violated his probation. According to a representative, Nida isn't quite arrested, but there "was an order of the court bring him into custody". While the terms of Apollo's release aren't public, he was allegedly detained for violating conditions of his release.
Apollo, who was released early due to credit for time served, was initially sentenced to 96-months behind bars. He was expected to complete a prison release program in Philadelphia. Now, it's questionable what the future holds for the two-time felon.
Apollo's fiance, Sherien Almufti hasn't released a formal statement explaining what happened. However, she did post a recent photo of herself and Nida on Instagram with a scathing caption calling out his probation officer. Sherien said "For those who are confused @apollonida03 didn't violate a goddamn thing. Another crime against a black man in the system. Jealousy is a disease and his PO will die mad!!"
Comments
comments
Chris Brown Dragged For Insulting Victor Cruz, Karrueche Tran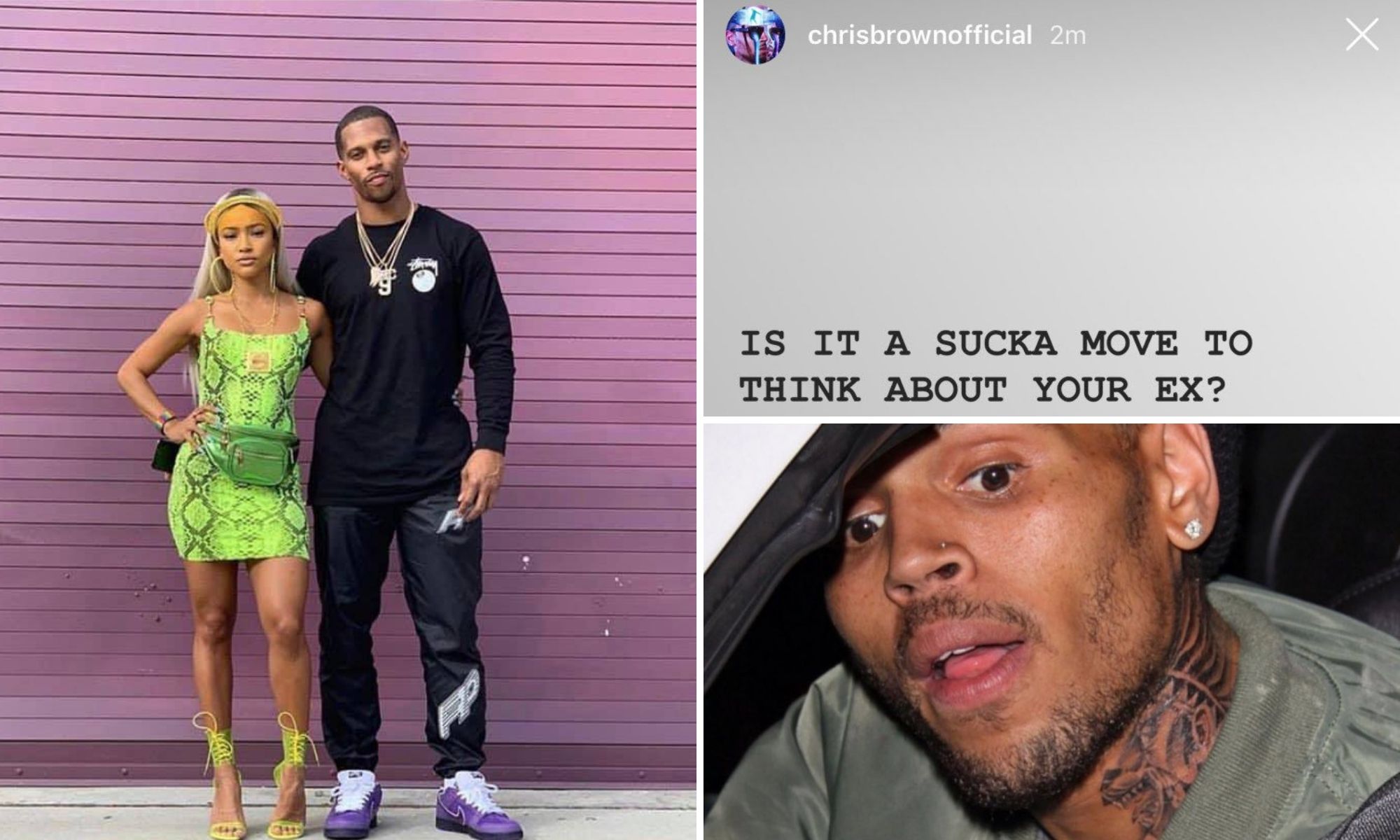 Chris Brown's recent behavior is a lesson that domestic violence has no limitations. The singer and proven abuser has shown his true colors again by leaving harassing comments beneath Victor Cruz's Instagram post.
Targeting the fashion sense of Karrueche's longtime boyfriend Victor Cruz, Chris Brown left several disparaging comments in close succession. Stating he needed a stylist and she should "upgrade ya man," Chris Brown is still attacking his ex after five years of separation.
The one-time couple split in 2015 after a very public shouting match following Karrueche's discovery that Chris fathered a love child with Nia Guzman, a stripper from Texas. During the lengthy argument, Chris forced himself into Karrueche's vehicle and despite being dropped off at a different location, he arrived at her home to argue at 3 am. This led to Karrueche securing a restraining order against the singer in 2017, approved for 5 years.
During the hearing where Karrueche petitioned for a restraining order against Chris Brown, she provided evidence of threatening messages and testified that Chris had physically abused her. To make matters worse the physical violence took place while Chris Brown was on probation for the brutal abuse of Rihanna! The text messages Karrueche received contained threats like "Bitch I will beat the sh*t out of you" and "I will make your life hell."
The comments Chris made beneath the photo of Karrueche and Victor were not light humor. In the past, Chris Brown left threatening messages beneath a photo of Tran and Michael B. Jordan. Stating "Imma kill blood", Chris Brown threatened her and the actors lives, making good on his promise to "make you hate me even more."
Fans of Karrueche were quick to point out how childish and threatening Chris Brown's messages were. But what's more important is that Chris Brown's comments may violate the terms of his restraining order. If Karrueche's terms include clauses for social media use, CB could be in trouble. Karrueche's current order doesn't expire until 2022, so maybe the singer should focus on backflips before he lands in jail.
Comments
comments
Wendy Williams' Gets Her Groove Back With 27-Year-Old Ex-Con
Spotted in the vehicle as TMZ ran up for a potentially staged paparazzi session, Wendy's mystery man was been a hot topic. Fans of the talk show host and those supporting her best life as she divorces Kevin Hunter, want to know who her flavor of the month is. Thanks to Bossip, we now know that 54-year-old Williams is getting cozy with a 27-year old named Marc Tomblin.
Bossip discovered the identify of Wendy's new man and quickly uncovered his criminal history. While Wendy is aware of his muddy past, she says she knows what she's doing. Let's hope, sis!
Wendy's new beau is a convicted felon who claims to be a financial investigator and blogger according to his LinkedIn profile. But before he hooked up with Wendy, Tomblin was arrested for robbery with a dangerous weapon and breaking and entering. Still, Wendy doesn't care about his past and is declaring it a hot girl summer with the rest of us.
Ms. Wendy Thee Show Pony called out Kevin for having "a full baby with a woman he was involved with for 15 years" while keeping her cooped up. Proud to be living her best life, Wendy is just enjoying Marc Tomblin's company despite their May-December age difference.
As for whether things will ever get serious for her again, Wendy says not so fast! During a recent taping of The Wendy Williams Show, she gushed about her newfound freedom. Stating, "I don't have a boyfriend, but I must admit I am rediscovering my love of men.", Wendy has made it clear she's not looking for a long time, just a good one.
Are you here for the new Wendy?
Comments
comments