The views on this post belong solely to FonzFranc.
There are some days you'd just rather not look at the phone, turn on a TV, scroll through any timeline or newsfeed, listen to the radio, or be connected in any way, shape, or form to the outside world. Bad news has a way of clouding bright and hopeful visions of society and humanity. The moment we begin to feel like there are steps being taken in the right direction, we're quickly reminded of the relentlessness of those who hate.
There's no wrapping your head around what is now labeled the deadliest mass shooting in US history and deadliest terrorist attack since 9/11. These are the things I honestly wish I did not have to write about. But there's a lot to be said about the homophobia that still exists and remains to be an engine behind horrific attacks like what happened at Pulse Nightclub in Orlando, FL.
At least 50 people were killed and more than 50 others were wounded…
– NBCNews.com
People generally don't like to hear that we have a responsibility to one another, but I feel like that is only when it comes to showing others the right way. Homophobia is taught faithfully in our churches, in our homes, it is passed on so easily in our schools and even on the streets. To take the opportunity to teach others about acceptance seems like pulling teeth, and that may be because it conflicts with the morals of so many people. It's easier to teach our sons and daughters that identifying or associating themselves with the LGBTQ community will lead to shame and ruin than it is to show them how gratifying and liberating it is to accept oneself and others. Where we go wrong is assuming that only LGBTQ people have a hard life, and that we'd rather not have that for the next generation. That's only further perpetuating a cycle that we're trying to avoid. No one wants a hard life, especially for their kids, but it shouldn't have to cost things like dignity, integrity, or sometimes even lives, to pursue that. What we need to really understand to its fullest extent is realistically, there will be people out there who will dislike you regardless of how you identify. This shouldn't stop any of us from pursuing our own happiness; we shouldn't be stifled with fear because of paranoia.
On the other hand, we have moments like the attack on Pulse, where what was supposed to be a night of people enjoying themselves during LGBTQ Pride Month ended up being a killing spree for a terrorist (now identified as Omar Mateen).
This only proves that we aren't safe, even in the places where we're limited to exist freely, without disrupting the societal norm. Mateen's father said that Omar had recently gotten angry after seeing two men kissing, which may have inspired the attack. While I don't want to minimize everything it took to bring this man to kill 50 people and wound 50+ others, I will say that there is nothing surprising about this. Homophobes tend to become so wrapped up in hurt when they see gay men specifically living their lives, simply existing, loving freely and openly. I've been exposed to it myself and will testify. They try to take matters into their own hands–which has lead to so many searchable hate crimes and killings that have been reported in the media. It's sickening.
A word of advice and in relation to the very first sentence of this post: when tragedy strikes and you're trying to avoid being angry because of it, stay away from social media. I did the wrong thing by searching hashtags and reading comments, even after expecting exactly what I read.
Comments like "AIDS all over the dance floor" and other disgusting tweets were sent out in the wake of the massacre. It goes without saying that this shit is no laughing matter, but it takes a strong case of stupid to make a dark time a laughing matter. Ignorance is the breeding grounds for a hoard of other undesirable characteristics like bitterness, poor timing, and terrible sense of humor, just to name a few. Retweets and likes mean more to us than human lives. Validation from those we've never met holds more weight than the slain souls who could've easily been us. A wake up call for social media comedians is needed, and some of them get the reality slap they deserve. What drives people to make light of a massacre is beyond me, but what I do know is that there is power in just a little bit of research…
TEA
There are countless others who felt the need to chime in on the foolery, but we won't shed anymore spotlights on assholes. They're meant to stay in the dark. Moving on, it was reported earlier that the gunman was a regular at Pulse in Orlando and even had a profile on a gay dating app.
…  Read more at FonzFranc.com
Comments
comments
Second Man Found Dead in Democratic Mega Donor's Home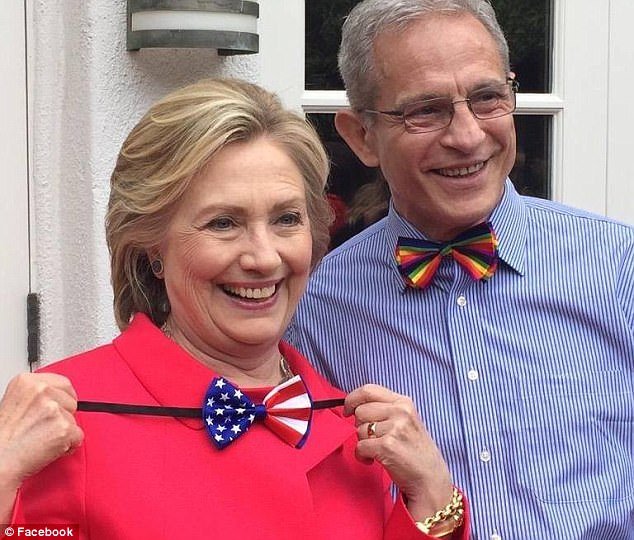 In the home of prominent Democratic Donor, Edward Buck, a second man has been found dead. Eerily similar to the body that was found in 2017, officers are investigating the West Hollywood resident.
Dark Past
18 months ago, Gemmel Moore, a young Black sex worker, was found dead of a meth overdose in Edward Buck's WeHo residence. Despite evidence in Gemmel's journal that revealed the mega donor had a dangerous fetish, Buck was not indicted in relation to his death. With a second body on their hands, authorities fear they missed an opportunity.
While the Los Angeles County Sheriff's Department has not released the name of the deceased, minor details of the victim have been made public. The victim is described as a Black male in his 50s. An attorney for Buck believes the victim was "an old friend who died of an accidental overdose."
Speaking with the Los Angeles Times, the attorney asserted the victim consumed drugs prior to coming to Buck's residence. The similar circumstances of both deaths have prompted conspiracy theories and have risen eyebrows at the LA County Sheriff's Department.
Dirty Deeds
Moore's mother, Latisha Nixon, and a fellow sex worker claimed Buck supplied sex workers with drugs and would pleasure himself. Moore's mother also claimed Buck would send Gemmel to fetch other victims. She said he would send him to "Santa Monica Boulevard looking for young gay black guys so he could inject them with drugs, see their reaction, and how [they] would react and take pictures of them."
At the time of Gemmel's death, drug paraphernalia was found in Buck's West Hollywood residence. Journal entries also implicate Buck in hooking Gemmel on drugs. Moore wrote, "Ed Buck is the one to thank. He gave me my first injection of chrystal [sic] meth."
The first-hand account of a sex worker interviewed by the WeHo Times alleges Buck was often under the influence when he would arrive.
"Initially, when I got there I understood that he was already well under the influence because he told me. He had already been up for two days and was still up doing drugs as far as liquid GHB, shooting meth — crystal meth, and smoking it."
It's unbelievable that despite this information Edward Buck was not indicted. His lawyer, Seymour Amster said the lack of indictment was a "complete exoneration." He then added, "Gemmel's death was a tragedy. It's now clear that Ed Buck has nothing to do with it." Edward Buck has avoided four charges: murder, voluntary manslaughter, and furnishing and possessing illegal drugs.
Comments
comments
Will the real Kim Possible Please Stand Up!
There's a new internet sensation and many are calling for him to replace the current young white girl cast in the Disney movie remake of the animated tv show Kim Possible.
User "hesosoutheast" on Instagram and Twitter, whose superhero name is Super Bitch, has gone viral on Twitter for a few videos he's done where he's the actor AND the stunt devil, bussin' moves in high heels. Ki-Mayonnaise Impossible truly cannot relate. In his videos, he flewed in the air doing double flips, cartwheels, and more…all while holding a gun and wearing hot pink thigh-high stilettos. Some people on Twitter have edited his videos to look like anime episodes while others have made them look like video game fights, but there are many still holding out hope that this will be the start to a Black Queer Kim Possible remake we deserve! Him as Kim Possible and AdrianXpression as Shego. In his words, "it can give combo!"
Well, we think it's time to call Super Bitch so he can give combo to this trash Kim Possible remake and give us the Him Possible remake that truly matters. What y'all think?
Comments
comments
When "Jokes" become reality: A Las Vegas Queer Couple Story of Survival
The recent controversy surrounding these cishet black comedians from Kevin Hart not taking accountability for his homophobic tweets to DL Hughley calling a transwoman a pussy for calling him out on supporting Kevin's Homophobic "jokes".
It's all "jokes" about not wanting your child to come out queer not until queer people get hurt or end up dying. 
A Las Vegas couple survived an attack from two cishet black men who followed them home and ambushed them. The name of the victims in this hate crime was Charles and his boyfriend Vincent. According to the local news KVVU station the attackers, Kealan Abraham and Andre Duncan, attacked Charles and Vincent at their apartment home after they followed them from Vincent's job.
Charles was about to open the door when he heard Vincent calling out for help as Abraham and Duncan attacked him. They called him an abomination along with other homophobic slurs and language. The attack became so violent that a glass table was knocked over and one of the attackers grabbed a shard and stabbed Vincent in his back. Charles reacted quickly and pushed him away from Vincent.
The neighbors did nothing during the attack. The police weren't called until after the attackers drove away. The attackers broke Vincent's ribs and punctured his lung. Charles was hit in the head with a piece a glass but the attackers left him traumatized that they would come back and attack him again.
They were both hospitalized from the attack however they're now both out and are staying with relatives until they find a new permanent location to live.
Below are the mugshots of the attackers.
At this time Abraham and Duncan have been arrested and charged with battery with a deadly weapon, battery with use of deadly weapon result of substantial bodily harm and conspiracy to commit criminal contempt.
Charles and Vincent were both relieved after Las Vegas Metropolitan police called them to inform them that their attackers have been arrested. However they're wondering why both of them aren't being charge with a hate crime.
You can support Charles and Vincent on their GoFundMe page.
This is a tale of warning for cishet people who are trying to defend anyone who supports homophobia. The rhetoric that you call "jokes" are literally getting people who identify within the LGBTQ spectrum attacked and killed all in the name of comedy.
Take accountability. Change your behavior. Educate yourself on marginalized issues and why we drag you when you tweet stupid stuff on social media.
Comments
comments