Y'all favorite Vine celebrity has been dragged to hell in the wee hours in the morning for allegedly outing someone.
Jay Versace who is known for lip-synching and making funny faces with dirty clothes on his head is in some mess. Considering that he is still recovering from a transphobic comment he made towards a fan last year, he might want to keep it cute. This time he is accused of outing former Mindless Behavior singer Princeton Perez who real name is Jacob Perez.
None of the responses come from Princeton's verified social media but it's insinuated that's it's him. Screenshots were provided and if you know how to add, you know it went from 0 to 60 real quick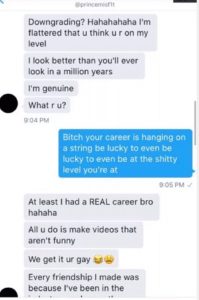 Did he stop there? Nope. Jay Versace claimed that Princeton made a backup Twitter account to flirt with guys. He posted screenshots of their conversations as well.
So allegedly Jay Versace is tired of Princeton pretending to be straight while he's in his inbox trying to get with all his friends' except Jay. Chile if this ain't no high school gay drama!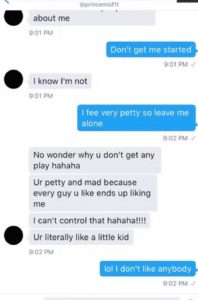 Nobody, I repeat Nobody should be outed. No matter what the situation is should be outed. It's dangerous and it's just plain trash.
Since the incident, Jay Versace and Princeton Perez has deleted their Twitter accounts.
Twitter has eaten Jay Versace alive for allegedly Princeton.
https://twitter.com/MJStarLover/status/867606949436817409
https://twitter.com/_teenagerebel_/status/867615926857977857
jay versace outed princeton for the gag and no one is gagging with him. how low do u have to be? especially when you JUST came out yourself?

— 🧚🏽‍♂️ (@beyonseh) May 25, 2017
Forcing someone out of the closet is the worst thing you can do to someone. You literally just became comfortable with yourself @jayversace

— Aki (@psylockebf) May 24, 2017
What do you think of the mess? Is Jay Versace canceled? Or are you still searching on Google to find out who they are?
Comments
comments
Su-I-(De)-Cide
. Really?! Are you deciding to commit suicide when you let yourself become just "one of them?"
Budding author Olivia Thompson thinks so as she takes us on a journey to discover what "living" means when who we are is pre-determined by everyone and everything that came before us. In her four short stories, we meet Zaba, a college-bound student fighting against social stigmas after learning her best friend is HIV positive; Raven, who does anything to force a drug dealer to feel the consequences of his choices; Kiyomi, who struggles to survive each new day, and; a nameless character who can be anyone of us in the midst of conflict. Through these stories, we learn that life is a beautiful experience, but it also has a habit of breaking people.
Although Miss Thompson began writing at three, this is her first publication. Born with a stutter that made her afraid to speak and the victim of bullying, she dove into creating imaginary worlds where characters used a voice she was too afraid to use herself. Behind the desktop, she was in control. Yet, as she got older she learned that no one is ever in control, and her imaginary worlds took a different turn.
Comments
comments
On This Day, A Legend Is Born: Chrissy Teigen & John Legend Welcome Baby Boy
Earlier this morning Chrissy Teigen broke the news that her second child with singer, John Legend, was born.
Somebody's herrrrrrre! 🍼🤗🍼🤗

— christine teigen (@chrissyteigen) May 17, 2018
The couple already has a two-year-old daughter named, Luna, and now she has a little brother. While we don't know the baby's name yet or even seen a picture (taking notes from Beyoncé I see), we congratulate Chrissy and John for expanding their beautiful family.
Look at this adorable video John posted on Instagram calling the baby!
Here's what Twitter had to say about the announcement:
OMFGGGG!!!!!! Taurus baby!! Congratulations ♥️♥️♥️♥️♥️

— Brielle Biermann (@BrielleZolciak) May 17, 2018
Congratulations to @ChrissyTeigen and @JohnLegend on your new baby! He's sure to be a Legend. https://t.co/GRm9b9yqJZ

— Ellen DeGeneres (@TheEllenShow) May 17, 2018
Congrats to @chrissyteigen and @johnlegend on their baby boy, if you happen to need a nanny 🤙

— Chelsea (@chelseawhaling) May 17, 2018
sooooo it @chrissyteigen naming her baby Laurel or Yanny?

— Marissa Gomez (@rissasurusrexx) May 17, 2018
Congrats @chrissyteigen and @johnlegend on the birth of your baby boy!!!!!!! 💙💙💙💙

— lisa rinna (@lisarinna) May 17, 2018
Comments
comments
#MuteRKelly vs #TurnRKellyUp
In retaliation of the Mute R Kelly campaign, which was launched because of the inhumane treatment of women, many of which who were under the legal age of consent, in an alleged sex cult and harem, Kelly has been accused of running for many years.
Kelly has launched the Turn R Kelly Up movement. Over the weekend during his show in North Carolina, Kelly gave out t-shirts and briefly addressed the crowd, with what appeared to be a "woe is me" cry for support.
Watch the plea here:
Kelly has been accused of sleeping with teenagers for years. He was first accused of marrying singer Aaliyah when she was only 15 years old, that marriage was annulled. He was then accused of sleeping with singer Sparkle's niece, while she was only 14 years old and making the infamous sex tape, in which his reputation for giving out golden showers precedes him to this day.
Quite frankly, Kelly's reputation overall is absolutely horrific. There are countless stories regarding how Kelly has a God complex because he has been able to get away with a lot of sick and twisted acts, with little to no repercussions.
Kelly Was Arrested on Child Pornography Charges
The singer was arrested in June of 2002 on child pornography charges, he posted $750,000 bail but then was arrested again in January 2003 on 16 additional child pornography charges, when photos of a naked, underage girl were found on his computer.
In addition to the accurately depicted Pied Piper persona, Kelly has also severed ties with his brother, Carey Kelly, who he expected to take the fall for his devious behavior, in addition to singers Neyo, Jay Z, and countless others, because of his superiority complex.
Recently, celebrities such as John Legend, Shonda Rimes, Viola Davis have banded in the #TimesUp movement to mute R Kelly, which has resulted in music platforms such as Spotify and Apple Music pulling back on the promotion of Kelly's music. His music will still be available, it just won't be highlighted.
Kelly's Team Jumps Ship
In addition, Kelly's female attorney, publicist, and assistant have also jumped ship. This can't be a good sign. I'm sure they know much more about the inner workings of what goes on with Kelly's alleged occult, behind closed doors. They don't want to go down with him, permanently ruining their name and reputation, by supporting a predator.
It truly appears that all of Kelly's dirt and wrongdoings are about to catch up to him. Although there will always be those that turn a blind eye to the singer's misdeeds because he is such a gifted artist (which is reflected in his sold-out performance over the weekend in Fayetteville, NC).
#ItsAboutDamnTime Movement
Soon and very soon we will be transitioning from #TimesUp to #ItsAboutDamnTime, and others that follow behind R Kelly will think twice before violating young, impressionable women ever again. Until then, we are waiting and watching, with popcorn in hand.
https://latoyatjackson.wixsite.com/latoyatjackson
Comments
comments