Y'all favorite Vine celebrity has been dragged to hell in the wee hours in the morning for allegedly outing someone.
Jay Versace who is known for lip-synching and making funny faces with dirty clothes on his head is in some mess. Considering that he is still recovering from a transphobic comment he made towards a fan last year, he might want to keep it cute. This time he is accused of outing former Mindless Behavior singer Princeton Perez who real name is Jacob Perez.
None of the responses come from Princeton's verified social media but it's insinuated that's it's him. Screenshots were provided and if you know how to add, you know it went from 0 to 60 real quick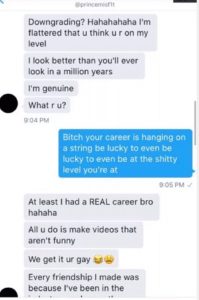 Did he stop there? Nope. Jay Versace claimed that Princeton made a backup Twitter account to flirt with guys. He posted screenshots of their conversations as well.
So allegedly Jay Versace is tired of Princeton pretending to be straight while he's in his inbox trying to get with all his friends' except Jay. Chile if this ain't no high school gay drama!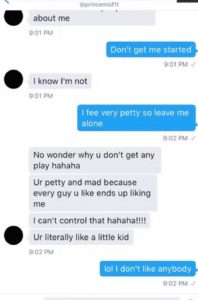 Nobody, I repeat Nobody should be outed. No matter what the situation is should be outed. It's dangerous and it's just plain trash.
Since the incident, Jay Versace and Princeton Perez has deleted their Twitter accounts.
Twitter has eaten Jay Versace alive for allegedly Princeton.
Jay Versace is trash for outing Princeton if he is gay. You can't drag someone out the closet because you're mad you got your feelings hurt.

— Ᏸecca🥀🕊 (@MJStarLover) May 25, 2017
jay versace is a prime example of when people think too highly of themselves. Sis you JUST came out yourself not even a year ago.

— Bre.🌞 (@_teenagerebel_) May 25, 2017
jay versace outed princeton for the gag and no one is gagging with him. how low do u have to be? especially when you JUST came out yourself?

— evy (@beyonseh) May 25, 2017
Forcing someone out of the closet is the worst thing you can do to someone. You literally just became comfortable with yourself @jayversace

— Aki🐯 (@TrillDizzee) May 24, 2017
What do you think of the mess? Is Jay Versace canceled? Or are you still searching on Google to find out who they are?
Comments
comments