Chile where is Momma Dee at when you need her??!!
Miss VA aka Veteran Affairs turned a routine checkup into a situation that almost left me looking like a gay pirate. Let's start at the top. July 12th, 2018 96 degrees, and the quarter tank should've let me know that the day was going to be something serious. I've been trying to avoid getting care from the VA because I've heard so many horror stories but working for yourself comes at a price. I've been paying out of pocket for health insurance and it is quite expensive, shout out to capitalism. I injured myself while serving in Iraq back in 2010 which allowed me to get VA services. So after months of debating, I finally made an appointment and had to wait almost 2 months after making the appointment.
That Wednesday started off late because it took me nearly 40 minutes to find parking. I wasn't aware that this day would tell me a lot about myself besides I should watch what I eat and get more sleep. That day I found out that my smiles are sometimes hiding the depression I'm experiencing and 
I'm not doing a good job of maintaining it.
Since this was my first time being officially seen they wanted to do blood work. I've been curious if I might be diabetic considering it's in my family. So I headed to the laboratory to get my blood drawn. Now I'm terrified of needles, but I just turned my head and let them go to work. I always prefer a woman because, as proven by my past experiences, men don't show care. Of course I had a man draw my blood and, of course, he makes jokes about me possibly fainting. Little did he know I would and it would be serious.
I proceeded to tell him that I felt light headed and I was losing feeling in my fingers and he told me to breathe, I did and don't remember anything else. I woke up with my leg kicking and head laying face first on the floor. The staff rolled me over and started to apply pressure to my head. I was confused and shocked. It took a minute for me to realize that I did in fact blackout. I also didn't realize that I cut myself pretty bad twice on my face to the point that you could see my nerve.
They rushed me to the emergency room and eventually stitched me up. I lied in the hospital bed wondering how did something like this happen to me? I've had blood drawn throughout my military career so why now? Something deep down in me started to say that I haven't been taking the best of care of myself. Not getting enough sleep, and depressed about situations that I can not control but truly affect me each and every day.
Depression is a bitch and I'm tired of being her bottom.
Click To Tweet
I've been fooling everyone but my body and she gave out on me and dragged the shit out of me. I am not superhuman. I know some of us to like to think so but we're not and sometimes it's important that we let people know we need help. How do you say it though? I debated with myself how to tell the people who enjoy my content and silly Facebooks that I flew too close to the sun. I posted about the accident but the response was limited until I posted a picture of the injury. That's when everyone was concerned. It seems that most are reactive rather than proactive. I had plenty of support during my time at the hospital. 3 of my friends came and visited and made sure I made it home safe. I, Justin James, wasn't used to being helped because I'm always the one helping.
Even now I feel bad because I haven't posted much content other than a couple of live videos here and there. Then the voice in the back of my head, as well as close friends, reminded me that if I don't take care of myself there won't be a Justin to post any content.
Over the last 2 weeks, I've taken a break from creating content besides For The Culture Podcast. I'm feeling great now, I've worked on my diet to include more water intake (especially considering the summer heat) and including more fruits in vegetables in my diet. I've also started to make sure I get more than a couple of hours of sleep and I can feel the difference. I'm also making sure my friends know what I am feeling. Sometimes it is difficult to be serious when you're the one who is telling jokes. I sometimes feel trapped in something I created. It makes me think about Robin Williams and how he felt before he was a victim of suicide.
I'm not sure where I would be without my family, friends, and supporters. This is why I feel it's important that we check up on the people around us. I can't imagine where I would be without my support system.
Thanks to you for taking the time to read this and to those who reached out. I truly appreciate it.
Comments
comments
Alexandra Shipp Doesn't Understand Colorism and It Shows
Alexandra Shipp is suffering from the same light-skin plight that Tinashe claimed stifled her career two years ago. Oh well…
After hearing that KiKi Layne was in talks to step into her queendom as Storm, Alexandra Shipp wasted no time chiming in on Twitter. Her hot garbage take has since sparked yet another conversation about colorism in Hollywood. Alexandra stated, in so many words, that Black people aren't supporting her because of her skin tone. Proving she, like so many, does not understand colorism as a system of oppression, Alexandra makes it clear there's still work to be done.
You see, Alexandra, no one is attacking you for having light skin. They're simply expressing joy over the much-anticipated portrayal of Storm as she was intended — a dark-skin, beautiful Black woman. This was a monumental opportunity for you to offer praise. Instead, you chose self-pity because a skilled actress is taking a role you aren't entitled to. Let's look at receipts, shall we?
KiKi Layne has been nominated for:
The Alliance of Women Film Journalists Award for Best Breakthrough Performance
The Gotham Independent Film Award for Breakthrough Actor
The Washington D.C. Area Film Critics Association Award for Best Ensemble.
You, Alexandra, have been nominated for a Teen Choice Award and a Nickelodeon Kids' Choice Award.
Because you, and others who look like you, have not had to search for representation to feel included, you may not know how to respond to this. I get it, You think you worked hard, earned that role, did it justice. Sorry, baby, but you thought wrong. The one-time wife of T'Challa deserves to be a dark-skin queen and there's nothing you should do about it.
It's bigger than you.
For two decades, we have waited for the mantle of Storm to be assumed by a woman who truly looks like her. For once, little Black children who share that skin-tone would feel seen as they look upon their favorite superhero. Imagine children looking at Storm the way they knew her and the way they thought they could be; strong, beautiful, dark-skinned, and more talented than you.
Furthermore, your conflict with the change in the cast should not be conflated with other pressing issues. Don't weaponize Black Lives Matter to represent losing a job because you're talentless. Where is your grace, queen? You've been coasting on mediocrity in an industry that has made you proud of your light-skin privilege. Now that dark-skin is profitable, the industry is accepting of some actresses with melanin more popping than yours, and you want to play the victim? Ms. "90 percent of the racism I've experienced in my lifetime has been at the hands of fellow Black people."
Girl, bye.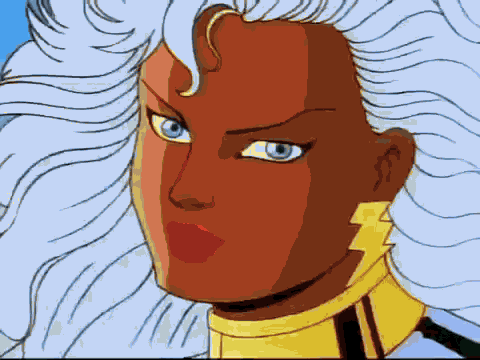 Comments
comments
Protests Ensue Over Death of Jameek Lowery
Jameek Lowery streamed his final moments as he sought assistance from officers in a Paterson, New Jersey station. Having passed in police custody, community members and family want answers.
Scared and Alone
Jameek Lowery was disoriented, foaming at the mouth, and shoeless. Asking for water and visibly unsettled, 27-year-old Jameek admitted he'd taken ecstasy just moments earlier. Hoping officers would help him find proper care, Jameek trusted them with his life.
Police say they called an ambulance and accompanied him to St. Joseph's Hospital, but what happened during transport is unclear. The Passaic County Prosecutor claims although hospital records do not indicate acute trauma, Jameek suffered physical force and compliance holds during the ride. While transport took between five and twelve minutes, the prosecutor alleges that Jameek was unresponsive upon arrival. Jamir King, Jameek's brother, says Lowery suffered a fractured eye socket and broken cheekbone after the recording.
We want answers now!
Paterson Police Director Jerry Speziale maintains everything that could be done to help Jameek was.
 "They will do the autopsy, everything will come up and then we'll know where we stand, and the answers will be given to you. I want you to have those answers. Right or wrong, I want you to have those answers."

Jerry Speziale, Paterson Police Director
Unhappy with what Paterson Police have provided since Jameek's death Saturday, protests have ensued. Hawk Newsome of Black Lives Matter attended the Tuesday night protest, providing his support to the family and commenting on what he knew so far.
"He was extremely paranoid, he was terrified, and he had no shoes on. What I did notice was his face looked good and within a few hours he was dead."

Hank Newsome, Black Lives Matter of Greater New York
City Council members were also present during the protests, providing comfort to the family as they begged for answers. Lowery's sister Jamilia Laurie said, "My heart hurts, I can't explain how I feel because I don't know how I feel. I can't go to sleep at night. I've been up since this happened. I cannot sleep."
Justice for Jameek
Late into the evening, things came to a head as protestors clashed with police on the street, spilling out of City Hall where the rally took place. Holding cell phones to record the officers, police lined up on the other side, equipped with mace. People began chanting "Justice for Jameek," "Black Lives Matter", and "No justice, no peace". Police fired upon the crowd with mace and a large crowd was seen fleeing the Paterson Public Safety Complex building, shielding their faces and coughing.
Wana Fulcher, a protestor on the scene commented on the frightening state of police relations in Paterson.
"I have four sons myself and this is very scary. Your child can't even walk down to the store without being harassed by an officer. Who can we run to?"

Wana Fulcher, protestor
Community leaders and Paterson Mayor Andre Sayegh are supporting the investigation into what happened to Jameek. Several news outlets have attempted to reach Paterson Police Director Jerry Speziale for further comment with no success.
Comments
comments
On the Subject of R. Kelly
I was 14 years old when R. Kelly was indicted on 21 counts of child pornography. It was 2002. TP-2 had been out for a while and everyone was vibing to "Fiesta" and "Feelin' On Yo Booty". He was preparing to perform at the opening ceremony for the Winter Olympics in Salt Lake City when the story broke. A videotape had surfaced, allegedly showing R. Kelly urinating on an underage girl. The Black community was silent.
I overheard my adult cousins discuss the tape at family gatherings. Everyone that had seen it seemed to agree. Without a shadow of a doubt, they all knew they were watching Robert Kelly, the pied piper of R&B. Yet there was no outrage, no public outcry or demands for justice. It was sickening. At the time, I lived in Detroit, Michigan, home to DSA. DSA was known as The Detroit High School for the Fine and Performing Arts, but it was famous for birthing the princess of R&B, Aaliyah Dana Haughton.
Buried
When Aaliyah married R. Kelly in 1994 in that secret ceremony with forged documents, Detroit knew. When conversation surrounding the nature of their artist-protégé relationship was questioned, Detroit knew. In televised interviews and radio segments when their voices and body language could be dissected, the truth was bare and as a community we denied it. For the second time, I watched a city turn a blind eye to R. Kelly's predatory behavior for the love of his music. For what? Because it was more difficult to hold one man accountable for his hebephilia than sacrifice music to bump to? We collectively did ourselves a disservice, the same disservice we do to little Black girls and boys who are preyed on by family and religious figures.
Ignoring the presence of sexual deviance in the Black community does not make the trauma survivors battle daily disappear. I couldn't understand why people made excuses for rapists or held victims accountable for their pain. "Just separate the art from the artist." How? Why? The artist is using his status and artistry to directly engage, lure, and abuse Black girls. R. Kelly isn't the only person to do this. Many celebs have used the promise of fame for sexual favors. Hell, employers use this exact same tactic. In the working environment, people in positions of power will dangle promotion and incentive to bargain sexual favors and people excuse it.
Second Chances
As a community, we must demand better. From the moment those 21 counts of child pornography surfaced following the release of the infamous tape, R. Kelly's career should have been over. But it wasn't. He went on to release the Chocolate Factory album, selling more than 3 million copies and going platinum. With the help of a delayed trial, he worked diligently, released gospel music to clean his image. By the time he went to trial in 2008, the Black community had two-stepped his depravity out of their memory. He was found not guilty.
People use twisted language like "Those girls were fast. Where were their parents?" Working long hours to clothe and feed that child. No parent is in all places at all times so save that bullsh*t. Such rhetoric does absolutely nothing to absolve sexual predators of the reality that they took advantage of naive adolescents or starry-eyed adults. Just call it what it is. Or are you afraid that acknowledging his deviance means calling out the same evil in those around you?
Comments
comments