Matthew Knowles Talks Beyoncé, Kelly Rowland, and Colorism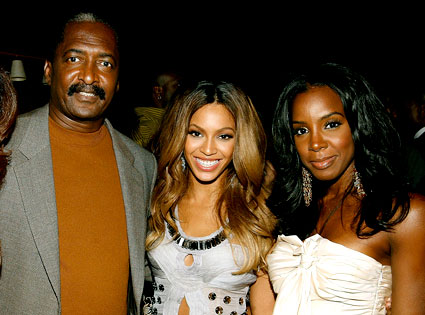 Colorism in Music
A few days ago, Matthew Knowles participated in an interview with SiriusXM in New York City. This interview garnered a lot of attention from social media. Specifically, he discussed studies that have shown that women who are at the top of the charts are all lighter skinned women. I mean this is no surprise to anyone but it is still an important conversation. There are so many talented women like Normani, Justine Skye, and Ryan Destiny who deserve acknowledgment and accolades.
Furthermore, Knowles said, "if you look back even at Whitney Houston if you look at those photos, how they lightened her to make her a lighter complexion. Because there's a perception — the lighter that you are, the smarter — there's a perception all over the world." This is an issue and we should talk about it more so that the music industry tries to deconstruct the stigmas towards dark skinned women. Now, when asked if he thinks Beyoncé's career would have been successful as it is now if she was dark skinned, he was very honest with his opinion. He said, " I think it would have affected her success."
My Thoughts
I will say that Beyoncé having lighter skin compared to the members of her former group Destiny's Child did contribute tremendously to her being the main focus which later furthered her career. However, Beyoncé being light skin is not the sole reason for her awards and accomplishments. It definitely plays an integral role, but to undermine her work ethic and the quality of her art is not what we should do on social media.
Lastly, Matthew Knowles was responsible for the group's development over the years. As a record executive, he was aware of these problematic narratives in the industry. Many people on social media have suggested that he actually could've helped Kelly Rowland specifically by putting her more in the center, giving her more verses to sing, or placing her in the middle of photos. I mean this still would not eradicate colorism but it would've helped. When someone is aware, they have the power to fix things that are unjust. I hope he acknowledges that, as he continues giving insight into the music business. Colorism is alive and we all need to call it out.
Like New York said, "If you're black… stand in it in all shades."
Please comment your opinions.
Comments
comments
In The Middle: Of A 'Black Parade'
12 Year-Old Keedron Bryant Signed to Warner Records
"OOHHH THANK YA" is all Keedron Bryant had to say on social media when news finally came out that he had signed a record deal with Warner Records.
Amidst all the difficult news we've been facing these past few weeks, we wanted to give you something to smile about. You might remember Keedron Bryant, the 12-year-old boy who went viral after posting a video of himself singing "I Just Wanna Live," a song written by his mother that tells of being Black in America and just wanting to live.
Keedron's performance was noticed by everyone from former president Barack Obama, who referred to him and posted the performance in a statement on the murder of George Floyd, to comedian Ellen Degeneres, who closed her show with his full video.
Just when we thought this story couldn't give us any more feels, it was announced that Keedron was officially signed to Warner Records and his viral hit would be released on all platforms Friday, June 19, otherwise known as Juneteenth, a day marking the end of slavery in America.
Congratulations are definitely in order for Keedron Bryant.
12-Year-Old Keedron Bryant's Emotional Song 'I Just Want to Live'.
Video : @TheEllenShow (YouTube)#EllenDeGeneres #KeedronBryant #AronHodek #BlackLivesMatter pic.twitter.com/wHt7f0bW7e

— Ellen DeGeneres Fan Club (@EllenD_FC) June 5, 2020
Comments
comments
Netflix CEO Donates $120 Million to HBCU's
Netflix CEO, Reed Hastings, along with his wife, Patty Quillin, are donating $120 million dollars in total to Morehouse College, Spelman College, and the United Negro College Fund. The $120 million will go towards scholarships for the students. Each college will get $40 million.
According to the United Negro College Fund, this is the largest single donation by individuals.
In a statement Hastings and Quillin said, "We've supported these three extraordinary institutions for the last few years because we believe that investing in the education of black youth is one of the best ways to invest in America's future."
This isn't Hastings' and Quillin's first time donating to HBCU's and minority education. In 1997, the two began supporting the KIPP charter school network which helps black and latino students. In 2016, Hastings created a $100 million dollar education fund for black and latino scholarships.
"HBCUs have a tremendous record, yet are disadvantaged when it comes to giving. Generally, white capital flows to predominantly white institutions, perpetuating capital isolation. We hope this additional $120 million donation will help more black students follow their dreams and also encourage more people to support these institutions — helping to reverse generations of inequity in our country," says Hastings and Quillin.
Comments
comments