Matthew Knowles Talks Beyoncé, Kelly Rowland, and Colorism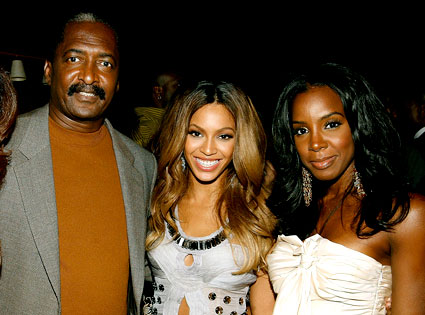 Colorism in Music
A few days ago, Matthew Knowles participated in an interview with SiriusXM in New York City. This interview garnered a lot of attention from social media. Specifically, he discussed studies that have shown that women who are at the top of the charts are all lighter skinned women. I mean this is no surprise to anyone but it is still an important conversation. There are so many talented women like Normani, Justine Skye, and Ryan Destiny who deserve acknowledgment and accolades.
Furthermore, Knowles said, "if you look back even at Whitney Houston if you look at those photos, how they lightened her to make her a lighter complexion. Because there's a perception — the lighter that you are, the smarter — there's a perception all over the world." This is an issue and we should talk about it more so that the music industry tries to deconstruct the stigmas towards dark skinned women. Now, when asked if he thinks Beyoncé's career would have been successful as it is now if she was dark skinned, he was very honest with his opinion. He said, " I think it would have affected her success."
My Thoughts
I will say that Beyoncé having lighter skin compared to the members of her former group Destiny's Child did contribute tremendously to her being the main focus which later furthered her career. However, Beyoncé being light skin is not the sole reason for her awards and accomplishments. It definitely plays an integral role, but to undermine her work ethic and the quality of her art is not what we should do on social media.
Lastly, Matthew Knowles was responsible for the group's development over the years. As a record executive, he was aware of these problematic narratives in the industry. Many people on social media have suggested that he actually could've helped Kelly Rowland specifically by putting her more in the center, giving her more verses to sing, or placing her in the middle of photos. I mean this still would not eradicate colorism but it would've helped. When someone is aware, they have the power to fix things that are unjust. I hope he acknowledges that, as he continues giving insight into the music business. Colorism is alive and we all need to call it out.
Like New York said, "If you're black… stand in it in all shades."
Please comment your opinions.
Comments
comments
Queen & Slim | In The Middle
What a Viral Twitter Thread Can Teach Us About Love and Trauma
After a chance meeting with a New York legend, Chaédria LaBouvier, the Guggenheim Museum's first black female curator, promised herself if she experienced another special encounter on New York's MTA bus service, she would live-tweet it for the world. Probably sooner than she expected, she found herself giving her followers a play-by-play of a man and woman discussing their relationship, its problems, and how they can solve them.
According to LaBouvier, everything began with the man telling his girlfriend, "I love you and I want to make this work but you're mean AS FUCK and it's wearing me down." Her tweets then went on to describe the man explaining that she doesn't know how to communicate her concerns in a healthy and productive way with him and pleading with her to seek help from a mental health professional.
The woman acknowledges not only his concerns but also her own frustration with her actions and her reservations about therapy. "'I know I don't communicate my feelings…I didn't grow up with that and I had to teach myself… what if therapy doesn't work for me? What if I'm just angry?'"
Oooff. Overhearing this relationship in trouble on the shuttle bus and the guy just told the girl, "I love you and I want to make us work but you're mean AS FUCK and it's wearing me down."

She's just looking at him like she knows he's right but doesn't know what to do about it.

— No Quarter Will Be Given (@chaedria) December 1, 2019
LADY PLEASE GO TO THERAPY SO YOU CAN KEEP THIS MAN IN A GORGEOUS TWEED COAT WHO LOVES YOU

I want them to get through this

— No Quarter Will Be Given (@chaedria) December 1, 2019
Her: "Therapy just makes me feel like I'm failing all of the time and you don't…I know I don't communicate my feelings…I didn't grow up with that and I had to teach myself. I know I go off, believe me. I just… what if therapy won't work for me? What if i'm just angry."

— No Quarter Will Be Given (@chaedria) December 1, 2019
To some, LaBouvier's tweets hearkened back to the problematic "#PlaneBae" incident in which a comedian's live-tweets of flirtatious meet-cute between two fellow passengers on her flight from New York to Dallas included photos of the unsuspecting pair. Many, though, are hailing the unidentified MTA man's devotion to his relationship and LaBouvier's (@chaedria on Twitter) account as a beautiful example of love, commitment, patience, and compromise.
I'm armoring up for a bad relationship talk tonight. This thread has reminded me to bring a little less armor and a little more consideration. Thank you, and them, for the reminder.

— outofupfor (@outofupfor) December 2, 2019
He sounds like he has done a lot of the work he is hoping to convince her to go through. He is expressing needs, setting boundaries, and withholding judgment in a way few could manage without some coaching.

— Andrew Langmead (@alangmead) December 2, 2019
I love the hope in this.

They've already gotten through a lot:

1) Acknowledging the problem
2) Taking responsibility
3) Wanting to change
4) Accepting therapy

All that's left, and it's a big one, is doing the hard work in therapy.

I wish them the best. Thanks for sharing ❤️

— Stephen Black (@stephenablack) December 2, 2019
In the exchange, the man affirms his girlfriend's feelings about her anger and recognizes how difficult it can be to change learned behaviors, especially when the raw emotion of a lover's quarrel come into play. Often times, couples fail to acknowledge the impact of their actions while focusing on the recipient, but both participants here succeed in validating the other and showing empathy for one another at the same time. "'I want a better YOU not someone else… would it help you if I went with you [to therapy]? I'll ask my mom if she has any recommendations,'" the man offers
However, what he likely doesn't understand is that just any old "therapy" isn't always the answer. Our MTA heroine arguably needs a trauma therapist specializing in PTSD – post-traumatic stress disorder – as evidenced by her brief detail of her childhood experience and the shame she feels every night. By her own admission she continually tries to correct her behavior yet fails, and a trauma specialist could not only better understand her situation, but also potentially reduce the pain she feels, slow the frequency of her "blackouts," and address any other side effects.
When thinking of the traumas that can affect any of us, it's important to remember that what scars us individually may not scar us collectively. Whatever she experienced may not be immediately understandable or accessible to us (or her boyfriend whose race remains a mystery while LaBouvier identifies her as a woman of color), but it still grieves her daily. Imagine breaking a limb – you may get a cast and lollipop at the hospital, but that pain still remains until the injury is fully healed. Equally, that pain still affects our interactions with other others. All human interaction is dependent on our relationships and when our feelings are hurt, those relationships are thrown into chaos until the injury is healed or at least back in a working state.
This couple's relationship may not be perfect, but their willingness to work together through their weaknesses is a sign all love is not lost. While therapy is not a cure-all, the right therapy can heal a lot of injuries.
Check out the full thread on the flip and let us know what you think. Can therapy help their relationship? Do you have a personal experience you'd like to share?
Comments
comments