White tears flooded social media after the recent video of Keaton Jones sharing his recent bullying experience with his mother. The video has now garnered 5 million views over the weekend. Seeing a child relive his bully experience is a tear jerker for many, but as the video picked up views, it also posed a lot of questions for some.
Several celebrities such as Justin Beiber, Katy Perry & Chris Evans have shared the video on their social media platforms supporting the message. Some other celebrities have reached out to offer help and even a GoFundMe was created for Keaton Jones that raised almost $60,000 until GoFundMe put the account on hold.
When asked whose idea was it to record the video, Keaton Jones told ABC News that it was originally his idea. Honestly, I don't see a middle school aged boy asking someone to record a video of them crying in the middle of them crying. I just don't see it.
After the video went viral over the weekend, a family photo on his mother Kimberly Jones' Facebook page Kimberly Jones surfaced of her and her family standing next to a confederate flag.
"I feel like anybody who wants to take the time to ask anybody who I am or even troll through some other pictures, I mean I feel like we're not racist," she said. She added: "It was meant to be ironic and funny … I am genuinely truly sorry. If I could take it back, I would." ABC News
Kimberly your Facebook posts have shown us the real you. You have photos of family members standing next to the Confederate flag and posts about NFL players taking a knee against police brutality. You can pull that with your mayo sympathizers but us black folks smell the spoiled milk from the nearest truck stop.
Sis is now trying to secure the bad. Seeing as though GoFundMe has put the account on hold an alleged Keaton Jones account was created to combat some of the backlash but black twitter wasn't here for it.
Keaton's mom not slick… pic.twitter.com/be27cSuZDh

— Chocolate Metaphor (@ChocoMetaphor) December 11, 2017
Many of these celebs hopped on the bandwagon before any proper vetting. Now it's easy to get caught up in trying to do the right thing but some people like Kimberly pray off of this. I did find it funny that many black celebrities rushed to help.
Recently there was a story of 10-year-old Ashawnty Davis hanging herself after being bullied at school. A 10 year committed suicide, they didn't get a chance to ask for help via social media. There wasn't a campaign from celebrities to help with funeral cost and counseling for the family. We need to do better in supporting our own.
Kimberly is the true Joanne the Scammer but it didn't take long before Twitter clocked it. Take a look.
https://twitter.com/svnnycx/status/940325473506201600
Keaton's mother transferring all that gofundme money onto her Rush card: pic.twitter.com/7rTNYjQC7N

— Kaptain🇭🇹Kangaroo (@jaspyology) December 11, 2017
Keaton's mom at the next KKK meeting after successfully scamming $50,000 and celebrity endorsements from her child's adversity pic.twitter.com/NpDQrukMoY

— THE HOOD ORACLE (@MADBLACKTHOT) December 11, 2017
Comments
comments
Match Black Women brings Hi-tech Love to Matchmaking Services
Match Black Woman brings Hi-tech Love to Matchmaking Services
New dating site offers innovative solutions for Black women 
Atlanta, GA: MatchBlackWoman.com offers dating and networking solutions for women of African ancestry to find compatible suitors. An innovating dating service, the site offers membership levels and business opportunities to not only connect with others, but monetize their time and investment.
Built on the belief that voluntarily connecting people who share common interests can lead to greater compatibility, the platform seeks to propose a solution by bridging the gap of a tough online dating market while providing a service for individuals who have an interest in dating Black Women.
The site has a number of features designed to help seekers find a potential mate. Women can meet single men, network with other women, receive matchmaking services, video chat, and participate in forums. There are also unique search options based on music preferences, eating habits, lifestyle, and more.
MatchBlackWomen.com is a social networking dating site designed from a womanist perspective. It includes the interests of women and includes forums to discuss issues relating to Black women and the broader community. It's time we had our own space. This is a way to make things fun, interesting, and connect with like-minded people.
There are three membership options: Free, Gold, and Black Diamond. Free members can create a profile, post three photos and conduct member searches. The Gold level allows members to add up to six photos, send and receive unlimited messages, video chat, post on an activity wall, have access to forums and news, and set privacy limits. The premium Black Diamond level has all the features of the Gold level, with unlimited photos.
Business people have an added incentive: become an affiliate! Earn 55% commission per signup, making finding true love while getting paid even better! For more information on the site, or to express interest in the business opportunity, contact [email protected].
Comments
comments
Mom Gets Criticized for Showing Toddlers Kissing on The Mouth
Mother of 3, Ashlee Muhammed receives backlash for her parenting skills, due to a viral video of her twin boys kissing on the lips.
Although most people seemed to think that the video showed an innocent sign of affection, others were not feeling the brotherly love.
One follower called Muhammed's parenting skills reckless, despite her intended message.
Majority of the negative comments were received by black men.
They accused Muhammed of highlighting perversion and sexuality amongst toddlers. However, Muhammed defends her video.
She states that "The World needs more love like this".
What are your thoughts, did she take brotherly love too far?
In the African-American community, it seems like we're so afraid to teach boys to show affection because we're in fear of them being gay. However, that's a disturbing label to put on toddlers.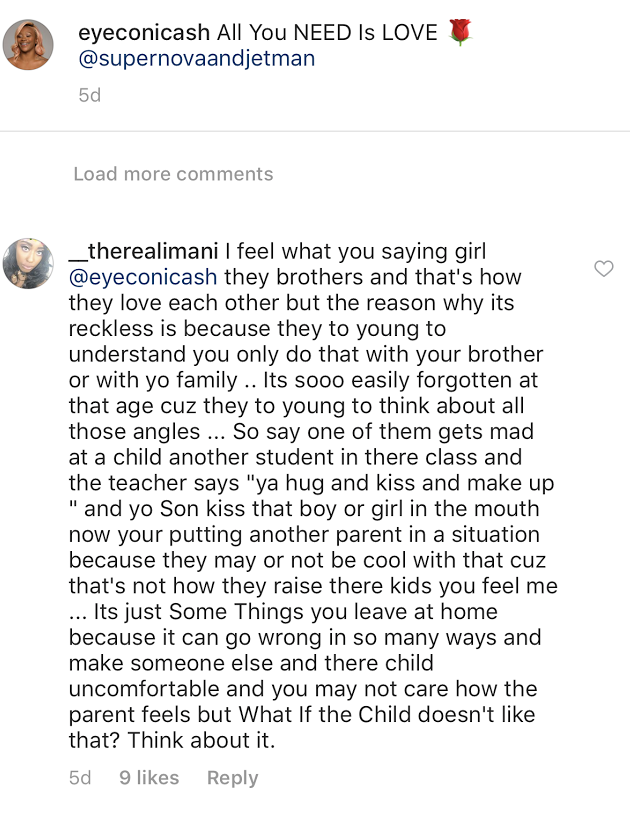 Do you think this warranted the drag session she received in the comments? She decided not to take the video down despite its controversy.
Comments
comments
Money Moves: New Year's Financial Checklist Part 2
Thanks for checking out Part 1, and we're back with Part 2!  Let's get to it!
Do you have savings?  This may sound like a silly question, but it may surprise you.  Did you know that 57% of Americans have less than $1000 in savings?  Are you included in that group?  If so, don't feel bad.  You can turn this around.  The old saying is "plan for a rainy day".  Well my new saying is "plan for a tsunami".  An emergency fund of $1000 is a great place to start for savings. This will come in handy to pay for unexpected car repairs or medical bills, or an array of actual "emergencies". $1000 may seem like a lot, but if you could put away $20 a week for one year you can attain this goal.
After you have allocated your emergency fund, you can focus on your general savings. A great way to save is to set savings goals.  Do you want to buy a new house? Are you in the market for a new car?  Perhaps you've been eyeing a new designer bag or shoes.  Whatever it may be, set savings goals and be diligent about achieving them.
Also, did the holidays hit you hard?  Have you been dying to take that trip to Dubai?  Creating a holiday fund account can ease the unnecessary stress of Christmas shopping, and reduce the risk of going into debt.  Summer will be here before you know it.  If you start saving now in a vacation account, you can take that dream vacation and do it in style.
Stay tuned for Part 3!  Have questions? We love to help!  Leave a comment or for more specific questions, email me at [email protected]
Comments
comments