Fights, robbery, and more! The drama was heavy at the FashionNova release party for Cardi's clothing collaboration.
The FashionNova x Cardi B release seems like it was a mess. Artists had their performance times changed and sets shortened. Masika Kalysha had her wallet stolen. Iggy Azalea and Bhad Bhabie got into a fight. It was scandalous.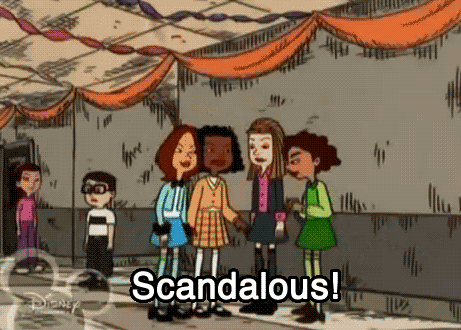 The FashionNova x Cardi B collection launched last night to mixed reviews. Fans were expecting more hoe fashion, but Cardi's collab was budget-friendly high fashion. With items ranging from $12.99 to $199.99, there was bound to be something for everyone. And there was! All but three items have sold out of the collection.
@iamcardib FASHIONNOVA her entire Bollection line is sold out!!!! Congrats and much love to your success. ?? pic.twitter.com/hEek12dCm1

— ✨❤♊️️MzRedBella✨❤️♊️ (@Redbone2662) November 15, 2018
Performances
Video has yet to be released of all the artists who performed last night at the "star-studded" event. So far, we know Yung Miami of the City Girls, Cardi B, Saweetie, and Dream Doll performed, but who didn't? Cupcakke says she was so excited to perform but FashionNova did her dirty.
Sooooooooo fashion nova decided to cut some of my time off my performance and raise other people times up which is very unfair to me so I came to a conclusion I don't want to perform at the fashion nova party but I thank cardi for the opportunity ?

— Marilyn MonHOE (@CupcakKe_rapper) November 13, 2018
When it comes to who got her extra time, I put my money on Dream Doll. She performed first and had a set close to 30 minutes long. Not one to mind her business, Mariah Lynn decided to get in Cupcakke's mentions only to embarrass herself.
"What Kind of Dr. Phil ass sh*t is this?"
Just when you thought it couldn't get worse, Bhad Bhabie decided to show her ass and act a fool. Throwing a drink at Iggy Azalea, Bhad Bhabie claimed she attacked her for talking trash.
"It's simple. Don't talk all sorts of shit on the internet n come up to me like u my friend. Some of these hoes like u fake n 2 faced as fuck but I'm NOT that bich"
After the mayonnaise settled, news leaked that Bhad Bhabie lost a deal over the scuffle. Not bothered by teenage drama, Iggy kept her composure and let us know to expect new music from her. Having secured a 2.7 million dollar distribution deal, Iggy says she is booked and busy.
Scammed
Turns out swag bags weren't the only bags secured last night. Somebody ran off with Masika's money! With an early morning tweet, Masika let whoever took her wallet know she's not angry, she just wants her cards.
whoever just stole my fucking black Chanel wallet at the Cardi B x @FashionNova event dm me. Have a friend dm me Have ya momma hit me if u scared. Imma let ya bum ass keep all the fkn cash I need all my cards & the rest of my shit. Seriously. I ain't even mad u got me. Go shoppin

— Masika Kalysha (@masikakalysha) November 15, 2018
Chile, last night was a shame, but we're here for the tea!
Did you manage to buy anything from the Cardi collection? Did you watch any of the performances?
Comments
comments
Uncle Snoop Get Your Apology to Ari Lennox Ready
Apparently, everyone's favorite uncle likes apologizing. Fresh off of his apology tour for his controversial comments towards broadcast journalists Gayle King, Snoop Dogg decided to comment on Ari Lennox's Instagram live to instruct her to "grow your own hair."
Yesterday, the Dreamville songbird took to Instagram Live in true Ari fashion to document her trying on a new lace front wig. Not known for wearing wigs, she struggled with figuring out how much lace to cut and securing the hair as she entertained her followers with hilarious gestures and commentary.
Eventually, a snippet of the video ended up on The Shade Room for everyone's viewing pleasure.
Moments later, Snoop was unnecessarily commenting under the video.
In no time, women were coming to Ari's defense, reminding the legendary rapper that his wife and daughter are no strangers to wigs.
You'd think men would know to leave their opinions to themselves when it comes to women's hair, especially black women, but clearly, Uncle Snoop forgot to read that particular memo. 
Once Ari caught wind of Snoop's comments, she delivered a lovely little shade tree, posting a photo of Snoop wearing a blonde wig with the caption, "Uncle I just…I just thought we had an understanding…."
Following the backlash that he's currently receiving, I can already envision the apology that's sure to follow.  Perhaps someone should remind Uncle Snoop that the best apology is changed behavior…
Comments
comments
DJ D-Nice Has Spun His Way Into the Living Rooms of Thousands
Every day, legendary DJ D-Nice (a.k.a. Derrick Jones) spends countless hours helping thousands of global citizens forget about the coronavirus pandemic and financial woes with his "Homeschool" parties.
Initially jumping on Instagram Live to cure his boredom while "self-isolating," D-Nice had an audience of a few hundred, mostly friends. As word began to spread, it grew to a few thousand. By Sunday, over 160,000 people joined his live for a virtual party that included the heavyweights such as Michelle Obama, Jennifer Lopez, Jada Pinkett-Smith, 9th Wonder, Jimmy Fallon, and Vice President Joe Biden.
During a CBS This Morning interview, D-Nice shared, "I literally just played what feels good. I wanted people to feel good. I wanted their experience to be lifted through music, just one song at a time." And he's done just that. While on live, his comment section is a constant stream of cheers, shout outs, and music-lovers asking, "Where the drinks at?" It feels like the best VIP section you'll ever experience but from your living room.
"No matter what your problems are, you can put on a good tune and it just takes you away and I was trying to do that," he explained. "It wasn't just the music, it was the whole experience and everyone escaping what's going on today just for a few hours."
While some of his neighbors have complained about the noise, D-Nice is committed to keeping the party going as the universal language of music is playing a vital role in keeping us all connected.
We have DJ D-Nice to thank for that!

Comments
comments
Jay Electronica & Joe Budden Used Their Twitter Fingers to Exchange Insults
It took 10 years for Jay Electronica to release his highly-anticipated album, A Written Testimony. While some are singing his praises, others are incredibly disappointed. One such person is former rapper turned media personality, Joe Budden.
Budden used his platform, The Joe Budden Podcast episode Dry Snitching to express his disappointment. Budden proclaimed, "You've been missing for ten years- which is cool, 'cause you've been living life. But that confidence that I thought you might've been living life with is suppressed…that lens that I'm looking through paints the story of a different MC. And that MC is one that would get smacked around by Hov on every song."
In response, Electronica took to Twitter and posted a video clip of DaBaby saying "fuck it," directing the tweet at Rory, one of the co-hosts on Budden's podcast.
Shortly after, Budden responded referring to Jay-Z's performance on A Written Testimony, where he appears on eight of ten tracks. "I never got absolutely mopped around on my own project either… @ me, not Rory."
Here's how the rest of that conversation went:
The tirade ended with Electronica demanding credit for "lighting up" the podcast episode.
Electronica released A Written Testimony on Friday, March 13th. It's his first solo album after more than ten years of delays with features by Jay-Z, The-Dream and Travis Scott, with additional production by The Alchemist, No ID, Swizz Beatz and Hit-Boy.

Comments
comments