Fights, robbery, and more! The drama was heavy at the FashionNova release party for Cardi's clothing collaboration.
The FashionNova x Cardi B release seems like it was a mess. Artists had their performance times changed and sets shortened. Masika Kalysha had her wallet stolen. Iggy Azalea and Bhad Bhabie got into a fight. It was scandalous.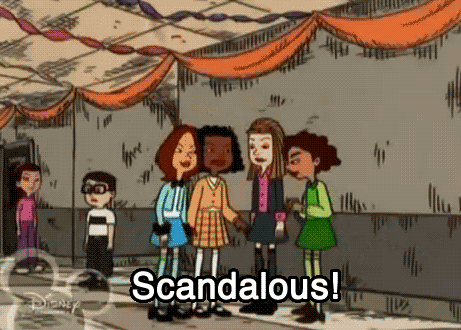 The FashionNova x Cardi B collection launched last night to mixed reviews. Fans were expecting more hoe fashion, but Cardi's collab was budget-friendly high fashion. With items ranging from $12.99 to $199.99, there was bound to be something for everyone. And there was! All but three items have sold out of the collection.
@iamcardib FASHIONNOVA her entire Bollection line is sold out!!!! Congrats and much love to your success. ?? pic.twitter.com/hEek12dCm1

— ✨❤♊️️MzRedBella✨❤️♊️ (@Redbone2662) November 15, 2018
Performances
Video has yet to be released of all the artists who performed last night at the "star-studded" event. So far, we know Yung Miami of the City Girls, Cardi B, Saweetie, and Dream Doll performed, but who didn't? Cupcakke says she was so excited to perform but FashionNova did her dirty.
Sooooooooo fashion nova decided to cut some of my time off my performance and raise other people times up which is very unfair to me so I came to a conclusion I don't want to perform at the fashion nova party but I thank cardi for the opportunity ?

— Marilyn MonHOE (@CupcakKe_rapper) November 13, 2018
When it comes to who got her extra time, I put my money on Dream Doll. She performed first and had a set close to 30 minutes long. Not one to mind her business, Mariah Lynn decided to get in Cupcakke's mentions only to embarrass herself.
"What Kind of Dr. Phil ass sh*t is this?"
Just when you thought it couldn't get worse, Bhad Bhabie decided to show her ass and act a fool. Throwing a drink at Iggy Azalea, Bhad Bhabie claimed she attacked her for talking trash.
"It's simple. Don't talk all sorts of shit on the internet n come up to me like u my friend. Some of these hoes like u fake n 2 faced as fuck but I'm NOT that bich"
After the mayonnaise settled, news leaked that Bhad Bhabie lost a deal over the scuffle. Not bothered by teenage drama, Iggy kept her composure and let us know to expect new music from her. Having secured a 2.7 million dollar distribution deal, Iggy says she is booked and busy.
Scammed
Turns out swag bags weren't the only bags secured last night. Somebody ran off with Masika's money! With an early morning tweet, Masika let whoever took her wallet know she's not angry, she just wants her cards.
whoever just stole my fucking black Chanel wallet at the Cardi B x @FashionNova event dm me. Have a friend dm me Have ya momma hit me if u scared. Imma let ya bum ass keep all the fkn cash I need all my cards & the rest of my shit. Seriously. I ain't even mad u got me. Go shoppin

— Masika Kalysha (@masikakalysha) November 15, 2018
Chile, last night was a shame, but we're here for the tea!
Did you manage to buy anything from the Cardi collection? Did you watch any of the performances?
Comments
comments
Hotties Rejoice! Megan Thee Stallion and Cardi B. Set To Realease "WAP" This Friday
I am HYPE. Megan Thee Stallion is about to make her triumphant return from all the drama, the violence, and the rumors to give us life. Stretch them knees, y'all. Meg and Cardi B. will be releasing "WAP" this Friday, August 7th. The Hotties (and whatever you call a Cardi fan) are absolutely BEAMING!!!
Of course, as with anything Cardi does, there was a little drama, but that seemed to get cleared up quickly:
Needless to say, I'll be listening and getting my life. What do y'all think? Tell us in the comments.
Comments
comments
Frank Ocean's Brother Ryan Breaux Has Died In A Car Crash
Frank Ocean's brother, Ryan Breaux, 18, was in a fatal car crash in Thousand Oaks, California this Sunday. His identity has not yet been confirmed by the medical examiner, but friends on the scene identified him to ABC7 News. An outpouring of support and well-wishes followed. (As well as the usual insensitivity.)
We here at King Of Reads want to wish Frank Ocean and his family well in this time of grieving. So much is happening in this world, we only hope they can find a moment of peace in the near future.
Comments
comments
Ellen DeGeneres Might Be Out Of A Job
After years of rumors, Ellen's behind-the-scenes behavior is being shot into the mainstream, and… it isn't pretty. The national uprisings have made the people bold. We've created a culture of protest, and that means workers are starting to speak out about the abuses they've faced, knowing that, honestly, it doesn't get much worse than the lay-offs and cut hours they've already faced because of COVID-19. It all started with a Twitter thread:
Soon, the stories started pouring in. Before we knew it, Buzzfeed was busting this story wide open. "Ellen", apparently, was a toxic work environment where there things like racism were allowed to float about unchecked. There were countless other reports of Ellen being a diva who didn't want "unauthorized" people looking at her. Hell, they said she didn't even tell her workers whether they'd be paid during the pandemic. She cried an apology.
This weekend, the nail met the coffin as a number of outlets reported that James Corden was posed to replace Ellen. Nearly all publications were quick to suggest that this is just rumor, since Ellen is set to return to her show soon, but rumors come from somewhere. I've worked in and around Hollywood for a long time. Ms. Ellen's business wouldn't be in these streets if WarnerMedia wasn't planning to put her out there with it.
If you wanna learn more. The Washington Post's nosey ass has all the details. In the meantime, please enjoy these tweets: #TiffanyPollardForEllen
Comments
comments