Fights, robbery, and more! The drama was heavy at the FashionNova release party for Cardi's clothing collaboration.
The FashionNova x Cardi B release seems like it was a mess. Artists had their performance times changed and sets shortened. Masika Kalysha had her wallet stolen. Iggy Azalea and Bhad Bhabie got into a fight. It was scandalous.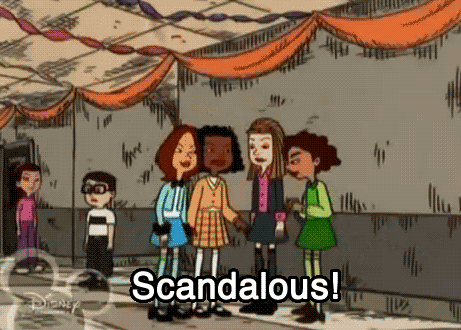 The FashionNova x Cardi B collection launched last night to mixed reviews. Fans were expecting more hoe fashion, but Cardi's collab was budget-friendly high fashion. With items ranging from $12.99 to $199.99, there was bound to be something for everyone. And there was! All but three items have sold out of the collection.
@iamcardib FASHIONNOVA her entire Bollection line is sold out!!!! Congrats and much love to your success. 🥰🥰 pic.twitter.com/hEek12dCm1

— ✨❤♊️️MzRedBella✨❤️♊️ (@Redbone2662) November 15, 2018
Performances
Video has yet to be released of all the artists who performed last night at the "star-studded" event. So far, we know Yung Miami of the City Girls, Cardi B, Saweetie, and Dream Doll performed, but who didn't? Cupcakke says she was so excited to perform but FashionNova did her dirty.
Sooooooooo fashion nova decided to cut some of my time off my performance and raise other people times up which is very unfair to me so I came to a conclusion I don't want to perform at the fashion nova party but I thank cardi for the opportunity 😘

— Marilyn MonHOE (@CupcakKe_rapper) November 13, 2018
When it comes to who got her extra time, I put my money on Dream Doll. She performed first and had a set close to 30 minutes long. Not one to mind her business, Mariah Lynn decided to get in Cupcakke's mentions only to embarrass herself.
"What Kind of Dr. Phil ass sh*t is this?"
Just when you thought it couldn't get worse, Bhad Bhabie decided to show her ass and act a fool. Throwing a drink at Iggy Azalea, Bhad Bhabie claimed she attacked her for talking trash.
"It's simple. Don't talk all sorts of shit on the internet n come up to me like u my friend. Some of these hoes like u fake n 2 faced as fuck but I'm NOT that bich"
After the mayonnaise settled, news leaked that Bhad Bhabie lost a deal over the scuffle. Not bothered by teenage drama, Iggy kept her composure and let us know to expect new music from her. Having secured a 2.7 million dollar distribution deal, Iggy says she is booked and busy.
Scammed
Turns out swag bags weren't the only bags secured last night. Somebody ran off with Masika's money! With an early morning tweet, Masika let whoever took her wallet know she's not angry, she just wants her cards.
whoever just stole my fucking black Chanel wallet at the Cardi B x @FashionNova event dm me. Have a friend dm me Have ya momma hit me if u scared. Imma let ya bum ass keep all the fkn cash I need all my cards & the rest of my shit. Seriously. I ain't even mad u got me. Go shoppin

— Masika Kalysha (@masikakalysha) November 15, 2018
Chile, last night was a shame, but we're here for the tea!
Did you manage to buy anything from the Cardi collection? Did you watch any of the performances?
Comments
comments
Wendy Reveals That NeNe Leakes is Leaving Real Housewives of Atlanta
According to Wendy Williams, NeNe Leakes is quitting Real Housewives of Atlanta. Can't say that we're surprised after she's been missing from several episodes this season. Wendy was in the middle of sitting down with Jerry O'Connell when she revealed that she received a text message from NeNe saying that she was quitting the show. Wendy says she received a text from NeNe that morning between commercials.
Wendy tried to hold back tears and said that NeNe has a big secret that she won't reveal and that NeNe. The secret apparently would "melt their hearts" and is a huge thing. O'Connell asked if it had anything to do with Greg's health, she replied that Greg was cured and that he was fine. She didn't say much after that and tried to move on but you could see that it was bothering her.
It makes sense that NeNe would leave Real Housewives of Atlanta considering how many episodes she has missed this season. It was rumored that she would be suspended for 3 or 4 episodes after allegedly putting her hands-on production during last season's episode. Take a look at the clips of the show below.
Do you think NeNe is leaving the show?
Comments
comments
Zaena x Jason Maek Pay Homage To 'The Fresh Prince Of Bel-Air' In "TikTok" Music Video
In celebration of the 30th anniversary of the cult-classic show 'Fresh Prince of Bel-Air', Chicago hip-hop duo Zaena x Jason Maek travel back in time for their new music video "TIkTok". The self-directed adaptation features cameos from Danielle Cohn, Joey Klaasen, and 18 of your favorite TikTok stars with a combined reach of over 100 million followers.
The video highlights moments from the original show, including The Fresh Prince spinning on the throne, shooting some b-ball outside the school, and being chased by his grandmother. The 2 ½ -minute-long project is the largest collaboration between TikTok content creators. Appearances include Danielle Cohn, Joey Klaasen, Jiffpom, Enochtrue, Jasmine Gonzalez, Jake Maldonado, Ryan Shakes, Zayla Shakes, Tyler Brown, Justin Blake, Adam Sheey, Oliver Moy, Marcus Olin, Beasteater, Ayypatrick, Nicki Baber, Alex Holem, Damian K, and Harlem Globetrotter Crissa Ace.
Zaena x Jason Maek have a history of creating hilarious music videos. Putting a spin on 'Fresh Prince of Bel-Air' was a no-brainer for the duo.
"The Fresh Prince is my favorite show of all-time," said Zaena. "We wanted to bring it to life for a new generation using faces they would recognize. Our goal was to recreate everything from the extended intro, including the airplane scene that was cut out later. There is a little 'Parents Don't Understand' in there also."
According to Jason Maek, "We had so much fun on set with everyone. We flew everyone out to Chicago and got the video done in two days. It was an ambitious project, but we wanted to kick the new year off right with something refreshing."
There are also a few other key moments to spot. Athletic brand Wilson premiered their Fresh Prince inspired basketball in the video. MVMT watches and Vita Coco also debut new products in various scenes.
"TikTok" is the first single from Zaena x Jason Maek since completing their sold-out tour titled "The Freshman Tour". The track is available on YouTube, Spotify, and all other streaming platforms.

For more on Zaena x Jason Maek visit:
Comments
comments
"Cardi B for Congress" Has Conservative Twitter PRESSED!
Cardi B is contemplating a run for office according to a series of tweets published this past Sunday, January 12. Unsurprisingly enough, she is already battling hate from all across the aisle.
"I think I want to be a politician. I really love government even tho I don't agree with Government (sic)," the New York rapper said in a series of tweets. "Like I was watching war documentaries. No matter how many weapons a country have you need people! How are you trying to go against a country and possibly start a war when this country lacks patriotism? I barely see people claiming the LOVE being American."
I think I want to be a politician.I really love government even tho I don't agree with Goverment

— iamcardib (@iamcardib) January 12, 2020
The rapper then went on to say she will have to explain more at a later date, possibly in a video. After publicly endorsing Vermont Senator and progressive Democratic presidential candidate Bernie Sanders in 2019, Cardi was lauded for showing us the "woke" side of her image. 
On Tuesday, the rapper found herself in numerous Twitter spats, especially with right-wing accounts. Mindy Robinson, a conservative political pundit, commented on Cardi's post with several drawn-in grammatical corrections. Despite Cardi admitting on Sunday that she would need more schooling before she could seriously enter politics, Robinson ended her tweet with "you need more than that." In a later comment, she declared that her "cat is more qualified to run for Congress than Cardi B."
You're going to need more school than that. 👌🏻
Your spaces are off too…but hey, how can we hold you accountable for kindergarten level sh*t, am I right? pic.twitter.com/GQGHLiFHvp

— Mindy Robinson 🇺🇸 (@iheartmindy) January 13, 2020
Cardi, whose given name is Belacalis Almánzar, is no stranger to Twitter beef and quickly had an answer for Robinson. "Leave me alone. I didn't insulted your party or your believes so please don't try me and let's keep sweet OK….don't want to dog walk you," she replied before unleashing a savage string of jabs toward the internet personality. 
While a dog walk sounds like a peaceful way to spend quality time with your beloved pooch, for Cardi, it is a serious threat – one we've heard before. You will recall in January of 2019 she warned Tomi Lahren, another conservative pundit, to leave her alone, lest she gets dog walked. Just as in the feud with Robinson, Cardi was minding her own business on social media Tomi Lahren attacked her for her views. Her comments lit a fire in the rapper and the two engaged in a back and forth lasting several hours. 
Obviously Robinson did not get the message a year ago that Cardi B has the time to argue with internet trolls because she found herself in the same predicament as Lahren did – potentially discovering what it's like to "dog walk" with Cardi. 
Check out the best of both feuds below and let us know what you think.
Cardi B vs. Tomi Lahren
Leave me alone I will dog walk you . https://t.co/FjqIzpUbvp

— iamcardib (@iamcardib) January 20, 2019
You're so blinded with racism that you don't even realize the decisions the president you root for is destroying the country you claim to love so much .You are a perfect example on no matter how educated or smart you think you are you still a SHEEP! https://t.co/khRpoOt16B

— iamcardib (@iamcardib) January 20, 2019
You do realize these high taxes you complain about are the bedrock of the Democratic Party, right? If you want lower taxes and more economic freedom, beware of the party you are rooting for. https://t.co/cCG5wYsElc

— Tomi Lahren (@TomiLahren) January 20, 2019
Cardi B vs. Mindy Robinson
Sis your lips ashy and you barely have none …Leave me alone .I didn't insulted your party or your believes so please don't try me and let's keep sweet OK….don't want to dog walk you ❤️ https://t.co/48NEfjdCUg pic.twitter.com/GDo53bIN6v

— iamcardib (@iamcardib) January 14, 2020
You really mad cause you stay takin pics like this and mention Trump 20 times a day to get his attention.HEY! Don't take your anger out on me cause he don't wanna fuck you sis 🤷🏽‍♀️😩😩 https://t.co/sIaKIPmtQx pic.twitter.com/68X2DpZUIj

— iamcardib (@iamcardib) January 14, 2020
Let me tell you something cause every time I post anything political I get attack all type of crazy .If you are a conservative & if you support a opposite party that's OK( unless you racist)we can get into friendly debates on here voice your opinion…

— iamcardib (@iamcardib) January 14, 2020
And I'll voice mines HOWEVER don't try me and don't take my kindness for weakness.I BE VIOLATING!!! I don't really like being on that type of time.We grown ! Let's be grown .Lets teach and learn .

— iamcardib (@iamcardib) January 14, 2020
Comments
comments