Fights, robbery, and more! The drama was heavy at the FashionNova release party for Cardi's clothing collaboration.
The FashionNova x Cardi B release seems like it was a mess. Artists had their performance times changed and sets shortened. Masika Kalysha had her wallet stolen. Iggy Azalea and Bhad Bhabie got into a fight. It was scandalous.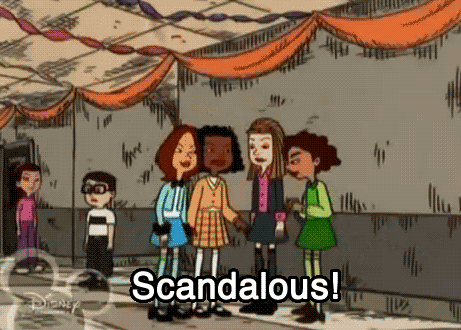 The FashionNova x Cardi B collection launched last night to mixed reviews. Fans were expecting more hoe fashion, but Cardi's collab was budget-friendly high fashion. With items ranging from $12.99 to $199.99, there was bound to be something for everyone. And there was! All but three items have sold out of the collection.
@iamcardib FASHIONNOVA her entire Bollection line is sold out!!!! Congrats and much love to your success. 🥰🥰 pic.twitter.com/hEek12dCm1

— ✨❤♊️️MzRedBella✨❤️♊️ (@Redbone2662) November 15, 2018
Performances
Video has yet to be released of all the artists who performed last night at the "star-studded" event. So far, we know Yung Miami of the City Girls, Cardi B, Saweetie, and Dream Doll performed, but who didn't? Cupcakke says she was so excited to perform but FashionNova did her dirty.
Sooooooooo fashion nova decided to cut some of my time off my performance and raise other people times up which is very unfair to me so I came to a conclusion I don't want to perform at the fashion nova party but I thank cardi for the opportunity 😘

— Marilyn MonHOE (@CupcakKe_rapper) November 13, 2018
When it comes to who got her extra time, I put my money on Dream Doll. She performed first and had a set close to 30 minutes long. Not one to mind her business, Mariah Lynn decided to get in Cupcakke's mentions only to embarrass herself.
"What Kind of Dr. Phil ass sh*t is this?"
Just when you thought it couldn't get worse, Bhad Bhabie decided to show her ass and act a fool. Throwing a drink at Iggy Azalea, Bhad Bhabie claimed she attacked her for talking trash.
"It's simple. Don't talk all sorts of shit on the internet n come up to me like u my friend. Some of these hoes like u fake n 2 faced as fuck but I'm NOT that bich"
After the mayonnaise settled, news leaked that Bhad Bhabie lost a deal over the scuffle. Not bothered by teenage drama, Iggy kept her composure and let us know to expect new music from her. Having secured a 2.7 million dollar distribution deal, Iggy says she is booked and busy.
Scammed
Turns out swag bags weren't the only bags secured last night. Somebody ran off with Masika's money! With an early morning tweet, Masika let whoever took her wallet know she's not angry, she just wants her cards.
whoever just stole my fucking black Chanel wallet at the Cardi B x @FashionNova event dm me. Have a friend dm me Have ya momma hit me if u scared. Imma let ya bum ass keep all the fkn cash I need all my cards & the rest of my shit. Seriously. I ain't even mad u got me. Go shoppin

— Masika Kalysha (@masikakalysha) November 15, 2018
Chile, last night was a shame, but we're here for the tea!
Did you manage to buy anything from the Cardi collection? Did you watch any of the performances?
Comments
comments
"Where is Frank Ocean?" Drake Booed off Camp Flog Gnaw Stage
Boo this man! Boooo! Drake thought a surprise appearance at Tyler, The Creator's Camp Flog Gnaw festival would go better than this. The Canadian rapper was booed off the stage after attempting to surprise fans by performing before Frank Ocean's set.
Drake's surprise appearance at Camp Flog Gnaw was cut short after he was interrupted by boos. The rapper, who arranged the surprise with Tyler The Creator's approval, stopped in the middle of "Wu-Tang Forever" to gauge the crowd. Saying, "I'm up here for you tonight. If you want to keep going, I will keep going." Drake asked "What's up?" Unfortunately, during the pause, some members of the crowd began booing loudly. Bowing out gracefully, Drake said "It's been love." and exited stage left. Hoping Frank Ocean would take the stage soon after, fans were met with further disappointment — he refused to perform.
After waiting nearly 15 minutes for Frank Ocean's performance to begin, fans came to the realization that he wouldn't take the stage. Presumably punishing the audience for causing Drake to end his set 20 minutes early, fans are agreeing with Frank Ocean's decisions. One Twitter user commented "Frank not performing is exactly what a crowd who would boo Drake deserves." Another user echoed their sentiments, saying "Drake, I'm sorry, bro. I'm so sorry. They didn't deserve you."
Although Frank Ocean has yet to release a statement, rumors are swirling that Drake was called in to replace the rapper altogether. Frank Ocean allegedly canceled his scheduled appearance at Camp Flog Gnaw, but there is no indication he stepped down on any of his official social media profiles. However, his name was missing from the lineup of the 2-day festival.
With ticket prices ranging from $270 to $1045, fans are sharing their mixed feelings. Some are disappointed they sold their passes and lost the chance to see Drake, others are furious they held on to their tickets and didn't get to see Frank Ocean.
Comments
comments
T.I. Shares That He Goes To the Gynecologist with His Daughter Deyjah to "Check Her Hymen"
In a move that's equally as disgusting as YG demanding we protect our "light-skinned pretty girls" while eulogizing Nipsey Hussle at his funeral, T.I. revealed a vile parenting technique. The obsessively possessive father revealed he accompanies his daughter Deyjah to yearly gynecological visits to ensure her hymen is still intact.
Speaking with Nazanin Mandi, wife of singer/songwriter Miguel, on the Ladies Like Us podcast, T.I. revealed a shocking detail about his strict parenting style. Believing his daughter will one day thank him for the experience, T.I. admitted he has his daughter's hymen inspected yearly to confirm her virginity. Each year after Deyjah Harris celebrates her birthday, she is humiliated by her father through an invasive examination. Describing an encounter from her 16th birthday, T.I. admits to coercing his child into signing over her privileged medical history so he can view the results on his own.
"Usually like the day after the party, she's enjoying her gifts. I put a sticky note on the door: 'Gyno. Tomorrow. 9:30.'" T.I. continued that the doctor maintains a high level of professionalism. "He's like, 'You know, sir, I hate to, in order to share information'– I'm like, 'Deyjah, they want you to sign this so we can share information. Is there anything you wouldn't want me to know? See, doc? No problem!"
While T.I.'s policing of his daughter's sexuality is no surprise, it is interesting to note that he does not follow a similar practice for his sons. Even more alarming, despite T.I's history of infidelity, he is equally possessive of his wife's belongings, i.e. her vagina. "You can't be rationing out stuff, talking about what you're going to give nobody because what's yours is mine and what's mine is yours." T.I. unfortunately continued, "That means that little thing you got, that little sex box you got is half mine. So pick which side you want, and that's yours." He then went on to suggest splitting her vulva "down the middle of the…what do they call it? The, the the, is it 'uvula'?"
Yikes!
While T.I. is sure to hear about the social media outrage ensuing following the spread of this news, it is unlikely he'll change the practice before his youngest daughter is of age. Poor girl.
Comments
comments
Solange Splits from Alan Ferguson
After nearly five years of marriage, Solange Knowles and Alan Ferguson are calling it quits. While the reason behind their separation remains a secret, rumors are swirling that Solange allegedly had an extra marital affair…with a white man.
Solange recently shared a sentimental post to confirm that she and her partner of almost 11 years have separated. But the When I Get Home songstress has remained tight-lipped regarding why they've split. Saying it "ain't nan no body business", Solange intends to keep the reason under wraps. However, a rumor that Solange had been seeing a white man caused her to break the silence.
Emerging only to discredit the rumor, Solange posted a photo of herself and the man in question, her former co-manager John Bogaard. Captioned "yo ty @onvacation for being the best co-manager for 5 years", Solange thanked him and apologized the internet was "unkind n b lying". Having lived her life in the public eye for such a long time, Solange's decision to "protect the sacredness" of her personal truth comes as no surprise. Commenting on the unfairness of life in the limelight, she believes it's unfair to not have the power to control her own story, Still, she's looking ahead positively. With the hope that life's transitions will be kind, Solange says she;s "leaning into the hear of the unknown" and is relying on the universe's grace.
Comments
comments