We can never forget Antwane and Carmen on season 3 of Catfish!
Carmen reached out to Nev & Max on behalf of his cousin Antwane who was dating a guy named Tony online who he had never seen or met.
Antwane had dated and I don't know how in the hell you date somebody without going out on dates lol. They talked for a period of 3 years. Antwane finally met Tony thanks to Nev and Max when Carmen just said the hell with it! Tony don't call no more! *in my Solange voice*
Tony was Carmen all along! Carmen's cousin Antwane was catfishing him the entire time with phone calls and everything! Talk about the level of pettiness! But the real tea was the reason she did it!
Carmen was mad for Antwane making fun of her weight and saying she looked like a fat ass Kelly Price! The shit was so funny it still has Twitter laughing 2 years later!
This the last time we gon tell you, @CatfishMTV…

WE DONT WANT NO HAPPY ENDINGS. We want this type shit: pic.twitter.com/FV9ooY9jUX

— You Know My Name (@LookAtDustin) March 10, 2016
Baby, she trolled his ass for 3 years! I hope to one day be able to be that petty! Gagged his ass in stretched out leggings and a Rainbow jacket. Fix it Jesus.
Antwane and Carmen are still not cool to this day and only see each other on Seafood night at Ryan's Buffet.
Check out my RECAP of the hilarious episode!
Do you think Carmen and Antwane will ever speak to each other at Ryan's buffet?
Comments
comments
Daniel Caesar "Morphing into Uncle Ruckus" According to Fans After Berating Blacks in "Drunk" Live Rant
Fans of Daniel Caesar woke up to a drunken rant from the artist. The singer started a live Instagram video to show support for YesJulz who got her wig rocked last week after coming for Scottie Beam & Karen Civil during a video podcast. but went in on a tangent about how Black people treat white people.
Caesar said he was ready to get canceled but that's not before fans tag into his ass. Take a look at some of the responses below.
Daniel Caesar was on live dragging y'all nick gurrs.

— KingofReads (@TheKingofReads) March 20, 2019
daniel caesar is kinda like…

those kids who were bullied by their own race so they side with the others because of trauma or whatever.

— Xavier D'Leau (@XavierDLeau) March 20, 2019
Comments
comments
Live From the Sunken Place, Daniel Caesar Capes for YesJulz in Live Instagram Rant
Daniel Caesar is a prime example of how Black men enable outsiders to wade superficially in the waters of our culture. Here's to hoping they both drown.
The 23-year-old "artist" decided he was going to have a serious conversation and ask some real questions Tuesday evening on Instagram Live. The Canadian "singer/songwriter" wondered why we, presumably Black folx, were being so mean to YesJulz. How tragic! How could we be so insensitive to this adult White female who should claim ownership of her actions and words? How could we be so naive to expect a grown woman, with the ability to read, to do her research on the many contributions Black people have made to advance our own culture while she eats from our table? The unmitigated gall!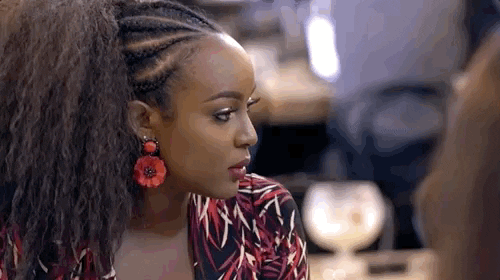 Daniel Caesar has fallen into the Sunken Place™, believing he needs to defend his little friend, nee all White people, from a group of disrespectful, hypersensitive, hard "ers." Sporting his Golden Lord bleach blonde wig, Caesar decided to tell us uncultured poors that we should learn to take a joke. Acknowledging that "White people have been mean to us in the past" Caesar said, "what are we going to do about it?" He then told us to "keep it moving. That's some biblical sh*t. You have to bridge the gap." Whew, chile!
Why are we being so mean to Julz?
There's a lot wrong with Daniel Caesar's statements, so I suppose we'll start at the top. Beginning with his question on why Black people are united in calling out his culture vulture succubus of a friend, the answer is simple. It's because she is uneducated and does not give credit or create opportunities. While simultaneously going out of her way to attack Black women, who she claims are not "competition", Julz gives the very disrespect she is getting. She does this all while receiving gratuitous praise from Black men who do not value Black women. Thus, feeding into a storm of misogynoir and culture consumerism just to make a coin. According to Daniel Caesar's ideology, our attacks on her are merited. "That's biblical sh*t". An eye for an eye. YesJulz is 29-years-old, six years older than her staunch defender, and every bit as capable of taking these "jokes." Next case!
Why are we being so mean to White people?
We have a lot to be angry about when it comes to the history and current interactions between Black and White people. Here we are, just days after the Christchurch attacks, weeks after a Black male was killed to incite a race war, explaining to a Black Canadian why White people deserve some heat. It's almost as if he's never watched the news or cracked a history book in his life. The privilege of having a different experience of Blackness may be the reason why Daniel Caesar can't see how asinine his comments are. Still, that does not remove him from being able to empathize with Black Americans. Even in his own country, he should recognize White Canadians role in the genocide of First Nations people.
We aren't in the business of defending his ilk and to detail in a single post why White people are getting so much rage is impossible. I couldn't begin to expound on every single White misdeed, even on a national scale, because they are too numerous. Nor should I have to because at this point, Daniel Caesar is being willfully ignorant. Speaking to his fans and telling them to "bridge the gap" as if Black people haven't been left without materials to build a bridge is cheap. I cannot say I expect better of him because he is a reflection of the company he keeps. Daniel Caesar is lost, having chosen the hill of defending a racist to die on, and to that I say 'Dracarys'.
Comments
comments
Wendy Williams Reveals She's Been Living in "Sober Home"
For years people scolded Wendy for never spilling her own tea. Well, here it is. Wendy Williams has been living in a "sober home" to quietly get treatment for a long unresolved addition to cocaine.
Revealing a secret known only to her husband, Kevin Hunter, Wendy says although she has always been candid about her cocaine use, she never sought treatment. The daytime television gossip queen shared with her audience that after each episode is filmed she goes to her Pilates class and then heads to several meetings across the city before ultimately returning to her group home. Driven by a "24-hour sober coach", Wendy has been rooming at a facility where it's "doors locked by 10 pm, lights out by 10pm." Detailing her evenings, she says, "I go to my room and stare at the ceiling and fall asleep to come here and see you."
"It's my truth."
Over the course of her career, Wendy Williams has discussed her drug use multiple times. However, when it comes to how she stopped, Wendy says, "I never went to a place to get the treatment — I didn't know how, except God was just sitting on my shoulder and I just stopped." While she was seeking professional help for her addiction, Wendy said she did not confide in her other family members. As for whether her stay in the group home contributed to her absence from January to March 4th, we can't be sure. A fractured shoulder and ongoing battle with Graves' disease are credited as responsible for her extended break.
Wendy's admission has been applauded by many who want to remove the stigma surrounding drug addiction discussions. Many have taken to Twitter to share their love and support for her. Recently, Wendy's foundation partnered with an organization geared toward branching treatment and long-term recovery. She hopes that by being open about her struggle, other will be inspired to get the help they need.
If you or someone you know is in need of treatment or counseling for substance abuse, please contact the helpline at 1-888-633-3239 or visit drughelpline.org for further assistance.
Comments
comments