Robyn Rihanna Fenty has teamed up with LVMH to create a luxury fashion line called Fenty. Set to launch May 22nd, the line will include ready-to-wear clothing, shoes, and accessories.
Rihanna has reached a new milestone as the first woman of color to create an original brand at LVMH. Known for her music and recently for her groundbreaking foray into the beauty and lingerie industries, Rihanna has become the first woman of color to lead an LVMH maison. Fenty Maison has been long awaited in the fashion world and Chief Executive Bernard Arnault has praised Rihanna's creativity. Stating, "I couldn't imagine a better partner both creatively and business-wise," Arnault says he is "ready for the world to see what we have built together."
Rihanna will become the first woman to create an original brand at LVMH, the first woman of color at the top of an LVMH maison, and her line will be the first new house created by the group since Christian Lacroix in 1987.

— NYT Styles (@NYTStyles) May 10, 2019
LVMH was formed from the merger of Louis Vuitton and Moët Hennessy. The company is home to such recognizable subsidiaries as Christian Dior, Moët & Chandon, Fendi, and Guerlain. Commenting on her partnership with LVMH, which is also the home of Fenty Beauty, Rihanna beamed, "Designing a line like this with LVMH is an incredibly special moment for us. Mr. Arnault has given me a unique opportunity to develop a fashion house in the luxury sector, with no artistic limits."
With the launch set for May 22nd, fashion connoisseurs can expect to see ready-to wear, shoes, jewelry, sunglasses, and other accessories. Will you be collecting your coins to buy RiRi's fashions?
Comments
comments
So So Deaf: Jermaine Dupri Critiques the State of Female Rap
During an interview, Jermaine Dupri was asked by two hosts to name his favorite female rapper. Believing he'd list Megan Thee Stallion or Cardi B, Dupri's response caught both the hosts and music aficionados off guard. Comparing the current roster of popular femcees to "strippers", Dupri's glaring act of misogyny has gotten him checked by the artists themselves.
#CardiB responds to #JermaineDupri's comments calling out "stripping rappers", saying female rappers sound the same…..🗣ARE THESE FACTS OR NAH⁉️📠 👀 pic.twitter.com/MTfIcsNKiZ

— Power 106 (@Power106LA) July 11, 2019
For decades, airwaves have been flooded with male artists rapping about their sexual prowess, bevy of hos, material expenditures, and sale of drugs. But Jermaine Dupri doesn't find fault with the repetitive, and occasionally elementary, lyrics of his peers. His ire was directed toward women whose bars are about celebrating their bodies, turning up in the club, and dominating men. Failing to note the similarities in what content is released by both men and women in the rap game, Dupri posed a weak argument that female rap lacks lyrical diversity.
#PressPlay: WELLLL #DojaCat has stepped into the "stripping rappers" chat and got some things off her chest about #JermaineDupri 👀👀🥴 THOUGHTS⁉️ pic.twitter.com/kIc36hpY8W

— Power 106 (@Power106LA) July 12, 2019
As pointed out in Cardi's response video, there are plenty of female rappers that don't write about their bodies at all, they simply don't receive equal support. And as the acting CEO of So So Def, you'd think Jermaine Dupri would take the initiative to seek out talent that raises what he believes is the bar. But no, the "Grammy award winning songwriter and producer" has no female rapper signed to his label aside from Da Brat and Tyeler Reign. Tyeler is the winner of the fifth season of The Rap Game who unsurprisingly still raps about money and designer labels, the very things Dupri would find unimpressive.
Female rappers have been vocal in their disagreement of Dupri's piss-poor analysis. Both Doja Cat and Cardi B made statements disagreeing with his comments. Ari Lennox even dropped a diss track as a response to his ignorance. But the best rebuttals have been references of Dupri's track record. Twitter users have been quick to remind us that JD has a history of dismissing the career trajectories of women with potential to be powerhouses in the industry. Perhaps after this wake up call, Jermaine Dupri will take a bit of Doja Cat's advice and look for the artists he wants to uplift.
Comments
comments
Kim Kardashian West Wins $2.7 Million In Lawsuit Against Fast-Fashion Company
After bashing a fast-fashion company's appropriation of a design commissioned by Kanye, Kim Kardashian West has come out ahead. The aspiring attorney has won $2.7 million in a suit against Missguided, a UK-based retailer.
In February 2019, Kim Kardashian waged war against fast-fashion companies like FashionNova over their lack of integrity. Targeting online retailers that quickly duplicate the designs of luxury fashion houses, Kim expressed her disappointment. She was furious her image was being used to promote the knock-off goods, an act she believed would weaken her business relationships with more esteemed brands. The sultry, black number designed by Thierry Mugler and gold ensemble commissioned by her husband led to a lawsuit which claimed to violate KKW's trademark.
The Instagram post in question featured Kim Kardashian in the custom gold creation and an unnamed model in the replica. Captioned "The devil works hard but Missguided works harder", the brand taunted KKW, stating the look would be available in just a few days. But by tagging Mrs. West attorneys alleged Missguided used her "persona and trademarks" to sell duplicates despite the absence of a business relationship.
The lawsuit stated Missguided's use of Kim's marks were likely to cause consumers to mistakenly believe that she was associated, sponsored, or endorsed the company and its websites. The lawsuit continued that consumers already voiced such concerns, citing social media posts and articles that mistakenly referred to the content as collaborations. However, Missguided refused to respond to the lawsuit which resulted in a default judgment.
Demanding the company cease and desist, a California judge ruled in Kim's favor, ordering Missguided to pay $2.7 million in damages and attorney fees. But Kim's history of being accused of co-opting the designs of indie creatives has complicated the public's reception of her win. Twitter users are noting that Kim has repeatedly appropriated the culture of others under the guise of "paying homage." Though the basis of the win is important, fighting larger entities or public figures over original content may prove harder for indie brands. Having only been established in 2015, the language of fashion design copyrights leaves them easily exploitable and smaller designers may be unable to afford the exorbitant fees to protect their content.
Do you think Kim deserved to win the lawsuit? Should smaller designers seek restitution for creations that have been pilfered by public figures?
Comments
comments
ASAP Rocky Arrested in Sweden After Street Fight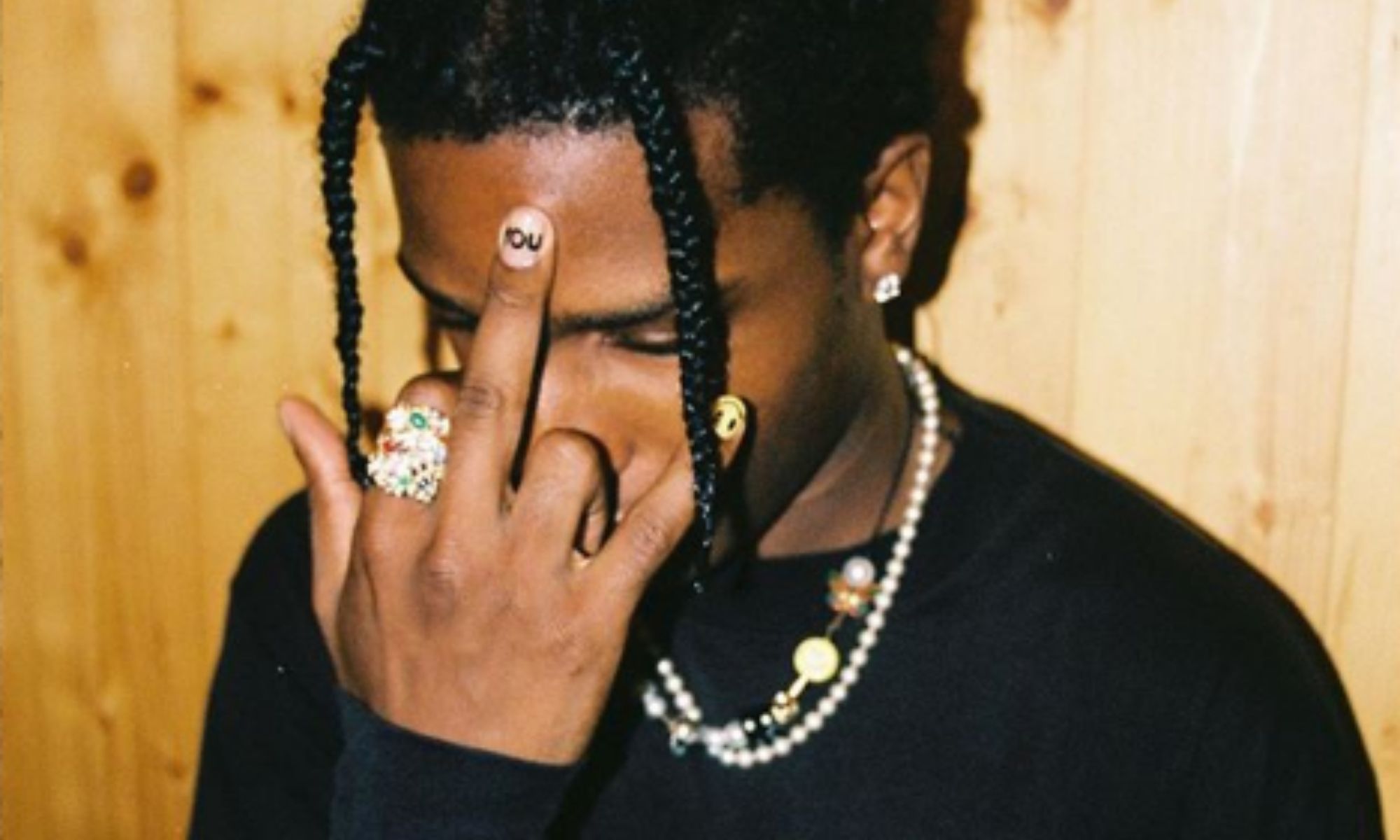 ASAP Rocky has been arrested in Sweden after an altercation that took place on Sunday. While the rapper has been detained on suspicion of aggravated assault, ASAP claims the men who followed him were aggressive "drug addicts" who stalked his entourage.
ASAP Rocky shared his side of the events that led up to the scuffle on the streets of Stockholm, Sweden. The video showed two men who the rapper claims followed them for four blocks before things turned ugly. As the men approached them at the restaurant, ASAP's security detail attempted to de-escalate the situation. However, the men insisted that a member of the crew damaged a pair of headphones and threatened to call the cops. A female pedestrian came forward to accuse one of the two men in question, which led to the brawl.
ASAP Rocky was scheduled to perform with the Migos at Smash x Stadion. It is unclear if he will still make an appearance.
Comments
comments