A week after Seattle Seahawks defensive end Michael Bennett called out white NFL players to start participating in the national anthem, stating that it "would change the whole conversation", Cleveland Browns tight end Seth DeValve became the first white player to take a knee during the national anthem.
This past Monday night, August 21, 2017, DeValve joined nearly a dozen Browns players which included linebackers, Jamie Collins and Christian Kirksey, running backs Isaiah Crowell, Duke Johnson, Terrance Magee and Brandon Wilds, safety Jabrill Peppers, wide receivers Kenny Britt and Ricardo Louis, and defensive back Calvin Pryor.
Browns Coach Hue Jackson said the players discussed it with him beforehand and he gave the players his blessing.
Seth DeValve, who married Erica Harris, an African-American woman, this past June explained why he chose to join his teammates,
"It saddens me that in 2017, we have to do something like that. I personally would like to say that I love this country. I love our national anthem. I'm very grateful to the men and women who have given their lives and give a lot every day to protect this country and to serve this country. I want to honor them as much as I can. The United States is the greatest country in the world. It is because it provides opportunities to its citizen that no other country does. The issue is that it doesn't provide equal opportunity to everybody and I wanted to support my African-American teammates today who wanted to take a knee. We wanted to draw attention to the fact that there are things in this country that still need to change. I, myself, will be raising children that don't look like me and I want to do my part as well to do everything I can to raise them in a better environment than we have right now. I wanted to take the opportunity with my teammates during the anthem to pray for our country and also draw attention to the fact that we have work to do. That's why I did what I did."
#Browns TE Seth DeValve explains why he participated in the prayer during the anthem pic.twitter.com/T8PhmsDKcL

— Daryl Ruiter (@RuiterWrongFAN) August 22, 2017
Over the past few days, other white players have shown their support for their African-American teammates. Philadelphia Eagles defensive end Chris Long and Seattle Seahawks center Justin Britt draped their arm over the shoulders of their teammates during their protests.
With some many white players supporting the protest, do you think it will get some of these other black athletes [Ray Lewis] out of the sunken place?
Comments
comments
Match Black Women brings Hi-tech Love to Matchmaking Services
Match Black Woman brings Hi-tech Love to Matchmaking Services
New dating site offers innovative solutions for Black women 
Atlanta, GA: MatchBlackWoman.com offers dating and networking solutions for women of African ancestry to find compatible suitors. An innovating dating service, the site offers membership levels and business opportunities to not only connect with others, but monetize their time and investment.
Built on the belief that voluntarily connecting people who share common interests can lead to greater compatibility, the platform seeks to propose a solution by bridging the gap of a tough online dating market while providing a service for individuals who have an interest in dating Black Women.
The site has a number of features designed to help seekers find a potential mate. Women can meet single men, network with other women, receive matchmaking services, video chat, and participate in forums. There are also unique search options based on music preferences, eating habits, lifestyle, and more.
MatchBlackWomen.com is a social networking dating site designed from a womanist perspective. It includes the interests of women and includes forums to discuss issues relating to Black women and the broader community. It's time we had our own space. This is a way to make things fun, interesting, and connect with like-minded people.
There are three membership options: Free, Gold, and Black Diamond. Free members can create a profile, post three photos and conduct member searches. The Gold level allows members to add up to six photos, send and receive unlimited messages, video chat, post on an activity wall, have access to forums and news, and set privacy limits. The premium Black Diamond level has all the features of the Gold level, with unlimited photos.
Business people have an added incentive: become an affiliate! Earn 55% commission per signup, making finding true love while getting paid even better! For more information on the site, or to express interest in the business opportunity, contact [email protected].
Comments
comments
Mom Gets Criticized for Showing Toddlers Kissing on The Mouth
Mother of 3, Ashlee Muhammed receives backlash for her parenting skills, due to a viral video of her twin boys kissing on the lips.
Although most people seemed to think that the video showed an innocent sign of affection, others were not feeling the brotherly love.
One follower called Muhammed's parenting skills reckless, despite her intended message.
Majority of the negative comments were received by black men.
They accused Muhammed of highlighting perversion and sexuality amongst toddlers. However, Muhammed defends her video.
She states that "The World needs more love like this".
What are your thoughts, did she take brotherly love too far?
In the African-American community, it seems like we're so afraid to teach boys to show affection because we're in fear of them being gay. However, that's a disturbing label to put on toddlers.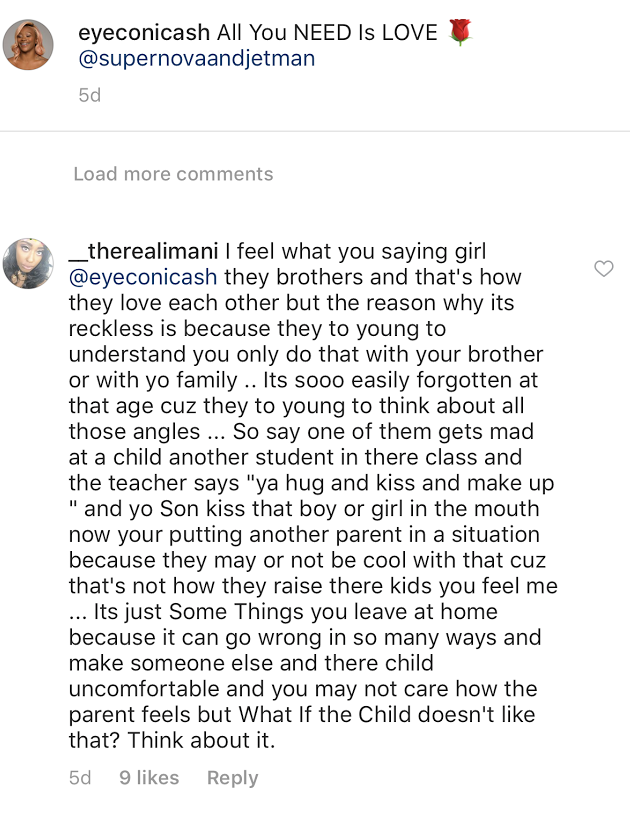 Do you think this warranted the drag session she received in the comments? She decided not to take the video down despite its controversy.
Comments
comments
Money Moves: New Year's Financial Checklist Part 2
Thanks for checking out Part 1, and we're back with Part 2!  Let's get to it!
Do you have savings?  This may sound like a silly question, but it may surprise you.  Did you know that 57% of Americans have less than $1000 in savings?  Are you included in that group?  If so, don't feel bad.  You can turn this around.  The old saying is "plan for a rainy day".  Well my new saying is "plan for a tsunami".  An emergency fund of $1000 is a great place to start for savings. This will come in handy to pay for unexpected car repairs or medical bills, or an array of actual "emergencies". $1000 may seem like a lot, but if you could put away $20 a week for one year you can attain this goal.
After you have allocated your emergency fund, you can focus on your general savings. A great way to save is to set savings goals.  Do you want to buy a new house? Are you in the market for a new car?  Perhaps you've been eyeing a new designer bag or shoes.  Whatever it may be, set savings goals and be diligent about achieving them.
Also, did the holidays hit you hard?  Have you been dying to take that trip to Dubai?  Creating a holiday fund account can ease the unnecessary stress of Christmas shopping, and reduce the risk of going into debt.  Summer will be here before you know it.  If you start saving now in a vacation account, you can take that dream vacation and do it in style.
Stay tuned for Part 3!  Have questions? We love to help!  Leave a comment or for more specific questions, email me at [email protected]
Comments
comments