An Afrofuturist festival set in Detroit has received immense backlash following the discovery that Non POC patrons were expected to pay higher ticket prices for entry. Organizers at Afrofuture Youth say they've been bombarded with threats and suffered a loss of support. Comments on their Instagram and statements from artists set to perform influenced a change in their ticketing model.
Based in Detroit, Afrofuture Youth is an initiative founded on the support of Black lives through Afrofuturism via art, tech, media, and healing. Asserting their "resistance stems from creation," festival organizers designed a tiered ticket model to prevent the exclusion of marginalized groups. To balance the scales and prevent "those with cultural, monetary, and class privileges" from co-opting the event, AFY listed ticket prices on Eventbrite that favored the audience for which their content is designed.
For Us, By Us
As more Black and Brown people are being excluded from events intended for their communities due to aggressive gentrification, AFY's decision was well received by many within the POC audience. Those who have grown tired of cultural appropriation expressed their support for the initial ticket model on Twitter. Mimicking the social experiment of Saartj, a pop-up food stall in New Orleans, the pricing model was meant to resolve racial wealth disparity. However, once artists caught wind of the news, they pulled their performance. Once Eventbrite found out about the ten dollar difference in price, they threatened to unpublish the event from the site.
Rapper Tiny Jag, who planned to perform music from her project "Polly", pulled out of the engagement stating her views didn't align with AFY's. A biracial woman, Tiny Jag could not reconcile the ticket price model because the project she intended to perform is named after her white grandmother. Confused by the decision, Tiny Jag wondered "How do you want me to come to a performance and perform these songs off a mixtape that is titled after this white woman that you would have charged double to get in here?" The rapper says she was notified by a Non POC friend and announced her decision to pull out July 2nd.
Comply or Else
In a statement released to CNN, Eventbrite said "events that require attendees to pay different prices based on their protected characteristics such as race or ethnicity" are not permitted. Event coordinators at AFY were then notified that if they hadn't changed their price model on their own accord, the event would be unpublished from the site. July 7th, Afrofuture Youth made an announcement on Twitter explaining their decision to alter the pricing. Citing threats received by White supremacists, AFY changed to a $20 general admission fee and suggested donation from Non POC.
Do you agree with their decision to alter ticket prices? Did you agree with their initial concept?
Comments
comments
Naya Rivera's Body Has Been Found
Naya Rivera's body has been found in Lake Piru after a nearly week-long search for her body. The particulars around her death are still unclear, but her son, aged-4, was found alone on Wednesday in a boat. Not long before that, Rivera had tweeted out a photo of herself and her son, presumably on the boat.
Social media users took a particularly keen interest in this story for a number of reasons. Primarily, there was the mystery. Her son being found alone while his mother seemed to have been missing or dead made for an intriguing story for many. But there was more to this before long. Naya was a brown girl and the initial search was not long enough for the liking of people who have an understanding that our girls go missing and often are never searched for by the "proper authorities".
Sadly, there were also plenty of tweets around her family, who seemed desperate to find her. Some posted videos of her father swimming to find his daughter. They questioned how her son got back on the boat. They questioned if her ex-husband was somehow involved. This is normal. People were trying to make sense of a senseless situation. It has, however, created a kind of spectacle out of her disappearance.
Naya's death is emblematic for a lot of people, though. She was a non-White actress who played a lesbian woman in a show that seemed all but created specifically for queer people. Given some of the losses we've seen in the past few months, it's natural that people would take this one personally. To our readers, those who looked to her as representation, we say we're sorry for your grief.
And to Naya Rivera's family, we say that we hope for healing, we hope for love, and we hope you can find peace in this media storm. Rivera will be missed by many. Her legacy is lasting.
Comments
comments
Keisha Lance Bottoms Lectures Black People Again; Contracts COVID-19
It's a lot, chile. But we're here to walk you through it. After a morning of social media backlash regarding her comments on the tragic shooting of an 8-year old girl, Atlanta Mayor Keisha Lance Bottoms has announced that she has been diagnosed with COVID-19.
Mayor Lance began the day with a lecture. "These aren't police officers shooting people on the streets of Atlanta," she rattled, "these are members of the community shooting each other."
Black Twitter was unimpressed. They quickly pointed out that this sounded like the White supremacist rhetoric that has long been lobbed against civil rights activists and Black people who are concerned with their well-being as it relates to police violence.
Some even brought up the fact that communal establishments in Atlanta have been reopened, which has resulted in a transmission spike in her city, and will inevitably cause harm and death to more Black and Brown people. Her response to that matter? Another scolding:
Now, we here at KingOfReads.com aren't pandemic experts, but we can only assume that one of two things is true, given that Miss Keisha now has the virus, herself. Either she isn't following her own orders or this virus, much like violence perpetrated against Black people by Black people, is much more complex than she is willing to admit.
Coincidentally, (or not) Governor Kemp (R) has suddenly declared a State of Emergency in Georgia and called in the National Guard. According to NPR, he had this to say:
"Peaceful protests were hijacked by criminals with a dangerous, destructive agenda," Kemp said. "Now, innocent Georgians are being targeted, shot and left for dead… Enough with the tough talk, we must protect the lives and livelihoods of all Georgians."

Quote Taken From NPR
Just after this announcement, came Keisha Lance Bottoms' big COVID-19 reveal, which seems to have shifted the narrative away from the morning's seminars and the fact that the state of Georgia is now becoming even more militarized. We'll keep you updated as the situation evolves.
Comments
comments
Detective Involved in Breonna Taylor's Murder Fired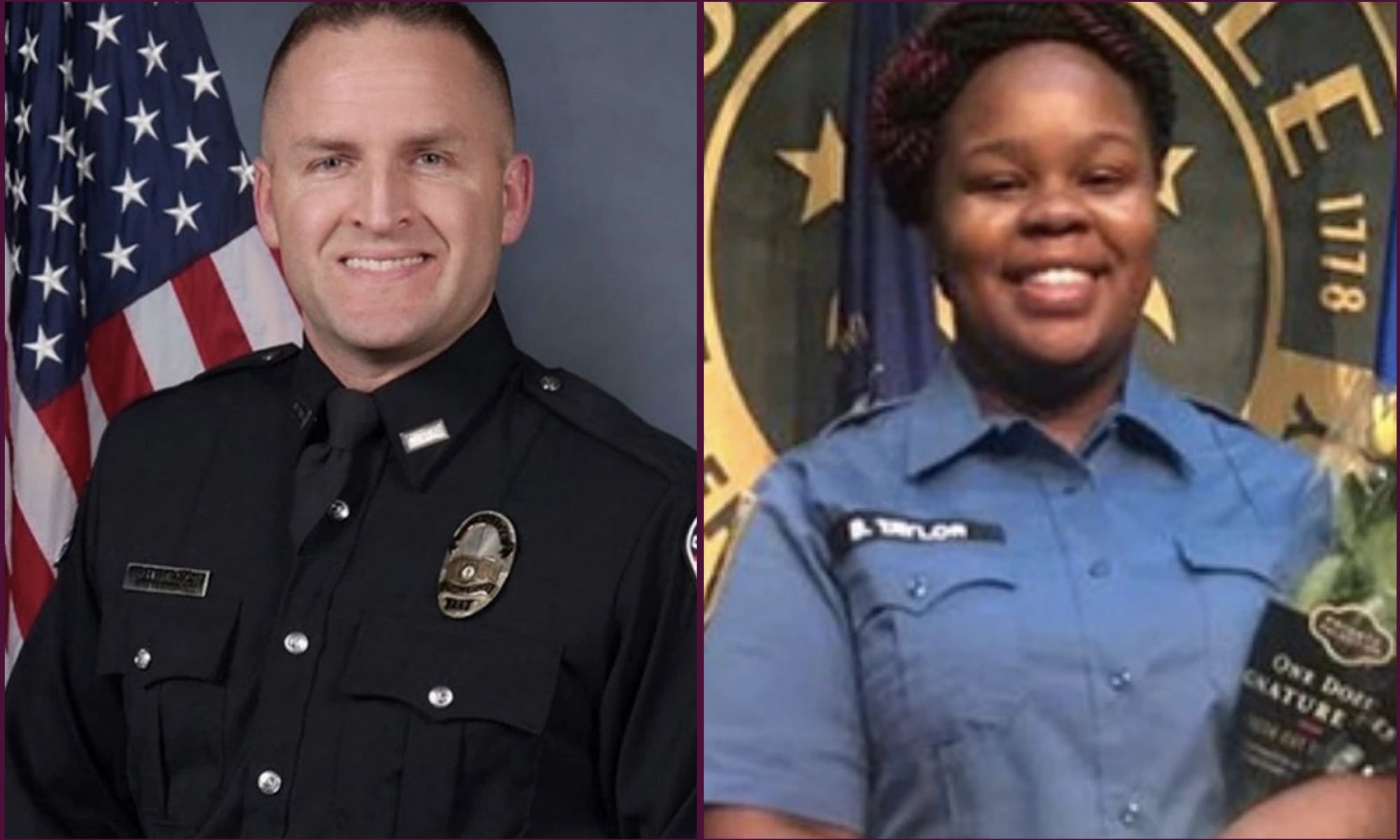 On Friday, Louisville Mayor Greg Fischer announced the Louisville Metro Police Department's intention to terminate Brett Hankison, one of the three Louisville Metro Police officers who shot into Breonna Taylor's apartment while she and her boyfriend slept, killing her.
In a memo to Hankison, interim police chief Robert Schroeder called the officer's actions on the night of the shooting a display of "an extreme indifference to the value of human life when [he] wantonly and blindly fired ten round into the apartment."
While both the mayor and the police chief cited a state law which prevented them from going into specifics about why the decision to fire Hankison was made, Chief Schroeder wrote in his memo:
"I find your conduct a shock to the conscience. I am alarmed and stunned you used deadly force in this fashion. You have never been trained by the Louisville Metro Police Department to use deadly force in this fashion. Your actions have brought discredit upon yourself and the Department….I have the utmost confidence in my decision to terminate your employment for the best interest for the Louisville Metro Police Department and our community."
Friday's announcement comes on the 25th-straight day of nationwide uprisings against the unjust killings of Black Americans at the hands of the police. Critics argue Hankison's firing doesn't go far enough in getting justice for Breonna Taylor, with many calling for the immediate termination of the other two officers involved and criminal indictments against all three.
Sgt. Jonathan Mattingly and Officer Myles Cosgrove – the two other officers who shot into Taylor's apartment – are on administrative reassignment while the department investigates.
Comments
comments