Part-Time Queen of Rap Nicki Minaj ClapsBack At Another Fan on Twitter "Eat A D*ck U Hating Ass Hoe"
Somebody get Nicki's phone. The part-time Queen of Rap is once again clapping back at fan's who have some honest and fair critics about her album "Queen" which isn't scheduled for release until 8/10. The previous date was pushed back and Nicki isn't interested in any criticism about her or the album.
A fan shared some screenshots after she received death threats for a tweet that was posted the previous day.
She posted on Twitter that she had to make her account private after receiving multiple death threats.
The screenshot below contains extreme profanity.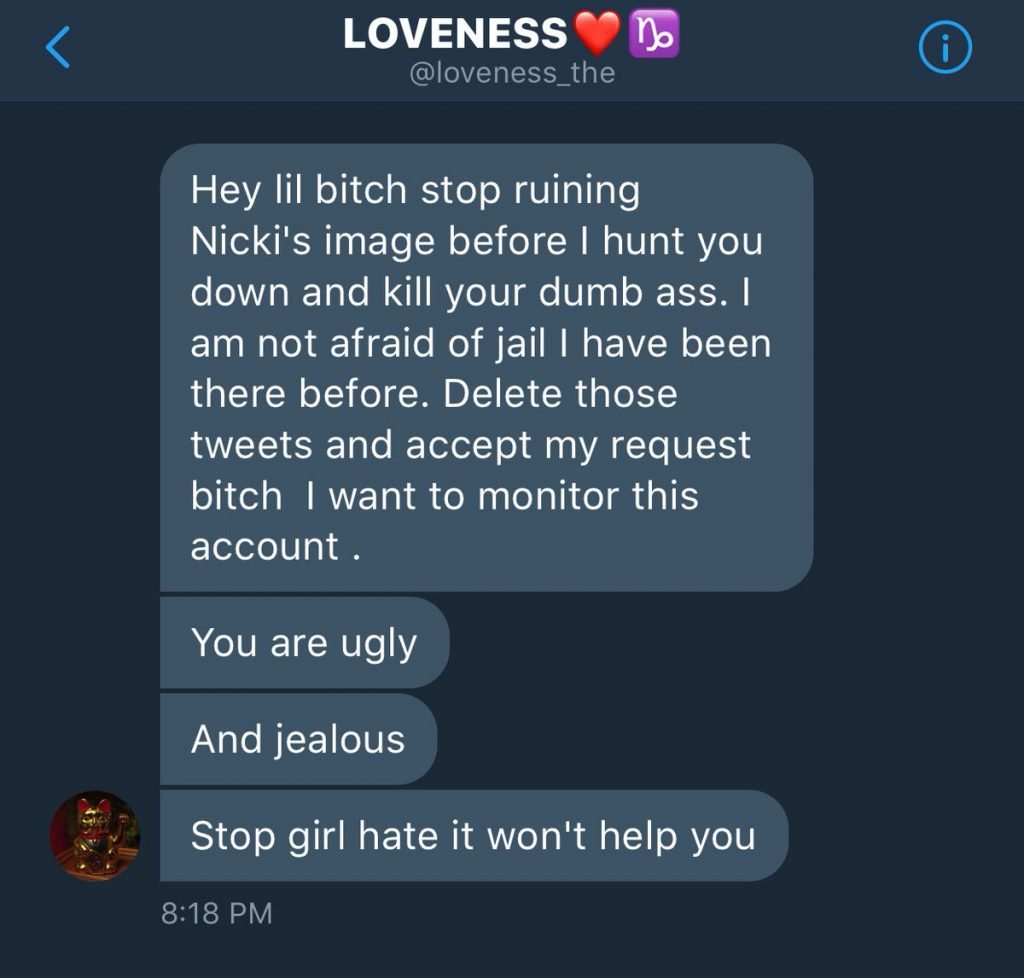 The barbs are something serious. I've experienced the same thing after my video "Dear Nicki, It Ain't Working"
Another day in stan culture.
We know how some people are when they tweet from private and fake accounts but when someone with a platform as big as Nicki's, it's nothing but trouble.
Nicki responded directly in the fans DM (direct message).
GET OUT YOUR FEELINGS NICKI AND GET IN THE STUDIO!
Click To Tweet
Nicki, you are a whole grown a** woman, why would you send something like that? Several individuals reached out to support to the person receiving the threats even Crissles from 'The Read' podcast.
As you can remember Nicki clapped back at another Twitter user for calling her out on her comments in her 'Elle' magazine interview.
If Nicki can't take criticism about her music and goes to extreme lengths to respond to a tweet that doesn't tag her in it, what does that say?
This looks bad and I'm completely disappointed that she would take something so trivial so far.
GET OUT YOUR FEELINGS NICKI AND GET IN THE STUDIO!
Comments
comments
2 Male Suspects Questioned in Jussie Smollett Case Released Without Charges
The 2 Nigerian men who were suspects in Jussie Smollett's attack in Chicago have no been released. News dropped yesterday of the 2 men who have some close ties with Jussie. In the picture below you can see Lee Daniels the creator of the hit show 'Empire' in the picture with Ola Osundairoe on set. It was also being reported that Jussie worked out with them.
The 2 were charged with battery Friday and have now been released without any charges. Chief Communications Officer of the Chicago Police Department Anthony Gugliemi tweeted, "Due to new evidence as a result of today's interrogations, the individuals questioned by police in the Empire case have now been released without charging and detectives have additional investigative work to complete."
Case Update: Due to new evidence as a result of today's interrogations, the individuals questioned by police in the Empire case have now been released without charging and detectives have additional investigative work to complete. pic.twitter.com/Hswn1Qjgcy

— Anthony Guglielmi (@AJGuglielmi) February 16, 2019
The attorney for Abel and Ola Osundairo had this to say about the case.
Media outlets are reporting that Jussie has now hired high-powered attorney Michael Monico if that name doesn't ring a bell this will. Monico represented Michael Cohen who was President's Trump's former attorney.
Late tonight, high powered Chicago defense attorney Michael Monico confirmed to ET that he is now representing Jussie Smollett. It is unclear when Monico began representing Smollett. Monico most recently represented President Donald Trump's former attorney Michael Cohen.

— Brendon Geoffrion (@tv_brendon) February 16, 2019
Of course, you know this story is developing and we will keep you updated as new details emerge.
What do you think?
Comments
comments
Police Questioning Two Suspects in Jussie Smollett Case
Police have identified two Nigerian men as suspects in Jussie Smollett's case. The men have been questioned in the attack on the "Empire" star and have been arrested on probable cause.
Identified as brothers, the two men have been questioned by police in Chicago following their arrival from Nigeria. The suspects were apprehended at Chicago O'Hare International Airport on Wednesday after authorities learned one of them was connected to "Empire." Following the Chicago Police receiving and executing a search warrant, authorities are not disclosing what was found within the shared apartment.
In a statement provided to Associated Press by Anthony Guglielmi, Chief Communications Officer of the Chicago PD, there was emphasis placed on the nature of the suspects arrest. At this time, both persons have been arrested for probable cause alone.
Breaking the Silence
For the first time since the January 29th attack, Jussie Smollett has sat down for an interview. Robin Roberts of Good Morning America inquired about what happened that fateful evening and how Jussie was responding to those who doubt his claims. Jussie took the opportunity to share what happened during the attack, clear up what his assailants said while assaulting him, and added his manager was on the phone the entire time.
When it comes to what his attackers looked like, Jussie says, "I can't tell you what color their eyes were" as their appearance was obstructed by ski masks. He provided a body description to officers and noted that he only saw them completely as they were running away. Robin then asked if Jussie believed the men in the photo were his attackers and he said, "I don't have any doubt in my mind that's them."
Comments
comments
New Tape Implicating R. Kelly Has Surfaced
Lawyer Michael Avenatti, who recently represented Stormy Daniels, has revealed to CNN that prosecutors investigating R. Kelly are in possession of another video implicating the R&B singer.
Michael Avenatti acquired the tape through representing a whistle-blower against R. Kelly. Last weekend, he turned it over to Cook County authorities in Chicago. The video, which is on VHS, has since been obtained and viewed by CNN. It allegedly shows R. Kelly involved with a 14-year-old. Although no mention of the girl's name or age is made, Kelly and the victim both refer to her genitals as "14-year-old p***y." The girl mentions it six times throughout the course of the video.
Early Valentine's Day morning, Avenatti released a statement on Twitter that describes the horrific tape. In the memo he emphasizes, "the time frame of the sexual assaults depicted in the video is within the Illinois statue of limitations." As of now, R. Kelly's attorney Steve Greenberg maintains no knowledge of any new evidence or prosecuting case developments.
The footage, which has never been discussed before today, is roughly 42 minutes and 45 seconds long. Clear and unobstructed, a man appearing to be R. Kelly can be seen performing sex acts with the girl. At one point he commands that she urinates. After she complies, he urinates on her. The victim can be heard referring to Kelly as "daddy" repeatedly during the tape.
Following the release of Surviving R. Kelly, authorities have worked in Georgia and Illinois in an effort to mute the singer and end his sexual tyranny once and for all. With parallels being drawn between the tape from 2002 and this current piece of evidence, the prosecution is confident they can bring the singer to justice.
Comments
comments