Not Today Sis! White Walkers Pop Up On Howard University Campus with 'Make America Great Again' Hats & Get Their Feelings Hurt
On Saturday, during a tour of Washington, D.C. two female students from Union City High School in Pennsylvania, along with a group of nearly 30 other high school students, visited Howard University. Apparently, these two young ladies thought it would be amusing to wear their Make America Great Again paraphernalia on the campus of this historically black university.
Allie Vandee, 16, must have failed her recent vocabulary test where they asked for the definition of 'antagonism' but being that they were at a university rank
ed 124th in the nation the students of Howard University quickly reminded them. Vendee took to Twitter to complain about her and friend, Sarah, treatment by the Howard student body.
"We were getting dirty looks and were completely harassed by these Howard students," she said.
This is all coming a week after terrorist in Charlottesville took to the streets and clashed with counter-protesters resulting the death of three. Shortly after that, Trump stated that the responsibility for Charlottesville was on "both sides", white supremacist and anti-racist counter protesters. It was, what seemed like, his defense of white supremacists and neo-Navis that has made many Americans outraged.
Leave it to Twitter to get someone together quick and fast. When Vandee took to Twitter to complain about her experience and shed her tears, she was met with a barrage of blank stare in the form of Tweets with many wondering, 'what did you think was going to happen'.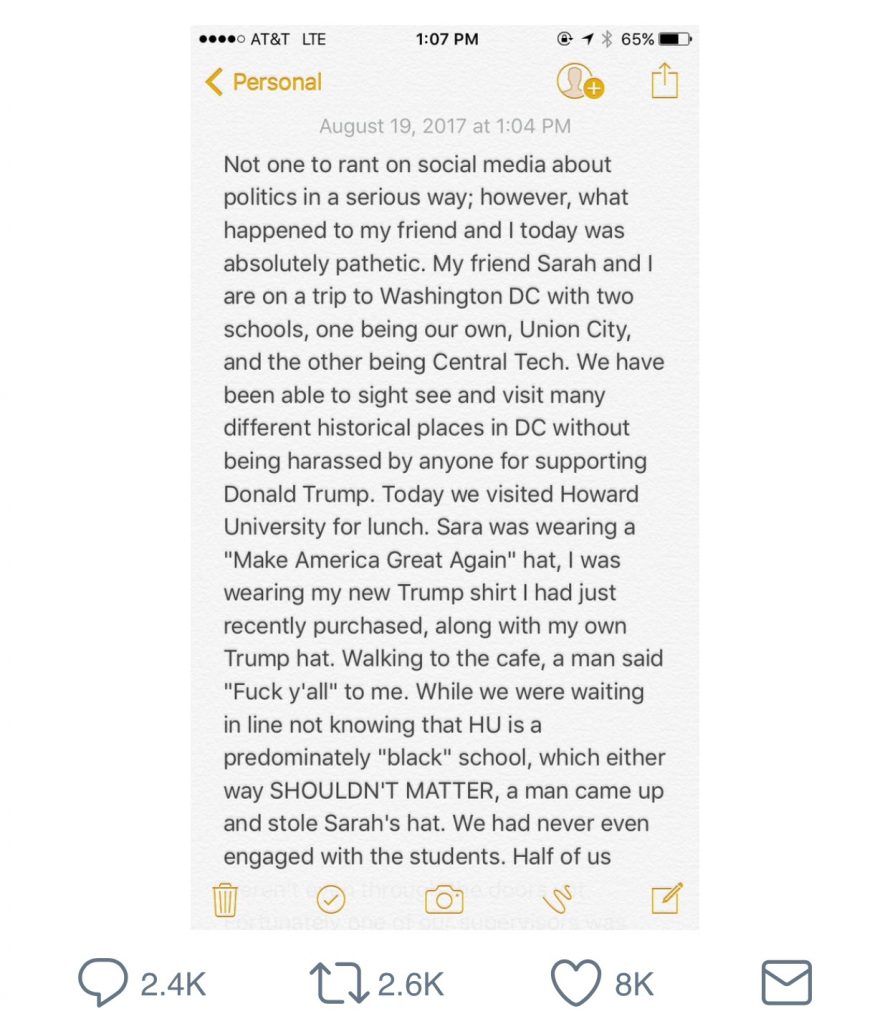 https://twitter.com/Coopdaloop73/status/900043838298959873
9. I'm assuming you had no idea about Howard U.

— Dex (@DEXREM) August 22, 2017
If you really wanna make American great again hop right back on that mayflower and leave America to the natives. pic.twitter.com/MLrhvbEmlI

— Petty Spice (@beauty_bdesire) August 22, 2017
Vendee stated that she, her friend nor the chaperones on the trip knew that Howard was an HBCU.
Does anyone believe that? Nope, didn't think so.
Comments
comments
Hotties Rejoice! Megan Thee Stallion and Cardi B. Set To Realease "WAP" This Friday
I am HYPE. Megan Thee Stallion is about to make her triumphant return from all the drama, the violence, and the rumors to give us life. Stretch them knees, y'all. Meg and Cardi B. will be releasing "WAP" this Friday, August 7th. The Hotties (and whatever you call a Cardi fan) are absolutely BEAMING!!!
Of course, as with anything Cardi does, there was a little drama, but that seemed to get cleared up quickly:
Needless to say, I'll be listening and getting my life. What do y'all think? Tell us in the comments.
Comments
comments
Frank Ocean's Brother Ryan Breaux Has Died In A Car Crash
Frank Ocean's brother, Ryan Breaux, 18, was in a fatal car crash in Thousand Oaks, California this Sunday. His identity has not yet been confirmed by the medical examiner, but friends on the scene identified him to ABC7 News. An outpouring of support and well-wishes followed. (As well as the usual insensitivity.)
We here at King Of Reads want to wish Frank Ocean and his family well in this time of grieving. So much is happening in this world, we only hope they can find a moment of peace in the near future.
Comments
comments
Ellen DeGeneres Might Be Out Of A Job
After years of rumors, Ellen's behind-the-scenes behavior is being shot into the mainstream, and… it isn't pretty. The national uprisings have made the people bold. We've created a culture of protest, and that means workers are starting to speak out about the abuses they've faced, knowing that, honestly, it doesn't get much worse than the lay-offs and cut hours they've already faced because of COVID-19. It all started with a Twitter thread:
Soon, the stories started pouring in. Before we knew it, Buzzfeed was busting this story wide open. "Ellen", apparently, was a toxic work environment where there things like racism were allowed to float about unchecked. There were countless other reports of Ellen being a diva who didn't want "unauthorized" people looking at her. Hell, they said she didn't even tell her workers whether they'd be paid during the pandemic. She cried an apology.
This weekend, the nail met the coffin as a number of outlets reported that James Corden was posed to replace Ellen. Nearly all publications were quick to suggest that this is just rumor, since Ellen is set to return to her show soon, but rumors come from somewhere. I've worked in and around Hollywood for a long time. Ms. Ellen's business wouldn't be in these streets if WarnerMedia wasn't planning to put her out there with it.
If you wanna learn more. The Washington Post's nosey ass has all the details. In the meantime, please enjoy these tweets: #TiffanyPollardForEllen
Comments
comments