This is set to be the most expensive divorce of all time! Amazon CEO Jeff Bezos and his wife Mackenzie Tuttle are calling it quits.
Now for the billion dollar question? Was there a prenup? With $137 billion in the balance, we certainly hope so!
Jeff Bezos and Mackenzie Tuttle were married in 1993 and have four children, ranging in age from 13 to 18. They met in 1992 while she was working at hedge fund D.E. Shaw. Just two years later, Jeff founded Amazon as a bookstore and in 1997 reached millionaire status. He has since become the world's richest man.
A mutual decision, their divorce comes after 25 years of marriage. The couple separated in 2018. Knowing how much of a stir it would cause, Jeff and Mackenzie have released a joint statement:
"We feel incredibly lucky to have found each other and deeply grateful for every one of the years we have been married to each other. If we had known we would separate after 25 years, we would do it all again. We've had such a great life together as a married couple, and we also see wonderful futures ahead, as parents, friends, partners in ventures and projects, and as individuals pursuing ventures and adventures. Though the labels might be different, we remain a family, and we remain cherished friends."

Jeff & Mackenzie
According to TMZ, the former couple resides in Washington, which is a community property state. Under Washington divorce law, assets could be divided 50/50 unless there is a reason that deems a less equitable division. With more than 400,000 acres of land at their disposal, there's no telling how this high asset divorce will play out.
Comments
comments
Jess Hilarious Catches Heat for Islamophobic Remarks
Just days after the Christchurch terrorist attack that robbed nearly 50 Muslims of their lives and injured 50 more, Jess Hilarious has bared her xenophobia for the world to see. Using fear for her safety as an excuse, the aptly named Jess With The Mess profiled a Sikh family that was allegedly ejected from her flight.
@jess_hilarious you are racist af & sound so damn ignorant. The Sikh man was minding his business, is that what you felt THREATENED about?! #JessHilarious pic.twitter.com/b2DdZJYvU5

— s a r a (@sara_zfa) March 17, 2019
Stating "I feel how I feel. I felt threatened and that was it," Jessica "Jess Hilarious" Moore has committed to standing in a grave of bigotry that is certain to claim her career. She has become notorious in recent months for spewing hatred against queer people. Now, she's directing that ignorance toward a community that has suffered major atrocities in America and beyond.
The Xenophobia Jumped Out
According to Jess With The Mess, they boarded the same plane and she "didn't see those people." However, sources say the Sikh family was not removed from the flight. Basking disgustingly in the news of their removal, she failed to realize that Islamophobia doesn't look good on her or anyone else.
Jess Hilarious has been getting dragged by Twitter users for her Islamophobic remarks and has since attempted to explain herself via Instagram Stories. However, her posts are rife with contradictions. She directly asks "Where are you going?" while focusing the camera on the Sikh family. During the time between boarding, she can be heard LOUDLY voicing her concerns. Yelling at one's phone in the middle of an airport, regardless of how busy, never goes unnoticed.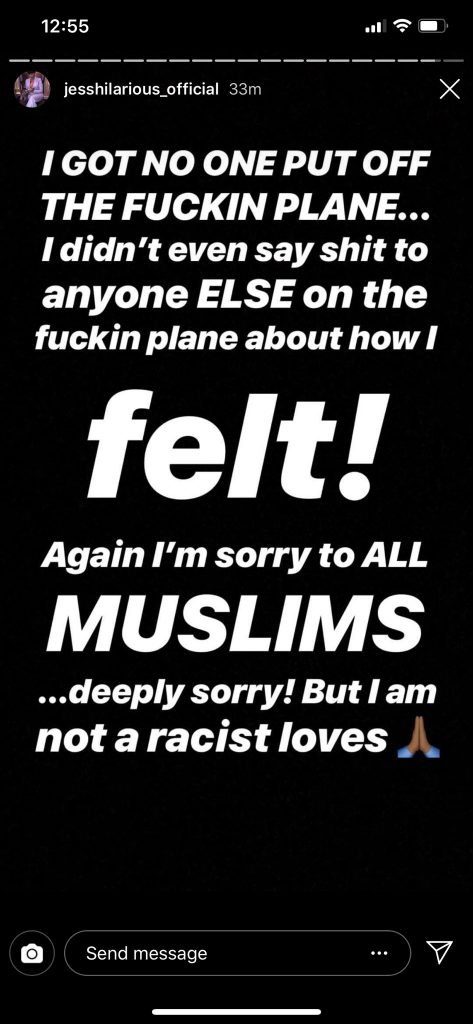 In peak White Woman™ fashion, Jess immediately adopted the "We have [insert marginalized group] in my family" trope to explain away her apparent bigoted remarks. But no one is buying what she's selling. By using fear for her safety as a qualifier for her ignorance, Jess has employed a tactic famous within several circles of systematic oppression, particularly cops who kill unarmed Black people.
As for whether she's taking accountability for the weight of her trash words during such sensitive time, the answer is a resounding NO.
Comments
comments
New Zealand Attack On Muslims Ignites Discussion on Homegrown Islamophobia
Mirroring the ideologies of domestic terrorists like Dylann Roof and disgraced Coast Guard Lieutenant Christopher Paul Hasson, extremists have carried out two deadly attacks in central Christchurch, New Zealand.
With four initial apprehensions, one 28 year-old male has been charged with murder. New Zealand police officials are looking for the team responsible for carrying out two shooting attacks on two mosques. According to New Zealand authorities, the current toll is 49 dead and 48 injured.
Portions of the horrid attack were streamed on social media by an extremist who authored a 74-page manifesto. Attempting to rally White supremacists against immigrants and Muslims, the text was filled with conspiracy theories about "White genocide" and low White birth rates.
Many Americans have shown an outpouring of love and support for those affected by the crisis. A large portion of the response has been directed toward addressing rampant Islamophobia within America and abroad. While hate speech in the US is protected by the First Amendment, there was a recent vote for an anti-hate resolution. After remarks by Ilhan Omar were misconstrued as anti-Semitism, the House proposed and passed the resolution to condemn racism, anti-Semitic, and Islamophobic speech. However, 23 Republicans refused the measure because they felt it suppressed the impact of the resolution by lumping White supremacist language in with Islamophobic hate speech.
Donald Trump's weak extension of "warmest sympathy and best wishes" to New Zealand has many critiquing the President's policies and rhetoric. Trump was cited in the 74-page manifesto as "a symbol of renewed White identity." His inability to call out the horrific misdeed as an act of terrorism against practicing Muslims and immigrants has millions on edge, wary of the language that many right-wing politicians will use to condone the hatred as "free speech" or "an attack on public correctness." This, in conjunction with his response to domestic attacks on Black Christians, Jewish, and Muslim Americans, has many calling for an outright ban of hate speech altogether. Because of the clear connection that hate speech motivates hate crimes, millions are demanding a hate speech ban in light of today's attacks.
Comments
comments
Jussie Smollett Pleads Not Guilty to 16 Felony Counts
Early this morning, Jussie Smollett appeared before Judge Watkins along with his legal team to enter his formal plea of 'not guilty."
The former Empire actor is currently facing 16 felony counts in relation to his alleged staged hate crime. His next hearing is scheduled for April 17th, but until then Jussie has been allowed to travel to meet with his lawyers. Judge Watkins has demanded that Smollett is present in court and must be "each and every time." In addition to attending all court dates, Jussie has to provide notice within 24 hours of his arrival to the city of Chicago.
Holding national attention, the case has been rife with misinformation, a problem Smollett's representations hopes will be corrected by the presense of camera in the courtroom. Issuing a statement before meeting with Judge Watkins, Jussie's lawyer Tina Glandian said the following:
We welcome cameras in the courtroom si that the public and the media can see the actual evidence and what we believe is going to be the lack of evidence against Mr. Smollett
Hoping to provide complete transparency, Glandian says the misinformation in this case is "demonstrably false" and looks forward to the truth prevailing.
Comments
comments