Social media has been dragging Nicki Minaj for her history of supporting alleged sex offenders. Tired of the misinformation, she's speaking out to defend her man.
When Nicki was spotted with a new man on her arm, everyone wondered who he was. We were all sure, despite their dismissal, that Nicki and Lewis Hamilton were together. Instead of choosing the handsome millionaire Formula 1 driver, Nicki is riding with a convicted sex offender with a violent past. Talk about crying in a Nissan instead of a Phantom.
Nicki! You in danger, girl!
Kenneth Petty, Nicki's new beau, is a registered sex offender convicted of attempted rape. Insisting its a complicated situation, Nicki says it stems from Petty dating the victim and her mother not approving. Arrested and charged with first-degree rape in April 1995, he and the victim were both 16.
In court documents obtained by RadarOnline, Petty used a "knife/cutting instrument" during the attempted rape. Carrying a sentence of 18-54 months, it's unclear how much time was served. Even worse, Petty was charged with murder in April 2002 and was released in May 2013.
Nicki claims Petty is an old flame from her teens, but it's unclear how much time they had together considering he's spent so much of his life behind bars.
Who Said Dat?
Chinese Kitty, a castmate of Love & Hip Hop Miami, recently did a radio interview. But it wasn't the interview that made waves, it was her IG Live segment afterward. Believing the cameras and mics were no longer recording, the crew began sharing celebrity details, mainly about Trina, Nicki, and Meek Mill.
While talking about her friendship with Nicki, a woman off-camera said to Chinese Kitty:
"I have a question: was that during the time she was covering? Because she had an issue with her butt shots? Oh, I know her."
Chinese Kitty then starts laughing  and the woman continues:
"My girlfriend, Renee that dates Adrian Broner the boxer, we all know one another. Meek, we know everybody. We all are friends. So Nicki Minaj had a problem with her butt shots, and you know about that story. So for a while she couldn't have sex with Meek and that's why she felt so insecure that he was f*cking somebody else. And that's facts!"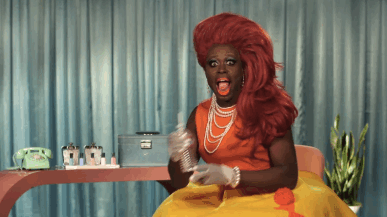 When it comes to who that somebody was, Trina's name came up, leaving her feeling some type of way. Not wanting to be a part of the drama, Trina let us know to keep her name out of our mouths PERIOD.
Go awf, sis! But did you notice she didn't deny it? Whatever the case, Kitty felt like she needed to make amends with the Diamond Princess and apologized.
Comments
comments
#BBHMM: The Game's Royalties Seized Until $7.4 Million Judgment Paid
The Game's attempt to avoid paying a $7M judgment after losing a sexual assault case has been put to a halt by a judge. Ruling in favor of Priscilla Rainey, who accused the rapper of sexual battery, a judge has seized the royalties of The Game's catalogue until the debt is paid.
In 2015, Rainey lodged a complaint that the rapper assaulted her, forcing his hand beneath her dress to touch her bare genitals and buttocks. While The Game denied these allegations in court and on social media, the judge ruled in Rainey's favor that he should pay $7.4 million to make amends. Approaching the court after months had passed without receiving any payment, Priscilla was determined to get what she owed from her abuser. The battle for restitution against the "How We Do" rapper began March 1st 2018, when Rainey filed documents demanding financial records.
Looking to prove The Game had been hiding money to avoid paying the judgment, Rainey hired several private investigators that stated he'd diverted millions. In addition to hiding cash, the investigation uncovered he'd acquired assets under pseudonyms controlled by himself and his business management. Now, with a new ruling, The Game has been informed that his royalties will be seized by Priscilla until the $7.4 million balance is paid.
According to court documents, "commission, royalties, contract receivables, deferred compensation, income, wages, payroll, salary, and accounts receivable" are all up for grabs. Should The Game attempt to disobey the court's decision, he could be found in contempt of court and face some jail time.
Comments
comments
Diddy Confirms Making The Band is Returning to MTV
Hoping to recreate pop culture history, Diddy and crew are on the hunt for the world's most promising singers. The Bad Boy Records executive issued a global casting call through Twitter, YouTube, and Instagram. But the fiercest competition will be using Smule.
For the first time ever, Smule has partnered with MTV. Offering their users a list of curated songs to choose from, wide-eyed prospects can use the app to create video auditions shareable on every social media platform. While anyone over the age of 18 is welcome to compete, contestants must also be able to comply with the rules and eligibility requirements. Looks like someone better be ready to get that Junior's Cheesecake!
Making the Band has not aired since 2009, but fans spammed the hashtag #IWantMyMTB, prompting MTV and Diddy to come to the table. Using the hashtag #MTBCASTING, singers now have a new chance at getting discovered. However, the details of their talent search have yet to be revealed. Through a rabbit hole of links, you can view the Terms of Use and User Content Submission Agreement. Just be sure to read the agreements before submitting your videos as the contracts are effective once your clips are posted. There's a lengthy segment titled "Rights Granted to MTV", which gives them, in so many words, the right to use and otherwise exploit any ideas, concepts, or content displayed in your submission without any credit or compensation. So stay sharp!
Hopefuls are already posting their talents across social media. Will you be joining them?
Comments
comments
So So Deaf: Jermaine Dupri Critiques the State of Female Rap
During an interview, Jermaine Dupri was asked by two hosts to name his favorite female rapper. Believing he'd list Megan Thee Stallion or Cardi B, Dupri's response caught both the hosts and music aficionados off guard. Comparing the current roster of popular femcees to "strippers", Dupri's glaring act of misogyny has gotten him checked by the artists themselves.
#CardiB responds to #JermaineDupri's comments calling out "stripping rappers", saying female rappers sound the same…..🗣ARE THESE FACTS OR NAH⁉️📠 👀 pic.twitter.com/MTfIcsNKiZ

— Power 106 (@Power106LA) July 11, 2019
For decades, airwaves have been flooded with male artists rapping about their sexual prowess, bevy of hos, material expenditures, and sale of drugs. But Jermaine Dupri doesn't find fault with the repetitive, and occasionally elementary, lyrics of his peers. His ire was directed toward women whose bars are about celebrating their bodies, turning up in the club, and dominating men. Failing to note the similarities in what content is released by both men and women in the rap game, Dupri posed a weak argument that female rap lacks lyrical diversity.
#PressPlay: WELLLL #DojaCat has stepped into the "stripping rappers" chat and got some things off her chest about #JermaineDupri 👀👀🥴 THOUGHTS⁉️ pic.twitter.com/kIc36hpY8W

— Power 106 (@Power106LA) July 12, 2019
As pointed out in Cardi's response video, there are plenty of female rappers that don't write about their bodies at all, they simply don't receive equal support. And as the acting CEO of So So Def, you'd think Jermaine Dupri would take the initiative to seek out talent that raises what he believes is the bar. But no, the "Grammy award winning songwriter and producer" has no female rapper signed to his label aside from Da Brat and Tyeler Reign. Tyeler is the winner of the fifth season of The Rap Game who unsurprisingly still raps about money and designer labels, the very things Dupri would find unimpressive.
Female rappers have been vocal in their disagreement of Dupri's piss-poor analysis. Both Doja Cat and Cardi B made statements disagreeing with his comments. Ari Lennox even dropped a diss track as a response to his ignorance. But the best rebuttals have been references of Dupri's track record. Twitter users have been quick to remind us that JD has a history of dismissing the career trajectories of women with potential to be powerhouses in the industry. Perhaps after this wake up call, Jermaine Dupri will take a bit of Doja Cat's advice and look for the artists he wants to uplift.
Comments
comments