Mother of 3, Ashlee Muhammed receives backlash for her parenting skills, due to a viral video of her twin boys kissing on the lips.
Although most people seemed to think that the video showed an innocent sign of affection, others were not feeling the brotherly love.
One follower called Muhammed's parenting skills reckless, despite her intended message.
Majority of the negative comments were received by black men.
They accused Muhammed of highlighting perversion and sexuality amongst toddlers. However, Muhammed defends her video.
She states that "The World needs more love like this".
What are your thoughts, did she take brotherly love too far?
In the African-American community, it seems like we're so afraid to teach boys to show affection because we're in fear of them being gay. However, that's a disturbing label to put on toddlers.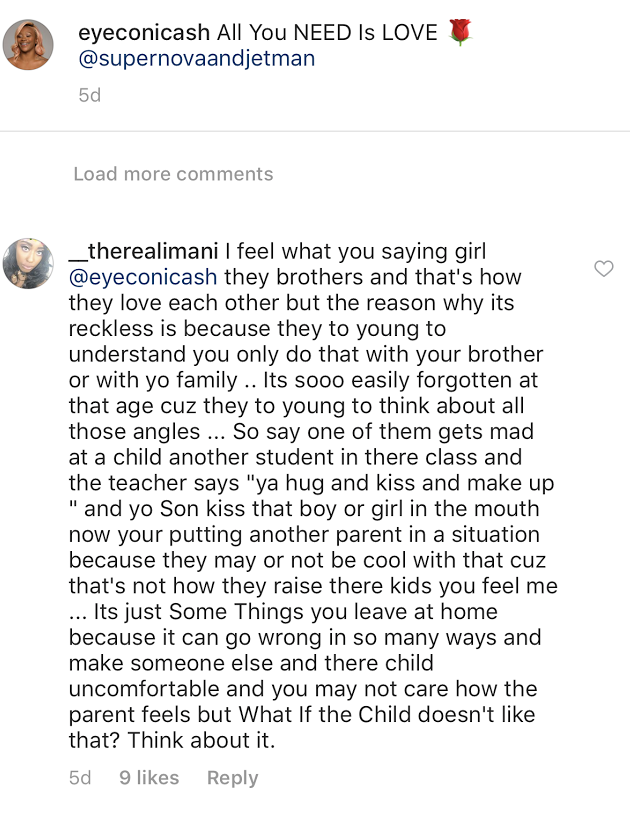 Do you think this warranted the drag session she received in the comments? She decided not to take the video down despite its controversy.
Comments
comments
Drake and Bounce Music: The Upside of Cultural Appropriation?
What happens when someone appropriates a culture but does it so well, you have to give it props? We spend a lot of time arguing about the usual cultural appropriating suspects (who shall remain nameless here), and who, in some instances, should be called out for their blatant disregard of what another culture holds dear.  Although cultural appropriation is often discussed as problematic because the violators misrepresent and misuse artistic materials and styles from people who have been historically marginalized and continue to be socially marginalized, there is an upside to appropriation. What I'm saying is, it ain't ALL bad.
So, Drake who is well-known for appropriating regional musical sounds, dropped Nice For What last weekend, which by the way, I have to give a side-eye to because that was Cardi's weekend, but, that's neither here nor there. The point is, the song is flame emojis across the board. What makes it so hot, honestly, is that he sampled the Bounce music sound, an underground musical genre most closely associated with New Orleans-based hip-hop and dance music. Drake, certainly not a native to New Orleans or even the U.S., in essence, appropriated the musical culture of a Nah'lins. And I love it. He took an underground sound that isn't often played outside of that region (yes, we have seen Big Freedia with Beyoncé and on his own MTV show, but still!) and brought it to the big-screen.
It reminds me of what Spike Lee did for Go-Go music in 1988 with the release of his movie School Daze that features popular D.C. Go-Go band E.U. Anyone not in the DMV area probably doesn't know what Go-Go music is – it is a distinct musical style with lots of drums and instrumentation and some call and response created and mostly played in the D.C. area. Spike Lee, not a native to DC or a cultural insider, appropriated the sound for his big-screen debut and I can't find anything wrong with that. Maybe you remember Jill Scott's song It's Love? That's Go-Go too.
What happens when someone appropriates a culture but does it so well, you have to give it props? Enter Drake with Nice For What.
Click To Tweet
Anyway, not to get all academic on you, but cultural appropriation is predicated on defining and dividing the cultural insiders from the cultural outsiders, and this has the potential to lead to cultural essentialism which is exclusionary. The foundation of cultural appropriation requires that one make the distinction between cultural insiders from cultural outsiders based upon criteria required for cultural membership as determined by the cultural insiders, and the criteria for membership (in most pop culture arguments about appropriation) is race. If you think about cultural appropriation this way, it becomes a cousin to the "stereotype" and it upholds the monolithic view of a culture -Blackness in this example – which we all claim that we don't want.
Listen, its America and our proximity to people of other cultures and ethnicities makes it nearly impossible to refrain from borrowing and mixing cultures to enhance one's identity development, whether consciously or unconsciously. And no place is this more true than in music.
I'm not trying to make excuses for any cultural appropriating violators nor am I discounting any of the eloquent and well-articulated points made to critique cultural appropriators. What I am saying however, is this – that got damn song is hot and so are the visuals and Drake has my permission to appropriate anything he wants because he does it so well.
Comments
comments
Deonte Towner's Pieces in the Dark
Looking for a good read?! Pick up Pieces in the Dark by Deonte Towner.
Pieces in the Dark holds many truths about the human emotions. The short heartfelt vignettes include emotional stories of heartbreak, love gone wrong, moving on, loss, identity, spirituality and a strong lust for inner freedom. Everything becomes into question and the meaning of life is then changed by all the events that occur throughout life. Is it possible to find joy and happiness in a world full of chaos? Does depression go away? Or, does it hibernate for awhile? What happens when the lights turn on and all your secrets are brought to the light? Every page will have you whispering "me too".

About the Author: Deonte Towner
What is your purpose? That is the first question I ask people. Everyday you wake up there must be something driving you. There must be something that is going to keep you alive when all hell is breaking. I am a 26 year old teacher originally from Salinas, California who teaches at the most challenging high school in Watts, California.
Often when I tell people that I teach in Watts their first reaction is "Do they even respect you since you are so young? Why would you do that to yourself?" People don't realize that being a teacher is not about your age. It's not about how "cool" or how much you can "relate" to your students. All people want is someone to listen to them. That goes for anyone. From the rich to the poor. All people want is for someone to listen to them. I have a gift of hearing what a persons heart is saying.
I realized that I am on a journey and there is a need for teachers in Southern California. I have always had the fire inside of me to be an influential teacher in the East Los Angeles area. Every day I wake up my main focus is for God to give me the right words to speak to my students in order to show them that there is light at the end of the tunnel.
I am so excited that my dreams have officially come true. My first book is finally complete. It took time and dedication. I wanted to leave something behind for my future kids and generations to come. I had many nights where I prayed and asked God to lead and guide me on this book. He guided my hands every step of the way.
There were days that I wanted to give up and say I will write this next year, but God revealed to me that I needed to get it done this year because someone in the world needed to read these powerful passages in my book. I thank God for giving me the strength to complete this book because my father and auntie had a stroke 6 months ago in the same month and are in therapy getting better. My mom has been by his side every day praying for his strength. This season of my life has not been easy, but God gives us strengths in times of weakness.

Poetry Corner
My goal is to give students a space to be themselves and a platform to express their feelings in a positive way. Drug abuse, gangs and violence surround our students but they choose to fight with their words. On every other Friday teachers and I have partnered together to host what we call "Poetry Slam". Students stand before their peers and recite a poem that they have written in the quad area at lunchtime. This gives students the opportunity to get everything off of their chest and voice what they believe in or how they feel. Usually, students walk up nervous but they feel very accomplished at the end. There bravery and honesty gains them their peers respect. Students and staff hug all the participants after because of their vulnerability.
Going Beyond the Book: A Word from Deonte Towner
Pieces In The Dark was released on April 4, 2018 and out of 23,000 books it is was ranked at # 274 on Amazon! I was wondering if you can support a teacher that is trying to impact this generation by purchasing the book and leaving a review. 40% of the proceeds will go directly to supporting my students.
I want to continue to be able to bless my students with school supplies, personal hygiene products, meals, prom tickets and yearbooks. A lot of my students get robbed and beat up by gang members on their way home and they often come to class empty handed and bruised up. I teach American Literature at a high school in Watts California and it is a low income area. Many of my students live with their grandparents or live on the street because there parents are either locked up, or on the street addicted to drugs. A large amount of our students are in the foster care system. I want to be able to bless students. Thank you so much for reading this message.
Also please when you say your prayers please pray for all schools across the nation, so that God can continue to camp his angels around campuses with everything that is going on in the world. Once again thank you.
What do my students need?
Pencils
Notebooks
Backpacks
Grooming & Hygiene Care
Pens
Color Pencils/Markers
If you would like to support Mr. Towner's students, donations can be made via Venmo @Deonte-Towner and Cash App @DeeT92. You can contact Deonte Tower at [email protected] and visit his website at www.deontetowner.com
Comments
comments
Reading the Menu | Old Lady Gang Southern Cuisine
So after many brunches and unlimited mimosas at different restaurants, I finally decided to head on down to Old Lady Gang Southern Cuisine. I was nervous because a lot was riding on this. I wanted my review to be authentic and unbiased as possible. So I gathered up my coins and the courage to walk in. Y'all know people love to kick me out…. but that's another story.
After getting my wig touched up I pooched on down Peter Street, a well-known area in Atlanta full of booming black businesses and restaurants. Old Lady Gang Southern Cuisine's building stood out. The brick gave me vintage teas. Knowing how Kandi loves to save some coin I wondered did she pick it because it was cheap. Who could blame her either way, the building had a little spunk to it.
I pulled up ready for VIP and stomach on E! I was instructed by someone to park in the back of the restaurant and the cost was $5. I didn't have cash but he whipped out a reader to take my credit card. I gave it to him and parked in a secured lot in the back. Walking up I wasn't sure if I was supposed to come in through the back or go back to the front so I came in from downstairs where I saw a bartender prepping for the day. I was confused and was ready for him to address me as I stood there in confusion. I asked, "Hey where do I go?" He answered, "Just go up there stairs and head to the host stand." He didn't sound annoyed or anything it just wasn't inviting. It made me think of when you go to cheaper restaurants where they do the corny welcome from all of the staff when they hear the bell ring as a new customer walks in. I didn't get this today but nonetheless, I proceeded to head upstairs.
I think when you eat at Old Lady Gang Southern Cuisine you're paying for Kandi's brand.
Click To Tweet
A host greeted me and made me feel welcomed. She told me my server would be Dominique and I sat in the front area across from the bar. One of the TVs was on Bravo and the others were on a mixture of sports and CNN. I saw one of my favorite aunties who takes no shit. "I'll be damned." Aunt Bertha herself as she sat in front of the window ready for her photo shoot with any guest that wanted to take a picture. I was just thankful she didn't Sheree Whitfield me out of $5, but I did pay $5 for parking lol.
Dominique greeted me immediately as she was working with other customers. This is how you do it. Whenever you make eye contact with a customer you speak. I asked her what drinks she recommends and that this was my first time here. She introduced me to Momma's Joyce Fruit Punch and said that the Fried Devil Eggs was a top seller. I was sold!
The Fried Devil Eggs were everything and more. The taste of the brown sugar next to crispy bacon would make Wilbur & Charlotte smile. The texture of egg being fried just right melted and was quite filling. I'm a big guy and I like to eat. I normally don't get too full off of an appetizer but I felt it coming so I saved 2 or 3 for later. I had to remember I came to here to enjoy the food not too get full off of one appetizer.
Looking at the menu I saw that it was a little limited. Some of the things I saw online weren't available. Not sure if this was because I had a lunch menu or what. The server recommended 'Aunt Bertha's Fried Chicken'. Aunt Bertha was in the front so I was hoping she had fried some good eats for us this evening… Bish I thought!
Ms. Chicken came out and it didn't meet my requirements. The wing gave me KFC and the breast gave me Popeyes crisp with no seasoning. I was confused. The macaroni & cheese had the right amount and cheese. the collard greens were on point. The presentation of my entree should have been a little bit more considering the price. There was not a garnish in sight. Honestly. I felt like I had paid to eat Picadilly's at a bar. And not the good one but the one that's ok but no one goes to unless absolutely necessary.
I felt like I had paid to eat Picadilly's at a bar. And not the good one but the one that's ok but no one goes to unless absolutely necessary. #OldLadyGang
Click To Tweet
My total check came out to $40 something. This was for one person. 1 drink, 1 appetizer and 1 entree. This was not including the tip. Was it worth $40? I don't think so. I think when you eat at Old Lady Gang Southern Cuisine you're paying for Kandi's brand. This is Kandi's restaurant and there is a chance you might see your favorite housewife.
A few reasons you may want to pooch on through to OLG…
You may bump into one of your favorite housewives.
The servers were ON POINT!
The Fried Deviled Eggs were a perfect spin on the southern family cookout favorite.
Why you may just want to save your coins and eat elsewhere…
$5 Parking!!!
The presentation left me on read.
Fried chicken with NO seasoning! Where is Minnie?

Have you eaten at Old Lady Gang Southern Cuisine? Let us know what you thought about it.
Comments
comments