Mother of 3, Ashlee Muhammed receives backlash for her parenting skills, due to a viral video of her twin boys kissing on the lips.
Although most people seemed to think that the video showed an innocent sign of affection, others were not feeling the brotherly love.
One follower called Muhammed's parenting skills reckless, despite her intended message.
Majority of the negative comments were received by black men.
They accused Muhammed of highlighting perversion and sexuality amongst toddlers. However, Muhammed defends her video.
She states that "The World needs more love like this".
What are your thoughts, did she take brotherly love too far?
In the African-American community, it seems like we're so afraid to teach boys to show affection because we're in fear of them being gay. However, that's a disturbing label to put on toddlers.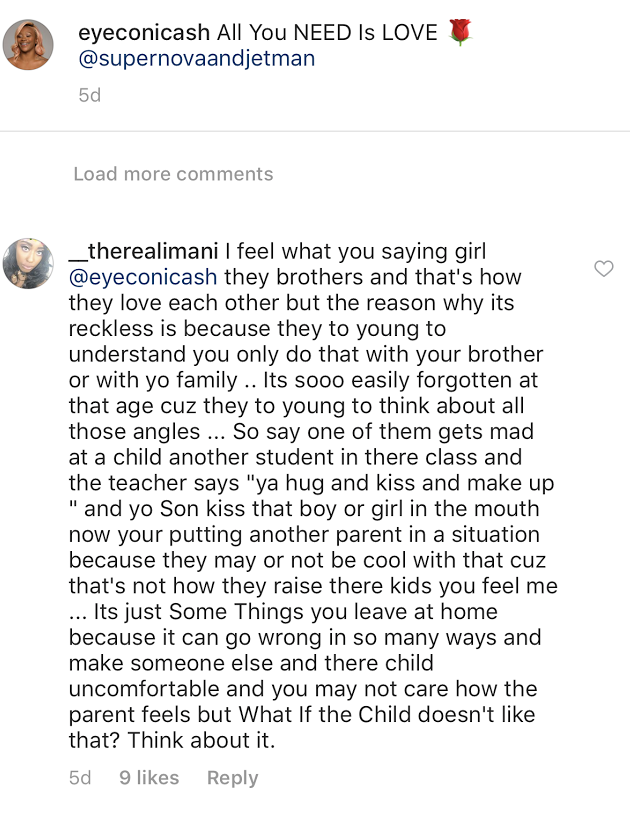 Do you think this warranted the drag session she received in the comments? She decided not to take the video down despite its controversy.
Comments
comments
Spicy White & Morehouse College Gets Dragged On Twitter For "Being A White Student At Morehouse" Documentary
Vice had the Twitter streets dragging them and Morehouse the last couple of days thanks to a documentary they did with Tiago a white student at supposedly black space. Some weren't feeling and others had their capes out.
VICE: ok so boom….let us come to your historically BLACK institution, completely disregard the many issues your BLACK students face on campus/at HBCUs everywhere, and then we'll give your WHITE student a platform to speak😅

Morehouse: pic.twitter.com/etCW6eSSWq

— DJCM. (@d_mundyy) June 20, 2018
This Tiago guy that Vice featured in the Morehouse thing called King Chapel "King's Chapel" and he's an ambassador. pic.twitter.com/smX8oPhO9x

— |Black| + Unconquerable Soul (@NewAge_Moses) June 20, 2018
If y'all have enough time to cape for the spicy white at Morehouse and not hold Morehouse accountable for the years of protecting rapists than I don't have time for you.

— Clarissa Brooks (@ClarissaMBrooks) June 20, 2018
Comments
comments
Get the FACTS: Trump's Zero Tolerance Policy
Have you heard that children were separated from their parents under Obama & Clinton? Then, you need a little Facts vs Myths lesson. Michelle Martin, PhD Cal State Fullerton summed up the most important FACTS:
There is so much misinformation out there about the Trump administration's new "zero tolerance" policy that requires criminal prosecution, which then warrants the separating of parents and children at the border. Before responding to a post defending this policy, please do your research…As a professor at a local Cal State, I research and write about these issues, so here, I'll make it easier for you:
Myth: This is not a new policy and was practiced under Obama and Clinton – FALSE.
The policy to separate parents and children is new and was instituted on 4/6/2018. It was the brainchild of John Kelly and Stephen Miller to serve as a deterrent for undocumented immigration, approved by Trump, and adopted by Sessions. Prior administrations detained migrant families, but didn't have a practice of forcibly separating parents from their children unless the adults were deemed unfit. https://www.justice.gov/…/press-rele…/file/1049751/download…
Myth: This is the only way to deter undocumented immigration – FALSE.
Annual trends show that arrests for undocumented entry are at a 46 year low, and undocumented crossings dropped in 2007, with a net loss (more people leaving than arriving). Deportations have increased steadily though (spiking in 1996 and more recently), because several laws that were passed since 1996 have made it legally more difficult to gain legal status for people already here, and thus increased their deportations (I address this later under the myth that it's the Democrats' fault). What we mostly have now are people crossing the border illegally because they've already been hired by a US company, or because they are seeking political asylum. Economic migrants come to this country because our country has kept the demand going. But again, many of these people impacted by Trump's "zero tolerance" policy appear to be political asylum-seekers. https://www.npr.org/…/arrests-for-illegal-border-crossings-…
Myth: Most of the people coming across the border are just trying to take advantage of our country by taking our jobs – FALSE.
Most of the parents who have been impacted by Trump's "zero tolerance" policy have presented themselves as political asylum-seekers at a U.S. port-of-entry, from El Salvador, Guatemala, and Honduras. Rather than processing their claims, they have been taken into custody on the spot and had their children ripped from their arms. The ACLU alleges that this practice violates the Asylum Act, and the UN asserts that it violates the UN Treaty on the State of Refugees, one of the few treaties the US has ratified. This is an illegal act on the part of the United States government, not to mention morally and ethically reprehensible. https://www.nytimes.com/…/meatpackers-profits-hinge-on-pool…
Myth: We're a country that respects the Rule of Law, and if people break the law, this is what they get – FALSE.
We are a country that has an above-ground system of immigration and an underground system. Our government (under both parties) has always been aware that US companies recruit workers in the poorest parts of Mexico for cheap labor, and ICE (and its predecessor INS) has looked the other way because this underground economy benefits our country to the tune of billions of dollars annually. Thus, even though the majority of people crossing the border now are asylum-seekers, those who are economic migrants (migrant workers) likely have been recruited here to do jobs Americans will not do. https://www.upi.com/…/Donald-Trumps-wall-ign…/2621477498203/
Myth: The children have to be separated from their parents because their parents must be arrested and it would be cruel to put children in jail with their parents – FALSE.
First, in the case of economic migrants crossing the border illegally, criminal prosecution has not been the legal norm, and families have been kept together at all cost. Also, crossing the border without documentation is a typically a misdemeanor not requiring arrest, but rather a civil proceeding. Additionally, parents who have been detained have historically been detained with their children in ICE "family residential centers," again, for civil processing. The Trump administration's shift in policy is for political purposes only, not legal ones. See p. 18: https://www.aclu.org/…/ms-l-v-ice-plaintiffs-opposition-def…
Myth: We have rampant fraud in our asylum process the proof of which is the significant increase we have in the number of people applying for asylum. FALSE.
The increase in asylum seekers is a direct result of the increase in civil conflict and violence across the globe. While some people may believe that we shouldn't allow any refugees into our country because "it's not our problem," neither our current asylum law, nor our ideological foundation as a country support such an isolationist approach. There is very little evidence to support Sessions' claim that abuse of our asylum-seeking policies is rampant. Also, what Sessions failed to mention is that the majority of asylum seekers are from China, not South of the border. Here is a very fair and balanced assessment of his statements: http://www.politifact.com/…/jeff-sessions-claim-about-asyl…/
Myth: The Democrats caused this, "it's their law." FALSE.
Neither the Republicans nor the Democrats caused this, the Trump administration did (although the Republicans could fix this today, and have refused). I believe what this myth refers to is the passage of the Illegal Immigration Reform and Immigrant Responsibility Act, which were both passed under Clinton in 1996. These laws essentially made unauthorized entry into the US a crime (typically a misdemeanor for first-time offenders), but under both Republicans and Democrats, these cases were handled through civil deportation proceedings, not a criminal proceeding, which did not require separation. And again, even in cases where detainment was required, families were always kept together in family residential centers, unless the parents were deemed unfit (as mentioned above). Thus, Trump's assertion that he hates this policy but has no choice but to separate the parents from their children, because the Democrats "gave us this law" is false and nothing more than propaganda designed to compel negotiation on bad policy. https://www.independent.co.uk/…/trump-democrats-us-border-m…
Myth: The parents and children will be reunited shortly, once the parents' court cases are finalized. FALSE.
Criminal court is a vastly different beast than civil court proceedings. Also, the children are being processed as unaccompanied minors ("unaccompanied alien children"), which typically means they are sent into the custody of the Office of Refugee Resettlement (ORR), which is part of the Department of Health and Human Services (DHS). Under normal circumstances when a child enters the country without his or her parent, ORR attempts to locate a family member within a few weeks, and the child is then released to a family member, or if a family member cannot be located, the child is placed in a residential center (anywhere in the country), or in some cases, foster care. Prior to Trump's new policy, ORR was operating at 95% capacity, and they simply cannot effectively manage the influx of 2000+ children, some as young as 4 months. Also, keep in mind, these are not unaccompanied minor children, they have parents. There is great legal ambiguity on how and even whether the parents will get their children back because we are in uncharted territory right now. According to the ACLU lawsuit (see below), there is currently no easy vehicle for reuniting parents with their children. Additionally, according to a May 2018 report, numerous cases of verbal, physical and sexual abuse were found to have occurred in these residential centers. https://www.aclu.org/…/aclu-obtains-documents-showing-wides…
Myth: This policy is legal. LIKELY FALSE.
The ACLU filed a lawsuit against the Trump administration on 5/6/18, and a recent court ruling denied the government's motion to dismiss the suit. The judge deciding the case stated that the Trump Administration policy is "brutal, offensive, and fails to comport with traditional notions of fair play and decency." The case is moving forward because it was deemed to have legal merit.https://www.bloomberg.com/…/aclu-suit-over-child-separation…
This post is also on Facebook as a public post: https://www.facebook.com/MIchelle.Martin15/posts/1852738241454566
Comments
comments
All of This is Yours, The Series, Takes Off!
Discover the world through the eyes of the children who live in its four corners!
In an era plagued by hatred and hyper-nationalism, an ebullient teacher takes young viewers on a global journey. Along the way, she'll share the ways that children in vastly different cultures live, learn and experience their world. Costa Rica to Capetown. 13 episodes/13 international destinations. Adventure, learning, hilarity and joy ensue in the global community.
Short Summary
All of This Is Yours provides young audiences with the educational tools they need to begin creating the world they want to live in as global citizens through an episodic journey filled with unique cultural experiences and practical lessons that children can use in their everyday lives. The campaign will raise money for a pilot episode which will take Robin to San Jose Costa Rica where she will meet Amanda, a young girl ready to share her life, and her extended family, with the world.
Robin Hancock has been an avid traveler all her life. While working on a doctorate in education, she got the idea to create a series that blended her love for travel with her passion for early childhood ed. Her life's work examines the ways that identifying as a global citizen can empower children to walk in the world with confidence, pride in their communities and awareness of their positions as members of a large and vibrant global community.
This is Robin's passion project and her heart's desire for the last ten years has been to make this series a reality. Your contribution to the creation of the pilot episode will contribute to a field desperately in need of new and exciting voices. No gift is too small (or too big)!!
The Impact
Nowhere on television is there a travel series that is  1) hosted by a woman of color 2) geared towards educating children and 3) focused on teaching global citizenship. The travel genre remains a deeply segregated space and very few series in the genre are created intentionally for children. This series will counter the negative messages of division and hyper-nationalism that are so prevalent in our society. Our goals for the series are to:
– Provide the (near absent) representation of central characters of color in the travel show genre.
– Provide a travel series that is geared towards young children in a genre that is tailored almost exclusively to adults.
– Create an educational platform for children to learn about the world through observing the experiences of other children like them who live in and negotiate that world as well.
– Create a context where children are learning the primary tenets of Global Citizenship early in life.
– Challenge the messages of separation and division currently being taught through our government, media and social spaces.
Ways You Can Help
Please make a LOT of noise about this project. You can do that in a number of ways:
Post this on all of your social media pages
Circulate it to ALL of your friends and social networks
share in your frequently visited spaces
Stand on corners and knock on doors (just kidding…kind of…)
Comments
comments