Mother of 3, Ashlee Muhammed receives backlash for her parenting skills, due to a viral video of her twin boys kissing on the lips.
Although most people seemed to think that the video showed an innocent sign of affection, others were not feeling the brotherly love.
One follower called Muhammed's parenting skills reckless, despite her intended message.
Majority of the negative comments were received by black men.
They accused Muhammed of highlighting perversion and sexuality amongst toddlers. However, Muhammed defends her video.
She states that "The World needs more love like this".
What are your thoughts, did she take brotherly love too far?
In the African-American community, it seems like we're so afraid to teach boys to show affection because we're in fear of them being gay. However, that's a disturbing label to put on toddlers.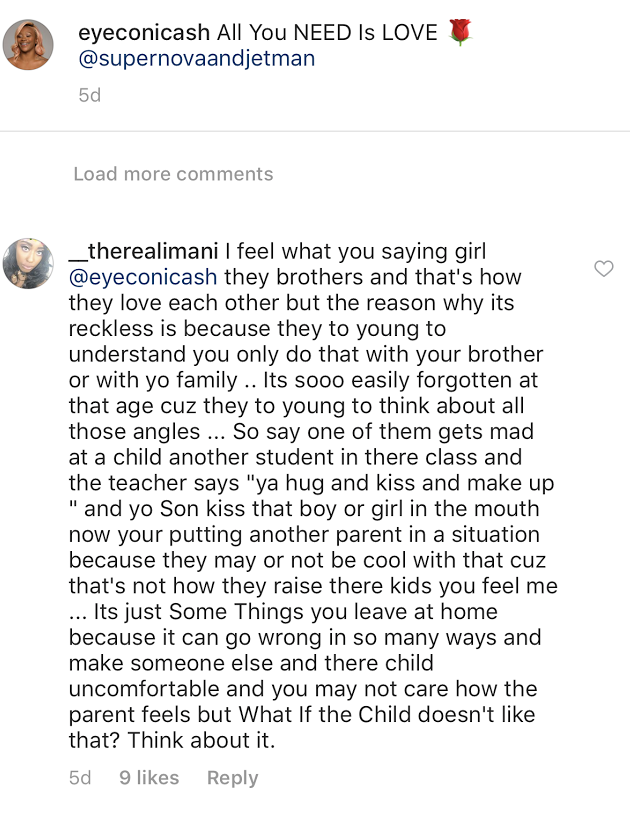 Do you think this warranted the drag session she received in the comments? She decided not to take the video down despite its controversy.
Comments
comments
Seven Year Old Dies in Border Patrol Custody
In a devastating development, a 7-year-old Guatemalan girl has died in the care of Border Patrol. Until autopsy results confirm her cause of death, Americans are left with more questions than answers.
Seizures
A group of 163 migrants attempted to cross the border illegally and were then apprehended in New Mexico. Among them were the victim and her father. Shortly after their detainment, the group was transported to a facility in El Paso, Texas. It was there that the 7-year-old began having seizures within hours of being in Border Patrol custody. Claiming "Border Patrol agents took every possible step to save the child's life", the CBP is now under investigation.
Fever, Dehydration
Initially reported by The Washington Post, emergency responders measured her temperature at 105.7 Fahrenheit, just two degrees shy of incurring brain damage. A Customs and Border Protection (CBP) agency statement indicated the child "had not eaten or consumer water for several days". Needing further care, emergency responders called for a helicopter transport to Providence Children's Hospital, where the child went into cardiac arrest. She was "revived" but ultimately could not recover, passing at the hospital less than 24 hours after arriving for treatment.
Facing blame from the ACLU, CBP has been called out for a "lack of accountability, and a culture of cruelty." Offering nothing but their "sincerest condolences", CBP will continue to draw the scrutiny of the public as this is the second death of a child in their care. A toddler passed six weeks after being released from an ICE facility. Having contracted a respiratory infection from receiving poor medical care, the toddler's mother is not suing for the loss of her child.
Political Outrage
Government officials have since spoken out about the tragedy. Beto O'Rourke has called for full transparency in the investigation of the child's death. Congressman Joaquin Castro also asked for a full investigation by the Inspector General and Congress. Without autopsy results that could take weeks to receive, the country is talking about ways we can do better as a nation. As a country, we're holding out hope we can rise from this humanitarian crisis.
Comments
comments
Where is Justice for Cyntoia?
Time and time again we have seen the justice system fail Black people in America. This week, its victim is Cyntoia Brown.
AMERICA…

Where Black or brown women & girls who are victims of sex trafficking get 51 years in prison for defending themselves against sexual predators….

… but white men who are sexual predators go to the US Congress, the Supreme Court & the White House.#CyntoiaBrown

— Bishop Talbert Swan (@TalbertSwan) December 8, 2018
The Tennessee Supreme Court has ruled that Cyntoia Brown must remain in prison for 51 years before she is eligible for release. This news comes as a response to a lawsuit that states Brown's life sentence is unconstitutional. Violating the U.S. Constitution, a mandatory life sentence without parole is still what Cyntoia faces with judgment requiring imprisonment until the age of 69.
Having run away from home, Cyntoia, 16, was living with a pimp named "Kut Throat," who abused her and forced her into the life. He was 24 at the time. After days of being drugged and sexually assaulted by various men, Cyntoia was passed off yet again. Purchased by Johnny Allen, a 43-year-old child predator, Cyntoia found her limit. She killed her abuser but has not received the same justice many women in her position have found.
Justice only comes in one color
As children, we grew up hearing stories about women like Francine Hughes, famous for the Burning Bed. A battered housewife, Francine set her husband on fire as he slept, freeing herself and her children from his tyranny. The prosecution and the defense agreed her plight was sympathetic. She was found not guilty.
In June 2016, a woman killed her husband in an argument over another woman. As punishment, she will serve one year in jail and 9 years on community corrections. In his judgment, Criminal Court Judge Stacy Street said:
"The lack of remorse in this case concerns me so much that I think Ms. Delaney needs to be reminded of what she has done, what she has taken from her children and from the victim's family. I'm ordering her to serve 30 days in jail every June beginning June 1 through June 30 for the entire 10-year sentence."
The modification of her judgment came out of concern for her high-risk pregnancy. What a luxury! Just Friday, new broke that New York City police officers forced a 27-year-old woman to give birth shackled to a hospital bed, in full violation of state law. The privilege of justice in this country only comes in one shade.
At this moment, there is a petition urging the judge hearing Cyntoia's case to grant her clemency. It currently has 500,000 signatures but needs 1.1 million. I encourage everyone touched by her story and seeking justice for her to sign.
Comments
comments
Charlottesville Driver Could Face 419 Years
Charlottesville driver, James Alex Fields Jr., could face life in prison plus 419 years. The sentence was recommended by jurors this afternoon.
Fields stands convicted of killing Heather Heyer, who was in a group of counterprotesters during the 2017 rally. Mowing through the crows, Fields has racked up five malicious wounding charges and one charge of leaving the scene of the accident. Jurors made their recommendation after listening to statements from Heather's mother as well as those who were injured.
Deliberations took roughly four hours over two days, the jurors presented the judge with their decision. However, the judge will not formally sentence the driver until March 2019. On top of the 419-year sentence, the jurors also recommended $480,000 in fines.
Comments
comments