Mother of 3, Ashlee Muhammed receives backlash for her parenting skills, due to a viral video of her twin boys kissing on the lips.
Although most people seemed to think that the video showed an innocent sign of affection, others were not feeling the brotherly love.
One follower called Muhammed's parenting skills reckless, despite her intended message.
Majority of the negative comments were received by black men.
They accused Muhammed of highlighting perversion and sexuality amongst toddlers. However, Muhammed defends her video.
She states that "The World needs more love like this".
What are your thoughts, did she take brotherly love too far?
In the African-American community, it seems like we're so afraid to teach boys to show affection because we're in fear of them being gay. However, that's a disturbing label to put on toddlers.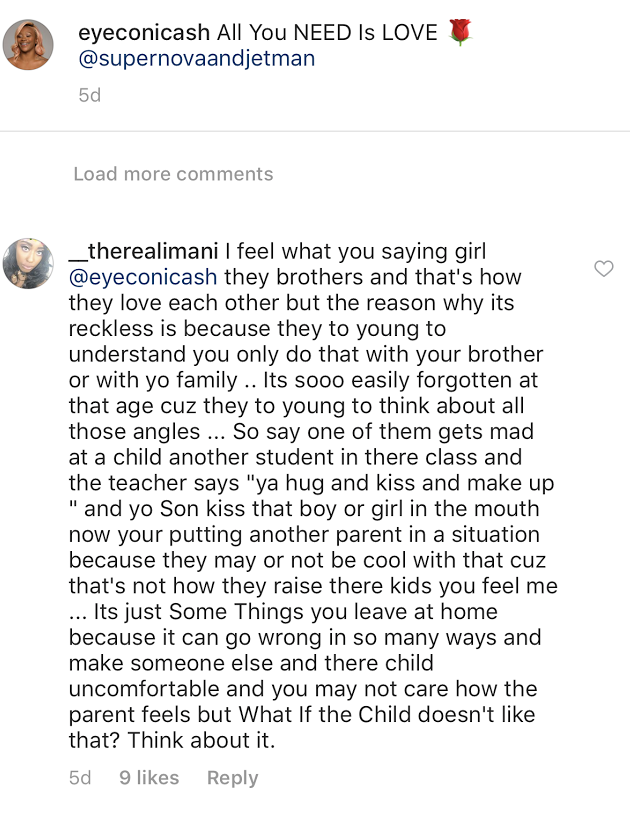 Do you think this warranted the drag session she received in the comments? She decided not to take the video down despite its controversy.
Comments
comments
Central Park Five Prosecutor Elizabeth Lederer Resigns from Columbia Law School
The D.A. that prosecuted the now Exonerated Five has resigned from her position as a professor at Columbia Law School. The release of When They See Us sparked calls for disciplinary action and societal ramifications to be taken against Linda Fairstein, who capitalized on the injustice against 5 Black and Latino teens. Now, the backlash has spread to Elizabeth Lederer, another prosecutor involved in the Central Park Five's legal proceedings.
Columbia Law students were notified via email that Elizabeth Lederer would not be returning to the university. Stating, "it is best for me not to renew my teaching application," Lederer's statement was attached to the announcement from dean of the school, Gillian Lester. Acknowledging the conversation around the Netflix limited series, Lester wrote that the painful discussion of race, identity, and criminal justice was necessary.
While Lederer's statement did not contain a formal apology to the Exonerated Five, she did credit the "publicity" around series for her departure. However, calls for her removal from the staff began long before the release of When They See Us. Elizabeth worked for Columbia Law School as a part-time lecturer much to the dismay of several Black students. On June 11th, The Black Law Students Association of Columbia University published a letter calling for the termination of Elizabeth Lederer's employment. Pointing to her questionable conduct, the students recalled a petition that circulated in 2013 which demanded her removal. Amid the release of the series, the BLSA circulated another petition, once again demanding the same.
Circulated by "our brothers, sisters, and non-binary friends at Columbia University," the BLSA says they've gained thousands of signatures. But the termination of Lederer's employment is the start of their demands. The association is also calling for "professionally-led, mandatory, anti-racist trainings" for all educators at the law school, the re-evaluation of hiring curriculum, and prioritization of culturally competent applicants. The letter, addressed to the Law School Community, highlighted the very employment of Lederer as an act of racism and endorsement of a "carceral state that devalues the lives of Black and Brown people."
Elizabeth Lederer has issued no further comment on the matter. Are you pleased that Lederer has resigned from her position? Would you like to see action taken against other parties involved in the injustice?
Comments
comments
The High Cost of Higher Education
Many Presidential candidates are selling their plans to lift the burden of student loan debt to potential voters. But for millions of the Americans affected by the multigenerational crisis, the only resolution is complete financial absolution.
The threat of another recession is constantly looming above the dreams of a generation that has been robbed of the bare minimum. When matched with employment in a "grind 'til you die" society, millennials face the terror of less than mediocre wages. And when the time comes, their eyes will find a Grim Reaper wielding a scythe of six-figure debts with insurmountable interest rates and steep penalties. For marginalized students, their collegiate aspirations and academic achievements come with the harsh reality that their debt will never stop following them. And that bitter pill is chased by another when you're female, another if you're disabled, another if you're queer, and another when you're Black.
If you don't know better, you can't do better
Financial literacy is not something that the average student leaves high school with. Yet we are all met with the expectation to attend and obtain a costly postsecondary education. Even before that exhilarating march across the stage comes to an end, diploma in hand, a hefty loan for the future has been secured. For first generation attendees, the high stress of non-negotiable success rests on their shoulders. The same can be said for those from any environment where failure is not an option. In that moment, what was once perceived to be just a contract with numbers and percentages, quickly finds life as an expensive burden carrying the weight of the sacrifices and aspirations of not just individuals, but families.
For those who finish the race of academia, they gain the potential advantage of additional resources to help them conquer their debt. But those who succumb to their circumstances toil like Sisyphus, pushing the boulders of their debt up mountains named Navient and Sallie Mae. As they inch ever closer to the summit of repayment, the unpredictable nuisance of a costly emergency rears its ugly head, forcing the boulder back down the mountain with accumulated interest. And thus, the struggle continues.
Stats Paint A Horrific Picture
When examining the statistics of student loan borrowers, balances span every demographic. By race, gender, and even political views, we are united yet divided by our attachment to a $1.56 trillion debt. But the way in which that debt has been accrued by nearly 45 million Americans in a wavering economy where employment and fair wages are not promised is startling. By examining the rates of student loans and tuition hikes over several decades and reviewing how debt was accrued by race and gender, you learn the true cost of a college education. Those hoping to achieve the unattainable American dream will find that citizens in the margins pay the highest price.
In 2004, the student loan crisis was still an issue. Coming in at $345 billion, the balance almost seems manageable compared to what Americans are facing today. But then and now, the borrowers were majorly comprised of those under the age of 30. Making the decision to collectively borrow billions to finance educations and build their futures, millennials hold almost 65% of all student loan debt. While they do not carry the burden alone, as citizens well into their 60s still hold loans, the compounded stress of facing financial, social, and environmental issues has left a generation in distress.
Black People Impacted Most
Over just 15 years, the burden of student loan debt grew 302%, setting an average debt of $32,731 for each borrower. But just looking at the average does not give one a picture of how skewed the track is for those in the race. The factors of race, sexual orientation, economic status, disability, and gender can all prove to be advantages or setbacks. For instance, Black female borrowers face the hardest truth when it comes to how much of their earnings student loan repayment will consume.
Within the first year of post-graduation income, Black women graduates lose 111% of their paycheck to student loan repayment. For Black men, 89% of their initial earnings are absorbed for student loan debt. These statistics are what made Robert F. Smith's contribution to the class of 2019 Morehouse graduates so grand. The prospect of stepping into the world of the working professional with financial absolution is not afforded to many in this life. During a time when Black and Brown people are hit the hardest with financial setbacks, such a gesture speaks volumes.

Degreed LGBTQ+ People Struggle For Proper Pay
In addition to the racial barriers that borrowing and repayment can raise, those within the queer community find hurdles of their own to jump. According to a study conducted by Student Loan Hero, the majority of LGBTQ+ student loan borrowers regret taking on debt. Queer borrowers are less likely to be paid appropriately for their work, are frequently denied financial help, and don't find their student loan debt manageable. When the added costs of being ostracized by one's family are considered along with the other forms of discrimination queer persons face, the deck is further stacked against them. For many people, this can create a disappointing ultimatum – finishing school and accruing more debt to do so or dropping out to avoid costs becoming too great.

The socioeconomic barriers that prohibit marginalized people from advancing in life are inherently built on White supremacy. The system of student loans and private lending for education are no different in that regard.

This is part one of a two part discussion on the cost of higher education for marginalized groups in America.
Comments
comments
'When They See Us' Sparks Calls for Action Against Linda Fairstein
May 31st, Netflix released Ava DuVernay's When They See Us to critical acclaim. But malaise followed once those outraged by the story of 'The Central Park Five' realized lead prosecutor Linda Fairstein is not at all remorseful for her part in mishandling the 1989 case.
Viewers of the Netflix limited series worked quickly to locate the social media presence of prosecutor-turned-writer Linda Fairstein. Targeting her Twitter account, the public demanded a statement and apology for her poor decisions and the discriminatory practices which led to the wrongful arrests of five teens. Yet, those expecting a contrite attorney would only be disappointed to find a boastful best-selling author standing proudly in her bigotry.
Following the unlawful incarceration and vilification of The Central Park Five, Linda began a career as a mystery writer. Capitalizing on her so-called legal expertise, Fairstein has penned 24 works which draw on her experience as an attorney. While much of her writing is fiction, her only nonfiction work is about her war against sexual violence. However, Linda Fairstein helped Harvey Weinstein evade assault charges in the hopes of securing a movie deal for her novels. Along with setting her personal convictions aside for gain, Linda has passed on other opportunities to prosecute white rapists/killers. She has also advised fellow prosecutors in the case of Dominique Strauss-Kahn, a French diplomat that sexually assaulted his African maid. Her advice eventually led to charges against Strauss-Kahn being dropped.
Since learning of the depths of Linda Fairstein's treachery, the public has called for publishers to refuse to release any existing or pending works in progress. They are also calling for her novels to be pulled from Amazon. Stating, "Fairstein achieved her fame & fortune through her wild imagination & at the expense of five INNOCENT children's pain" nearly 43K people have rallied to cancel the former prosecutor. But viewers of When They See Us aren't the only ones on board. Central Park Five Exoneree Raymond Santana has spoken out in support of the movement to boycott Linda Fairstein and all of her works.
Comments
comments