A flurry of tweets erupted from Kanye West's Twitter account. Alleging Drake threatened him, Kanye says Drake has gone too far.
"No tough talk either"
At 10pm EST, Kanye began his tweet streak, calling out Drake's shady behavior. In the 4-hour-long tirade, he implied Drake was responsible for the hospitalized Pusha T concertgoer that rushed the stage. He also credited Drake for the death of XXXTentacion and arrest of Tekashi69. Saying "I got a family and kids", it seems Kanye may fear for his safety.
So drake if anything happens to me or anyone from my family you are the first suspect So cut the tough talk

— ye (@kanyewest) December 14, 2018
"I need my apologies now!"
Calling him "disrespectful to all people with mental health conditions", Kanye implored Drake to work things out. In the past, Drake has held an extensive feud with Kid Cudi, who famously struggles with depression. Going for the low blow after being name-checked for having ghost writers, Drake said this in "Two Birds, One Stone":
"You stay xanned and perc'd up, so when reality set in, you don't gotta face/Look what happens soon as you talk to me crazy/Is you crazy?"
The track, released while Kid Cudi was seeking care in a rehabilitation facility, sent him into a tizzy, promising retaliation upon release. But Cudi would need to aim twice if he wanted retribution, as Kanye was credited as a writer for the diss. Despite championing for the normalization of mental health care discussion in recent years, Kanye does not have clean hands either.
If I'm bipolar This kind of shit can get me ramped

— ye (@kanyewest) December 14, 2018
While no one is entirely sure what caused the beef, tweets about 2 hours into Kanye's rant hinted why. Blaming Travis Scott, Drake drew his ire for dissing him in "Sicko Mode". Claiming "Trav is my family and let this met throw sneak disses at me for clout", Kanye says he heard there was more to Drake's verse insulting him.
Through it all, Drake seemed to be amused by his meltdown, allegedly sending "purple emojis" to Kim. He even requested clearance for "Say What's Real". Kanye ultimately denied the request for the sample.
Never one to stand idly by when it comes to family, Kim eventually popped out to defend her man.
Completely sidestepping Lil Wayne's discovery of Drake, many said Kimberly should've just sat there and ate her food.
While there's no indication there's been a resolution to their disagreement, Kanye says "don't sneak diss or diss at all".
What do you think about this situation? Is the King of Calabasas really about that action or is he bluffing?
Comments
comments
Megan Thee Stallion Says That She Was Shot "I Suffered Gun Shot Wounds"
Megan Thee Stallion has revealed that the injuries she sustained at Kylie Jenner's pool party were much more serious than we originally had been led to believe. In a post on Instagram, Megan makes clear that she was not only shot, but shot intentionally.
More information is needed to understand exactly what happened that night. For instance, Megan says the attack was intentional. Originally, I thought that the only gun in this scenario was Torey Lanez, but Megan's story either indicated that I was wrong about that or wrong about Torey Lanez, in general. Mind you, this wouldn't be the first time we'd be duped by Torey. If you'll recall, this is the same man who faked his support for dark skinned women by claiming that someone had replaced them with light skinned women and he, the knight he was, came in and switched them back. That isn't to imply that he had any hand in Megan being shot, but it is peculiar that we're suddenly hearing about a second shooter.
At the end of the day, we are forced to sit and wait until Megan and her lawyers feel ready to tell us more. I do know one thing for sure, though. If anything happens to Megan, I might have to intervene.
Comments
comments
Porsha Williams and Yandy Smith Arrested While Protesting for Breonna Taylor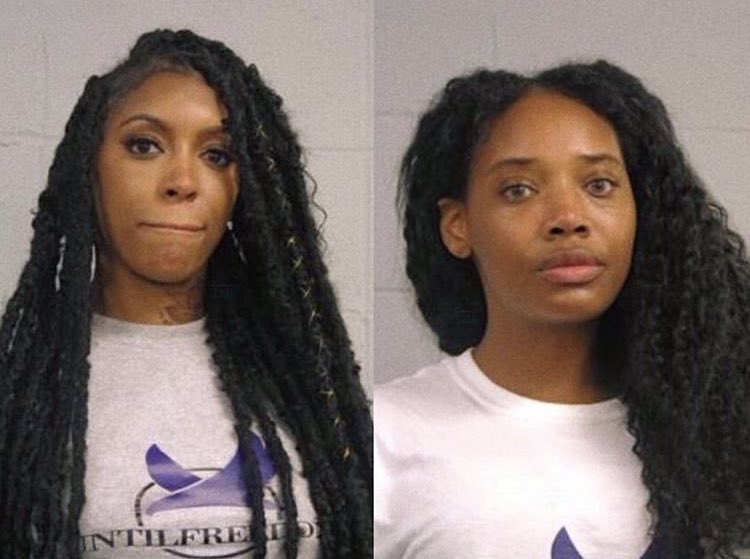 Everybody's favorite Peach and the Love & Hip Hop princess were recently arrested for protesting outside the house of the Kentucky Attorney General Daniel Cameron. Videos circulated of the arrest, leading to an outpouring of support for them.
Since these uprisings began, Porsha, specifically, has transformed from a walking glamor-shot into a head and flats-wearing protester. Together, she and Yandy have put their money and bodies where their mouths are in order to bolster the voices of justice-seekers and help protect protesters.
That was clear to see when Porsha X and Yandy Luther King were released from prison 12 hours later. One way in which celebrities can help in these situations is by ensuring that people are treated more fairly by proximity. While police departments have no problem being needlessly aggressive toward protesters, having a celebrity in the mix can sometimes cause them to rethink some of the more heinous actions, so as to end up another headline. I'm not sure that this was the case in Kentucky, but these women seem to be making an effort to use whatever resources they have to push society in the right direction.
Comments
comments
ViacomCBS Cuts Ties With Nick Cannon for "anti-Semitic" Comments
Nick Cannon has put his foot in his mouth, once again. This time a different crowd has noticed and the consequences are much heftier than his annually-scheduled dragging.
Unfortunately, Nick Cannon has a podcast. In a recent episode, the conversation took a turn down a very rough, ahistorical road. That's right, everybody, Nick Cannon appears to be a Black Isrealite. If you don't know, the Black Isrealites are a group of people who believe they are God's chosen people, Jews, and that the White Jewish people of today are simply imposters who have taken on the identity for themselves. As you might have surmised, a general distaste for White Jewish people is a heavy thread here, as is the kind of paranoia that moves a man to bomb his own career.
The main comments that people are focused on are those made about the Rothschild family. This is a common talking point for those who believe the Jewish community is secretly controlling the world. Nick should know that if your belief system gets an "A+" rating from both Hitler and Farrakhan, maybe you should get a little more introspective. Alas, instead, he tweeted a non-apology and proceeded to retweet his supporters as they came to his defense.
Of course, there are a few aspects of this moment that complicate this story. The Black community has long been subject to White supremacist capitalism. White Jewish people have been able to build communities of sustained wealth in America, partially due to their Whiteness. Given the current moment, people have seen fit to call out how that subscription to Whiteness has negatively impacted the Black community. On top of that is the uncharacteristic swiftness with which the cord was yanked on Nick Cannon's career. Viacom claims to have reached out to Nick, but were dissatisfied with his response. That is fine. But I'd be lying if said I didn't wonder what this would look if the rolls were reversed and Nick Cannon was a White man. While there's really no defending him— and I'd never want to— the response to his actions isn't quite sitting well with me. Their statement on the matter is thus, according to Variety:
ViacomCBS condemns bigotry of any kind and we categorically denounce all forms of anti-Semitism. We have spoken with Nick Cannon about an episode of his podcast 'Cannon's Class' on YouTube, which promoted hateful speech and spread anti-Semitic conspiracy theories. While we support ongoing education and dialogue in the fight against bigotry, we are deeply troubled that Nick has failed to acknowledge or apologize for perpetuating anti-Semitism, and we are terminating our relationship with him. We are committed to doing better in our response to incidents of anti-Semitism, racism, and bigotry. ViacomCBS will have further announcements on our efforts to combat hate of all kinds

ViacomCBS, Variety
Comments
comments