As the breakout star of Straight Outta Compton, Jason Mitchell made his mark with a spot on performance as Eazy E. His indisputable talent caught the eyes of top-notch talent agencies and management. His star was rising, only to descend with equal speed. The one-time star of Showtime's drama, The Chi, has found himself out of all jobs and prospects, lacking management, or a talent agency after allegations of "inappropriate behavior".
Jason Mitchell was in line to star as the lead of Desperados, a Netflix film, when the news of an off-set incident made its way to the ears of producers. While the details of what happened have not been made public, the fallout of Mitchell's actions has been swift. Since Netflix conducted an investigation into the misconduct allegation, news of the incident spread to the ears of his other employers. This led to Mitchell being dropped by his agency, his management company, Netflix, and Showtime.
Representatives for United Talent Agency, Authentic Talent & Literary Management, and Netflix production company Good Universe have all confirmed Mitchell's unemployment. In the past, an incident occurred on the set of The Chi. There were allegations of inappropriate behavior involving Tiffany Boone, who plays Mitchell's girlfriend on the show. While resolved, the history of Mitchell's repeated complaints of sexual harassment have influenced future decisions. The series was recently renewed but production company Fox 21 Television Studios opted not to pick up Mitchell's option for the third season.
Jason Mitchell has not made any comments on the matter at this time.
Comments
comments
Back to Da Cell! 'Real Housewives of Atlanta' Alum Apollo Nida Arrested AGAIN After Violating Parole
Apollo Nida just celebrated his release from prison last week and now the RHOA alum is behind bars again! According to Page Six, US Marshals detained Apollo for breaking a technical condition of his release.
Having just finished five years behind bars, Nida was headed for a prison release program. But now he'll have to postpone reuniting with his children and fiance because he violated his probation. According to a representative, Nida isn't quite arrested, but there "was an order of the court bring him into custody". While the terms of Apollo's release aren't public, he was allegedly detained for violating conditions of his release.
Apollo, who was released early due to credit for time served, was initially sentenced to 96-months behind bars. He was expected to complete a prison release program in Philadelphia. Now, it's questionable what the future holds for the two-time felon.
Apollo's fiance, Sherien Almufti hasn't released a formal statement explaining what happened. However, she did post a recent photo of herself and Nida on Instagram with a scathing caption calling out his probation officer. Sherien said "For those who are confused @apollonida03 didn't violate a goddamn thing. Another crime against a black man in the system. Jealousy is a disease and his PO will die mad!!"
Comments
comments
Chris Brown Dragged For Insulting Victor Cruz, Karrueche Tran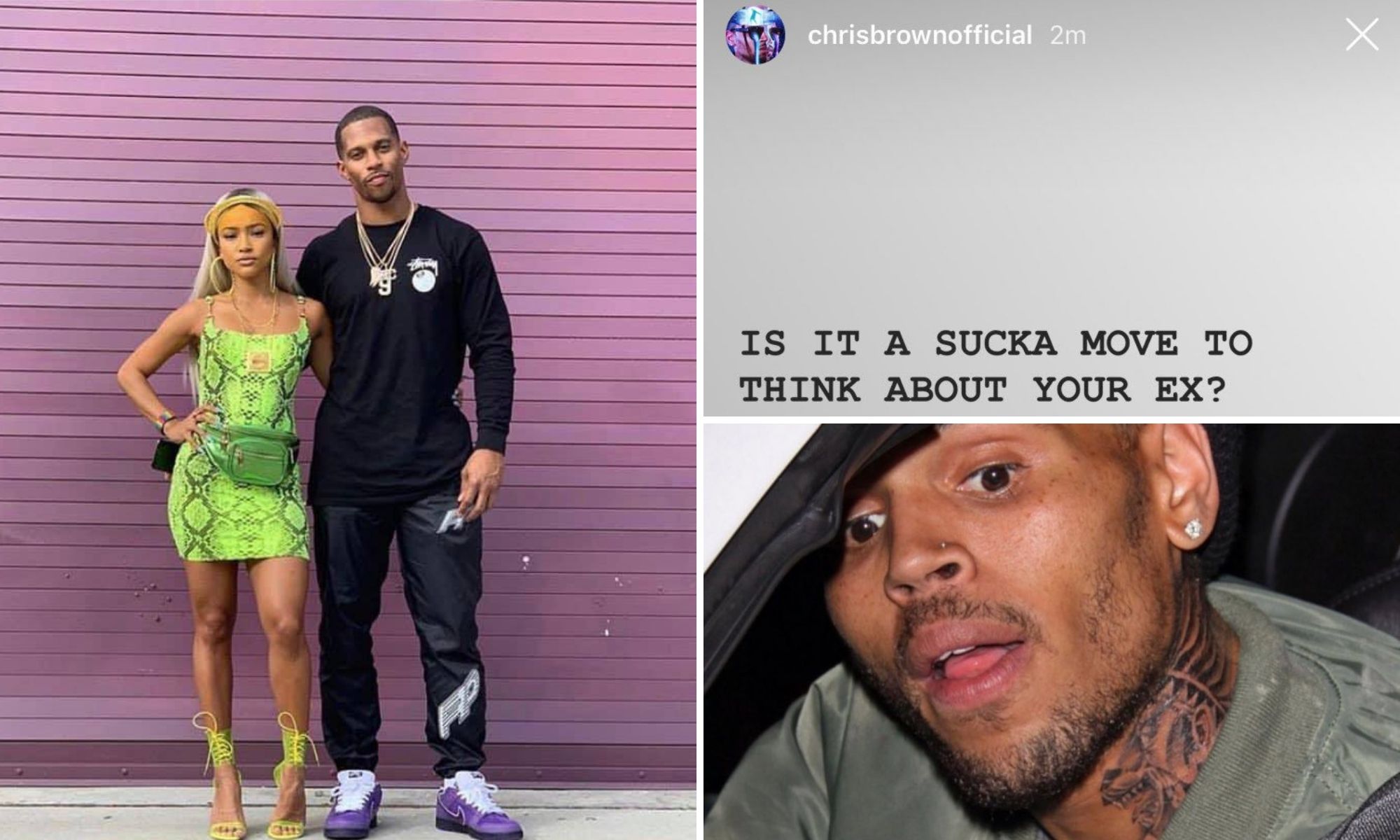 Chris Brown's recent behavior is a lesson that domestic violence has no limitations. The singer and proven abuser has shown his true colors again by leaving harassing comments beneath Victor Cruz's Instagram post.
Targeting the fashion sense of Karrueche's longtime boyfriend Victor Cruz, Chris Brown left several disparaging comments in close succession. Stating he needed a stylist and she should "upgrade ya man," Chris Brown is still attacking his ex after five years of separation.
The one-time couple split in 2015 after a very public shouting match following Karrueche's discovery that Chris fathered a love child with Nia Guzman, a stripper from Texas. During the lengthy argument, Chris forced himself into Karrueche's vehicle and despite being dropped off at a different location, he arrived at her home to argue at 3 am. This led to Karrueche securing a restraining order against the singer in 2017, approved for 5 years.
During the hearing where Karrueche petitioned for a restraining order against Chris Brown, she provided evidence of threatening messages and testified that Chris had physically abused her. To make matters worse the physical violence took place while Chris Brown was on probation for the brutal abuse of Rihanna! The text messages Karrueche received contained threats like "Bitch I will beat the sh*t out of you" and "I will make your life hell."
The comments Chris made beneath the photo of Karrueche and Victor were not light humor. In the past, Chris Brown left threatening messages beneath a photo of Tran and Michael B. Jordan. Stating "Imma kill blood", Chris Brown threatened her and the actors lives, making good on his promise to "make you hate me even more."
Fans of Karrueche were quick to point out how childish and threatening Chris Brown's messages were. But what's more important is that Chris Brown's comments may violate the terms of his restraining order. If Karrueche's terms include clauses for social media use, CB could be in trouble. Karrueche's current order doesn't expire until 2022, so maybe the singer should focus on backflips before he lands in jail.
Comments
comments
Wendy Williams' Gets Her Groove Back With 27-Year-Old Ex-Con
Spotted in the vehicle as TMZ ran up for a potentially staged paparazzi session, Wendy's mystery man was been a hot topic. Fans of the talk show host and those supporting her best life as she divorces Kevin Hunter, want to know who her flavor of the month is. Thanks to Bossip, we now know that 54-year-old Williams is getting cozy with a 27-year old named Marc Tomblin.
Bossip discovered the identify of Wendy's new man and quickly uncovered his criminal history. While Wendy is aware of his muddy past, she says she knows what she's doing. Let's hope, sis!
Wendy's new beau is a convicted felon who claims to be a financial investigator and blogger according to his LinkedIn profile. But before he hooked up with Wendy, Tomblin was arrested for robbery with a dangerous weapon and breaking and entering. Still, Wendy doesn't care about his past and is declaring it a hot girl summer with the rest of us.
Ms. Wendy Thee Show Pony called out Kevin for having "a full baby with a woman he was involved with for 15 years" while keeping her cooped up. Proud to be living her best life, Wendy is just enjoying Marc Tomblin's company despite their May-December age difference.
As for whether things will ever get serious for her again, Wendy says not so fast! During a recent taping of The Wendy Williams Show, she gushed about her newfound freedom. Stating, "I don't have a boyfriend, but I must admit I am rediscovering my love of men.", Wendy has made it clear she's not looking for a long time, just a good one.
Are you here for the new Wendy?
Comments
comments