This is an open post. The views expressed by this writer are not of the King of Reads or JustinJ. This email has sat in my inbox for a couple of weeks as I was unsure how to get out without going through drama. But, it's Wednesday and y'all need some tea.
So there's a private group on Facebook exclusive to only to the Dancing Doll Parents.
Now you would think that a Dancing Doll Facebook Group would be about practice, competitions and what not. But nope…
Sounds like she is referring to the alleged rumors of infidelity from her husband Robert Williams. Infidelity is almost always used to hurt a married woman when someone is trying to get at them. Not sure who the woman is in this picture but she has to be close to someone. If you look to the right of the photo you can see someone sitting next to her on the phone…..
This is the woman that Dianna claims to not like.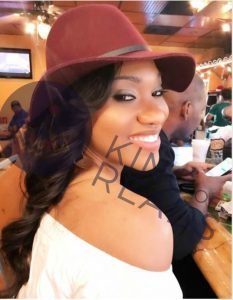 One can only imagine what all Dianna deals with. But some of these exchanges she shared with parents in this group are kind of alarming.
Some of the exchanges in this group… Chile….
"Call a B*TCH ask me!" I am hollering do y'all hear me! 
Exchanges between parents get heated sometimes. But this one hurt me.
In my opinion…
Dianna, that was a child. One can understand that you are one busy woman. But you owe every one of those kids under your supervision some respect. They love you and look up to you. You are known! Kids across the world love you and your show. Without these kids, there would be no Dancing Dolls. Without the parents there would not be a Dancing Dolls.
If you don't want your number out, create a Google Voice number and give that out. You're in the big leagues now. Fix it Jesus.
They were so many screenshots of conversations and exchanges you are going to have to see for yourself.
What do you think of the exchanges? Is it not that serious or should Dianna learn how to control her temper when dealing with her parents?
Comments
comments
Fix It Jesus! Mo'nique Asks For A Boycott of Netflix After Declining Their Small Offer For Comedy Special
Mo'nique is shedding light on Hollywood again, but this time the light is a little dim. The Academy Award winner took to Instagram to voice her disappointment in Netflix's abysmal offer for a comedy special. She claims they offered her $500,000 and that was nowhere near what Amy Schumer was offered.
"Hey my loves, I am asking that you stand with me and boycott Netflix for gender bias and color bias. I was offered a $500,000 deal last week to do a comedy special. However, Amy Schumer was offered $11 million, Chris Rock and Dave Chappelle, $20 million. Then Amy Schumer went back and renegotiated 2 more million dollars because she said, 'I shouldn't get what the men are getting, they're legends. However, I should get more' and Netflix agreed.
Still, don't believe it… take a look at the video for yourself.
OMG
My reaction
Let us not be petty. Mo'nique deserves more than $500,000, honestly. She has proven herself despite being blackballed in Hollywood (allegedly).
Mo'nique isn't entirely wrong for pushing back against the offer — we do know there is some bias when it comes to women in the industry, and she is a black woman, so she gets it twice as hard.
If it were me, I would've taken the money and kept it moving. Let's be realistic — Netflix isn't going anywhere, and a boycott won't be happening for something like this. We aren't cutting the chord. Plus, Netflix has been offering us some good, quality content lately.
Mo'nique shared the video on Instagram and barely garnered 50,000 views in 5 hours. It took The Shade Room to help it get some attention. Netlix gambled and now Monique is gambling but she has way more to lose.
Should Mo'nique have taken the money and minded her business, or does she have a point, even if isn't very sharp?
Comments
comments
Offset:"I Cannot Vibe With Queers" While Wearing Queer Designers
Fellow Migos rapper Offset just keeps running into the mess in 2018! The rapper has made headlines for cheating on his fiance of 90 days and now he can add another headline for a verse dropped referring to him not vibing with queers.
He was featured on Boss Life with YFN Lucci. You can hear the song in its entirety below but the "I cannot vibe with queers." starts at 0:23.
I swear Offset murders every feature that he is on pic.twitter.com/LjLNqNIxDI

— WSHH DAILY (@WSHHDAILYMUSIC) January 17, 2018
.
.
.
I will never understand how rappers spew homophobic comments and lyrics like this but continue to wear queer designers and even mention them in their songs. Why even mention you don't vibe with queers in a song? Cardi B get your man.
Was the verse necessary? Or should we not expect much from someone who records themselves cheating?
UPDATE: Offset has now released an apology via Instagram.
Considering the incident his group Migos had with performing with drag queens during Katy Perry's SNL performance, I'm not buying it. Not to forget about the group's comment on ILoveMackonnen the rapper who came out last year. "The world is fucked up. This world is not right."
How many more times is the group together and separately going to apologize for homophobic comments like this?
Comments
comments
Singer Seal Reads Fox News, Stacey Dash and Everyone Else
On Friday, January 12, 2018, singer Seal took to his social media to read Fox News, former video vixen Stacey Dash and every other critic of his January 10th Instagram post. In that post, which Seal re-posted a meme of television mogul Oprah Winfrey with dethroned Hollywood producer Harvey Weinstein with the meme reading; "When you have been part of the problem for decades…but suddenly they all think you are the solution". This came days after Winfrey received her historic Golden Globe honor and gave her much-publicized acceptance speech referencing the #MeToo and Time's Up movement.
In the wake of his post Seal found himself in a publicity storm with Fox News discussing the merit of his post as well as black Twitter tearing the singer apart, calling him everything from an "Uncle Tom" to a "coon".
After two days it would seem like Seal had finally had enough and posted a video letting everyone know that he was not attacking Winfrey. In the three-minute video, he refers to Harvey Weinstein as merely the "pig in the picture". He explains that re-posting the meme was not an attempt to come for Winfrey but rather him calling out the "hypocritical and double standard nature and behavior in Hollywood".
To further support Seal's point, in an email obtained from the Motion Picture Editor's Guild, they stated that the "recent public reports about sexual harassment demonstrate what many of us have long known about the entertainment industry – that discrimination and sexual harassment exists and, in many instances, has been tolerated and/or ignored".
Seal went on to state that if these Hollywood men looked anything like him they would be facing more than being merely fired. That their firing isn't real justice for those who have been sexually abused and harassed, these abusers need to be charged.
Before his video ended he addressed Fox New for trying to use him as a pawn against Winfrey and finally coming for the station's favorite puppet Stacey Dash, advising Dash to keep his name out her mouth and commenting that she can stay living in the Sunken Place.
Do you agree with Seal?
Comments
comments