This is an open post. The views expressed by this writer are not of the King of Reads or JustinJ. This email has sat in my inbox for a couple of weeks as I was unsure how to get out without going through drama. But, it's Wednesday and y'all need some tea.
So there's a private group on Facebook exclusive to only to the Dancing Doll Parents.
Now you would think that a Dancing Doll Facebook Group would be about practice, competitions and what not. But nope…
Sounds like she is referring to the alleged rumors of infidelity from her husband Robert Williams. Infidelity is almost always used to hurt a married woman when someone is trying to get at them. Not sure who the woman is in this picture but she has to be close to someone. If you look to the right of the photo you can see someone sitting next to her on the phone…..
This is the woman that Dianna claims to not like.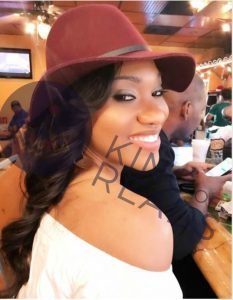 One can only imagine what all Dianna deals with. But some of these exchanges she shared with parents in this group are kind of alarming.
Some of the exchanges in this group… Chile….
"Call a B*TCH ask me!" I am hollering do y'all hear me! 
Exchanges between parents get heated sometimes. But this one hurt me.
In my opinion…
Dianna, that was a child. One can understand that you are one busy woman. But you owe every one of those kids under your supervision some respect. They love you and look up to you. You are known! Kids across the world love you and your show. Without these kids, there would be no Dancing Dolls. Without the parents there would not be a Dancing Dolls.
If you don't want your number out, create a Google Voice number and give that out. You're in the big leagues now. Fix it Jesus.
They were so many screenshots of conversations and exchanges you are going to have to see for yourself.
What do you think of the exchanges? Is it not that serious or should Dianna learn how to control her temper when dealing with her parents?
Comments
comments
Spicy White & Morehouse College Gets Dragged On Twitter For "Being A White Student At Morehouse" Documentary
Vice had the Twitter streets dragging them and Morehouse the last couple of days thanks to a documentary they did with Tiago a white student at supposedly black space. Some weren't feeling and others had their capes out.
VICE: ok so boom….let us come to your historically BLACK institution, completely disregard the many issues your BLACK students face on campus/at HBCUs everywhere, and then we'll give your WHITE student a platform to speak😅

Morehouse: pic.twitter.com/etCW6eSSWq

— DJCM. (@d_mundyy) June 20, 2018
This Tiago guy that Vice featured in the Morehouse thing called King Chapel "King's Chapel" and he's an ambassador. pic.twitter.com/smX8oPhO9x

— |Black| + Unconquerable Soul (@NewAge_Moses) June 20, 2018
If y'all have enough time to cape for the spicy white at Morehouse and not hold Morehouse accountable for the years of protecting rapists than I don't have time for you.

— Clarissa Brooks (@ClarissaMBrooks) June 20, 2018
Comments
comments
All of This is Yours, The Series, Takes Off!
Discover the world through the eyes of the children who live in its four corners!
In an era plagued by hatred and hyper-nationalism, an ebullient teacher takes young viewers on a global journey. Along the way, she'll share the ways that children in vastly different cultures live, learn and experience their world. Costa Rica to Capetown. 13 episodes/13 international destinations. Adventure, learning, hilarity and joy ensue in the global community.
Short Summary
All of This Is Yours provides young audiences with the educational tools they need to begin creating the world they want to live in as global citizens through an episodic journey filled with unique cultural experiences and practical lessons that children can use in their everyday lives. The campaign will raise money for a pilot episode which will take Robin to San Jose Costa Rica where she will meet Amanda, a young girl ready to share her life, and her extended family, with the world.
Robin Hancock has been an avid traveler all her life. While working on a doctorate in education, she got the idea to create a series that blended her love for travel with her passion for early childhood ed. Her life's work examines the ways that identifying as a global citizen can empower children to walk in the world with confidence, pride in their communities and awareness of their positions as members of a large and vibrant global community.
This is Robin's passion project and her heart's desire for the last ten years has been to make this series a reality. Your contribution to the creation of the pilot episode will contribute to a field desperately in need of new and exciting voices. No gift is too small (or too big)!!
The Impact
Nowhere on television is there a travel series that is  1) hosted by a woman of color 2) geared towards educating children and 3) focused on teaching global citizenship. The travel genre remains a deeply segregated space and very few series in the genre are created intentionally for children. This series will counter the negative messages of division and hyper-nationalism that are so prevalent in our society. Our goals for the series are to:
– Provide the (near absent) representation of central characters of color in the travel show genre.
– Provide a travel series that is geared towards young children in a genre that is tailored almost exclusively to adults.
– Create an educational platform for children to learn about the world through observing the experiences of other children like them who live in and negotiate that world as well.
– Create a context where children are learning the primary tenets of Global Citizenship early in life.
– Challenge the messages of separation and division currently being taught through our government, media and social spaces.
Ways You Can Help
Please make a LOT of noise about this project. You can do that in a number of ways:
Post this on all of your social media pages
Circulate it to ALL of your friends and social networks
share in your frequently visited spaces
Stand on corners and knock on doors (just kidding…kind of…)
Comments
comments
Alleged Abuser Rapper XXXTentacion Pronounced Dead
Broward Co. Sherriff Department pronounced controversial rapper XXXTentacion dead today in Miami. Witnesses say that he had no pulse at the scene. The shooting happened while he was shopping for motorcycles and things took a turn for the worst. People on the scene reported seeing a black SUV leaving the scene of the crime.
According to the dispatch call the suspects were described as 2 black males wearing hoodies, and the shooter was wearing a red mask.

The car has been confirmed as a black Dodge Journey, with dark tint and black wheels.

2:14 PM PT — Witnesses told cops a Louis Vuitton bag was taken from XXX's vehicle.

1:57 PM PT — Additional dispatch audio has revealed XXX was transported as a "Level 1" trauma patient … dispatchers described him as comatose. via TMZ
Audio of the 911 dispatch has been obtained by TMZ.
XXXTentacion was experiencing a lot of commercial success even with his troubled past being brought to light. In an interview with Grandmaison's YouTube podcast, No Jumper, we were given a bit of insight into just how violent his past really was. In this interview, the rapper details how he almost killed his cellmate who he assumed was gay because he was staring at him.
XXXTentacion: So I'm like strangling him, and he's like leaking, leaking, leaking type shit, and I'm strangling him so he doesn't scream… Don't think I'm trying to be cliché or a fucking weirdo when I say this, but I was going crazy. Like, I smear his blood on my face, in my hands, I got it in my nails, bro, I had it all over me.

Grandmaison: War paint. That's tight.
A year ago he tweeted this.
"Next time make sure you kill me so I can't talk shit."
WARNING GRAPHIC VIDEO AHEAD!
Will you be mourning his death?
Comments
comments