The R&B diva has moved on from her ex husband, Michael Ford, and got remarried last month to Zachariah Darring. When telling TMZ about her new hubby Wyatt says, he's way better than Darring and he's got her back forever.
The good news just keeps on rolling for Wyatt. Not only is she celebrating her new marriage but her child is also cancer-free. It's seems like 2018 ended up to be her year. After moving on from her "toxic" ex husband she's now in a better place and living her best life.
There's nothing in this world that can break Wyatt now. She's bouncing back and is happier than ever. Let's hope she stays this way.
Comments
comments
Wendy Williams Reveals She's Been Living in "Sober Home"
For years people scolded Wendy for never spilling her own tea. Well, here it is. Wendy Williams has been living in a "sober home" to quietly get treatment for a long unresolved addition to cocaine.
Revealing a secret known only to her husband, Kevin Hunter, Wendy says although she has always been candid about her cocaine use, she never sought treatment. The daytime television gossip queen shared with her audience that after each episode is filmed she goes to her Pilates class and then heads to several meetings across the city before ultimately returning to her group home. Driven by a "24-hour sober coach", Wendy has been rooming at a facility where it's "doors locked by 10 pm, lights out by 10pm." Detailing her evenings, she says, "I go to my room and stare at the ceiling and fall asleep to come here and see you."
"It's my truth."
Over the course of her career, Wendy Williams has discussed her drug use multiple times. However, when it comes to how she stopped, Wendy says, "I never went to a place to get the treatment — I didn't know how, except God was just sitting on my shoulder and I just stopped." While she was seeking professional help for her addiction, Wendy said she did not confide in her other family members. As for whether her stay in the group home contributed to her absence from January to March 4th, we can't be sure. A fractured shoulder and ongoing battle with Graves' disease are credited as responsible for her extended break.
Wendy's admission has been applauded by many who want to remove the stigma surrounding drug addiction discussions. Many have taken to Twitter to share their love and support for her. Recently, Wendy's foundation partnered with an organization geared toward branching treatment and long-term recovery. She hopes that by being open about her struggle, other will be inspired to get the help they need.
If you or someone you know is in need of treatment or counseling for substance abuse, please contact the helpline at 1-888-633-3239 or visit drughelpline.org for further assistance.
Comments
comments
Tom Ford "Fake" Tweet Shakes Up Trump Supporters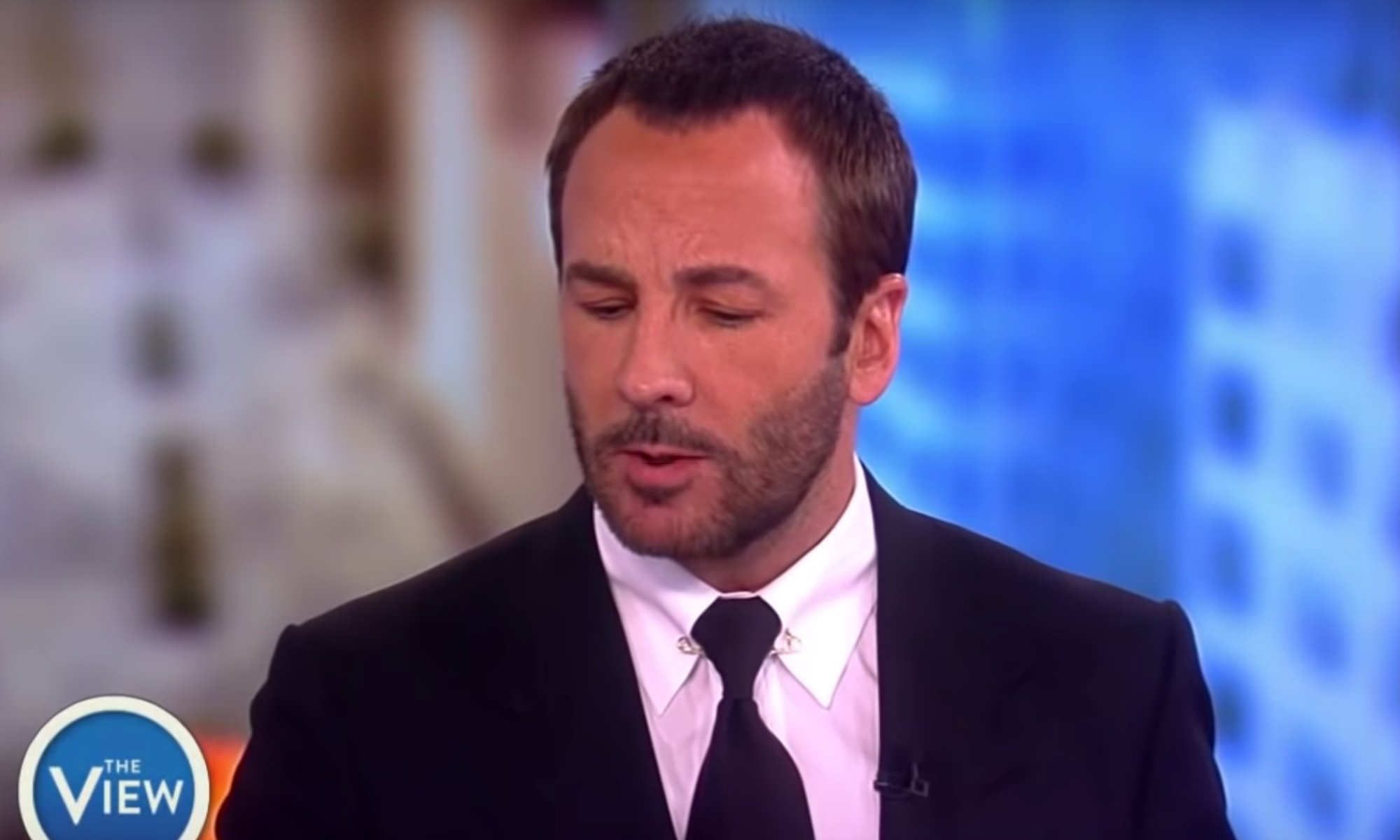 Twitter users awoke this morning to find Tom Ford trending for all the right reasons. The fashion powerhouse's refusal to dress a certain "glorified escort" has Trump supporters in his mentions ready to fight.
Shouting "BOYCOTT!" from the Walmart clearance section, Trump supporters have taken aim at Tom Ford for his refusal to clothe First Lady Melania Trump. Having allegedly said "I have no interest in dressing a glorified escort who steals speeches and has bad taste in men," Tom Ford just made his way onto their burn list. There's just one problem — he may not have actually said those words.
The uproar has come from the resurfacing of an out-of-context quote from 2016 article by The Washington Post. Still, The MAGAts™ are threatening to destroy their Tom Ford pieces as if they could afford the expensive brand in the first place. Pieces for his women's ready-to-wear line begin at $520 and end at $58,900 and men's items begin at $65 (for underwear) and end at $11,990. So it's unlikely anyone will be giving Tom Ford the Nike treatment.
The MAGAt uproar hasn't kept anyone from getting laughs at their expense.
Comments
comments
Jess Hilarious Catches Heat for Islamophobic Remarks
Just days after the Christchurch terrorist attack that robbed nearly 50 Muslims of their lives and injured 50 more, Jess Hilarious has bared her xenophobia for the world to see. Using fear for her safety as an excuse, the aptly named Jess With The Mess profiled a Sikh family that was allegedly ejected from her flight.
@jess_hilarious you are racist af & sound so damn ignorant. The Sikh man was minding his business, is that what you felt THREATENED about?! #JessHilarious pic.twitter.com/b2DdZJYvU5

— s a r a (@sara_zfa) March 17, 2019
Stating "I feel how I feel. I felt threatened and that was it," Jessica "Jess Hilarious" Moore has committed to standing in a grave of bigotry that is certain to claim her career. She has become notorious in recent months for spewing hatred against queer people. Now, she's directing that ignorance toward a community that has suffered major atrocities in America and beyond.
The Xenophobia Jumped Out
According to Jess With The Mess, they boarded the same plane and she "didn't see those people." However, sources say the Sikh family was not removed from the flight. Basking disgustingly in the news of their removal, she failed to realize that Islamophobia doesn't look good on her or anyone else.
Jess Hilarious has been getting dragged by Twitter users for her Islamophobic remarks and has since attempted to explain herself via Instagram Stories. However, her posts are rife with contradictions. She directly asks "Where are you going?" while focusing the camera on the Sikh family. During the time between boarding, she can be heard LOUDLY voicing her concerns. Yelling at one's phone in the middle of an airport, regardless of how busy, never goes unnoticed.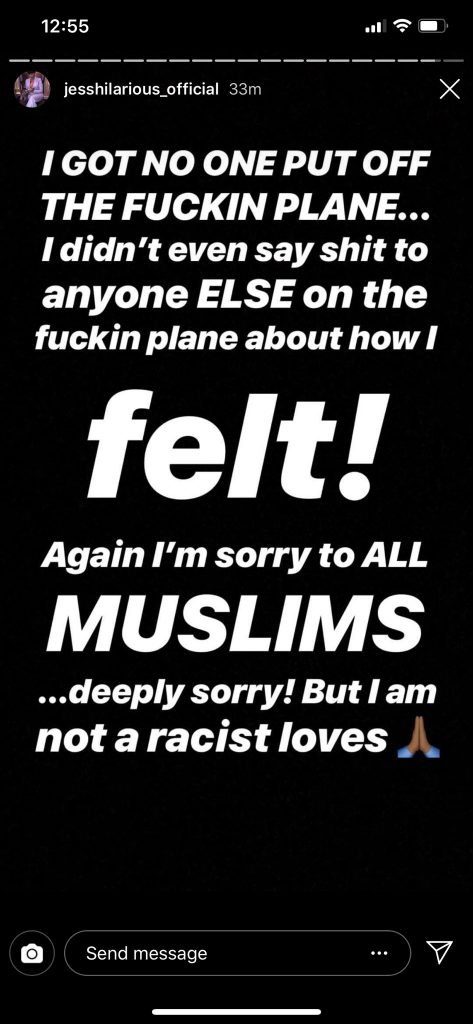 In peak White Woman™ fashion, Jess immediately adopted the "We have [insert marginalized group] in my family" trope to explain away her apparent bigoted remarks. But no one is buying what she's selling. By using fear for her safety as a qualifier for her ignorance, Jess has employed a tactic famous within several circles of systematic oppression, particularly cops who kill unarmed Black people.
As for whether she's taking accountability for the weight of her trash words during such sensitive time, the answer is a resounding NO.
Comments
comments