Not sure what Chris Brown is smoking or snorting but the artist is interested in going on tour with some of the greats and he wants a 10% cut. Chris Brown took to Twitter to explain to fans what a tour with be like with him Rihanna, Bruno Mars and even Beyoncé.
2 for 2! That's what he wants to call it. The only number we're interested in is 9 years since he physically assaulted Rihanna. No matter how many years it has been, Chris Brown should leave Rihanna alone unless she contacts him.
Not only Rihanna but Beyoncé and Bruno Mars as well.
Just thinking…. A CRAZY WORLD TOUR would BEYONCE, RIHANNA, BRUNO MARS, CHRIS BROWN. "2 for 2". And if y'all decide to do it without me… give me 10%. 😏

— Chris Brown (@chrisbrown) February 9, 2018
HE GOT TO BE!!
chris brown really put himself in the same category as rihanna, beyonce, and bruno mars. i'm logging off.

— king crissle (@crissles) February 9, 2018
Ppl saying Chris Brown not on Beyonce , Rihanna or Bruno level. Listen….you ain't gotta like him but talent wise…… That man is THERE!!!!! CLASSIC AFTER CLASSIC AFTER CLASSIC. We can argue

— 🦄 (@MizzCreme) February 9, 2018
The way some black people will STILL go up for people like Chris Brown and R. Kelly is honestly toxic as hell. I want no parts and will ALWAYS side eye you for it. pic.twitter.com/KSnWZzG6d1

— I Luh God ✨ (@aVeryRichBish) February 9, 2018
What do you think? Would you pay to see all of them Chrisdemeanor?
Comments
comments
#MuteRKelly vs #TurnRKellyUp
In retaliation of the Mute R Kelly campaign, which was launched because of the inhumane treatment of women, many of which who were under the legal age of consent, in an alleged sex cult and harem, Kelly has been accused of running for many years.
Kelly has launched the Turn R Kelly Up movement. Over the weekend during his show in North Carolina, Kelly gave out t-shirts and briefly addressed the crowd, with what appeared to be a "woe is me" cry for support.
Watch the plea here:
Kelly has been accused of sleeping with teenagers for years. He was first accused of marrying singer Aaliyah when she was only 15 years old, that marriage was annulled. He was then accused of sleeping with singer Sparkle's niece, while she was only 14 years old and making the infamous sex tape, in which his reputation for giving out golden showers precedes him to this day.
Quite frankly, Kelly's reputation overall is absolutely horrific. There are countless stories regarding how Kelly has a God complex because he has been able to get away with a lot of sick and twisted acts, with little to no repercussions.
Kelly Was Arrested on Child Pornography Charges
The singer was arrested in June of 2002 on child pornography charges, he posted $750,000 bail but then was arrested again in January 2003 on 16 additional child pornography charges, when photos of a naked, underage girl were found on his computer.
In addition to the accurately depicted Pied Piper persona, Kelly has also severed ties with his brother, Carey Kelly, who he expected to take the fall for his devious behavior, in addition to singers Neyo, Jay Z, and countless others, because of his superiority complex.
Recently, celebrities such as John Legend, Shonda Rimes, Viola Davis have banded in the #TimesUp movement to mute R Kelly, which has resulted in music platforms such as Spotify and Apple Music pulling back on the promotion of Kelly's music. His music will still be available, it just won't be highlighted.
Kelly's Team Jumps Ship
In addition, Kelly's female attorney, publicist, and assistant have also jumped ship. This can't be a good sign. I'm sure they know much more about the inner workings of what goes on with Kelly's alleged occult, behind closed doors. They don't want to go down with him, permanently ruining their name and reputation, by supporting a predator.
It truly appears that all of Kelly's dirt and wrongdoings are about to catch up to him. Although there will always be those that turn a blind eye to the singer's misdeeds because he is such a gifted artist (which is reflected in his sold-out performance over the weekend in Fayetteville, NC).
#ItsAboutDamnTime Movement
Soon and very soon we will be transitioning from #TimesUp to #ItsAboutDamnTime, and others that follow behind R Kelly will think twice before violating young, impressionable women ever again. Until then, we are waiting and watching, with popcorn in hand.
https://latoyatjackson.wixsite.com/latoyatjackson
Comments
comments
Is Cardi B's Skin Thick Enough To Be An A-Lister?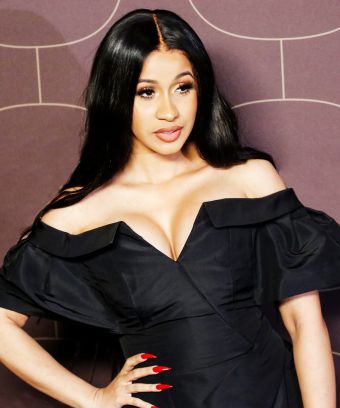 At this point, unless you've been living under a rock for the last few days, you know about the heated war of words and insults between Cardi B and Azealia Banks. 
The feud, which was originally ignited in 2017 when Banks referred to Bardi as, "the poor man's Nicki Minaj" and an "illiterate, untalented rat" was reignited, set ablaze, and burnt to a crisp, over comments Banks made during an interview with 'The Breakfast Club'.
In the interview, Banks discussed how the popularity and promotion of Cardi B were actually "setting black women back", because of what she represents. "I didn't know the bar had been dropped". Implying that Cardi isn't a good representation for women of color. She also states,  "I'm just talking about this caricature of a black woman that black women themselves would never be able to get away with. Like, if my spelling and grammar was that bad, I'd be canceled. If Nicki Minaj spelled like that, we would be ragging on her all day."
After Bank's interview, Cardi B responded with the following post and then deleted her Instagram page.
Cardi B has stated on more than one occasion that she doesn't like being famous. Wendy "Wendell Bartholemew Orenthal" Williams called her out stating, "she needs to stop complaining, she hasn't been famous long enough to complain!"
I concur she is always addressing the haters, instead of relishing in all the love and support she gets. If she doesn't want it, I know Joseline would gladly take it.
Undoubtedly, critics such as Funk Flex, Nicki Minaj, Azealia Banks, Joseline Hernandez, Kashdoll, and others are going to exist. They say "you ain't popping if you don't have haters".
"My lil 15 minutes lasting long as hell!"
If Cardi B intends to have longevity in the music industry (more than 15 min), especially on the level of Rihanna, Drake, Migos, Beyonce and other A-Listers, she has to develop a thicker skin. It is very easy to see that Cardi has a kind heart, made of gold and a gentle, delicate soul. Unfortunately, that makes her easy prey.
Take a page out of the great Book of Mariah Huq. Otherwise, go back to being C-List, Instagram and reality show famous. There's nothing wrong with that, in fact, she may be happier.
Don't Come Down Off Your Chariot Girl! 
Beyonce, Usher, Madonna, Gaga and so many others have at some point had their name, business and talent drug through the mud. However, they allow the people to talk, their PR team handles the scandals and BS and they pay it dust, while appearing unbothered.
Stop letting the people see you sweat!
If you can't take the criticism that comes along with the position, your options are:
1. Be Miserable trying to address non-supporters.
2. Allow someone else to oversee your social media pages.
3. Ignore them!
4. Give it up!
We are all (well most of us) are rooting for you! Good Luck!
https://latoyatjackson.wixsite.com/latoyatjackson
Comments
comments
Cardi B Claps Back at Azealia Banks "Untalented","Illiterate" Comments Then Gets Trapped in the Soul Stone
Cardi B & Azealia Banks feud has gone nuclear! Cardi B has now locked her twitter account and deleted or deactivated her Instagram which is the very thing that put her on. It is no secret that Cardi B and Azealia Banks are not friends, as they bumped heads after Azealia made now deleted tweets calling her being a "poor man's Nicki" back in 2017. Cardi then responded by dropping a video of Azealia dancing to 'Bodak Yellow' in the club. This time Azealia might have finally collected Cardi and added her to her RapFinity Gauntlet.
Azealia made her way to 'The Breakfast Club' and sat down with Charlamagne and DJ Envy and talked about new music, RZA and dealing with sexual assault. It didn't take long into the interview before DJ Envy asked about her calling Cardi B an "illiterate rat". Charlagmagne said he wasn't going to even bring it up but DJ Envy claims he wanted to know after looking at the screen. Azelia gave her thoughts on how she felt that Cardi was a caricature of black women and is an "illiterate untalented rapper".
"Two years ago, the conversation surrounding black women's culture was really reaching an all-time high."There was just this really, really, really intelligent conversation going on nationally and then everything just kind of changed and then it was like Cardi B."
Azelia doesn't believe that black women would be able to get away with half of the things that Cardi has gotten away with. She continued with comparing if Nicki Minaj were to misspell words like she would get clowned. Someone brought up that Fantasia already experienced that.
"I'm just talking about this caricature of a black woman that black women themselves would never be able to get away with. Like, if my spelling and grammar was that bad, I'd be canceled. If Nicki Minaj spelled like that, we would be ragging on her all day."
Y'all sat and used Fantasia's illiteracy against her for YEARS. You still do. And now folks antagonize Cardi because she is not as "articulate" as others.

Y'all attempt to have every type of analysis except for a class one. It's disturbing.

— #FreePalestine 🇵🇸 (@_iAmRoyal) May 12, 2018
Well, Cardi had time and she responded.
Now Azealia has more time than Cardi and is interested in the spotlight being on her even if it's not about her music but yet again her getting into it with another artist.
So because I point out that you get away with being the typical caricature of a black woman that society says is wrong … and you respond by calling me unattractive and bringing up skin bleaching to basically make fun of me for not being light skinned?"
Now Azealia you Disney's Skai Jackson and lost.
Unlike Cardi B Azealia has way more time than other artist and sent out multiple tweets directed towards Cardi.
Some aren't feeling Azealia cry pro-blackness considering the things she has said recently.
Azealia banks is currently the champion for black women, because it's convenient for her and chicks that have a prob with cardi. But tomorrow or in a few days, she's going to go right back to bleaching her skin, calling lil black girls whores, and spewing anti black male rhetoric

— Cis lord problematic™ (@InTheDarkIShine) May 12, 2018
Cardi B Instagram account is no longer visible and her Twitter account is locked. Leaving many wondering why?
Here is my opinion. She should ignore Azealia banks. She has nothing to lose and Cardi has everything to gain. The optics don't look good that Cardi left social media and locked her accounts up. It looks as if she is defeated even though we know Cardi B is popping right now.
Did we lose Cardi B in the social media Soul Gem or did she just say to hell with it? 
Comments
comments