February 1st, Cardi B spoke with People to confirm she is working on her marriage. Despite fans best wishes, the rapper says, "it's a personal thing" and her marriage is "not for them".
We Were Rooting For You!
After the stunt Offset pulled during Cardi's Rolling Loud performance, we thought they might really be done. Then, she started making videos about how she was dickmatized. Then, she was spotted in Puerto Rico riding jet skis and peen. Now, after months of fans hoping she would leave Offset to his extramarital activities to focus on her career, Cardi has taken him back.
Y'all Won.
When the couple began dating and then secretly married in September 2017, fans of the Migos rapper and Cardi hailed them as the new Beyoncé and Jay-Z. But Cardi says she just sees them as a regular couple.
"I feel like we just really are a very regular couple. We just do regular things. I feel like: We're famous… we're really popular right now — I just don't know the obsession, like I feel like everything we do is a big deal. Even before the bad scandals, just from the first time they seen us together, it was just like this big crazy deal."
Still, they wanted the scope of their fame to steer clear of their relationship.
The luxury of being a regular couple was lost a long time ago. Both Cardi and Offset helped see to that. They were very public with their issues. Cardi has a history of being easily provoked via social media. She responds to many of her detractors personally, sometimes through Instagram Live rants. Offset's propensity for infidelity only amplified Cardi's rage. Nevertheless, Cardi is right. Her marriage is her marriage.
Reconciliation
Right now, Cardi says they are "taking things slow. We have a baby right now. That's right our real big focus." Their 6-month-old daughter, Kulture Kiari, has been at the center of Offset's appeals to reunite their family. During the holidays and near his birthday, Offset pleaded for Cardi to receive him because he missed his daughter. But this umpteenth chance comes with a clause, Offset has no room to misbehave.
After admitting that he was "partaking in activity" he had no business doing, he "apologized" for breaking Cardi's heart. Cardi has since come to her husband's defense.
"People are so quick to be like, 'You should just date somebody else.' It's like, Honey, I'm not like you — I'm famous. I gotta consider who I'm dating. I gotta make sure people will have me for me. And I have a kid… We are a package. It's not just Cardi, it's Cardi and Kulture."
Will your fans accept you?
Cardi must understand fans may not stand by her decision. Both she and the Migos rapper stand to face a lot of scrutiny, especially after months of speculation that their split was a manufactured publicity stunt. She began and ended a relationship publicly, postured independence, and reneged on that perceived strength. Many onlookers were heavily invested in her making the choice they didn't. Genuine or not, let's hope Cardi and Offset can work things out and develop a healthy relationship. It can't be easy to make choices like these with millions watching
Summer Bunni Releases A Diss
Trying to come up off the controversy surrounding her involvement as one of Offset's many mistresses, Summer Bunni is grasping at relevancy by releasing a diss track aimed at Cardi B. The 20-year-old freestyled over Junior M.A.F.I.A's "Get Money" and referenced taking Cardi's man and giving him back.
Summer Bunni's lyrics include the 3 way she was allegedly involved in with Offset, the fact that he paid her for sex, and their FaceTime conversation:

Bitch who the queen of the press shit / I heard you press bitch / You better check you press list / Pop pop on the big bad dummy / He want a 3 BITCH with the summer Bunni / Now since I'm hot I got all the haters / Now lemme add yeah I got all da paper / Back to clout I got respect for some rap niggas / Is you mad cause I fucked and gave em back nigga
Although Cardi did not respond directly to Summer Bunni's diss, she did post a subliminal clapback on IG and Twitter.
Comments
comments
Back to Da Cell! 'Real Housewives of Atlanta' Alum Apollo Nida Arrested AGAIN After Violating Parole
Apollo Nida just celebrated his release from prison last week and now the RHOA alum is behind bars again! According to Page Six, US Marshals detained Apollo for breaking a technical condition of his release.
Having just finished five years behind bars, Nida was headed for a prison release program. But now he'll have to postpone reuniting with his children and fiance because he violated his probation. According to a representative, Nida isn't quite arrested, but there "was an order of the court bring him into custody". While the terms of Apollo's release aren't public, he was allegedly detained for violating conditions of his release.
Apollo, who was released early due to credit for time served, was initially sentenced to 96-months behind bars. He was expected to complete a prison release program in Philadelphia. Now, it's questionable what the future holds for the two-time felon.
Apollo's fiance, Sherien Almufti hasn't released a formal statement explaining what happened. However, she did post a recent photo of herself and Nida on Instagram with a scathing caption calling out his probation officer. Sherien said "For those who are confused @apollonida03 didn't violate a goddamn thing. Another crime against a black man in the system. Jealousy is a disease and his PO will die mad!!"
Comments
comments
Chris Brown Dragged For Insulting Victor Cruz, Karrueche Tran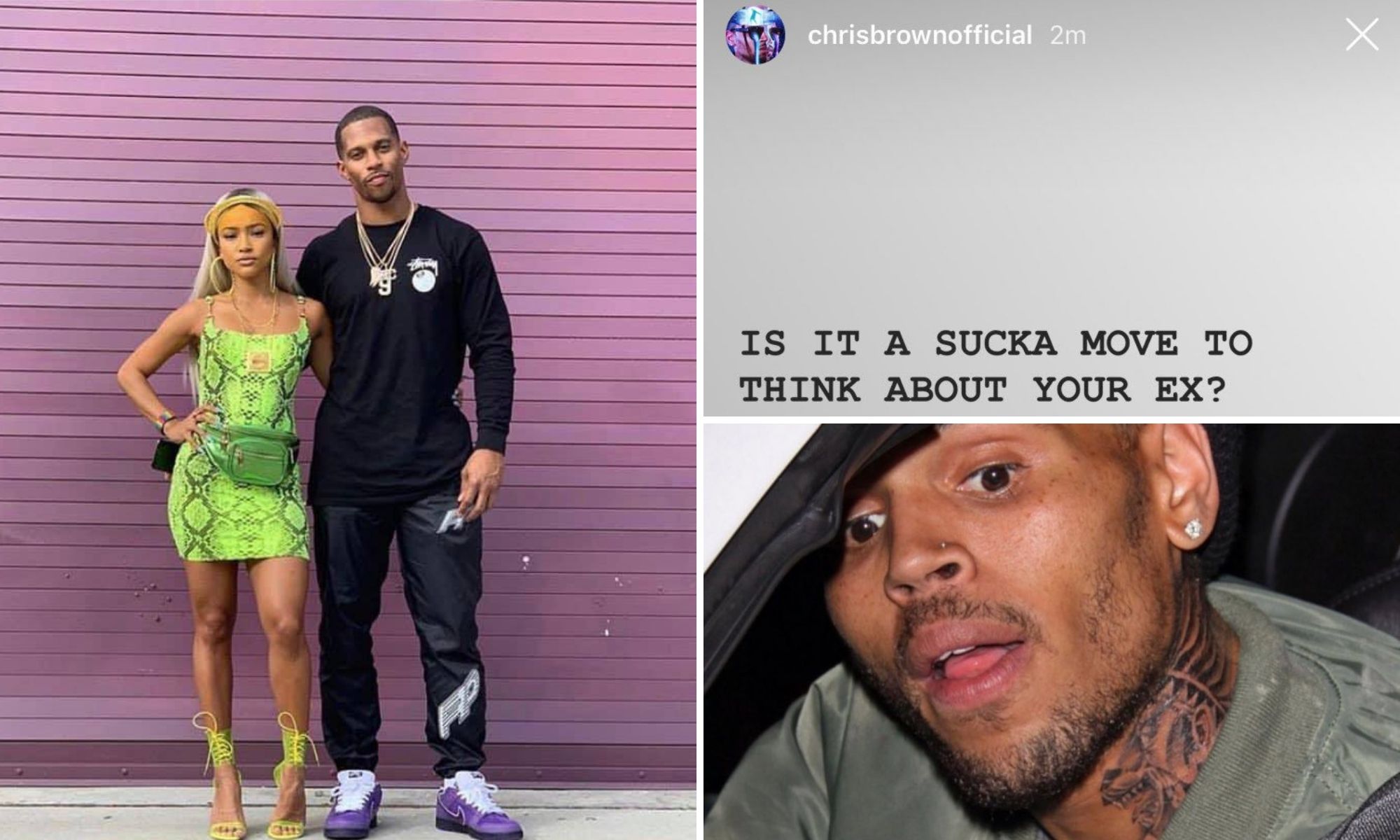 Chris Brown's recent behavior is a lesson that domestic violence has no limitations. The singer and proven abuser has shown his true colors again by leaving harassing comments beneath Victor Cruz's Instagram post.
Targeting the fashion sense of Karrueche's longtime boyfriend Victor Cruz, Chris Brown left several disparaging comments in close succession. Stating he needed a stylist and she should "upgrade ya man," Chris Brown is still attacking his ex after five years of separation.
The one-time couple split in 2015 after a very public shouting match following Karrueche's discovery that Chris fathered a love child with Nia Guzman, a stripper from Texas. During the lengthy argument, Chris forced himself into Karrueche's vehicle and despite being dropped off at a different location, he arrived at her home to argue at 3 am. This led to Karrueche securing a restraining order against the singer in 2017, approved for 5 years.
During the hearing where Karrueche petitioned for a restraining order against Chris Brown, she provided evidence of threatening messages and testified that Chris had physically abused her. To make matters worse the physical violence took place while Chris Brown was on probation for the brutal abuse of Rihanna! The text messages Karrueche received contained threats like "Bitch I will beat the sh*t out of you" and "I will make your life hell."
The comments Chris made beneath the photo of Karrueche and Victor were not light humor. In the past, Chris Brown left threatening messages beneath a photo of Tran and Michael B. Jordan. Stating "Imma kill blood", Chris Brown threatened her and the actors lives, making good on his promise to "make you hate me even more."
Fans of Karrueche were quick to point out how childish and threatening Chris Brown's messages were. But what's more important is that Chris Brown's comments may violate the terms of his restraining order. If Karrueche's terms include clauses for social media use, CB could be in trouble. Karrueche's current order doesn't expire until 2022, so maybe the singer should focus on backflips before he lands in jail.
Comments
comments
Wendy Williams' Gets Her Groove Back With 27-Year-Old Ex-Con
Spotted in the vehicle as TMZ ran up for a potentially staged paparazzi session, Wendy's mystery man was been a hot topic. Fans of the talk show host and those supporting her best life as she divorces Kevin Hunter, want to know who her flavor of the month is. Thanks to Bossip, we now know that 54-year-old Williams is getting cozy with a 27-year old named Marc Tomblin.
Bossip discovered the identify of Wendy's new man and quickly uncovered his criminal history. While Wendy is aware of his muddy past, she says she knows what she's doing. Let's hope, sis!
Wendy's new beau is a convicted felon who claims to be a financial investigator and blogger according to his LinkedIn profile. But before he hooked up with Wendy, Tomblin was arrested for robbery with a dangerous weapon and breaking and entering. Still, Wendy doesn't care about his past and is declaring it a hot girl summer with the rest of us.
Ms. Wendy Thee Show Pony called out Kevin for having "a full baby with a woman he was involved with for 15 years" while keeping her cooped up. Proud to be living her best life, Wendy is just enjoying Marc Tomblin's company despite their May-December age difference.
As for whether things will ever get serious for her again, Wendy says not so fast! During a recent taping of The Wendy Williams Show, she gushed about her newfound freedom. Stating, "I don't have a boyfriend, but I must admit I am rediscovering my love of men.", Wendy has made it clear she's not looking for a long time, just a good one.
Are you here for the new Wendy?
Comments
comments