Lovers of the fantasy series Game of Thrones tuned in for the nonsensical ending Sunday night. Much to their dismay, the conclusion to the once well-crafted tale left them with more continuity errors and questions than they bargained for.
Caution: This post contains spoilers for the entire series of Game of Thrones!
Howland Reed, The Grand Maester Conspiracy, The North Remembers, Lady Stoneheart. There were so many neglected arcs in the series that led to the rushed ending fans received last night. Although some still look fondly upon the franchise as one of the most enthralling, culturally captivating shows of all time, it's memory is forever laced not just with what it included, but with what it altered or flat out ignored.
Originally foreseen by George R.R. Martin as having a Tolkien-esque ending where all loose ends are tied, showrunners David Benioff and D.B. Weiss are being roasted for the botched ending they've presented to a longsuffering fanbase. Appearing to have conveniently forgotten the iconic author's grand plan, D & D stood by as plot lines and character arcs suffered from their deviation. No longer able to contain their frustrations fans have been incredibly vocal with their displeasure. Screaming in a single voice and echoing the cast's sentiments, the Game of Thrones fandom agrees that this ending is "bullshit".
The beginning of the series finale focused on Tyrion's journey to uncover the fate of his siblings and Jon's journey to convince Daenerys not to be "more of the same." The Red Keep, thought to be in complete ruin, was still accessible to Tyrion, even as he wandered toward the underbelly of the enormous castle. A torch in hand, he dug through bricks to reach the tunnels where Jamie and Cersei lay. In what would be the first of many "What the f*ck?!" moments of the evening, Tyrion actually discovers the corpses of the star-crossed twins. Viewers watched in disappointment as he managed to stand in an area that should have been clearly collapsed, implying that if the lovers stood a few feet to the right, they might have survived the implosion. A travesty! Yet more cringe would follow as the episode unfolded.
For anxious onlookers who couldn't wait to see what Sunday would bring, they could feast their eyes upon an accurate leak that described the events. Telegraphing Grey Worm's descent into heartlessness as he killed enemies of "The Queen", Jon's eventual betrayal of Daenerys, and even character endings, it all played out just as the unnamed source said things would. No matter how much we wanted it all to be untrue, there it was in all of it's ugliness. After 10 long years of production, after 2 long years of wait, Game of Thrones ended with democracy, SIX kingdoms, and Bran The Broken, First of His Name ascending to rule.
The overall reception of the conclusion to the series is a solid "NOPE!". Viewers and critics have given the episode, titled The Iron Throne, a 57% rating. As social media users continue to share the ways in which the end was unfulfilling for them, book readers are urging them to begin reading the texts. There are still two novels left in the series, giving show watchers access to a true ending and the satisfaction of complete arcs with stunning detail.
Were you disappointed with Season 8? Did you think the series finale was an epic conclusion or did it leave much to be desired?
Comments
comments
Back to Da Cell! 'Real Housewives of Atlanta' Alum Apollo Nida Arrested AGAIN After Violating Parole
Apollo Nida just celebrated his release from prison last week and now the RHOA alum is behind bars again! According to Page Six, US Marshals detained Apollo for breaking a technical condition of his release.
Having just finished five years behind bars, Nida was headed for a prison release program. But now he'll have to postpone reuniting with his children and fiance because he violated his probation. According to a representative, Nida isn't quite arrested, but there "was an order of the court bring him into custody". While the terms of Apollo's release aren't public, he was allegedly detained for violating conditions of his release.
Apollo, who was released early due to credit for time served, was initially sentenced to 96-months behind bars. He was expected to complete a prison release program in Philadelphia. Now, it's questionable what the future holds for the two-time felon.
Apollo's fiance, Sherien Almufti hasn't released a formal statement explaining what happened. However, she did post a recent photo of herself and Nida on Instagram with a scathing caption calling out his probation officer. Sherien said "For those who are confused @apollonida03 didn't violate a goddamn thing. Another crime against a black man in the system. Jealousy is a disease and his PO will die mad!!"
Comments
comments
Chris Brown Dragged For Insulting Victor Cruz, Karrueche Tran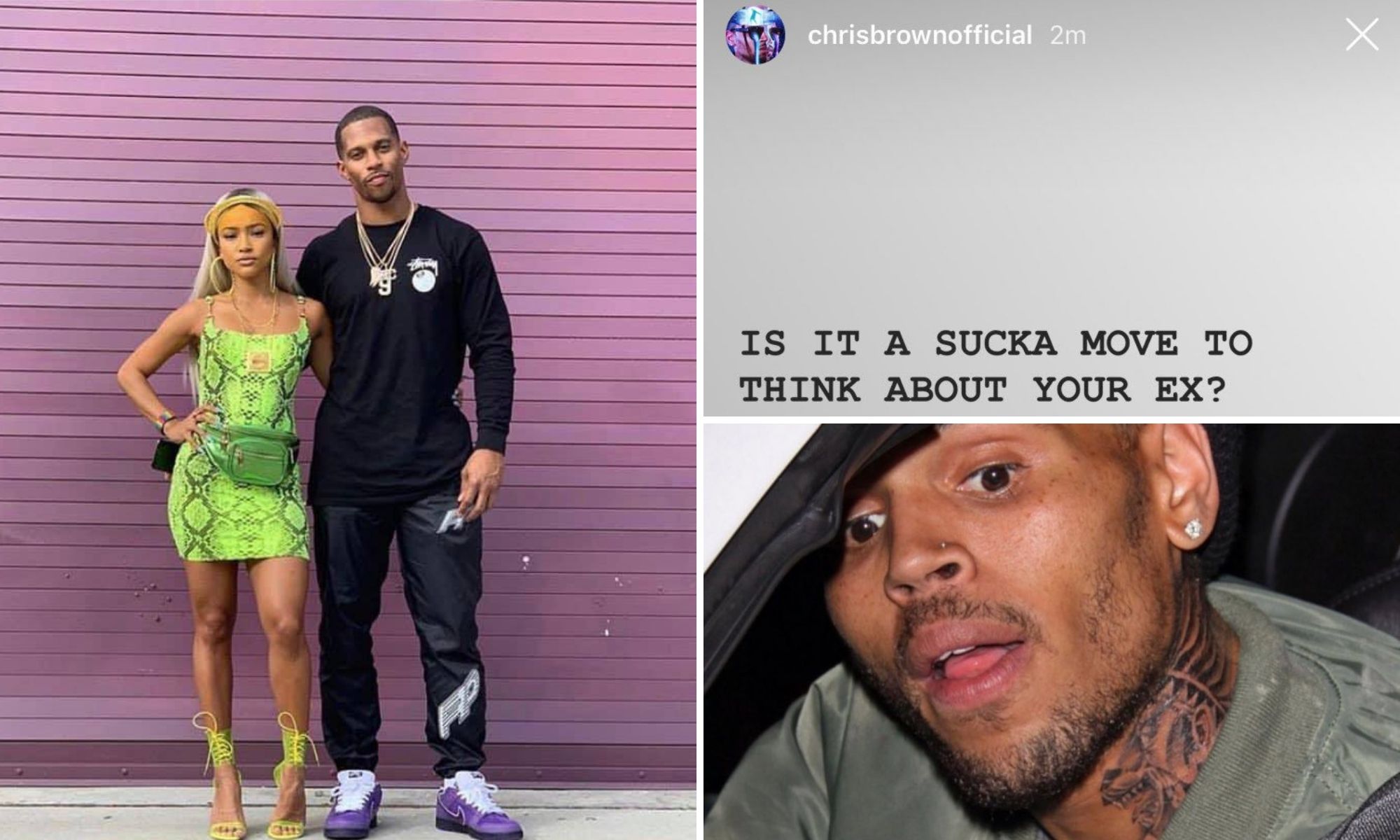 Chris Brown's recent behavior is a lesson that domestic violence has no limitations. The singer and proven abuser has shown his true colors again by leaving harassing comments beneath Victor Cruz's Instagram post.
Targeting the fashion sense of Karrueche's longtime boyfriend Victor Cruz, Chris Brown left several disparaging comments in close succession. Stating he needed a stylist and she should "upgrade ya man," Chris Brown is still attacking his ex after five years of separation.
The one-time couple split in 2015 after a very public shouting match following Karrueche's discovery that Chris fathered a love child with Nia Guzman, a stripper from Texas. During the lengthy argument, Chris forced himself into Karrueche's vehicle and despite being dropped off at a different location, he arrived at her home to argue at 3 am. This led to Karrueche securing a restraining order against the singer in 2017, approved for 5 years.
During the hearing where Karrueche petitioned for a restraining order against Chris Brown, she provided evidence of threatening messages and testified that Chris had physically abused her. To make matters worse the physical violence took place while Chris Brown was on probation for the brutal abuse of Rihanna! The text messages Karrueche received contained threats like "Bitch I will beat the sh*t out of you" and "I will make your life hell."
The comments Chris made beneath the photo of Karrueche and Victor were not light humor. In the past, Chris Brown left threatening messages beneath a photo of Tran and Michael B. Jordan. Stating "Imma kill blood", Chris Brown threatened her and the actors lives, making good on his promise to "make you hate me even more."
Fans of Karrueche were quick to point out how childish and threatening Chris Brown's messages were. But what's more important is that Chris Brown's comments may violate the terms of his restraining order. If Karrueche's terms include clauses for social media use, CB could be in trouble. Karrueche's current order doesn't expire until 2022, so maybe the singer should focus on backflips before he lands in jail.
Comments
comments
Wendy Williams' Gets Her Groove Back With 27-Year-Old Ex-Con
Spotted in the vehicle as TMZ ran up for a potentially staged paparazzi session, Wendy's mystery man was been a hot topic. Fans of the talk show host and those supporting her best life as she divorces Kevin Hunter, want to know who her flavor of the month is. Thanks to Bossip, we now know that 54-year-old Williams is getting cozy with a 27-year old named Marc Tomblin.
Bossip discovered the identify of Wendy's new man and quickly uncovered his criminal history. While Wendy is aware of his muddy past, she says she knows what she's doing. Let's hope, sis!
Wendy's new beau is a convicted felon who claims to be a financial investigator and blogger according to his LinkedIn profile. But before he hooked up with Wendy, Tomblin was arrested for robbery with a dangerous weapon and breaking and entering. Still, Wendy doesn't care about his past and is declaring it a hot girl summer with the rest of us.
Ms. Wendy Thee Show Pony called out Kevin for having "a full baby with a woman he was involved with for 15 years" while keeping her cooped up. Proud to be living her best life, Wendy is just enjoying Marc Tomblin's company despite their May-December age difference.
As for whether things will ever get serious for her again, Wendy says not so fast! During a recent taping of The Wendy Williams Show, she gushed about her newfound freedom. Stating, "I don't have a boyfriend, but I must admit I am rediscovering my love of men.", Wendy has made it clear she's not looking for a long time, just a good one.
Are you here for the new Wendy?
Comments
comments