Alexandra Shipp is suffering from the same light-skin plight that Tinashe claimed stifled her career two years ago. Oh well…
After hearing that KiKi Layne was in talks to step into her queendom as Storm, Alexandra Shipp wasted no time chiming in on Twitter. Her hot garbage take has since sparked yet another conversation about colorism in Hollywood. Alexandra stated, in so many words, that Black people aren't supporting her because of her skin tone. Proving she, like so many, does not understand colorism as a system of oppression, Alexandra makes it clear there's still work to be done.
You see, Alexandra, no one is attacking you for having light skin. They're simply expressing joy over the much-anticipated portrayal of Storm as she was intended — a dark-skin, beautiful Black woman. This was a monumental opportunity for you to offer praise. Instead, you chose self-pity because a skilled actress is taking a role you aren't entitled to. Let's look at receipts, shall we?
KiKi Layne has been nominated for:
The Alliance of Women Film Journalists Award for Best Breakthrough Performance
The Gotham Independent Film Award for Breakthrough Actor
The Washington D.C. Area Film Critics Association Award for Best Ensemble.
You, Alexandra, have been nominated for a Teen Choice Award and a Nickelodeon Kids' Choice Award.
Because you, and others who look like you, have not had to search for representation to feel included, you may not know how to respond to this. I get it, You think you worked hard, earned that role, did it justice. Sorry, baby, but you thought wrong. The one-time wife of T'Challa deserves to be a dark-skin queen and there's nothing you should do about it.
It's bigger than you.
For two decades, we have waited for the mantle of Storm to be assumed by a woman who truly looks like her. For once, little Black children who share that skin-tone would feel seen as they look upon their favorite superhero. Imagine children looking at Storm the way they knew her and the way they thought they could be; strong, beautiful, dark-skinned, and more talented than you.
Furthermore, your conflict with the change in the cast should not be conflated with other pressing issues. Don't weaponize Black Lives Matter to represent losing a job because you're talentless. Where is your grace, queen? You've been coasting on mediocrity in an industry that has made you proud of your light-skin privilege. Now that dark-skin is profitable, the industry is accepting of some actresses with melanin more popping than yours, and you want to play the victim? Ms. "90 percent of the racism I've experienced in my lifetime has been at the hands of fellow Black people."
Girl, bye.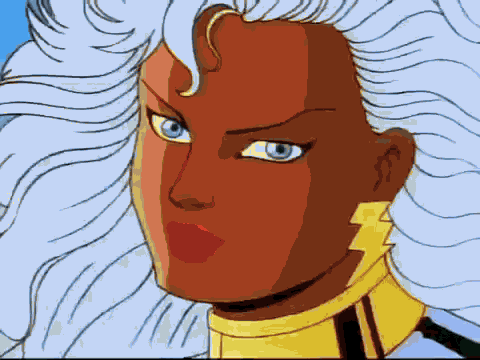 Comments
comments
Jay-Z, Colin Kaepernick, and Toxic Black Capitalism
Jay-Z's recent decision to align himself with the NFL has rubbed a lot of people the wrong way. And for good reason. Colin Kaepernick has been blackballed by the league for 897 days. With no sign of him returning, despite maintaining a rigorous fitness regime, many are wondering why Jay-Z did not consult Kaepernick before signing on.
Five am workouts five days a week for three long years. Colin Kaepernick has been waiting in the wings since the NFL colluded to bar him from playing amidst player protests. Eric Reid, who stood beside Kaep in solidarity, has been subjected to excessive random drug tests for just as long. As season after season dredges on, Eric says he has no desire to refrain from protesting and has pledged to kneel during the national anthem this year as well. With NFL viewership in steady decline due to boycotts within the Black community, the league has reached out to an unlikely partner to repair their image and boost their ratings, Jay-Z.
Turncoat
A one-time supporter of the national anthem protests that brought awareness to blatant police brutality, Jay-Z has decided that there's no time like the present to profit from his brother's struggle. Billionaire rapper Jay-Z has brokered a deal with NFL Commissioner Roger Goodell. The Roc Nation mogul is now positioned to serve as a gatekeeper, deciding who's worthy to take the stage as a Super Bowl halftime act. As the internet reflects on Jay's very vocal criticism of the NFL and recent Super Bowl Halftime Show performers, the irony and hypocrisy of this situation is lost on no one.
"Don't Do This"
When news of Travis Scott's participation in the 2019 Halftime Show reached Jay-Z's ears, he was quick to ask the "Sicko Mode" rapper not to perform. Citing the poor treatment of Colin Kaepernick as the league turned a blind eye to police brutality, Jay-Z urged Travis to change his stance. But now, the "4:44" rapper is the one that's turned the other cheek. Stating, "we're past the point of kneeling", Jay has all but embraced the ideals of his peers. Considering this partnership an opportunity to change the beast from the inside, Jay said in a recent interview that "this is the next phase."
"We forget that Colin's whole thing was to bring attention to social injustice. In that case, this is a success. This is the next phase. There [are] two parts of protesting. You go outside and you protest, and then the company or the individual says, 'I hear you. What do we do next?"
Ever the capitalist, Jay-Z has turned the ostracism of Kaepernick and scrutiny of Reid into a means of personal profit. While preaching Black solidarity, he cradles the all-mighty dollar. To onlookers, this poses a moral dilemma, but we forget billionaires often lack morals and have questionable ethics. While it is unlikely that Kaepernick will respond with his thoughts on the matter, his longtime girlfriend, Nessa, and Eric Reid have made their thoughts known.
You can't trust a man who cheated on Beyoncé to make good life choices
Eric Reid took to Twitter yesterday afternoon to chastise Jay-Z for his decision. Stating, "Jay-Z knowingly made a money move with the very people who've committed an injustice against Colin and is using social justice to smooth it over with the black community," Reid says the fight is on. He believes that it is "unjust" that the NFL is now "championing" social justice to cover their own systemic oppression in blackballing his former teammate. What Nessa has to say was much more scathing.
Sharing a video on Instagram of her boyfriend, Colin Kaepernick, training with his ally, former 49er Eric Reid, Nessa included a lengthy statement regarding Jay-Z's decision.
Knowing that Jay-Z is helping the NFL rebrand itself is disheartening but predictable. After all, he is a prominent figure in the Black community. It was inevitable that the league would reach out to a "respected" rapper to leverage his image to increase viewership. In fact, it's the same strategy they used when they reached out to Travis Scott. The only difference here is that Jay-Z is well within the ranks of the wealthy, privy to those dubious politics, and versed in the manipulation of exploiting his own community for financial gain.
Do you believe that Jay-Z's efforts will lead to further dissension in the NFL? Or will his position as a gatekeeper lead to a fitting resolution? Do you think his relationship with Robert Kraft influenced his decision?
Comments
comments
Merited Whiteness: Why Chris Cuomo Responded Violently to "Fredo"
Instead of talking about the obvious wrong of comparing "Fredo" to the n-word, let's discuss merited Whiteness and Cuomo's response.
While out with his family, Chris Cuomo was accosted by a man who compared him to the Judas Iscariot of the Corleone family, Fredo Corleone. It's easy to see why Chris would have perceived the sudden hurling of "Fredo" as an insult, who wouldn't. Fredo was a man out of his depth. He was intelligent, sure. But he lacked the cunning necessary to navigate life in the mafia. Fredo was a soft-hearted, loveable idiot who said more than he should have to the wrong people. His unintentional slight got him in trouble with a community that felt entitled to his allegiance. This is the very same entitlement that possessed a stranger to believe he held the authority to pull Chris Cuomo's merited whiteness card.
Fredo's offense in many ways is seen as something lateral to Chris Cuomo's presence as a journalist at CNN. The child of the 52nd Governor of New York and brother of the current Governor, who is a staunch critic of Republican politicians and their constituents, Chris stands on the wrong side, to some, in a fight for "American Values." He is outspoken and detached from his beginnings as a political analyst on Fox News. Being the descendant of a family that is only two generations removed from their Tramonti, Campania Italian origins, The Cuomo's represent a side of American history that is not often discussed, the assimilation of European immigrants to American whiteness.
When Italians began immigrating to the US, they were not looked upon favorably. But like the Irish and members of other European communities, they united in their "othered" state to gain acceptance, overcome their backgrounds, and race toward the American Dream. But the American Dream isn't a big house with a white picket fence, 2.5 kids, and a dog, it's whiteness. To be White is to be distinctly American, devoid of cultural attachments and devoted to racial supremacy. But like the Borg, whiteness requires assimilation and shared consciousness. Like their hive-minded chant, Magats would also believe "Your culture will adapt to service us. Resistance is futile."
For families like the Cuomo's, who were privileged enough to own a business and accumulate wealth shortly after their arrival, the trajectory to acceptance was higher than most. As Henry Pratt Fairchild said when discussing the bestowed privileges of whiteness to immigrants, "If he proves himself a man, and rises above his station, and acquires wealth, and cleans himself up — very well, we receive him after a generation or two. But at present, he is far beneath us, and the burden of proof rests with him." So how, after a single generation, did the Cuomo's ascend their station? By becoming fast friends with the Trump family.
After Mario Cuomo represented Fred Trump in an undisclosed legal matter, their families maintained contact. Golfing trips in Florida and New York, letters filled with flattery, and partnerships that benefitted the Trumps as developers and the Cuomos political ambitions. Beyond the business relationships of the two families, you have to wonder what values they grew to share. Judging by a 2008 remark regarding Barack Obama where Andrew spouted "You can't shuck and jive at a press conference." and Chris' false equivalence of Fredo and the n-word, they share quite a few. Still, you must wonder why "Fredo" would elicit such a response from Chris. Is it because he feels his status demands subordination? Is it because he felt his whiteness was challenged?
Perceiving the use of "Fredo" as an anti-Italian slur, Chris Cuomo found himself feeling as immigrants did upon their arrival to the "land of dreams." As explored by Maria Elisa Altese, there is a perception that Italian-Americans have forgotten what it is like to be targeted. Chris Cuomo has lived comfortably in the US as a white man, never before having his status challenged. As written by Robert F. Forester, in a country where the distinction between white man and black is intended as a distinction of value… it is no compliment to the Italian to deny him his whiteness, but that actually happens with considerable frequency." So in his rage, Chris expressed how entitled he felt to the benefits of whiteness, it's inclusivity, and how no one like him wants to be Black.
Comments
comments
Should I Have to Disclose That I'm HIV+ If I'm Undetectable?