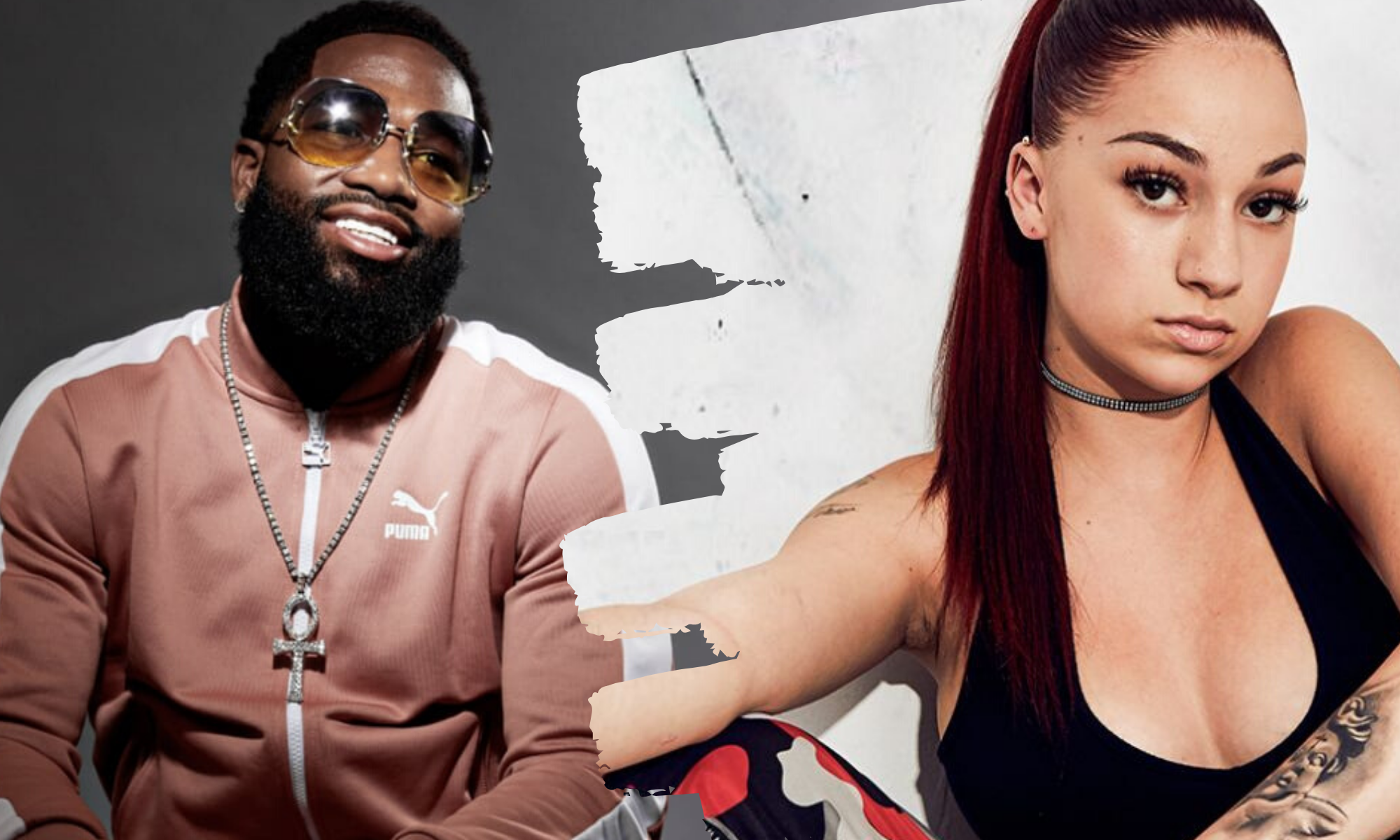 16 Year-Old Bhad Bhabie Puts 30 Year-Old Adrien Broner on Blast for Hopping in Her DM's
Bhad Bhabie, the 16 year-old rapper who rose to fame as a guest on the television show "Dr. Phil" ("cash me ousside, how 'bout dat" ring a bell?) recently took to Instagram to publicly shame boxer and rapper Adrien Broner, 30, for sending her a cringy dm.
The underage rapper posted a screenshot of an Instagram message sent from Broner's official account. "Text me crazy girl" was all he messaged before Bhad Bhabie, whose real name is Danielle Bregoli, shared with her nearly 17.5 million followers the screenshot and a clip of the song "Locked Up" by Akon. 
Defending himself, Broner told The Shade Room the message was an "honest mistake" saying nobody wants to date a kid." He went even further saying both Instagram and the teenager are to blame for his mistake. "I fault Instagram for not having people's age on their profile. I thought she was grown the way she out here moving."
Many online came for Broner in the comments of his most recent post on the social media platform. "Text me crazy girl" here, @fbi there (at this point he should probably turn his comments off until this dies down). His ex-girlfriend Arie Nicole even posted "I done told him to find a step mama not a step child" with several tears of joy emojis following.
Those supporting him are far fewer and considerably less vocal – understandable since these people are coming to the defense of a man who in 2016 was charges with misdemeanor battery, in 2018 was charged with sexual battery, and in 2019 was ordered to pay $830,000 to a woman claiming he sexually assaulted her. More disturbing than his troubled past is his inability to take responsibility for his mistake by instead blaming a child for his actions.
Time and time again we have seen women and girls be scapegoated for the misdeeds of men. The fact that a man nearly twice as old Bhad Bhabie put the blame for his very questionable behavior on her shows women's roles in society have not changed even as America becomes more and more progressive. But that leads us to a whole different topic for another day.

Comments
comments
Floyd Mayweather Talk Top fights, Kobe & More on Drink Champs on TIDAL
Today, the undefeated boxing champ, Floyd Mayweather, joins N.O.R.E and DJ EFN's "The Most Professional Unprofessional, Podcast" Drink Champs on TIDAL. In this episode, Mayweather, dubbed one of the best "pound-for-pound" fighters in the world, discusses feeling lost to the untimely passing of Kobe Bryant, coining himself as "Cinco De Mayweather" when fighting Oscar De La Hoya, mastering the Mayweather Defense, beef with 50 Cent, chopping trees as preparation for his fight with Manny Pacquiao and a potential Mayweather vs McGregor round 2.
Members can watch the episode on TIDAL.com/DrinkChamps
The podcast adds to the growing list of content that TIDAL offers – from albums and singles to original video content, concert giveaways, unique events, and artist meet & greets – TIDAL provides members with culture-shifting content.
Comments
comments
Dwyane Wade Reveals 12-Year-Old Child Now Goes By Zaya
With all of the obstacles that exist within our society, it's incredible to see 13-time NBA All-Star and former player, Dwyane Wade and his wife Gabrielle Union empowering their pre-teen, Zaya, to live her truth.
Wade recently appeared on "The Ellen DeGeneres Show" to promote the upcoming ESPN documentary D Wade: Life Unexpected. Following a clip from the documentary, he shared that his middle child, formerly known as Zion, now identifies as "her" and goes by the name Zaya.
As DeGeneres praised him for his support of Zaya, Wade replied, "Me and my wife Gabrielle Union are proud parents of a child in the LGBTQ+ community. And we are proud allies as well. We take our roles and our responsibility as parents very seriously."
He went on to share that Zaya expressed her desire to live her truth at 9-years-old. "I don't know if everyone knows, originally named Zion, born as a boy — came home and said, 'Hey, I want to talk to you guys. I think going forward I'm ready to live my truth. I want to be referenced as she and her, I would love for you guys to call me Zaya," he explained.
Immediately the parents began to educate themselves and seek advice from members of the LGBTQ+ community, Union reaching out to the cast of the popular FX series, Pose. For Wade, it's all about giving her "the best opportunity to be her best self" while preparing her to live life openly.
According to Wade, "Once Zaya came home and said, 'I want you to call me Zaya and I'm ready to take on this,' I looked at her and said, 'You are a leader. And this is our opportunity to allow you to be a voice.' Right now it's through us, because she's 12 years old, but eventually, it will be through her."
For more on his journey post-career and as the father of an openly gay pre-teen, tune in to D Wade: Life Unexpected. The ESPN documentary airs Sunday, February 23rd.
Comments
comments
Watch Omarion & Bow Wow Talk Millennium Tour, Fatherhood, JAY-Z & More on TIDAL's Rap Radar
Bow Wow and Omarion are hip-hop's millennium men. Celebrating their 20th year in the game, the duo are set to embark on their nostalgic studded Millennium Tour. With the possibility of Face Off 2 looming, Bow and O reflect on their legacies, influences, fatherhood, JAY-Z and more!  
Fans can watch the interview here: TIDAL.com/RapRadar
The "Rap Radar" podcast adds to TIDAL's growing podcast network, which includes a variety of series hosted by some of the most trusted and influential names in music. 
Comments
comments