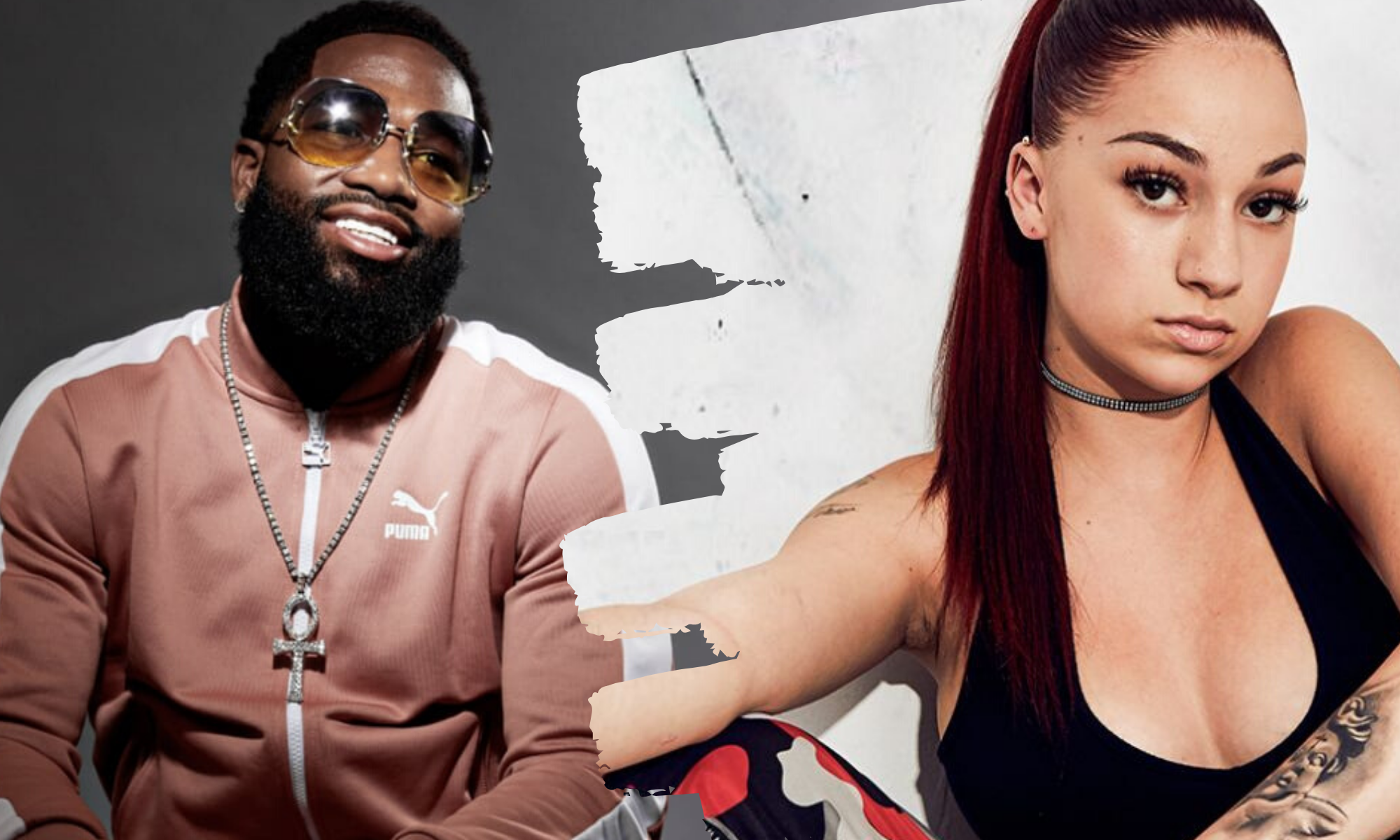 16 Year-Old Bhad Bhabie Puts 30 Year-Old Adrien Broner on Blast for Hopping in Her DM's
Bhad Bhabie, the 16 year-old rapper who rose to fame as a guest on the television show "Dr. Phil" ("cash me ousside, how 'bout dat" ring a bell?) recently took to Instagram to publicly shame boxer and rapper Adrien Broner, 30, for sending her a cringy dm.
The underage rapper posted a screenshot of an Instagram message sent from Broner's official account. "Text me crazy girl" was all he messaged before Bhad Bhabie, whose real name is Danielle Bregoli, shared with her nearly 17.5 million followers the screenshot and a clip of the song "Locked Up" by Akon. 
Defending himself, Broner told The Shade Room the message was an "honest mistake" saying nobody wants to date a kid." He went even further saying both Instagram and the teenager are to blame for his mistake. "I fault Instagram for not having people's age on their profile. I thought she was grown the way she out here moving."
Many online came for Broner in the comments of his most recent post on the social media platform. "Text me crazy girl" here, @fbi there (at this point he should probably turn his comments off until this dies down). His ex-girlfriend Arie Nicole even posted "I done told him to find a step mama not a step child" with several tears of joy emojis following.
Those supporting him are far fewer and considerably less vocal – understandable since these people are coming to the defense of a man who in 2016 was charges with misdemeanor battery, in 2018 was charged with sexual battery, and in 2019 was ordered to pay $830,000 to a woman claiming he sexually assaulted her. More disturbing than his troubled past is his inability to take responsibility for his mistake by instead blaming a child for his actions.
Time and time again we have seen women and girls be scapegoated for the misdeeds of men. The fact that a man nearly twice as old Bhad Bhabie put the blame for his very questionable behavior on her shows women's roles in society have not changed even as America becomes more and more progressive. But that leads us to a whole different topic for another day.

Comments
comments
TIDAL and Dolby celebrated Meek Mill's GRAMMY-nominated Championships album
TIDAL and Dolby celebrated Meek Mill's GRAMMY nominated Championships album. Championships is now available to stream in Dolby Atmos exclusively on TIDAL.
Dolby, a leader in immersive entertainment experiences, and TIDAL, a global music and entertainment streaming platform, hosted a listening event that featured a live performance in Dolby Atmos by the chart-topping artist Meek Mill. The event celebrated Meek Mill's latest album Championships, nominated for Best Rap Album of the year, which is available to stream in Dolby Atmos on TIDAL starting today. Songs performed included his hits 24/7, All Eyes on You and Going Bad
TIDAL will also release the exclusive performance on its service for fans to enjoy in Dolby Atmos in a few weeks.
Fans can now listen to Championships in Dolby Atmos sound quality here:  https://tidal.com/browse/album/128953992
(Note: Dolby Atmos is only available via select Android devices]
What is Dolby Atmos Music
Dolby Atmos lets listeners connect with music at its fullest capacity and creative potential – not the way most people hear music today, but a version that pulls you into a song to reveal what was lost with traditional recordings. Listeners can discover hidden details and subtleties with unparalleled clarity. Whether it's a complex harmony of instruments placed around a listener, the unleashing of a legendary guitar solo, a massive bass drop that washes over you, or the subtle breath a singer takes, Dolby Atmos gives music more space and the freedom to unleash every detail and emotion as the artist intended.
How to experience Dolby Atmos Music on TIDAL
To enjoy Dolby Atmos Music, TIDAL will automatically default to this experience if a Dolby Atmos mix is available. Tracks will be identified by a "Dolby logo" visual badge as well as through a "Dolby Atmos" identifier that will display once a song is selected. Users can also click on the "Dolby Atmos" menu option under the "Explore" tab on the TIDAL app to explore the library of tracks available in Dolby Atmos. Dolby Atmos is now available to TIDAL members subscribing to the HiFi tier, which already features HiFi and Master quality audio. To learn more about Dolby Atmos Music or TIDAL HiFi, visit Music.Dolby.com and TIDAL.com/DolbyAtmos.
TIDAL members with compatible Android smartphones and tablets subscribing to TIDAL HiFi can enjoy Championships along with a growing library of music available in Dolby Atmos from Universal Music Group and Warner Music Group. The includes songs from some of the world's biggest artists such as The Weeknd, Blondie, Ariana Grande and more. TIDAL is also working closely with its artist-owners, including JAY-Z, to mix their catalogs in Dolby Atmos – which are expected to become available in 2020.
Comments
comments
Stormzy Talks Inspiration from Beyonce, Activism in the UK & More On TIDAL's Rap Radar
Ahead of his upcoming world tour, "Heavy Is The Head," international rapper, Stormzy, joins TIDAL's Rap Radar podcast with Elliott Wilson and Brian "B. Dot" Miller at the World of McIntosh Townhouse in New York City. In the latest episode, the British star discusses being the voice of black youth, drawing inspiration from Beyoncé for his Glastonbury set, collaborating with Banksy for his performance outfit, working with Pharrell and more.
The "Rap Radar" podcast adds to TIDAL's growing podcast network, which includes a variety of series hosted by some of the most trusted and influential names in music. 
Comments
comments
Wendy Reveals That NeNe Leakes is Leaving Real Housewives of Atlanta
According to Wendy Williams, NeNe Leakes is quitting Real Housewives of Atlanta. Can't say that we're surprised after she's been missing from several episodes this season. Wendy was in the middle of sitting down with Jerry O'Connell when she revealed that she received a text message from NeNe saying that she was quitting the show. Wendy says she received a text from NeNe that morning between commercials.
Wendy tried to hold back tears and said that NeNe has a big secret that she won't reveal and that NeNe. The secret apparently would "melt their hearts" and is a huge thing. O'Connell asked if it had anything to do with Greg's health, she replied that Greg was cured and that he was fine. She didn't say much after that and tried to move on but you could see that it was bothering her.
It makes sense that NeNe would leave Real Housewives of Atlanta considering how many episodes she has missed this season. It was rumored that she would be suspended for 3 or 4 episodes after allegedly putting her hands-on production during last season's episode. Take a look at the clips of the show below.
Do you think NeNe is leaving the show?
Comments
comments